TV Roundup: Early Summer Smorgasbord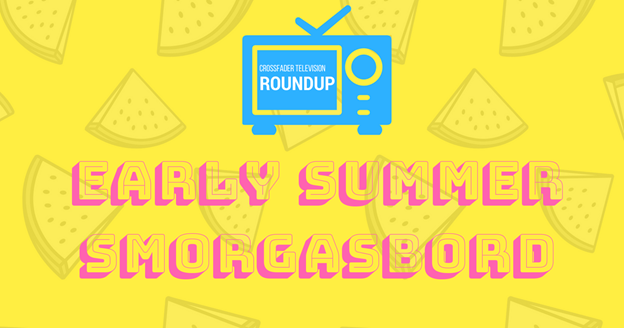 We're back at it again, bringing you the greatest and not-so-latest in television premieres! These are a few that fell through the cracks while we here at Crossfader were hitting the beach, sippin' margs with the gals, and absolutely definitely not holeing up in our caves to crank out thinkpieces about the latent cruelty and examination of human nature in the old stock footage we found of Lars Von Trier's third birthday party. What can we say—we have a brand to uphold.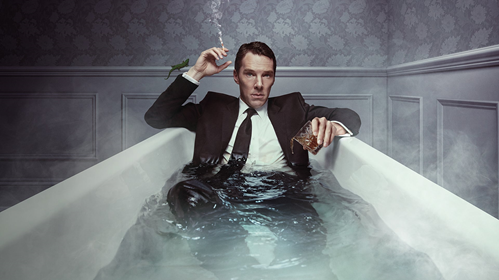 PATRICK MELROSE (Showtime)
There are few things in this world that have had me frothing at the mouth for more. Arrested Development, many moons ago? The Sopranos? RISK!? LAST PODCAST ON THE LEFT? But all of these, at least when I came across them, had a cavalcade of content to mainline. Other than the eternal wait for the new chunk of TERRACE HOUSE: OPENING NEW DOORS to drop on Netflix, this is perhaps the first television show to ever make me wait with such bated breath until the next episode, and not only because my trial Showtime subscription on Amazon is expiring soon. There's really no more eloquent way to say this, but PATRICK MELROSE is a bona fide motherfucker. Based off of a comparatively unassuming, semi-autobiographical book series of the same name, the show is, with just a touch of hyperbole, the sort of thing prestige, limited edition television was made for. At large, it tells the tale of its titular protagonist, a drug-addled playboy who is called to New York to come to terms with his estranged father's death. With each of its five episodes based on a novel in the series, all of which give us more nuanced, layered understandings of Patrick's vices and demons, PATRICK MELROSE consistently asserts its potential dominance over the title of "best mini-series of recent memory." The same distinct sense of je ne sais quoi that has entirely informed the trajectory of David Sedaris' career is present here, a loose, conversational, slightly sardonic tour through the crushing existential mundanity of upper-middle-class life. I have personally never come across a show that feels so fundamentally literary, the energy, characterizations, and dialogue leaping off the small screen and engulfing you in the vibrant, lived-in space only the best of books can. The one-two punch of the pilot and its successor is essential, the first possessing the frantic, maniacal of BIRDMAN if it were crossed with REQUIEM FOR A DREAM, establishing Patrick as a tragic sleazeball before the second episode completely knocks the knees out from under us. A subdued, devastating emotional slow-burn, the look into Patrick's emotional and physical abuse at the hand of his father over the course of a childhood summer spent in France is about as dejected and downtrodden as they come, completely reversing our understanding of the character we were initially introduced to. Oh yeah, and Benedict Cumberbatch is turned up to 11 the entire time. Watch it. [Thomas Seraydarian]
Verdict: Hit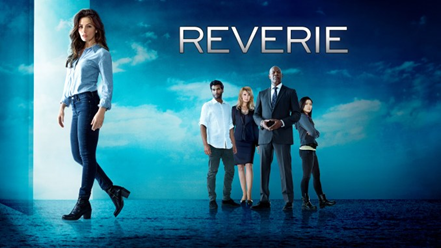 REVERIE (NBC)
Well, God bless them for trying. REVERIE is, in fact, notably more ambitious than a lot of what we see tossed the way of network programming, but never manages to coalesce into something more than a bargain bin mish-mash of other, more polished prestige properties. It feels lazy to offer WESTWORLD and BLACK MIRROR as comparison points, but when NBC's latest stab at original summer programming broadcasts its influences this transparently, it's hard not to take notice. REVERIE revolves around the titular technological advancement, a suped-up VR simulation that allows one to do whatever they want while making use of it, whether it be a luxurious vacation or a recreation of tender moments with a loved one since lost. When one test subject of Reverie refuses to return from the program, it's up to Mara Kint (Sarah Shahi) to come out of retirement as a negotiator for one last job at the urging of Charlie Ventana (Dennis Haysbert). Though it's never cancerously misguided, the concept and realization of REVERIE both feel worn thin, and there's never any point during the pilot where we're convinced that this wouldn't look and feel more comfortable on a more curated streaming service. Mara's internal turmoil over an inability to save her niece from a shooting checks the boxes of emotional depth but can't rise above perfunctory, the subject Mara's sent to retrieve doesn't put up much of a fight after a heavily broadcasted heart-to-heart, there's no overarching antagonist or conflict introduced to give us a reason to keep watching, and the effects budget disappoints under scrutiny. The sole impressive segment is when Mara's getting introduced to Reverie and its features via a training montage of sorts, but three minutes of, "Hey, that's kinda cool" doesn't make up for the remaining 40 of tepid leftovers.  [Thomas Seraydarian]
Verdict: Sh**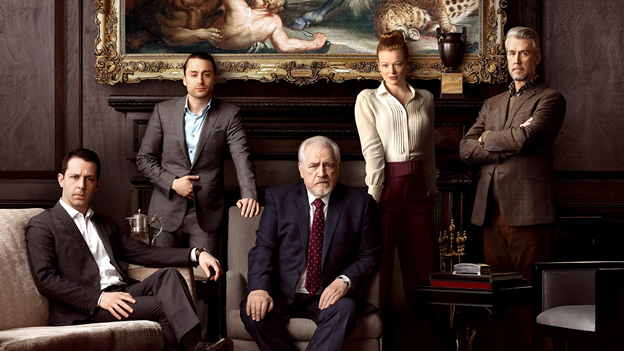 SUCCESSION (HBO)
If ARRESTED DEVELOPMENT had been made for premium cable and its characters had absolutely no redeemable traits, it might look like SUCCESSION, HBO's latest new series. Brian Cox stars as Logan Roy, the aging patriarch of a media conglomerate about to step down into retirement. The show follows Logan and his four children, as well as other family members and employees, as each of them desperately fight for power in a company that has seen better days. The pilot of SUCCESSION isn't amazing (especially when you compare it to other series in HBO's vast library), but it does present some interesting themes that the show would do well to expand upon. When Logan refuses to give up his CEO seat to his oldest son Kendall, Kendall argues that the media already knows his father is stepping down. Logan's response? "Fuck them." This is a family that is at the top of the food chain and has more power at their fingertips than most people can imagine; even if their business is waning, they are still doing better than a good 99 percent of the rest of the world. Yet, for all their money and power, no one in the Roy family is ever satisfied. Logan's son-in-law Tom wonders what to get the patriarch for his 80th birthday; his wife Shiv says her dad doesn't really like "things." There are problems with SUCCESSION—particularly in some of its one-dimensional characters—but the show does reveal insight into the types of people that run major companies today: people that are conditioned to always want more and to never be content. ARRESTED DEVELOPMENT showed us that businesses are run by goofballs, but SUCCESSION demonstrates that corporations are run by greed. [Ethan Cartwright]
Verdict: Hit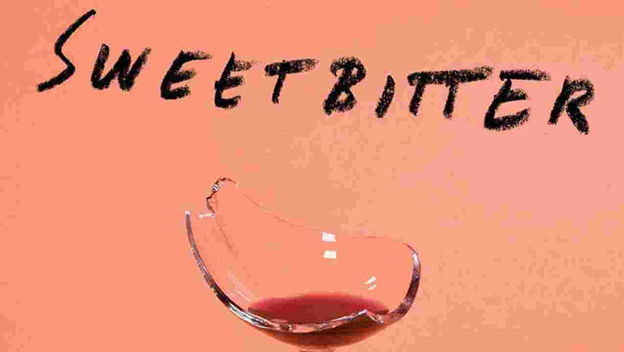 SWEETBITTER (Starz)
Suburban millennials who move from their hometown to a big city sometimes engage in a burdensome and expensive practice known as "chasing your dreams." What chasing dreams specifically entails varies from person to person, but they are all equally likely to crushed by the various financial demands of capitalist society. Most dream-chasers know that success is unlikely, but their passions run so deep that they throw caution to the wind. SWEETBITTER's Tess (Ella Purnell) is one of those dream-chasers, and absolutely no time is wasted establishing that. It takes five minutes and little dialogue to transport our naive hero from a vague domestic situation to the upscale Sweetbitter restaurant in New York City, where she lucks her way into a tenuous job as a waitress. It's here that she'll learn to taste wine like a sommelier, cater to the needs of others, and "become a person."
There's countless shows about the young, sexy urbanite's journey of self-discovery, and SWEETBITTER's first two episodes don't have much in the way of distinguishing features. Her naivete gets her into more trouble than she's ready for, she gets bailed out at various points by side characters that deserve more screen time—in this case, Simone (Caitlin FitzGerald) and Sasha (Daniyar)—and starts to make passes at the ruggedly cute but clearly troubled bartender Jake (Tom Sturridge). However, the lack of surprises doesn't weigh the series down in any way, really. The story moves fast without missing important details, the kitchen banter is lovably dirty, and at six half-hour episodes, it seems to be understood that this isn't exactly a psychological deep dive. This is a slice of filthy fun with enough substances and body parts to be enjoyed as a guilty pleasure, and some service industry stress and struggles to add contrast and variety. A tasty palate cleanser, SWEETBITTER deserves the attention it's asking for. [Dan Blomquist]
Verdict: Hit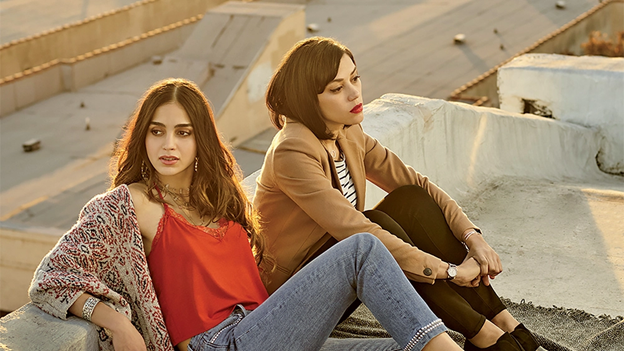 VIDA (Starz)
Do you like East LA? Wait, don't tell me—you love all those overpriced Silverlake coffee shops. How about those cute little restaurants with string lights and exposed brick that have popped up everywhere? Well, VIDA is nothing like that. And THANK. GOD. VIDA takes places in Boyle Heights, where the people have been fighting back against gentrification for years. With their roots firmly planted, they're doing everything in their power to hold onto the neighborhood.
The show follows two Mexican sisters with a strained relationship, Emma (Mishel Prada) and Lyn (Melissa Barrera); only the death of their mother, Vidalia, drags them back to the old neighborhood to tie up loose ends and pay their respects. With a strong Latino cast, themes such as gender, sexuality, what it means to be Mexican and Latino, and culture and tradition are highlighted. The show does not hesitate to bring up immigration, being undocumented, and what family means.
Naturally woven in are the aspects of life so normal for most Latinos. And it's done seamlessly enough so that you don't find yourself rolling your eyes at any stereotypes. When we watch Emma relish her first bite of birria in who knows how long, it makes you wish you had a plate of your favorite tacos. When we see various extended family members plant lipstick-smudged kisses on Lyn's face, it makes you think of your own mom and aunts. When Emma questions why there's so much flan, it reminds you of family gatherings where there's so much food it means that's all you'll be eating for the next two weeks. VIDA reminds us of our own families, our traditions, our memories and what it means to be Latino, especially in Los Angeles. It takes us home. [Marisol Diaz]
Verdict: Hit