Podcast of the Week: RISK!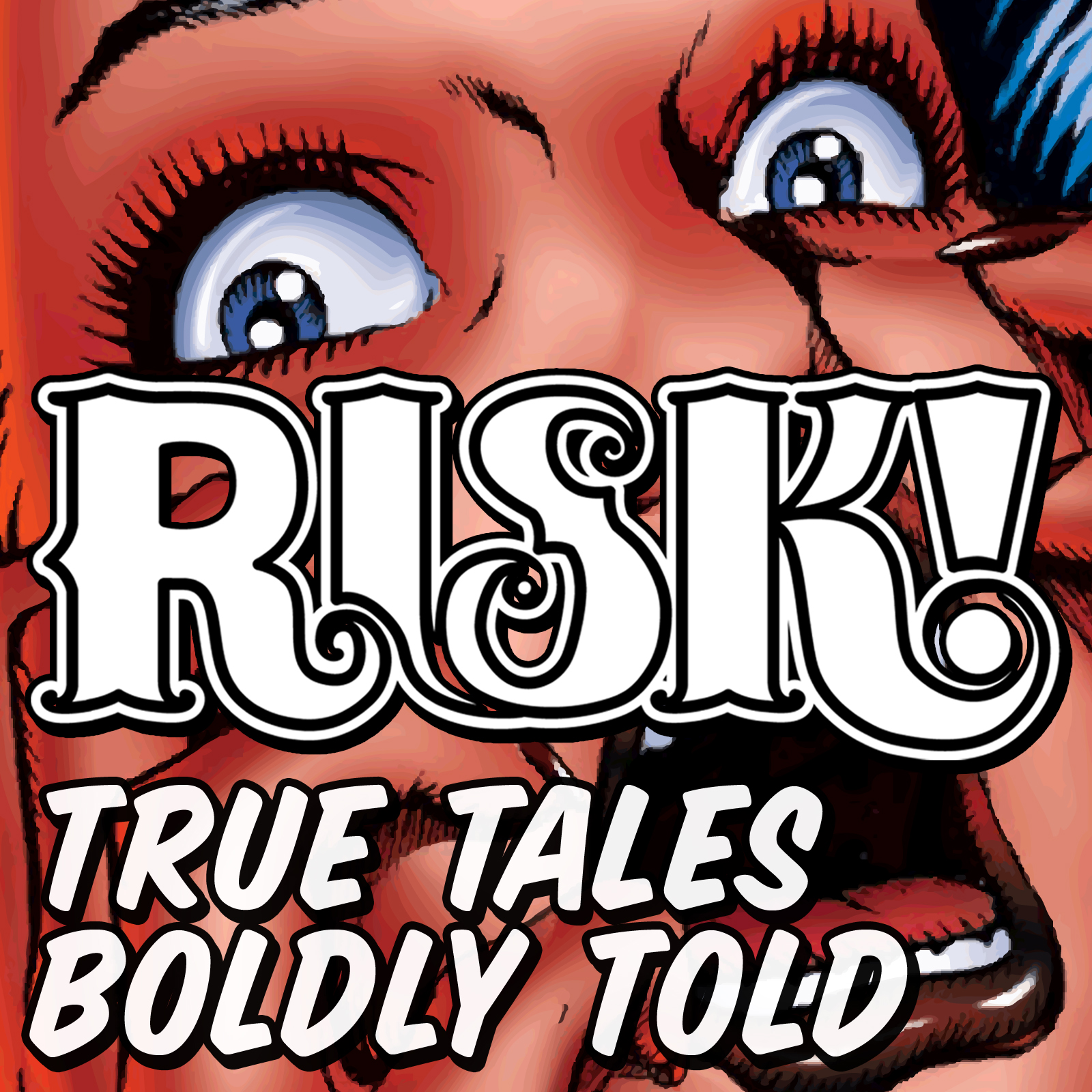 When I decided to incorporate the Podcast of the Week section into Crossfader, I can't deny that using it as a platform to make sure each and every person I know listens to RISK! was at the forefront of my mind. And then I hemmed and hawed for two months, because I got nervous about appropriately or properly conveying how pervasive and integral this podcast has become in my life. But here it is, folks, the week that I'm going to give it the ol' college try and try to get those subscribe buttons a-clickin'.
RISK! was the first podcast I ever tried out (well, ignoring several failed attempts to get into THIS AMERICAN LIFE; for some reason, I just can't do it!), and I immediately fell in love. I took the regular advice of host Kevin Allison and started with the "Best Of" episodes since I was new; the first time I heard Adam Griffin's "Fantasy Farm" story from "The Best of RISK! #1" is the closest I've come to getting into a car accident, as I was too busy braving pealing fits of laughter, sliding and swerving on the road as a result. I would recommend the same to any interested parties, but there is much, much more to the podcast than a vehicle for mirth. Originally assuming the podcast to be one solely dedicated to comedy, further exploration led me to realize I was starkly wrong: this is simply the most daring, volatile, and universal podcast that's ever been recorded, one that isn't afraid to dig into every nook and cranny of the human experience, shining light on our brightest triumphs, our most crushing defeats, our most transcendent hopes, and our darkest fears.
And yes, sometimes it is about Kevin Allison being used as a human urinal during piss play ("Make Believe"). As is often echoed, this ain't no NPR show. An easy way to initially dive into RISK! is to appreciate its raw and unfiltered portrayal of sexuality; it's diverse, it's titillating (and occasionally shocking), and it really, absolutely cannot be found anywhere else! Stop what you're doing, go download an obvious highlight, the two-part series "Kevin Goes to Kink Camp," and get back to me. But the truly memorable installments and hidden gems are from the brave souls that aren't afraid to get up on stage and deliver stories that fit the above criteria of varied, gripping, and unique, yet instead focus on the constant, often debilitating, challenges that life throws our way.
Hear Jeffery Lan tell the devastating story of falling in love with a much older man, only to have to watch him slowly fade away ("Heart and Arrow"). Hear Paul Gilmartin tell the story of how he came to recognize and process the twisted, sexualized relationship he had with his mother as a child ("Embattled"). Hear Moloch Masters discuss how her father once had her eat human flesh (!!!) ("Triggers"). Hear so many more tales of romance, heartbreak, fetishes, foibles, qualms, and everything else under the sun. There is perhaps an understandable potential criticism to be made in that RISK! can occasionally feel like tragedy porn, but detractors of this nature are missing the point, for my money. Instead of feeling voyeuristic, the nearly palpable sense of community that bleeds through the speakers, perhaps bolstered by the constant reminders that RISK! is a show almost entirely supported by the listeners and fans, instead fosters a sense of empathy and inclusion.
It is likely that many listeners will never experience the situations and scenarios the storytellers find themselves in, but there is an undercurrent of a defiant lust for life running throughout that is among the most affirming things you'll experience. This is a podcast for survivors, for those who refuse to give up, for those who want to expose themselves to every shade of existence imaginable. This is a podcast that can and will give courage to anyone from any walk of life, and is one of the few things I would proclaim unarguably essential listening. So go ahead, take a risk.
And if Kevin ever ends up reading this, I sincerely do hope you find the scat story you've always dreamed of.