GODLESS Review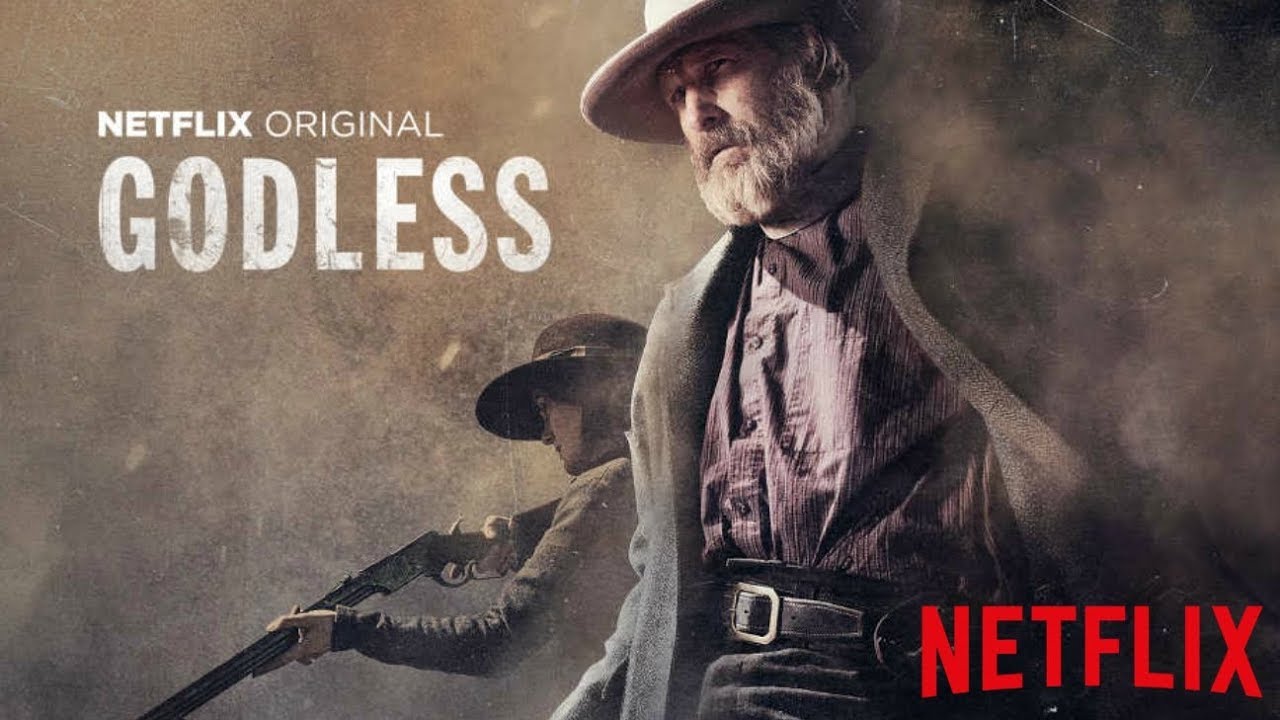 If you think about it, the Western genre was and remains one of the greatest and most influential genres ever created in film and TV. From the conventional shoot-em-ups of the 1930s and 1940s (STAGECOACH, RED RIVER) to Sergio Leone's "Spaghetti Westerns" in the 1960s (THE GOOD, THE BAD, AND THE UGLY), the Western genre was a staple of pop culture for several decades. Classic TV shows like GUNSMOKE dominated the small screen for years. Even other genres such as science fiction have borrowed heavily from Westerns: STAR WARS, if you think about it, is just a tale of heroic gunslingers set in space. Today, there are neo-Westerns like NO COUNTRY FOR OLD MEN and HELL OR HIGH WATER that carry several conventions of the classic genre, but in a modern setting. However, despite the genre's long endurance, there haven't been many classic Westerns in the past decade that live up to their predecessors.
GODLESS, a limited series written and directed in its entirety by Scott Frank, is a great example of a good western: it has terrific heroes, a despicable villain, and a compelling story all shown with gorgeous cinematography. Yet, despite all its strengths, Netflix's latest miniseries doesn't come without its fair share of weaknesses. The premise of GODLESS intrigued me when I first started watching: a town filled with women has to fight off a dangerous gang led by the outlaw Frank Griffin (Jeff Daniels). But, after viewing the first couple episodes, I quickly began to realize that LaBelle, the small mining town consisting only of widows, was meant as more of a plot device; either Scott Frank, Netflix, or both had no intention of characterizing much of the actual women in the town.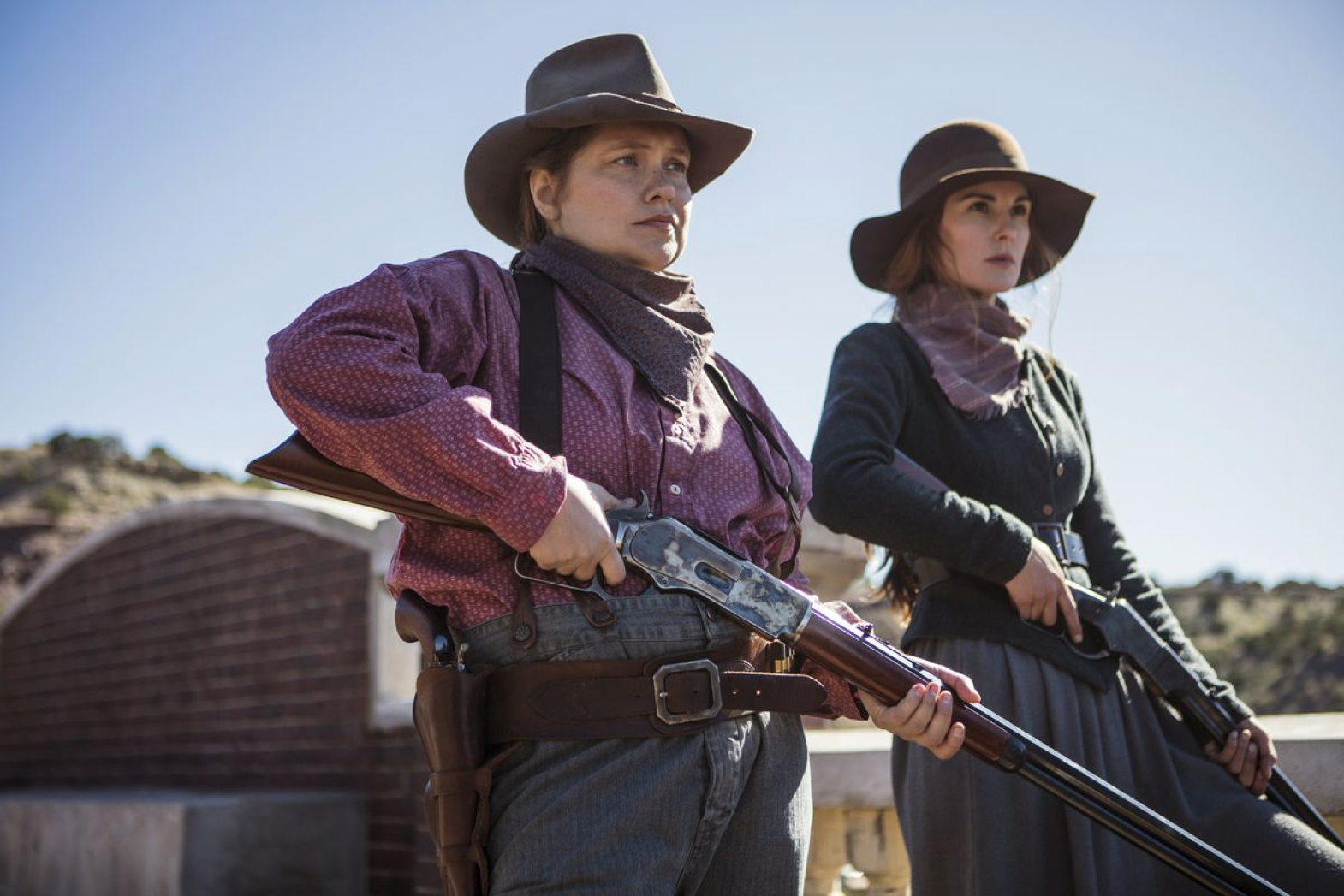 Ladies and gentlemen, meet the *only* two women in the main cast
After losing most of the men in a mining accident two years ago, the widows and children of LaBelle have learned to adapt and are trying to open up their mine once again to bring some money into the town. However, the appearance of Roy Goode (Jack McConnell), a former member of Griffin's group of outlaws, in LaBelle begins to threaten the safety of the widows—Goode is being hunted by the gang for stealing their payload and shooting Griffin's arm off in a chase. Though the story falls close to the classic Westerns of 75 years ago, gore and grit flood the screen: in the opening scene alone, Marshal John Cook (Sam Waterston) rides through a town Griffin has ravaged and destroyed, passing burnt bodies of human and horse alike, eventually collapsing on his knees after seeing a young boy hanging by his neck.
There are several other great characters in GODLESS that deserve attention: Alice Fletcher (Michelle Dockery), twice widowed and living with a half-Native American son; Bill McNue (Scoot McNairy), the sheriff of LaBelle who is slowly going blind; Mary Agnes (Merritt Wever), the tough widow of the now-dead mayor and Bill's sister; and Whitey Winn (Thomas Brodie-Sangster), the headstrong and reckless LaBelle deputy. Indeed, the characters—and the actors that play them—are without a doubt the strongest part of the limited series. The biggest problem of GODLESS, though, is that most main cast members are white males, even though the miniseries is set in the Old West and is populated with women, African Americans, and Native Americans.
Jeff Daniels riding a horse into a church? Iconic
Besides Alice Fletcher and Mary Agnes, very few of the women in LaBelle are given much characterization and growth. There are one or two that have a prominent guest role, but the town filled with widows is used more as a hook to get viewers watching. Creator Scott Frank does little better with the African Americans and Native Americans in his story: the small black community outside LaBelle called "Blackdom" is hardly utilized, despite being one of the more interesting subplots in the miniseries. The Native Americans in GODLESS are treated similarly; the only prominent characters are Alice's son Truckee and her dead husband's mother, Iyovi. The greatest strength of Netflix's limited series should have been its diversity of cast and characters, but instead it becomes its most potent weakness.
Even though GODLESS doesn't live up to the potential of its pitch, the show nevertheless succeeds at being one of the best Western TV shows since HBO's DEADWOOD. The performances by the cast are all brilliant, particularly Daniels, McNairy, and Wever. The cinematography is breathtaking and manages to capture both the grit and beauty of the Old West. But—most of all—GODLESS shows that the Western genre can still attract audiences today. Scott Frank expertly combines the standard narrative conventions of classic Westerns with the gore of Leone's Spaghetti Westerns to form a compelling story with even more compelling characters. As a limited series that examines and turns Western stereotypes on their head, the miniseries doesn't do much. However, GODLESS is more than competent; it draws you in quickly and keeps you on the edge of your seat. Even though most episodes are over an hour long, no second of the show is wasted. Leave it to TWIN PEAKS or THE HANDMAID'S TALE to define quality television this year: GODLESS strives to and succeeds in simply entertaining its audience.
Verdict: Recommend