Bandcamp Picks of the Week 12/20/17
Bandcamp Picks of the Week, as large and in charge as ever
Church Fire – PUSSY BLOOD
Genre: Darkwave
Favorite Tracks: "every toss a tightening," "slip," "unused"
The dynamic of Church Fire, a duo of David Samuelson and Shannon Webber, shares an uncanny resemblance to that of Crystal Castles. Their inspiration on them is evident and Church Fire show comparable skill in terms of creating a balanced mix of electro-dance bangers and baleful electro-ballads.
"Everybody is half dead, and to me it is terrible." It's an admonishing, creepy voice sample that opens the album on "every toss a tightening," and it's soon caught up in a sonorous whirlwind of clinking synths and undulating samples, kicked about before dazzling currents and bass thrust Webber's glitched-out code of a voice up in the mix. It lags back and forth, pushing in and out of focus; when there is a moment of clear rendering, we catch sight of a demon throbbing from a pixelated hellhole. PUSSY BLOOD, Church Fire's 2016 release, plays out like a cyberpunk seance and the spirits conjured entrance just as much as they disturb.
Webber's unmasked vocals present something almost soothing on "slip," but never verge far from eerie lifelessness. It's a steady buildup as our narrator awakes in a foggy hangover: "When you slip it's comfortable." However, once the situation at hand is illuminated, "your brain is dumb and numb / and stuck just an agitated scraping from a paralyzing fuck / it doesn't count if you're unconscious / no one know will know if you forget / why tell a changing story when you never even felt it," the song nosedives immediately into a gauntlet of scraping, prodding synths. It's a haunting recount of rape, and the meddling confusion and panic that comes in its wake. The victim sees denial as their only option, their salvation, and as the urgency of the song ramps up, so does their need to will it out of their existence. While the unfortunate and all too pertinent subject matter of the song burdens Church Fire with an unsettling familiarity, they are able to cast it aside. In Crystal Castles, Ethan Kath's shadow uncomfortably loomed over Alice Glass, but Church Fire's music suggests a different kind of relationship: a clear establishment of space and position in favor of Webber, whose screams could gut you in the blink of an eye. You can listen to it here.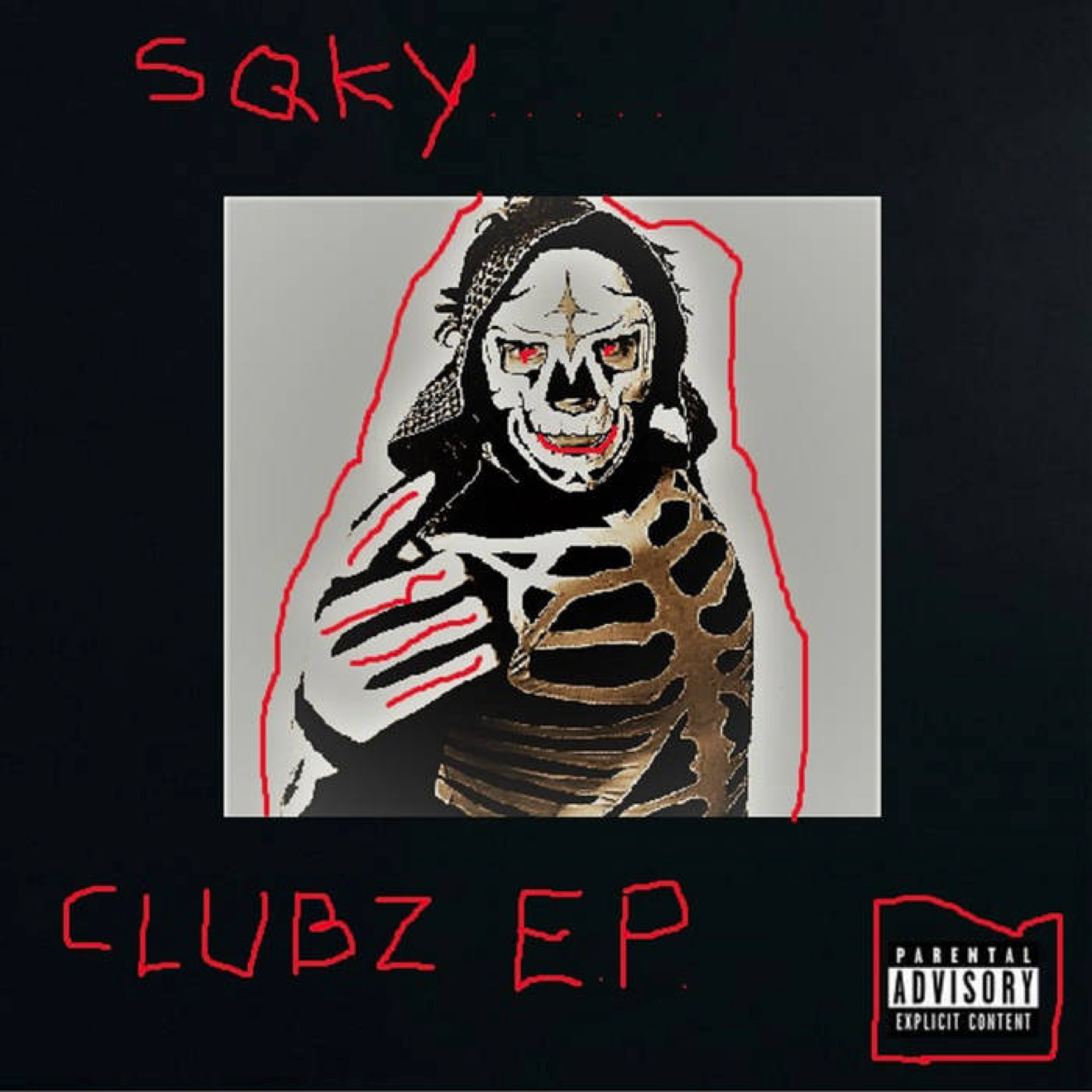 SQKY – CLUBZ EP
Genre: Grime
Favorite Tracks: "Red Room (T.D.K Edit) (featuring Lloyd Luther)," "Sunday Roast," "Fuzznuts (Underground Symphony)"
SQKY might be from another planet. His Bandcamp doesn't state he's from any specific place, and his latest release, CLUBZ EP, was said to have been "recorded at a hidden location where only masked men in skeleton costumes hangout." He would fit snugly into the Definitive Jux roster, alongside the equally aberrant likes of RJD2 or Del the Funky Homosapien. But perhaps who SQKY would sound most natural next to is MF Doom. From the otherworldly persona established throughout ("dug deep / I sleep underground / It's how I'm livin'") to the odd, eccentric sampling (the classic anatomy explanation from KINDERGARTEN COP on "Sunday Roast"), to the pitch-shifting, stream-of-consciousness style bars, SQKY is one of the rappers who wouldn't exist without Doom, who wouldn't see a niche available to slide into. But where MF Doom is informed by Marvel Comics fodder, SQKY's vision of rap is the product of retro and modern technology, particularly video games and cinema. "Red Room" is a warped out, straight-from-the-gutter slapper momentarily interrupted by what sounds like a YouTube commentary about a "livestream snuff film," only to dissolve out and resume the journey into the CGI vortex of flagrant lyricism ("I'm giving white girls a white face / until it gets too messy / apron") and auditory technical decay.
Each track is jittery and manic—a kind of sonic ADD, with the continuous switching and introducing of flows, beats, and samples. Just listen to "Fuzznutz (Underground Symphony)," the final track where SQKY seems unable to slow down; it plays like an arcade game massacre at first, only to break into a menacing fusion of strings, movie audio bites, and erratic drum n' bass. There's not a dull moment on here. For the youth of today's endless need for stimulation, SQKY proffers CLUBZ EP: a convulsive, dirty, and tortuous mosaic of rap, grime, and electronica. You can listen to it here.