Everything Is Tired: The Carters in 2018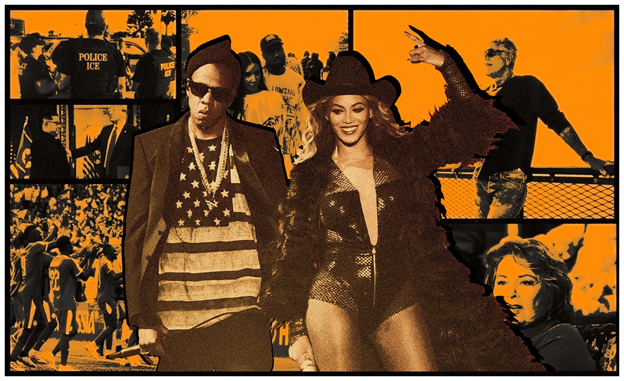 I'm tired. Aren't we all tired?
June of 2018 was one of the more exhausting months in recent memory. A new XXL class was revealed . . . the dust settled on a Pusha-T album release and one of the craziest rap beefs in a decade. . . the last moments of press slid by for an already forgotten A$AP Rocky record. . . we all watched Wyoming and, with it, mixed releases from problematic figureheads like Nas and Kanye, a redemption arc for Kid Cudi, an unfinished disappointment for Teyana Taylor . . .  seemingly under-the-radar releases by hip hop's growing middle class popped up, like REDEMPTION from Jay Rock, FREDDIE from Freddie Gibbs, and records from established veterans like Black Thought, Westside Gunn, Gunplay, and Freeway emerged, many of which we didn't even cover here because there's just too much . . . oh, and Drake released SCORPION.
But wait, I only described June as it related to the world of hip hop. Let me try rewriting it with everything else going on in the world in mind.
June of 2018 was one of the more exhausting months in recent memory. Trump pushed for the reinstatement of the G8 to include Russia, and used a North Korea-United States summit to ease tensions with a known human rights violator and dictator . . . the U.S. then announced it will withdraw from the United Nations Human Rights Council, amidst the government stripping thousands of immigrant children from their families and loved ones, with no obvious paper trails or means to have them reunited . . . Supreme Court judge Anthony Kennedy announced his retirement, interrupting a small victory in 28-year-old socialist Alexandria Ocasio-Cortez beating incumbent NY representative Joe Crowley . . . the World Cup raged on, Anthony Bourdain committed suicide, LeBron lost another NBA finals, Jimmy Fallon decided to get political, and a discussion about civility in this country raged on with a hypocrisy as plain as the tan suit Obama wore in 2014 . . . oh, and we started the month debating ABC's cancellation of ROSEANNE.
But I suppose we should talk about Beyoncé and Jay-Z.
It should first be noted that they're the only aforementioned artists, other than Kanye and Drake, whose names are big enough to insert themselves into the world news of the day, right in between the separation of 1,995 missing children and Harley-Davidson moving its production overseas. On paper, Jay-Z and Beyonce have the ability to complement each other musically, and not entirely in a beauty and the beast type of way. Jay, at his best, can bring a mogul swagger that few can match, leveling into beats with gravity and a particular aura about him. Last year's 4:44 showed his softer side, a tool in his kit explored and exposed for future releases. Bey's versatility as a performer is unparalleled from a pop perspective, and she's proved as much over her career. Soft, loud, fierce, meek, powerful, powerless, angry, sad, tired: she can channel all of it. In the 10 years they've been together now, they've released a total of eight albums, none of which were together, and thusly EVERYTHING IS LOVE has been a long time coming.
But I'm so tired. And, for better and worse, EVERYTHING IS LOVE asks a lot of you.
It asks, first and foremost, that we consider it not simply as bullish pop spectacle, but as the ending of a "trilogy," one that began with LEMONADE in a world that couldn't yet comprehend the exhaustiveness of the current times. When LEMONADE appeared out of nowhere, on our television sets and on a streaming service that was then at the beginning of its maligned lifespan, the world was simpler. Internet writings, obsessions, and parodies over its imagery and lyrics were the way of the world, a necessity for a complex document charting the deteriorating marriage of one of the most powerful couples in the world. And, to a lesser extent, we did the same thing last year with part two, 4:44, a sophisticated and savvy release by a veteran rapper. Jay-Z positioned his repentance to be discussed concurrently with Beyoncé's anger. It was smart. It worked.
EVERYTHING IS LOVE was always how this was going to end. Forgotten, or at least ignored, in the midst of the (probably) very real emotions being hashed out on LEMONADE and 4:44 was that these two aren't just one of the most powerful couples in the world, airing their grievances to save their marriage—they're clever marketers and business icons who know how to sell tickets, even when the tickets are to their lives.
But aren't you tired? Didn't reading that last paragraph wear you down a bit? Millionaire musicians leveraging their love life into musical story is unquestionably fascinating, but truthfully a lot was required of this finale for the entire drama to work, and reading that the final installment might make the entire trilogy seem emotionally cheap isn't what people want—especially when one of those albums was considered by many to be the best of 2016. It's not as though EVERYTHING IS LOVE is a scrappy collision of wrongfulness and repent hashing things out on a collaborative record—that part undoubtedly happened with a pricy therapist. Instead of offering the culmination of two intensely emotional people confronting each other, EVERYTHING IS LOVE pivots to being a gaudy, blown-out, expensive sounding celebration of wealth where the subtext is simply that by making a joint record at all, and by celebrating their affluence, we are to understand that they are happy. Amidst the occasional meaningless shots taken at Drake and Kanye and Apple and Kendall Jenner, and Beyoncé establishing herself as an elite rapper, this album celebrates two ultra successful musicians who have seemingly worked out their issues—but do we really want to listen to that?
EVERYTHING IS LOVE feels out of touch. The album doubles down on the braggadocious mogul rap lyrics about richness and legacy-building that made Jay feel stale at the turn of the decade in the first place. Lines like "My great-great-grandchildren already rich / That's a lot of brown chil'ren on your Forbes list" ("BOSS"), "He got a bad bitch, bad bitch / We livin' lavish, lavish / I got expensive fabrics / I got expensive habits" ("APESHIT"), or "It could be far worse for you, can't it? / Pain comes with penthouse views, ain't it?" ("HEARD ABOUT US"), in the midst of everything else happening in the world, lands flat. It's not Beyonce or Jay-Z's responsibility to make art that lines up with the times, but after two albums that radiated emotions that people could identify with, EVERYTHING IS LOVE feels like an observance of wealth and fame in a time when people are trying to tear those very things down. What once would've been aspirational, even joyful in its own way, comes as billionaires like Jeff Bezos and Elon Musk are being actively criticized for wasting their wealth, and references to Lambos and bear skin rugs land awkwardly in light of that.
But Jay and Bey aren't required to take that into account. And EVERYTHING IS LOVE isn't bad. I'm not sure anything with this much money behind it could be bad, really, and in a different era this kind of hip hop would've been par for the course. Hearing Bey and Jay switch spots, with Bey as a kind of alpha rapper with bodying bars and Jay becoming the backbone on some of the choruses and verses is a really smart decision. Even if they sound disconnected at times, some of these songs are monster bangers, from of-the-moment trend chasing like "APESHIT" to a kind of vintage world-beater like "BLACK EFFECT." EVERYTHING IS LOVE has enough songs to be a worthy listen, especially closer "LOVEHAPPY," the only song, really, to actually act as a piece of the trilogy rather than assume the logistics of the record could fill in subtext. In a different time, it would be the only thing we talk about for weeks and weeks.
All of that is, I guess, interesting. But it's not a distraction in the way pop spectacles are supposed to be, and it hasn't played out as such, especially considering that none of this has led to the same kind of over-the-top, wide-ranging analysis that LEMONADE or 4:44 demanded. Weeks later, it feels as though we've moved on to the next thing in hip hop and, more importantly, the next thing in the world. And if I'm tired, what are Jay-Z and Beyoncé? They dropped the album on a Saturday afternoon. They put it on Spotify after Beyonce audaciously rapped "If I gave two fucks, two fucks about streaming numbers / Would have put LEMONADE up on Spotify," a move that really did kind of feel like chart-chasing (it didn't work). If it was released to undermine Nas and Kanye and Wyoming, it was done tactfully and with precision. If it was released ahead of their joint tour for promotion and more live material, it achieved everything it set out to. But if it was released as a real album, an event years in the making, a true conclusion to what started as a fascinating 21st century drama, why does it feel like an afterthought? EVERYTHING IS LOVE feels tired. I feel tired.
Art certainly doesn't have to mimic life. The argument that what The Carters are providing on EVERYTHING IS LOVE is escapism is valid—certainly all of us wish we could promise our families financial solace in 2018, even if the way they go about it is fairly exaggerated. But it's an album that never finds a way to make that escapism feel like its central goal. To varying degrees, LEMONADE understood the plight of the scorned woman, and 4:44 understood the position of the wrongful man. EVERYTHING IS LOVE doesn't resonate as anything more than a clunky rap album made by big stars who are aware that they're too successful to fail, and it's hard to get over that fact. As the world continues to slowly burn, and our places in it continue to feel smaller and smaller, a garish pop record may be the right distraction—but it isn't this one.