Music Roundup 7/17/17
Hopefully you know the drill by now! Here's our music roundup focusing on the notable releases of the past week or so, letting you know which ones are worth your valuable time.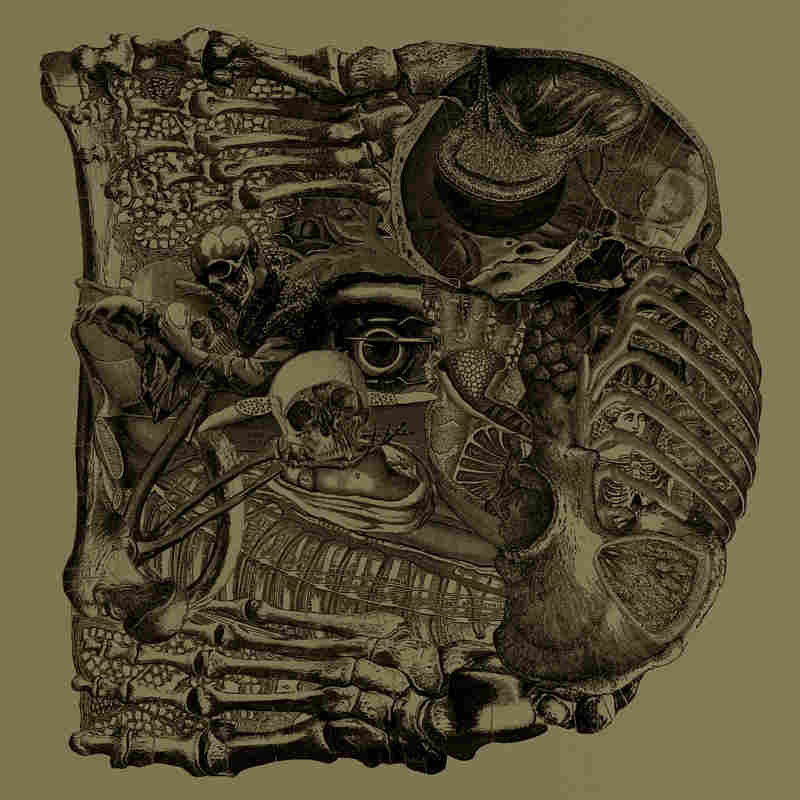 Boris – DEAR
Genre: Sludge Metal, Post-Rock
Favorite Tracks: "Absolutego," "Biotope," "The Power," "Dystopia -Vanishing Point," "Dear," "Evil Perspective"
You're straight goofin' if you claim to be a rock fan without having listened to Boris. Named for the killer Melvins track and taking a lot from their incredibly heavy formula, Japanese metal trio Boris absolutely slays with this latest release. Given how rudimentary NOISE was and that GENSHO was literally their greatest hits but with Merzbow, it's easy to imagine that the band lost some of its steam. Yet after an incredibly fruitful tour fueled by fans the world over, Boris saw fit to return to the studio. And good thing too, because DEAR is the best Boris has been in nearly a decade. Our drummer Atsuo continues to be the lively foundation of the band, while Takeshi shouts his heart out on vocals, his double neck crushing both bass and rhythm. And of course, the lady legend on lead Wata wraps nearly every track in varying riffs ranging from oppressively heavy sludge doom to manic virtuosity. Seeing as the album functions as somewhat of a sampler of Boris's many forays into experimental rock stylings over their 25-year long career, don't worry if the first couple of tracks off of DEAR are a little too mind-numbingly droning for you. View it more as a pre-pilgrimage meditation, clearing listeners' minds for the intense journey to follow. [Alec Larios]
Verdict: Recommend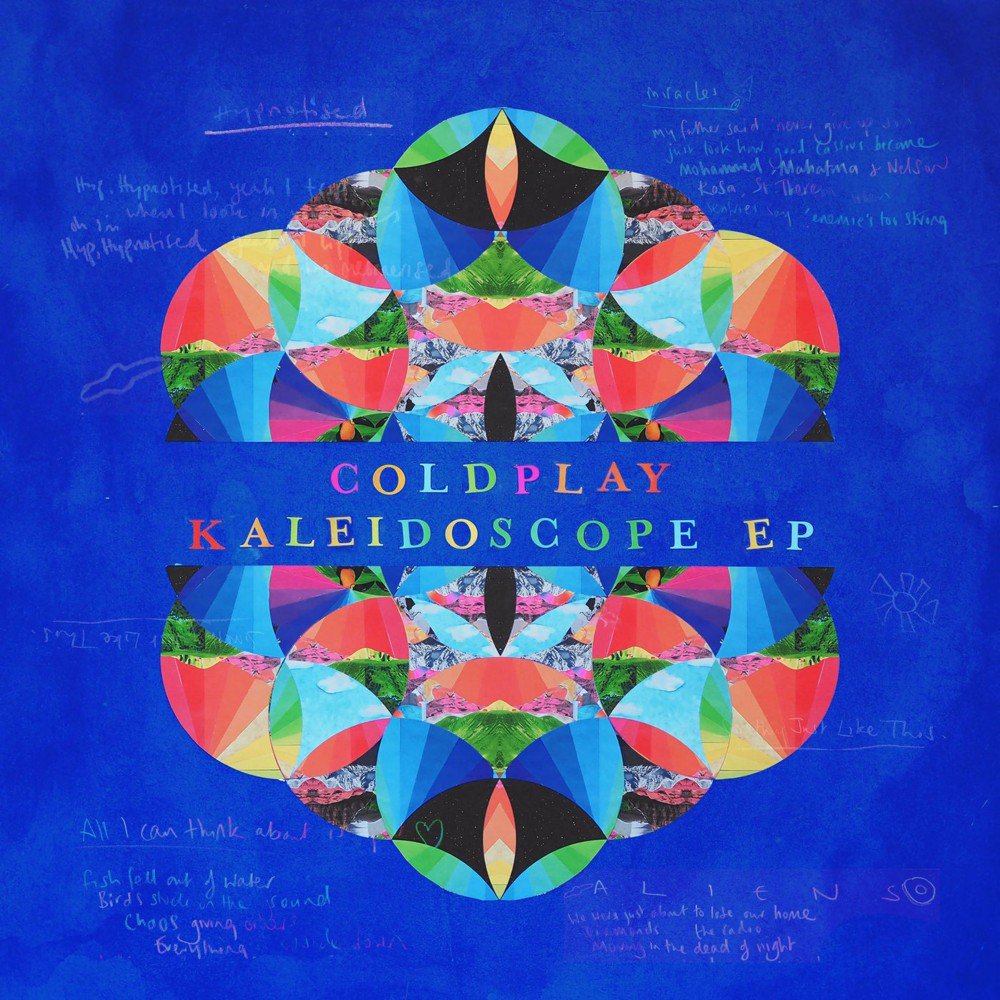 Coldplay – KALEIDOSCOPE EP
Genre: Pop Rock
Favorite Tracks: "All I Can Think About Is You," "Aliens"
While Coldplay have released some excellent singles over their career ("Speed of Sound," "Viva La Vida," "Adventures of a Lifetime"), their brand of anthemic, effortlessly pretty, and emotionally myopic music can get rather exhausting over the course of an entire album. An EP-sized dose of Coldplay seemed like a good idea when they announced it as a companion piece to their last record, A HEAD FULL OF DREAMS. Consisting of four new songs and a live version of their Chainsmokers collab "Something Just Like This," the only song I have ever heard with a guitar solo during a bass drop, it plays to the band's strengths and doesn't wear out its welcome. The distant vocals and swelling second half of "All I Can Think About Is You" are beautifully dramatic, and the electronic squelches on "A L I E N S" add a cool sci-fi twist I haven't heard from the band since X AND Y. The totally unnecessary Big Sean feature on "Miracles (Someone Special)" is the only major hiccup, but the programmed, hip hop drum beat matched well with the lead guitar and piano melodies and eventually won me over. "Hypnotized" is the most traditional Coldplay song on the record, for better or for worse, but I still haven't tired of dazzling synth and piano over starstruck vocals just quite yet. Those who have gotten tired of Chris Martin's vague cooing about positivity and love are unlikely to have their minds changed by KALEIDOSCOPE, but it's among the most concise, epic, and mesmerizing music Coldplay has put out in years. [Blake Michelle]
Verdict: Recommend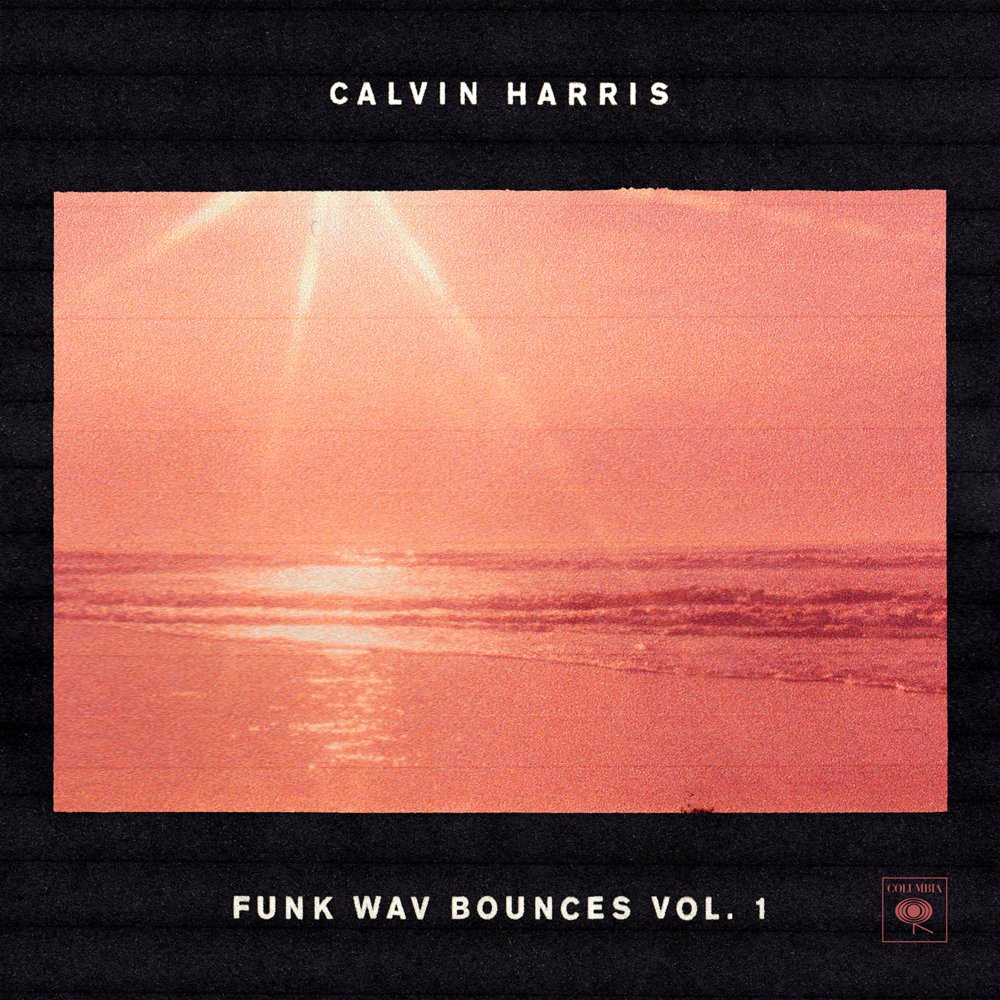 Calvin Harris – FUNK WAV BOUNCES VOL. 1
Genre: Nu-Disco, Disco-Pop
Favorite Tracks: "Slide (featuring Frank Ocean and Migos),"Skirt On Me (featuring Nicki Minaj)," "Hard to Love (featuring Jessie Reyez)"
There are two ways to review Calvin Harris's new project, the clunkily named FUNK WAV BOUNCE VOL.1, so we may as well do them both.
The first is by reviewing how good each song stands as a single. The "VOL.1" part of this title makes Harris's newest album come across as more of an old school mixtape than an actual album, but it does fall in line with the DJ's statements earlier in the year when he claimed he'd be putting out 10 singles in 2017. If this were a ripped cassette tape that you were giving a friend, the ratio of good-to-bad summer ready jams is in the green. From bonafide "Song of Summer" candidate "Slide," to the rump-shaking Nicki Minaj ditty, "Skrt On Me," FUNK WAV BOUNCE VOL.1 goes from poolside anthem to Top 40 banger with ease. And while it's hard to view this collection of songs as an "album" (honestly, this project is a better justification of the commercial "playlist" description that Drake was trying to sell us on with MORE LIFE), there is actually some semblance of flow. The final tracks in particular, "Faking It" and the surprising Jessie Reyez ballad "Hard to Love," are delightful notes to end on.
The second way to review this project is to analyze how good each performance is and how they relate to each other. As more curator than performer in this sense, Harris has gone from making big room EDM tracks with single feature credits to full blown posse cuts with big, dynamic, and colorful performers. This, naturally, leads to some tension. Most of the time everything clicks: Frank Ocean sounds absolutely effortless next to Migos on "Slide," and Lil Yachty and Kehlani have a very natural chemistry on "Faking It." Also notable is the delightful threesome of Ariana Grande, Young Thug, and Pharrell, who is no stranger to acting as curator, and operates underneath Grande's powerful vocals with veteran awareness. On the flip side, artists like Katy Perry, ScHoolboy Q, Future, and Khalid never quite feel truly comfortable amidst Harris's breezy, lighthearted electrofunk riffs. This makes some tracks, notably "Feels," "Cash Out," and, to a lesser extent, "Rollin," feel lost amidst more fully realized tracks with better utilized guest spots. Harris never quite reaches "We Found Love" levels of pop ecstasy on FUNK WAV BOUNCE VOL.1, but his collection of deconstructed disco singles nevertheless finds success in dusting off the CD burner and making a tight mix to enjoy on summer vacation. [CJ Simonson]
Verdict: Recommend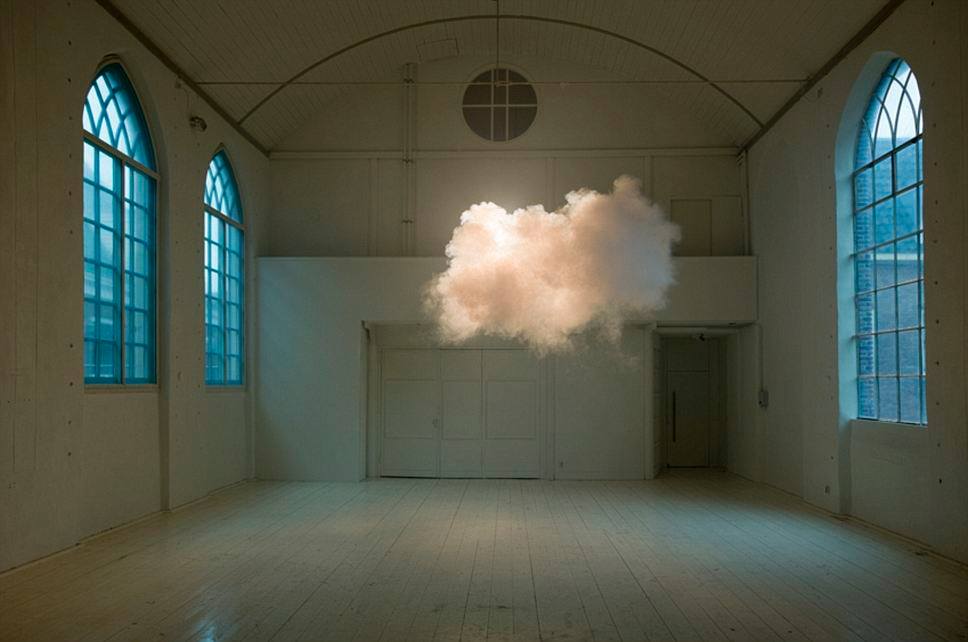 Colter Harris – LIVE FROM AN EMPTY ROOM
Genre: Singer/Songwriter, Indie Folk
Favorite Tracks: "Down South," "Out of the Murky Depths (Shadow of the Moon)"
We here at Crossfader get sent a lot of music, although you'd never know it. And why is that the case? Because a large portion of it is forgettable and/or bad. As such, the diamonds in the rough shine ever brighter, and unsung SoundCloud artist Colter Harris has one of the stronger sheens I've come across after releasing this short, EP-length compilation of acoustic tracks recorded in a master bedroom of a recently-moved-into Bay Area home. If you stay with me through one more potential hurdle, I promise you it'll be worth it: three of the four tracks are also covers. But, knowing all of these songs in their original versions, Harris does just as good or better in terms of adapting them to his own artistic style than the greats. At least as presented on this EP, Harris commands the acoustic guitar with a confident presence that's a rarity amongst the current buzzing wave of lo-fi fetishization, yielding a rich, warm sonic presentation that almost teeters on indulgent in the best possible senses of the words. Coupled with Harris's voice, which is certainly a novelty, somewhere between the nasalness of Dylan, the vulnerability of Jeff Magnum, and the anthemic, summer-2012-compilation-ready sensibilities of Iron and Wine, the majority of tracks will have you starry-eyed and nostalgic for days long gone by. Admittedly, "Tiger Trap" is good with a lowercase "g," but Harris manages to go toe-to-toe with Dylan in the ring, Tom Petty's "Down South" gets a notable improvement here, and the one original track LIVE FROM AN EMPTY ROOM offers, "Out of the Murky Depths (Shadow of the Moon)," is infinitely repeatable and brought a little moisture to the eyes, surpassing any and all before it. Truly, I was just a lil bit blown away, and I hope our dear readers think my taste discerning enough to realize the weight of that statement. [Thomas Seraydarian]
Verdict: Recommend
Integrity – HOWLING, FOR THE NIGHTMARE SHALL CONSUME
Genre: Metalcore, Crossover Thrash
Favorite Tracks: "Blood Cermon," "I Am the Spell," "Die With Your Boots On," "String Up My Teeth"
Say what you will about Integrity and their brand of metalcore, but they're a band that has been putting in the work for decades now, they've been consistent in their approach, and they've always been pioneers in their subgenre. Their 1996 release HUMANITY IS THE DEVIL is a classic and worth a listen for anyone who's a fan of extreme heavy music of any kind. Their latest release is nothing if not eclectic, featuring everything from gloomy keyboards to long, meandering guitar solos. Oh, those guitar solos. As a person who's foundations in music have always been in hardcore and punk, it's difficult for me to always get into metalcore that favors flashy solos over everything else. The first five tracks on this record are thrilling bursts of incredibly aggressive sound, but as you dig into the meat of the long-form tracks, the album really starts to drag. It's not that the songs lose energy, per se, but the guitar noodling becomes absolutely exhausting on "Serpent of the Crossroads" and "Unholy Salvation of Sabbatai Zevi." It's also this portion of the album where Dwid and company seem to be taking themselves a little too seriously, but luckily they pull it back together for the last third. In particular, "String Up My Teeth" is a surprising twist near the end, featuring some soulful backing female vocals which serve as a rejuvenating force to wrap up HOWLING, FOR THE NIGHTMARE SHALL CONSUME on a high note. Integrity may not be the pioneering force they once were, but they definitely still know how to craft brutally effective metalcore. [Carter Moon]
Verdict: Recommend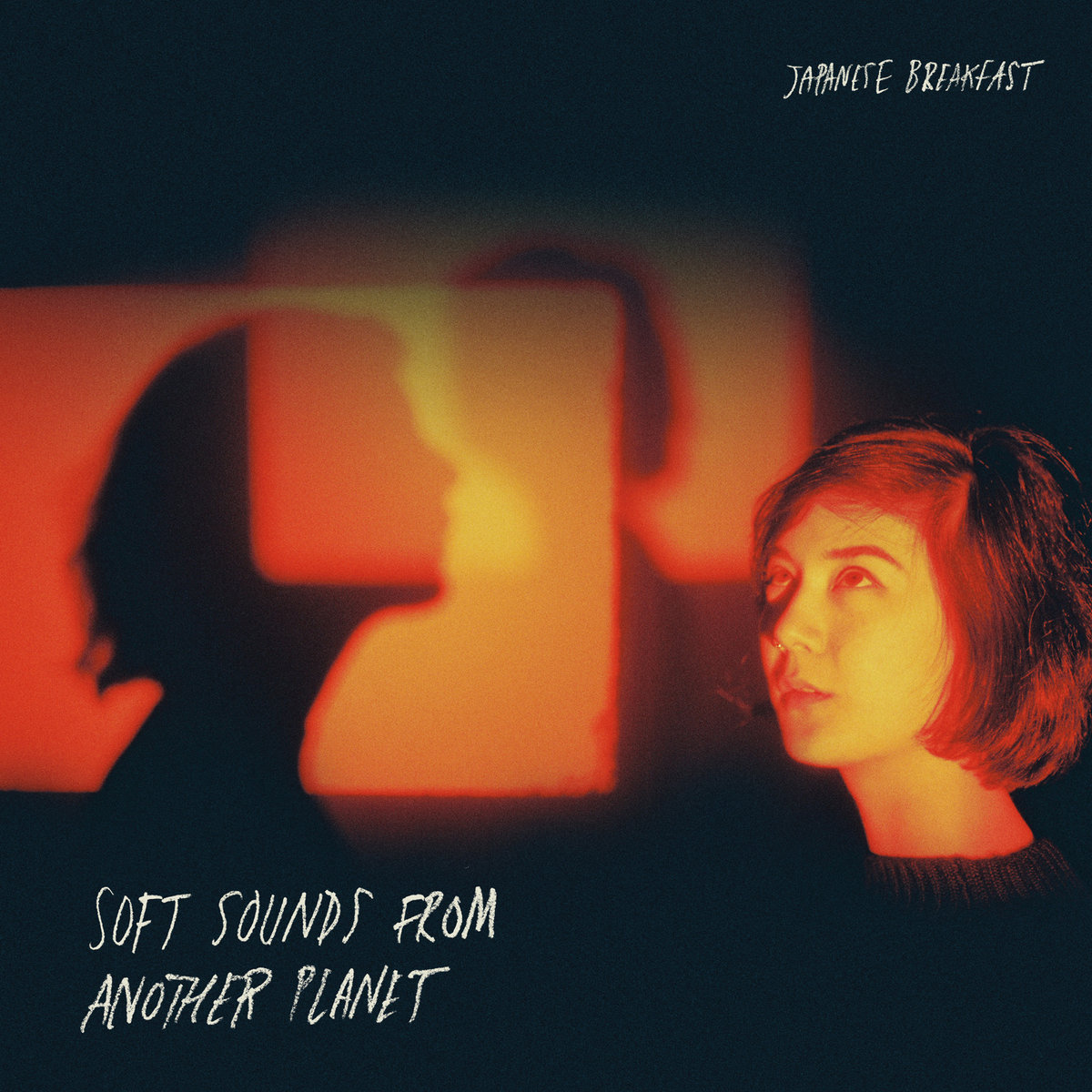 Japanese Breakfast – SOFT SOUNDS FROM ANOTHER PLANET
Genre: Indie Rock, Dream Pop
Favorite Tracks: "Road Head," " Boyish," "Jimmy Fallon Big!," "Diving Woman"
It's 2017, but somehow, it's also 1992. We got a new Slowdive album. Every week this summer has been spent eagerly awaiting the new episode of TWIN PEAKS. We've eagerly anticipated these things, partly out of nostalgia, but also because they build upon an already established legacy and surprise us with new wrinkles to an already known and loved formula. That's what is so impressive about SOFT SOUNDS FROM ANOTHER PLANET—songwriter Michelle Zauner makes excellent, guitar-driven indie music that feels like the entire early-to-mid '90s shoved into a blender, while also having clear modern sensibilities. For example, album highlight "Boyish" combines a chasmal musical production with a dreamy, Roy Orbison-esque melody and lyrics that demonstrate both an acerbic wit and a strong ability to write in the personal realm, able to make music that is both empowering and reflexive of her insecurities. The overall quality of the album is high enough to prevent any surefire individual standouts, and it's one of the most consistently good records that has come out this year. One gets the sense that Japanese Breakfast has another level beyond this one, but even if this were their peak, they've earned a spot amongst the best working acts on the indie circuit. [Adam Cash]
Verdict: Recommend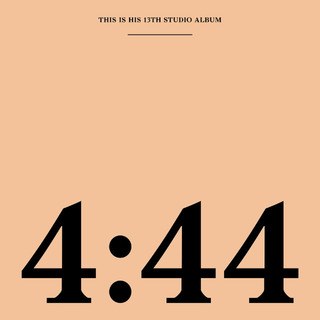 Jay-Z – 4:44
Genre: East Coast Hip Hop
Favorite Tracks: "The Story of O.J.," "Smile," "4:44"
It feels like 4:44 has existed in the world for several months, yet it's been just over two weeks since Hov dropped his TIDAL-exclusive apology letter on the world. This early in the album's lifespan, too many things have been written about Jay-Z's surprise release for a 300-word Crossfader review to appropriately summarize the album's essence. Every diss, apology, intention, and anecdote has been combed through and reported on, and while trading barbs with Kanye or singing the praises of his long closeted lesbian mother are all fascinating and complex footnotes, the oversaturation of thinkpiece reaction seems to have overshadowed whether or not this album is good or not—and it's pretty good.
Gone are MAGNA CARTA . . . HOLY GRAIL's luxurious Timbaland beats and higher-than-thou mogul raps. Gone are THE BLUEPRINT 3's needless pop-crossovers and tired, shoehorned, guest verses. Gone are the bloated, 60-minute run times. What Jay-Z has delivered with 4:44, context aside, is something that addresses the past decade of his catalog (as far back as KINGDOM COME) and course corrects to something that feels like it can stand alongside rap's current playbook. By "Killing" Jay-Z on the opening track, the album begins to explore sonic territories and personal confessions that his old persona would have never allowed for. With only one producer (No I.D.), a runtime of only 36 minutes, and BARELY four guest verses (Beyonce's is suspect as a true guest), Jay has reigned in his king-of-the-world aesthetic to create something sparse and human. Surrounded by No I.D.'s top-notch production, featuring essential samples by artists like Sister Nancy and Nina Simone, Jay lets the minimalism of the music highlight his words. Much has been made of how vulnerable 4:44 is, and when Jay nakedly lays out his emotions—for his daughter, for his mother, for his race, and his wife—he no longer feels like the billionaire fiend his insecurities were needlessly fueling for the last decade. While 4:44 doesn't begin to compete with Jay's masterwork albums, the craftsmanship and vulnerable lyricism feel akin to rap's current times, chasing recent critically acclaimed greats rather than Top 40 radio. With 4:44, Jay has finally re-entered rap's rarefied air. [CJ Simonson]
Verdict: Recommend 
Love Theme – LOVE THEME
Favorite Tracks: "Desert Exile," "She's Here"
Genre: Drone, Experimental Rock
Alex Zhang Hungtai created powerful and disturbing sonic landscapes while he was making music under the name Dirty Beaches. His avant-garde instrumentals captured the dark corners of the human experience, and even within the most chaotic, lo-fi passages, he was able to convey a sense of singular perspective. His newest project, Love Themes, breaks free of this singular vision and sees him collaborating with musicians Simon Frank and Austin Milne to capture, "the melancholic throb of love learnt and love lost." Recorded and arranged from one improvised session, LOVE THEME is as free and spontaneous as it sounds. While Hungtai's work as Dirty Beaches sometimes felt loose, he never relinquished control. On LOVE THEME, the three musicians express heartache and longing without ever feeling constrained by any rules. With tortured saxophones and maniacal drum machine loops, the whole experience plays out like a sleepless hallucination, sometimes beautiful and mesmerizing (the beginning of "All Sky, Love's End") and sometimes painful and listlessly oppressive ("Docklands – Yamatei – Plum Garden"). A humid drone runs underneath the orchestration, giving the music an intense and physically warming presence. The opening track, "Desert Exile," feels just like that: layering frantic saxophone passages over slowly rolling synthesizers, the trio spend nine minutes exploring an arid city alone at night. Like with Hungtai's previous projects, LOVE THEME finds ways to feel claustrophobic in moments of immense space, like a scene out of a noir film where you feel you're being watched despite nothing being around for miles. LOVE THEME is hardly Hungtai's best work—the multi-person improvisation sees itself linger too long, particularly during the closing track—but it's a canonical piece of music for the prolific artist, and one of his most interesting works to date. [CJ Simonson]
Verdict: Recommend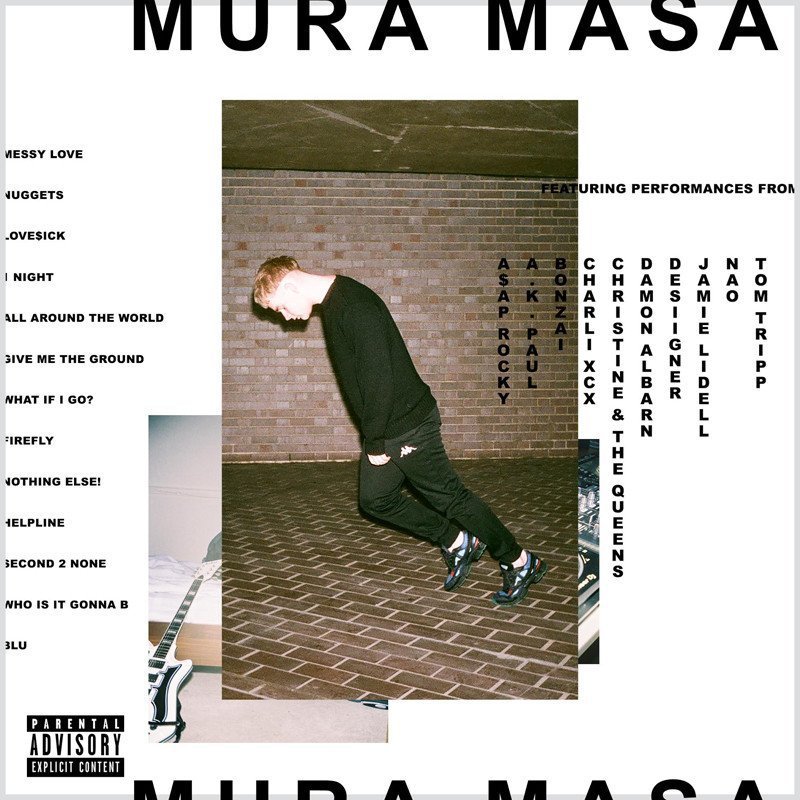 Mura Masa – S/T
Genre: Alternative R&B, Trap, Hip House 
Favorite Tracks: "Nuggets (featuring Bonzai)," "Love$ick (featuring A$AP Rocky)," "1 Night (featuring Charli XCX)," "Firefly (featuring Nao)"
Alex Crossnan has been teasing his debut album for a while now; the first song from this thing was unveiled in May of 2015, and over half of the album had already been revealed before its full release. Several of those singles, especially "1 Night," were great, offbeat pop with a lot of color, but I was worried Alex couldn't keep up the momentum for a full project. MURA MASA certainly brings a unique combination of tropical house, R&B, and disco, and Alex generally does a job molding his sonic textures to his guests, like the buzzing sirens on the track with Desiigner. Given that Alex's beats aren't full of bombast or loudness, he is more concerned with creating a space for his guests to occupy. This works great with artists with a lot of starpower and charisma, but for every A$AP Rocky there's a Damon Albarn, who should have been a perfect match for Alex given their shared love for hip hop influenced, low-key dance music that puts a heavy emphasis on guests. Here, however, his laid-back delivery is more lackadaisical than ever, and the Auto-Tune is sporadic and unneeded. Especially towards the end of the record, Alex seems to run out of ideas and just let tracks drag long beyond the point where they should, like the final minute of "Who Is IT Gonna Be" where everything cuts out but A.K. Paul's chopped up vocals and a goofy guitar lick. The first half of the record is fairly enjoyable, but the longer it goes the drier it becomes, and the guests consistently let Alex down. Stick to the singles for this one. [Blake Michelle]
Verdict: Do Not Recommend
Oh Wonder – ULTRALIFE
Genre: Indie Pop, Electropop
Favorite Tracks: "High On Humans," "Bigger Than Love"
I think I've actually had sex to Oh Wonder before (it wasn't my idea), so I thought I'd check in with the new release from what was my girlfriend's favorite band for two months of 2015. What I like to think makes me at least a bit more sufferable than many of my brethren in the more extreme variations of music nerdom is that I truthfully don't hate music of this nature on principle. I can still appreciate some of CHVRCHES' earlier work if the mood is right, and I downright enjoy acts such as Vallis Alps as a guilty pleasure. The problem with Oh Wonder is that they find themselves in a perfectly nondescript gray area between several musical movements and potential avenues of appeal. There's a polished production style and high-budget electronic bombast to their overall oeuvre that clearly aims for widespread mainstream acceptance and a remix from The Chainsmokers, but they have just enough songwriting integrity to ultimately shoot themselves in the foot by avoiding a big, dumb hooks that could be utilized in a Vegas pool party DJ set, instead trying out things such as the tepid R&B-derived slouching of "All About You." There's the potential for something here, but as long as Josephine Vander Gucht and Anthony West continue to try to emulate The xx instead of giving themselves up to industry-planted synthesized excess, they're never going to inspire much reaction either way. They could be on sorority party bus playlists across the nation with the right production team! I never thought I'd write this about any musical act, but I fully and firmly encourage Oh Wonder to sell out as hard and as fast as they can. [Thomas Seraydarian]
Verdict: Do Not Recommend
Portugal. The Man – WOODSTOCK
Genre: Indie Pop
Favorite Tracks: "Noise Pollution," "Number One"
If this album was a geographic location, it would be Hit City. Or I guess it would actually be somewhere in New York where its namesake is. For most of their past work, Portugal. The Man essentially sounded like a really good Beatles tribute band. On their eighth studio album, they finally get it right. WOODSTOCK features the band embracing pop conventions and marrying them with their indie rock sound. The result will likely turn music purists away while being embraced by more open-minded listeners. The track "Tidal Wave" even has Auto-Tuned vocals. The Nick Waterhouse-inspired "Feel It Still" is an obvious standout on the album, feeling ready-made for a Target commercial. "So Young" is a throwback to the band's earlier, Flaming Lips Jr. days, which longtime fans will enjoy. But the real gem on the album is "Noise Pollution," if you can ignore the hokey, forced, "world peace" message. With a phat hip hop beat reminiscent of "The Next Episode" by Dr. Dre and a cameo by actress Mary Elizabeth Winstead, it's a solid club song. Ultimately, WOODSTOCK is a great pop album. It's low-key and psychedelic enough for music snobs to enjoy, and you're bound to hear it in rotation at any hipster barbecue you find yourself at this summer. It's pop music for people who don't like pop music. You can finally relax and just allow yourself to be the bottom-feeding, moss-licking, grundoon you've always wanted to be. [Eden Bailey]
Verdict: Recommend
Sheer Mag – NEED TO FEEL YOUR LOVE
Genre: Power Pop, Garage Rock
Favorite Songs: "Suffer Me," "Just Can't Get Enough," "Can't Play It Cool"
It has been a long time coming for Philadelphia rock 'n rollers Sheer Mag. Specifically, its been 1,022 days, or roughly two years and nine months, since Sheer Mag began their journey from their first 7" to their full-length debut, NEED TO FEEL YOUR LOVE. With three four-song EPs released in that time period (all of which resulted in a compilation release at the beginning of the year), much of the collective anticipation for what a full length release would sound like has diminished. By this point, we're very aware of the bands affinity for '70s rock riffs, and we're aware of how effortlessly they're able to make those riffs seem dance floor-ready in a Bob Seger meets The Strokes kind of way. We're (hopefully) in love with Tina Halladay's powerful, gravely vocals—the band's greatest strength by far. And all of these facts slightly reduce NEED TO FEEL YOUR LOVE's immediate impact, not because the album isn't good (it is), but because its best moments never quite hit the raw and unabashed heights of the band's limited early work.
NEED TO FEEL YOUR LOVE doesn't mind kicking you in the teeth with its earnest rock 'n roll mentality. Despite being from Philadelphia, Sheer Mag sound like a classic Detroit rock group, with the charisma of Alice Cooper and the ear for rock melodies like The Romantics. Iggy, the MC5, and punk's early days also shine through with an edgy vocal performance and a fuck-you lyrical style. Halladay is ready to throw fisticuffs on the opening track "Meet Me in the Street," aiming to, "throw bricks at the boys in blue," and she continues that sentiment throughout the album. And while you won't find anything as fun as "Can't Stop Fighting" or as raw as "Point Breeze," NEED TO FEEL YOUR LOVE presents the sound of a band who have carefully constructed their sound over three EPs while never capturing the excitement of their early work. With a fully constructed record, there are growing pains. The band's scuzzy Allman Brothers-circa-The Sonics guitar noodling is the backbone of their dance-ready rock, and while it might not be as revelatory as their early EPs, it remains a steady reminder of the power of rock music. [CJ Simonson]
Verdict:Recommend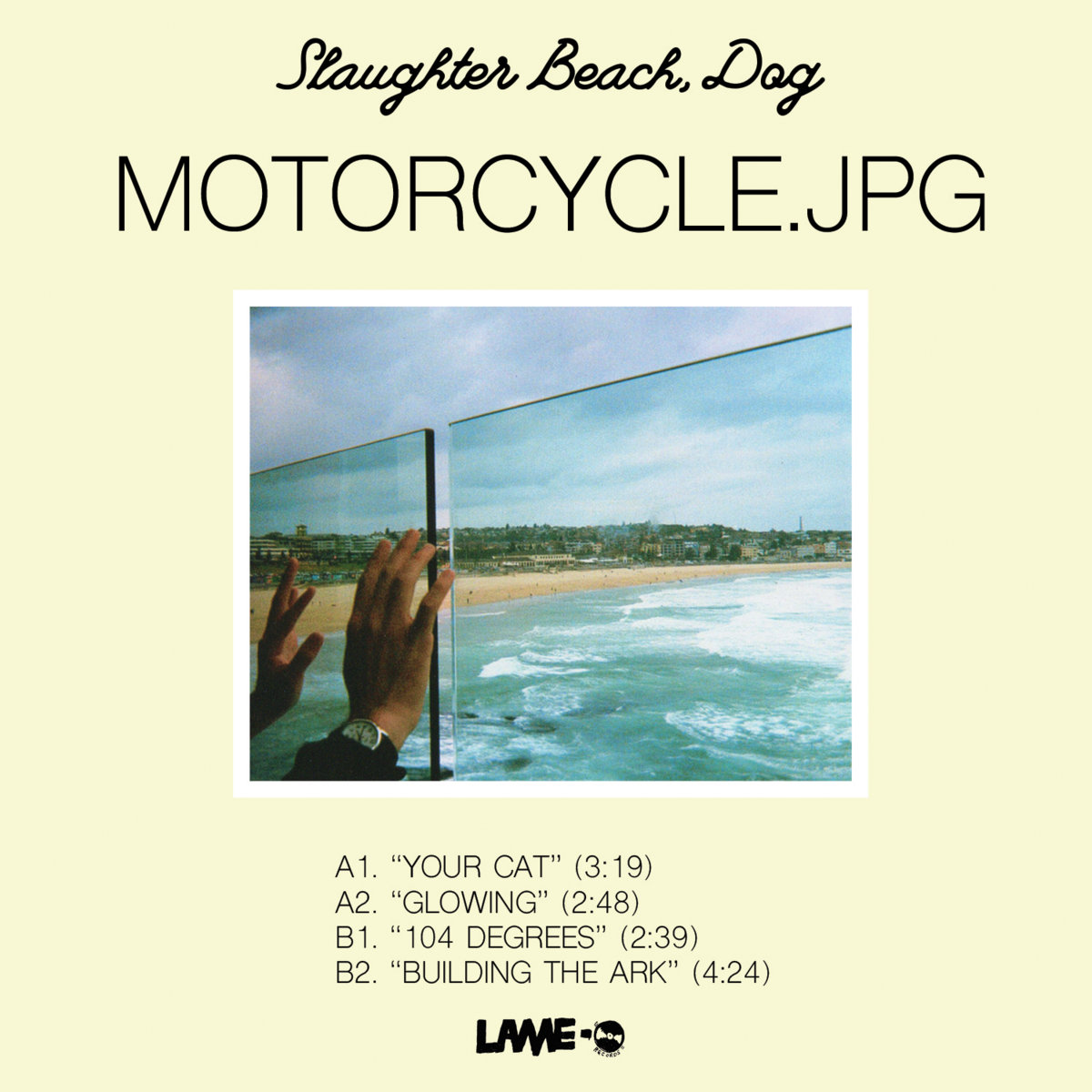 Slaughter Beach, Dog – MOTORCYCLE.JPG
Genre: Indie Rock
Favorite Tracks: "Your Cat," "104 Degrees," "Building the Ark"
Truth be told, despite entering emo standom during the summer of 2014, I never much cared for Modern Baseball, despite the fact that their name was almost ubiquitous on lists of the best acts of the (third?) revival. Thankfully, I've built a happy home with Slaughter Beach, Dog, the side project of guitarist Jake Ewald that's gotten some coverage on the site before. The emo acts that last always go indie, but if you had only heard MOTORCYCLE.JPG, you'd have no idea that Ewald ever went anywhere near that contentious former genre descriptor. This is a collection of bright, breezy, heavily acoustic indie rock, chock full of utterly delightful moments like the guitar solo on and outro of album opener "Your Cat." The most surprising and memorable aspect of the EP's sound is the regular appearance of restrained slide guitar work, which, coupled with the acoustic backing and amiable walking bass ("Building the Ark"), adds a slight and unexpected hint of the discography of Jeff Tweedy, whose Wilco project is directly referenced on "104 Degrees." A humorous and self-aware tale of love at first sight that captures the beautiful absurdity of daily mundanities in a way only someone from an emo act could, this album highlight is delivered in a stiff, narrative-favoring, Cake-like intonation, yet another surprising moment of comparative experimentation. MOTORCYCLE.JPG is only four tracks, and truthfully, if a full-length leaned more towards the pleasant competence of "Glowing" it might be forgettable, but for whatever reason, this puts a smile on my face. [Thomas Seraydarian]
Verdict: Recommend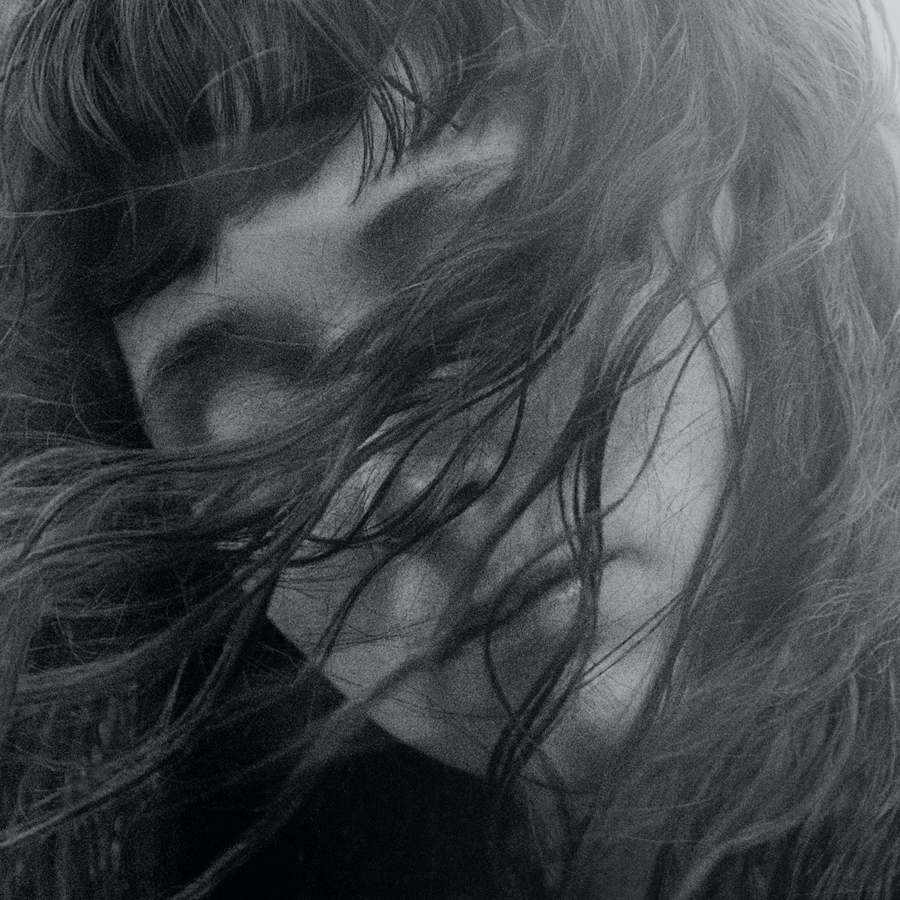 Waxahatchee – OUT IN THE STORM
Genre: Indie Rock
Favorite Tracks: "Never Been Wrong," "Silver," "Recite Remorse," "Brass Beam," "No Question"
Katie Crutchfield's fourth full-length under the Waxahatchee moniker treads familiar sonic ground, but possesses a tangible sense of vitality and drive that carries it through to the end. In general, it's nice to see another musical release implicitly working to bring down the insular walls of the former Boys Club of indie rock, walking in tandem with similar proponents of loud, proud, female-fronted acts such as Eskimeaux, Mitski, Chastity Belt, Snail Mail, and countless others. That being said, even when it was a Boys Club, indie rock ran into the sandtrap of recyclability, and if you've heard any release by any of the acts referenced above, or Hell, even TOURIST IN YOUR TOWN, released earlier this year by Katie's sister Allison, you won't exactly be surprised by anything on OUT IN THE STORM. But that's by no means a bad thing! OUT IN THE STORM is littered with standout examples of compact, direct, no-nonsense songwriting, even more firmly flinging off the "lo-fi" descriptors that hounded Waxahatchee in the early days of her career than 2015's IVY TRIPP. Conceived during the tail end of a toxic relationship, there is some Hell to pay this time around, and the frustration and accusatory recognition of hypocrisy that accompanies the end of a relationship inform nearly every song here. From a musical perspective it's generally par for the modern rock course, but hits its stride when the perfect dichotomy of power pop melodicism and garage crunch is achieved on lead single "Silver," the latter appearing again for a star turn on late-half highlight "No Question." Bonus points for the folk-tinged musings of "8 Ball" and the Death Cab-reminiscent synth-organ pillows of "Recite Remorse." You've heard it before, but there's no reason to not be interested in hearing it again. [Thomas Seraydarian]
Verdict: Recommend