NUMBER 1 ANGEL by Charli XCX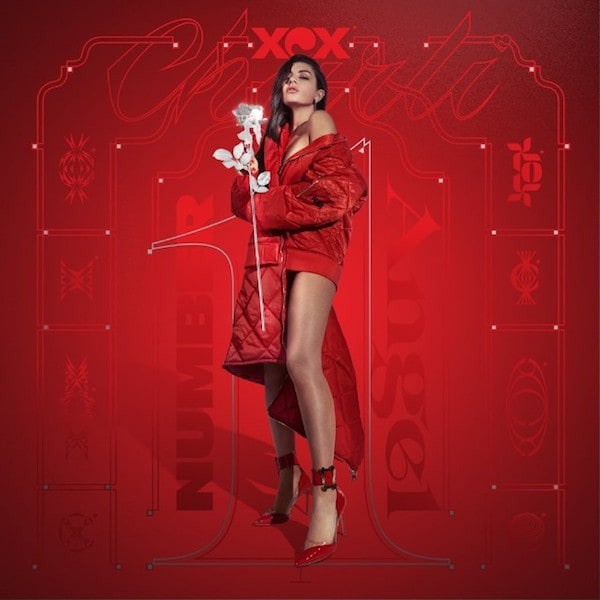 Genre: Electropop
Favorite tracks: "Dreamer," "3AM (Pull Up) (featuring MØ)," "Blame It On You," "Roll With Me," "White Roses," "Lipgloss (featuring CupcakKe)"
It's hard to be a woman in music unless you're selling sex or heartbreak. That's not the way it should be, but if anyone has figured out how to perfectly exploit the sexist agenda, it's Charli XCX. Flexing with the braggadocio of a pimp, Charli XCX manipulates her own bougie femininity with equal parts swagger and sensitivity. Now past her consort with Swedish electropop duo Icona Pop and the tragically wet rag Iggy Azalea, she's surrounding herself with up-and-coming experimental pop producers like PC Music's A.G. Cook and Sophie. Last year's VROOM VROOM EP (produced by the latter) confirms that XCX is ahead of the game when it comes to bending electronica, bubblegum pop, and hip hop into punchy, unapologetic bangers that blur the line between experimentalism and traditionalism; with jams that read both explicitly sensual and darkly poignant, NUMBER 1 ANGEL is no different. In just a 37-minute mixtape, XCX spins a night out fueled with white wine, ecstasy, and stretch limousines, and it's not until the 6am walk of shame that you can notice the glittering alligator tear rolling down her rouged cheek.
What better way to enter the club than with the opening track "Dreamer," where weighty beats and trap-inspired hi-hats escort XCX and her featured cohorts Starrah and Raye out of the Beamer and past the velvet ropes. Matching each other in hubris, it's an anthem fit for a girl gang. However, the guard built up by XCX on the opener is quickly torn down by the emotional slow grinds that follow. "Blame It On You" is a moody post-dubstep track chronicling a sex-fueled relationship with someone who's bad for her, stacking bricks of pounding synths as she spits, "Bad boy make a bad girl" over and over at Ludacrisian speeds. Not too far off is "Drugs," this time with a seedy bassline that sits low beneath the slow, crystalline synthesizer riff. With a guest feature from ABRA, the two sing about the same addictive toxicity of a lover before a grisly, pitchy dubstep breakdown. Apparently a good wub-wub brings out XCX's darkest lechery; apexing with her sexiest and most vulnerable confessional, "White Roses" rides on a luxurious bass beat and handclaps as she divulges deeper feelings of love that develop in bed. The fact that XCX can evoke that passionate sentimentality with such simplicity speaks volumes to both her confidence and mastery of a persona that designates her as Satan's little lamb.
NUMBER 1 ANGEL's lugubrious tracks are only reminders of the darkest corners of the club, and, nonetheless, it's obvious that Charli XCX cranks up the party when she's in the limelight popping champagne. On the dancefloor, she's girly and coquettish, whether bursting into the bubblegum chorus of "3AM (Pull Up)" or sweetly advising you to listen up on top of a whirring electric guitar when she proclaims "ILY2." She may be a bad bitch, but that doesn't have to negate the very human fantasy of infatuation; the difference between Charli XCX and her pop colleagues is that she's not afraid to admit this fantasy often cohabitates with a titillated female libido. "Babygirl," an '80s synthpop track with a verse by Uffie that could be straight out of a Spice Girls song, proves to be one version of XCX's frisky imagination. As if to coyly twirl a pigtail around her finger, XCX chimes, "Let your mind relax / We could play rough, make your blood rush, velveteen brush." The summery, Janet Jackson-like chorus is merely an innocent distraction from an occasional erotic gasp in the background—just another effortless example of Charli XCX's effective dualism.
To finally put the pop in "pop off," Charli XCX pours a vodka Red Bull and highlights the ecstatic marriage between her and Sophie—"Roll With Me" is wrapped in latex and coated in sugar, like a lovechild of K-pop and trap. Then, with formidable bravado, closing track "Lipgloss" augments these ideologies in a whirlwind of synth and drum machine to describe cunnilingus so sweet, it'll give you a cavity. CupcakKe's rap feature on the song is downright nasty in the best way, and wise in a manner only sexually liberated femmes can empathize ("Never trust a man who wear briefs / 'Cause he gon' wanna fuck and keep it brief"). And yet, the thickly-layered wall of sound that erects the climax coolly wanes into a post-orgasmic outro, just as the sun might crest over the horizon and the hangover starts to set in.
Charli XCX is a blender of pop royalty—the throaty vocal chops of Gwen Stefani, the rebellion of Rihanna, the cheekiness of Katy Perry, the hedonism of Lady Gaga—and it's about time she released something that can genuinely bend the rules of the genre for which she plays. Despite it being only a mixtape, NUMBER 1 ANGEL serves a market for pop extremists that too easily goes unrepresented in the Top 40. There is little argument to be had over the frivolousness of mainstream music when artists like XCX have such a palpably playful penchant for experimentalism. And still, there can be no question about her humanness, thereby electing Charli XCX as the ultimate angel-on-earth when it comes to maximizing the carnal-emotional spectrum that differentiates the divine from us mere mortals.
Verdict: Recommend