RODEO by Travi$ Scott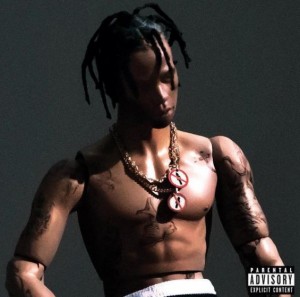 Genre: Trap Rap, Southern Hip Hop
Favorite Tracks: "3500 (featuring Future and 2 Chainz)", "Piss On Your Grave (featuring Kanye West)", "I Can Tell"
Who, exactly, is Travi$ Scott? The blogosphere in 2015 has been abuzz with discussion of his "long-awaited" RODEO album, but just how did it become "long-awaited"? Having only a largely ignored EP (2013's OWL PHARAOH) and a mixtape considered by many to be just above average (2014's DAYS BEFORE RODEO) to his name, the hype train that accumulated for the release of RODEO was baffling to witness. Landing somewhere safely between Future, Drake, and 808s-era Kanye (two of the three who feature on the album), with RODEO, Travi$ Scott turns in a confusing effort that feels both incredibly safe and overly ambitious at the same time.
As many have said, RODEO is undeniably a producer's album. Featuring several intra-song changes in tempos and tones over the course of any given track, RODEO is over-processed and stuffed to the brim in terms of poetic segments, sampling, and snippets of electronic blasts. Although a more talented and established MC may have been able to hold their own (Kanye West immediately comes to mind, considering how heavy-handed his influence is on this album), Travi$ Scott lacks the maturity and personality to do anything more than tread water. "Wasted" is the perfect example of RODEO's fallacies; what starts as an intriguing track featuring a unique, nearly medieval sounding flute and a comparatively kinetic vocal performance on Scott's behalf careens and stumbles through an unwarranted pitch-shifted segment, a bloated synth passage, a lukewarm Juicy J verse, and a spoken word passage by T.I. before finally limping to an end.
Only on "3500" does the progression through different styles and ideas serve in Scott's better interest (and it features 2 Chainz discussing his predilection for "drinking breast milk out of lean cups", to boot); "Oh My Dis Side" peters out into lesser Gucci Mane in its latter half, "90210" transitions into a disquieting, vaguely anime-reminiscent guitar segment, and "Pray 4 Love" makes room for The Weeknd's horrific blend of R&B and rapping. When he's not biting off more than he can chew, Scott makes an attempt to be as milquetoast and forgettable as possible. "Antidote" and "Impossible" are unadulterated filler, and tracks like "Flying High" and "Maria I'm Drunk" throw guests on that generate buzz over stellar content (Toro Y Moi and Justin Bieber, respectively, although Justin Bieber at least holds his own in terms of pop rap).
Things aren't entirely bleak on RODEO, though, mostly thanks to "Piss On Your Grave". Unquestionably the standout track, "Piss On Your Grave" opens with a menacing guitar riff ripped from a heavy psych song before immediately ripping into Travi$ Scott and Kanye West wilding the fuck out. A banger through-and-through, it's nearly impossible to avoid being swept up in the unfiltered rage and frustration that Scott and West express at the white executives that have kept them down throughout their careers. In addition, "I Can Tell" holds its own as a reflexive logical descendant of 808S AND HEARTBREAK, and probably serves as the example of where Scott's stylings feel the most comfortable and justified. In addition, although Swae Lee is entirely extraneous, "Nightcrawler" offers a slice of unapologetic, woozy hedonism that features a memorable verse from Chief Keef, who continues his amusing preference of stumbling into a song, describing his dietary habits, and leaving.
The most interesting part of RODEO is the idea of the manufactured legacy and import that was tied in with its release. Standing as an example of how if you say something with enough conviction for long enough, people will believe it, RODEO has very little substance to justify the bated breath that the internet waited for it with. Technically ambitious but a thematic snooze-fest, Scott will find himself slowly losing ground in the shark pool of mainstream rap he's forcibly inserted himself in.
Verdict: Do Not Recommend