YE by Kanye West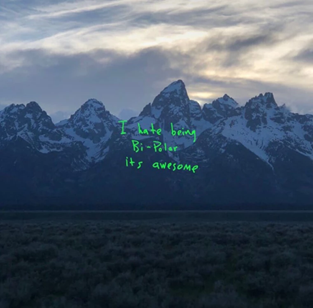 Kanye West – YE 
Genre: Hip Hop
Favorite Tracks: All
Can we separate the art from the artist? I feel that's been one of the most prominent questions of the year, and for the curious case of Kanye West, he's not exempt. In light of all his recent remarks, he's just begging us to ask the same question—daring us, in fact. Intentional or not, his new album and lead-up to it has taken on the form of an experiment to prompt the same. Among all the talk of him losing his marbles has been the idea of this being one big piece of performance art, and while there's no substantial evidence to back this (barring a lengthy Pigeons and Planes theory), as Kanye waxes half-deranged, half-philosophical on the prefatory soliloquy of the first track, there's suggestion that he knows exactly what he's doing.
"The most beautiful thoughts are always besides the darkest," he plainly states on "I Thought About Killing You Today." This is the central conceit behind the album, behind this whole promotional (art?) scheme. We have the man and what he's made. We have the darkest, whether that's donning a MAGA hat or saying slavery was a choice, and rest assured, right beside it, we have the most beautiful: the music of YE.
Featuring some of West's most arresting production, we get a rare glimpse at what the rapper sounds like without all the grandeur; YE is pleasantly spartan. "Killing You" is vacillating, hypnotic, and altogether insular sounding, like we've entered West's mercurial, suicidal reverie. Even when the song breaks halfway into some pulsating, scream-laden beat, it's hauntingly euphonious. The following "Yikes" contains a similar urgency, with knockin' bass and bombinating synth work. Later, there's the soaring sonic pyrotechnics of "Ghost Town" and the subdued, mellifluous nursing of "Violent Crimes." In reflecting its artist's headspace, the album takes the form of an aural recall, occasionally showcasing flashes of his past iterations, such as the YEEZUS-like shrieks of said opener, or THE LIFE OF PABLO mid-song beat tweaking, leaving the listener unsure when one ends and the other begins. This is best used in the transition from "Wouldn't Leave" to "No Mistakes," where West unites the songs through shared themes of love and devotion rather than music.
Yet, as he's proved over the years, it's not about what he does behind the booth, but who he brings to the booth that makes the work really special, a further confirmation of his gift for composition. West knows how to bring out the best in people; like a music sommelier, he knows exactly who goes with who, what goes with what, and how to mesh it all together. Over an understated trap beat, Jeremih exchanges his velvety falsetto for Ty Dolla Sign's rugged baritone on "All Mine." "Wouldn't Leave" sees the latter two joined by PARTYNEXTDOOR, a choir, and a buoyant, piano-based beat to make for one of West's most spiritual arrangements in the past decade, only to be bested by the following "No Mistake." After a quick interjecting sample of Slick Rick's "Believe it or not!," the song's trilling synth undulates into a tidal wave of soul bestrode by the ever tasteful pairing of Charlie Wilson and Kid Cudi.
The promotional campaign for YE was a bit misleading; the album's content couldn't be further from all the political mumbo jumbo and controversy preceding it. West plays with a similar structure within the album itself, throwing us off a bit with its first few tracks. There's hints of that paranoia, that impatience and "me vs. them" attitude explored previously on YEEZUS: espousing infidelity on "All Mine," throwing around threats like "All you gotta do is speak on Ye . . . get your tooth chipped like Frito-Lay," and the intimation of losing control on "Yikes." It all feels like it's leading to some entropic breakdown . . . but nope. It's a build-up to nothing. No manic freakout. No more crazed diatribes. The end of "Yikes" even has him de-stigmatizing bipolar disorder, redefining it as a remarkability rather than a disability. He screams in glory after and it seems West has never been a more stable genius. By the time we reach the fourth track, the album sheds any vestigial scales of superficial flexing and clout talk for a sincere meditation on family, life, and fatherhood on a level of introspect we haven't seen since LATE REGISTRATION.
That West can openly admit to his carnal demons and philandering and still have Kim Kardashian by his side is a serious nod to her character. And with the most recent hot water he's jumped into, it's even more astounding that she remains loyal. As West elaborates on "Wouldn't Leave," "My wife callin', screamin', say we 'bout to lose it all . . . / Told her she could leave me now, but she wouldn't leave." He's turned their dynamic into a melodrama on tape. Grossed out as we are sometimes by this couple's hyper-celebrity, it's hard not to admire their arrant commitment to each other. In the outro, West continues the charm as he opens up the stage to all women, not just his wife, "For every damn female that stuck with they dude . . . This for you."
There's an overwhelming sense of nostalgia imbued in the latter half of the album, especially production-wise with its more soulful touches. And for someone always trying to innovate, shift, and repackage, seeing him look over his shoulder for once actually feels just as refreshing. For "Ghost Town," it's almost like Ye has entered a time machine, going back to 2005 as he raps lines like, "Some day we gon' get this off / Baby, don't you bet it all / On a pack of Fentanyl" with that same wide-eyed brio he exuded as the parvenu with "a benz and a backpack." Essentially, it's West's take on the old adage: you're only as old as you feel. GOOD Music newcomer 070 Shake affirms this rejuvenation as she wholeheartedly belts out, ". . . nothing hurts anymore, I feel kinda free! / We're still the kids we used to be!" The song plays like an auditory spectacle of fireworks and laserbeams, with the guitar riff evoking some of rock's most classic lighter-raising anthems.
And that's not to say that The Louie Vuitton Don doesn't sound as sprightly prior to this track. His breathless sideline recount of the Drake events in "No Mistakes" shows he's still got flow, and can brandish it in spite of a last minute countdown. He's still got quirky zingers, like, "If I wasn't shinin' so hard, wouldn't be no shade" or, "Ayy, hospital band a hundred bands, fuck a watch." Succulent wordplay also has yet to elude the 41-year-old; see how easy (and fun) it is to go from "tweakin' tweakin' off that 2CB, huh" to "tweakin' tweakin' off that juicy behind." I can't stop saying it.
West's reveling in the past is fleeting, and closer "Violent Crimes" feels like an awakening as he muses on the world his daughter will grow up in. It's not a rude awakening, it's hushed, as if he himself was whispering it all into the ear of a napping North. West evinces a fatherly cognitive dissonance with great clarity and rare vulnerability, jesting that he hopes she doesn't get her mother's body in light of the "pervs" who will be craning their necks. And then he tangentially confronts his own image as well. North dreams of him as this superhero figure, "Thank you to all of the heroes of the night," but when she awakes, that emboldened K on his shirt begins to wear off: "Reality is upon us, colors drippin' off." West recognizes the hypocrisy in punishing her for some future teenage misdeed: ". . . how you the devil rebukin' the sin?" He recognizes he's right beside the very "savages," "monsters," or "players" he vows to protect her from, but at the end of it all, what more can he, or any of us do, except "pray we can put this behind us?"
Verdict: Recommend