CHARLOTTE Review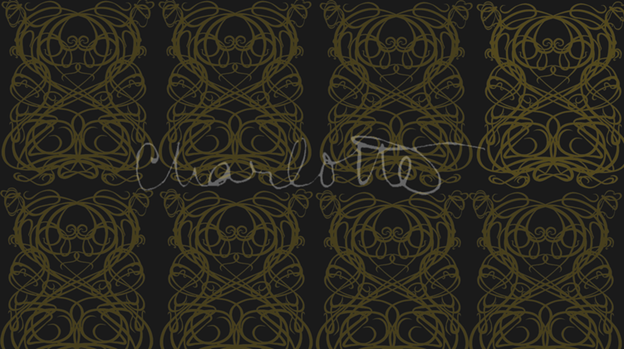 In 1892, Charlotte Perkins Gilman published a story entitled "The Yellow Wallpaper," in which a woman who has recently given birth is confined to a bedroom in a summer house covered with loud and tacky wallpaper. With the design as her only stimulus, the narrator visualizes another woman crawling in the patterns of the wall, and rips the paper off the wall to free her, dissolving into a state of madness. Perkins wrote the story as a way to protest against the so called "Rest Cure," a common diagnosis at the time that restricted intellectual stimulation and social interaction for many women, which she herself had undergone. Gilman's work was integral to the first wave of feminism and suffragism, so it's not only interesting, but refreshing to see her work translated to a game like CHARLOTTE.
Developed by Extinct Angel and published by MAGIC Spell Studios, CHARLOTTE is a free "part walking simulator and part exploration game" that puts the player in control of new mother Jane, who, along with her husband John and housekeeper Jennie, rents the summer home to live in while she recovers from "temporary nervous depression." As Jane, you wander around the house while trying to persuade John that this isolating treatment will not help. Some doors are locked at first, but each has a corresponding hidden switch that will unlock it. The plot of the gameplay itself closely mirrors the short story it's based on, but it is in the objects you interact with that the true narrative is built, alongside the ghosts of historical figures past that attempt to imbibe you in anti-suffragist ideals.
"AS DOMESTIC A LIFE AS POSSIBLE" sounds like an A24 horror flick that I would not watch
Image Source: Screenshot
CHARLOTTE is an educational game, and to some, studying this subject matter may feel equivalent to receiving a root canal, but it's thanks to these women who fought for their rights that I can even review it today. It's rare for modern media to cover the movement, even more so for a game, so while CHARLOTTE certainly has scary aspects, like whispering ghosts and regressive rhetoric, its merits lie less in the horror veneer and more of a historical tour where you learn more about the world through interacting with the environment. Like GONE HOME, it's the little details that make this game such an engrossing experience.
Each room is littered with art and literature from the latter half of the 19th century that you can peruse to your fancy. Paintings in the game, upon interaction, will bring up the artist, title, date, and description. Each painting features a female subject, and almost every piece was created by a female artist. The game is able to subvert mainstream history that erases women's achievements by actively featuring their contributions in a way that manages to be informative without being overbearing. I found a couple of new paintings and artists I enjoy while looking through the walls of each room.
Just some fun sexist light reading
Image Source: Screenshot
This female-centric art populating the game is no accident, and neither is the literature. The summer home is shown throughout the game as being owned by Gilman, and that meta narrative introduced by the developers allows for her other writings and letters, as well as topical works by fellow authors, books, and advertisements to appear. You can find both suffragette and feminist material alongside books that dictate "the duties of the wife." Every one of these historical inserts is a gut punch in reminding the contemporary player about how much women's rights were restricted in that time period, and how American suffragism wouldn't come to limited fruition till 1919. These writings, which voice the frustrations and anxieties over the societal expectations of women, are ones that I can relate to today, and feel both vindicating and empowering.
This authenticity and references to other relative works at the time is also the biggest distinction between the short story and the game. Jane, exploring the home, not only interacts with John and Jennie, represented as ghostly pictures against the 3D landscape, but similarly haunted characters as the ghost of Kate Douglas Wiggin, author of REBECCA OF SUNNYBROOK FARM and noted anti-suffragist. All of these characters speak against the literature lying around as well as Jane's conscience, assuring her that she need not exhaust herself. Their remarks tie in with the limited access to the house Jane has, and help reinforce the feeling that she is a prisoner, not a guest, of the manor. Most chilling of all, much of these characters' lines come not from the short story, but the actual diagnosis a doctor gave Gilman that inspired her to write the book. This advice advocated rest, requiring one "have but two hours' intellectual life each day" and to "never touch a pen, brush or pencil as long as you live". The way the game is able to weave the story with relevant contextual and firsthand accounts, like how the characters communicate, isolates the player into the same trap that women once founds themselves in.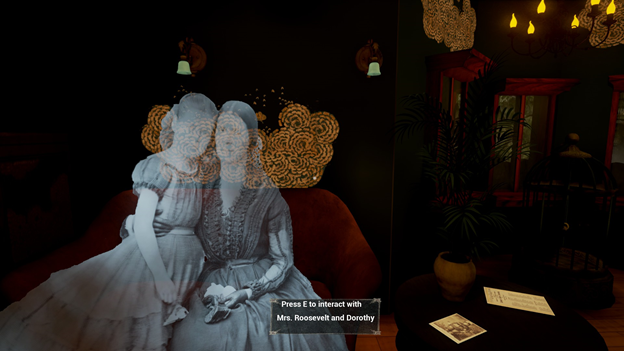 I think the ghosts would drive me mad before the wallpaper, but that's just a personal preference
Image Source: Screenshot
CHARLOTTE is short, and is even shorter if you ignore all of the interactable objects and reading. The graphics are poor, but many of the scans of historical drawings and writing provide a nice visual balance. Finding the buttons to open rooms was never hard, and the story itself seemed somewhat underdeveloped, instead focusing on the immersion of the context of the world. I also recognize that I approached this game because of my interest in the short story, as well as my feminist ideologies, so this game may not be of interest to everyone. It definitely requires some amount of context regarding the original story so as to orient oneself in the universe. While it may lack exposition, I still really liked going through and learning all this new information.
While CHARLOTTE is pretty rough around the edges, it certainly achieves the goal of letting one go back in time to explore a woman's experience in the past. And to compare that century-and-a-half old perception of women with the modern view, it's both amazing and terrifying to consider how much we have progressed, but how far we still have yet to go. I'm glad for characters like Lara Croft and Evie Frye who give me liberation in a feminine identity, but I still crave more characters who are given the kind of liberated lifestyle Charlotte Perkins Gilman talked so frequently about. And while it may not be your fancy, just a free interactive chance to look at some of the artifacts that historically defined civil rights is as worth checking out as the heinous wallpaper that sparked this whole thing.
Verdict: Recommend
Reviewed on PC