NBA 2K17 Review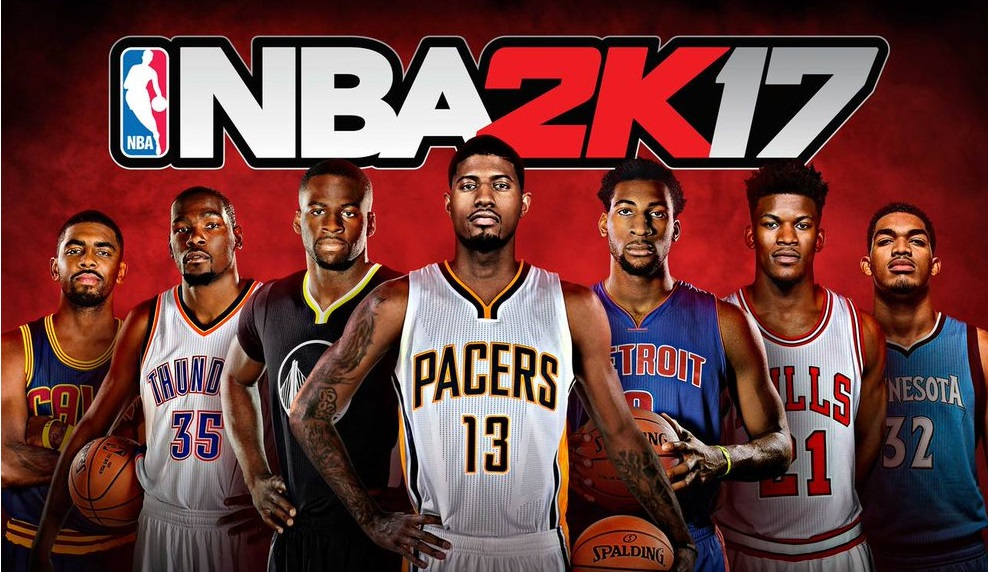 The NBA 2K franchise has, for a while, had its sights set on more than just being a great sports game franchise. It's held the sports game title belt for a while, as Madden's quality has been consistently nose diving for around ten years, FIFA remains stagnant (but may be taking a punch with next week's release), and other contenders for the title, like EA's NCAA Football series, have just stopped producing content altogether. Despite the lack of serious competition, 2K continues to be perhaps the only sports game that justifies a yearly release by consistently one-upping itself. And even though NBA 2K17 is not entirely absolved of recent "innovations" in sports games like frustrating microtransactions and dismal community management, I feel very confident in saying that this is the best sports video game that I have played since the Xbox/PS2 generation of consoles, if not of all time.
The bread and butter of NBA 2K17 is, of course, basketball. The most immediately noticeable in-game mechanic changes, the new layup meter and a series of small but drastic changes in defense, allow for a player's skill to have more control over the outcome of the game, a change that makes the experience feel that much more realistic. The layup meter is simple (it's like the pre-existing shot meter, but with layups) and it requires the player to be able to maneuver the in-game hoopsters in a way that allows them to finish at the rim through contact. Despite this increase in player control, you won't miss any wide-open layups if you don't hit the meter perfectly, which is also a nice touch. As for defense, it's much harder to point to a single element that is responsible for the improvements: A new steal mechanic makes it easier to poke the ball away if the ball handler leaves his dribble wide open, the Intense-D mechanic has been nerfed, the AI is much smarter about intercepting errant passes, and the physics engine doesn't phase the ball through defenders anymore. Most importantly, though, if you don't play defense, you will inevitably pay for it by giving up a lot of points.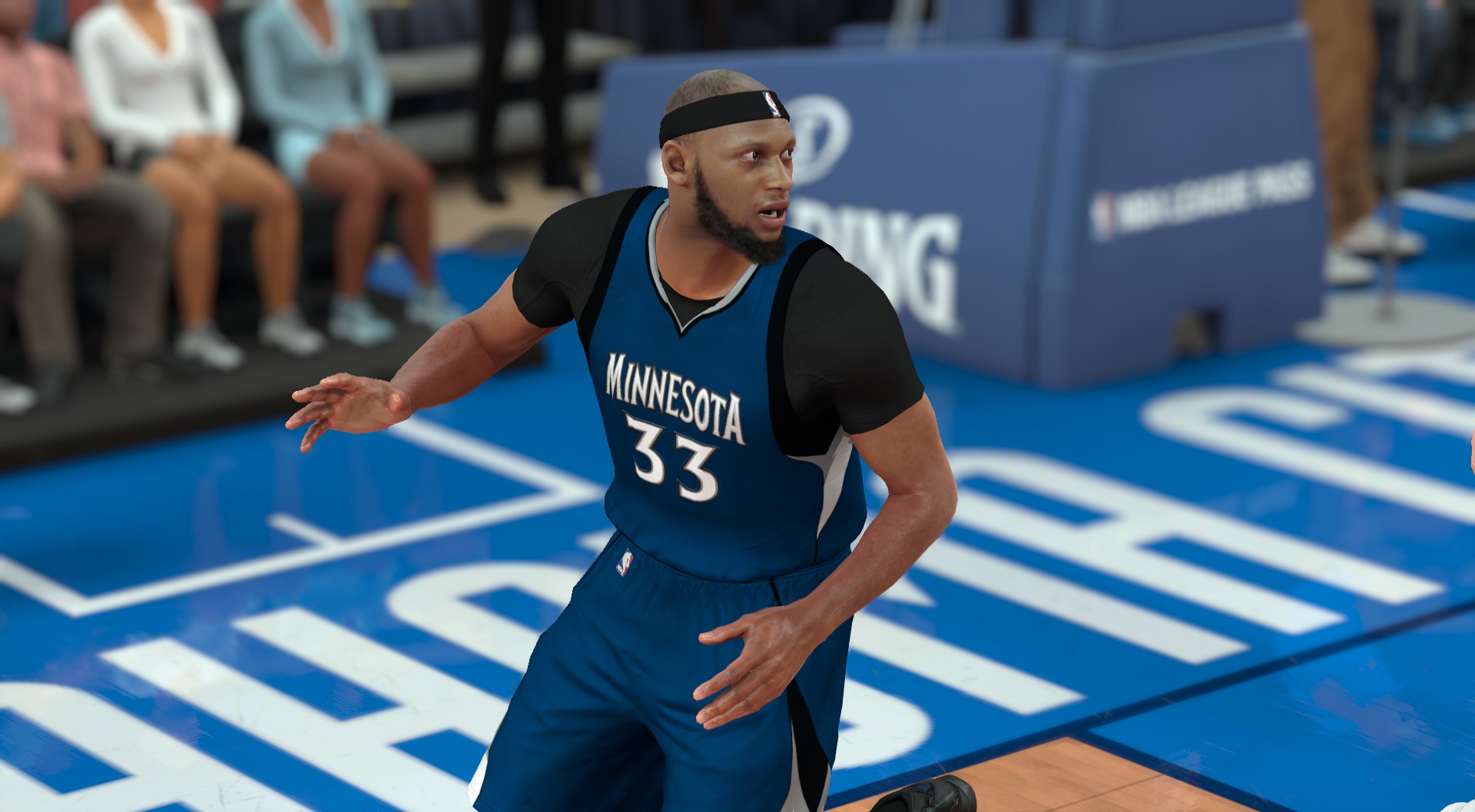 Adreian Payne of the Minnesota Timberwolves looks on in bewilderment as Oklahoma City backup point guard Cam Payne drops 50 because I can't play defense
Source: Screenshot
2K has always done a fine job of recreating the NBA basketball experience, but 2K17 really sets itself apart with the MyCareer mode. Predecessor NBA 2K16 rather infamously featured a storyline written and directed by NBA-cozy filmmaking icon Spike Lee, and the game mode was just as ambitious as it was poorly written and hackneyed in its storytelling. This year's mode, which was handed to CREED screenwriter Aaron Covington, is a vast improvement, and an incredibly promising step forward for those who have long dreamed of a great sports-oriented RPG. Featuring some serious star power courtesy of Michael B. Jordan, Hannibal Buress, and Matt Walsh, as well as a relaxed and naturalistic style of dialogue, Covington is able to pack a lot more authentic emotion into this basketball video game than anyone would expect. The Justice Young character, played by Jordan, is most impressive, and the against-the-odds friendship between him and player stand-in Prez is wonderfully written and acted in cutscenes.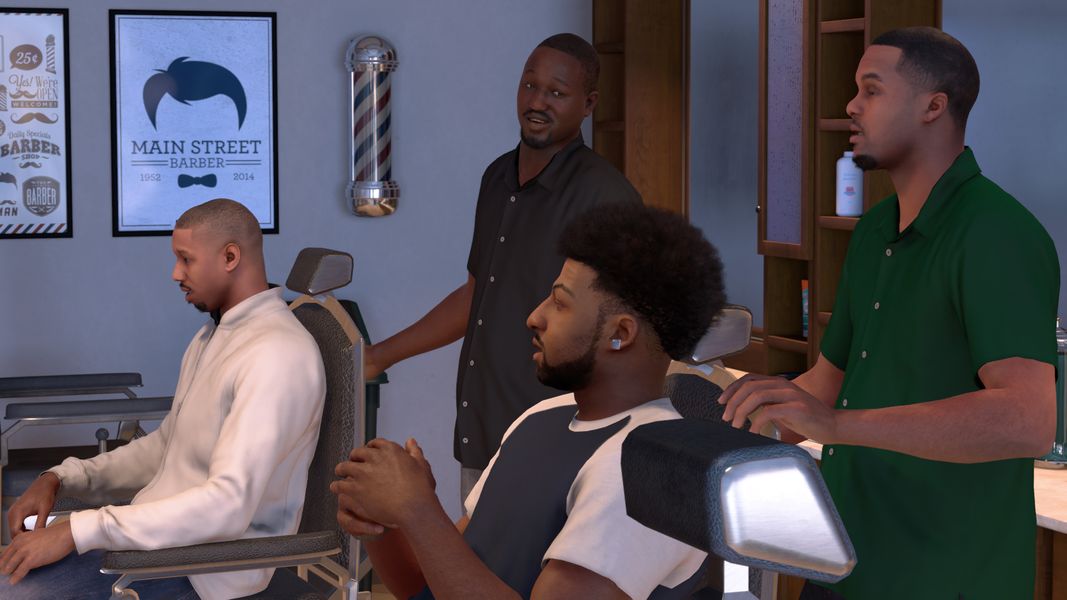 Famous People™ Michael B. Jordan and Hannibal Buress, in Amazing Polygon-Vision
Gameplay-wise, it feels more loose as a whole than it has before, and even though it requires some grinding to raise your player's attributes (just like being a pro athlete in real life would), the process, which involves things like shooting drills and workout minigames, is far more enjoyable than it has been in the past. And, if you get sick of it, you can just skip your practices. The game does a great job of rewarding the grind while also establishing negative consequences for skipping it that don't feel overly punishing. Also new from last year's version is the "Orange Juice" feature, which enables temporary user control (think switching between characters in GRAND THEFT AUTO V) of Justice that allows for a superior user-controlled two man game.
The only frustrating thing about 2K17's storytelling is that it still feels like there are no stakes to the plot. 2K's MyCareer is wading into untested waters with its storytelling, as it wants to balance the desire to tell a good story with the community's desire to insert themselves into the game. However, ten hours into the game, it's hard not to wonder if the game needs to choose one or the other. Because of Prez's uninspired backstory (the only info you get is that his father died at 14) and personality, it can be difficult to relate to him. Justice, however, is a classic underdog: undrafted, undersized, and an incredibly hard worker. It's a difficult balance to strike, and the game's producers may have been spooked by the overwhelmingly negative reception to 2K16's MyCareer (which did feature an attempt at a higher-stakes story), but it would be interesting to see what a writer like Covington could have done to craft a story around one pre-defined character like Justice that would have allowed for a more powerful story to be told, or perhaps multiple pre-defined characters, a la GTA V.
Alongside the vast improvements in MyCareer, we have one of the deepest video game "Franchise Modes" ever made in this year's iteration of MyLeague. Like in 2K16, most everything is adjustable, from salary caps to the AI settings that determine where free agents sign in the offseason, and 2K17 made several changes to things like financial rules that add realism and will satisfy the biggest basketball nerds. Other nice features are the ability to start your league in the 2016 offseason (in case you want to put an end to that Kevin Durant to Golden State nonsense) or from the current day in season, as well as a system that allows for dynamic rule changes at the end of every simulated season and the ability to incorporate up to six expansion franchises, so fans of old franchises can bring their beloved teams back from the dead.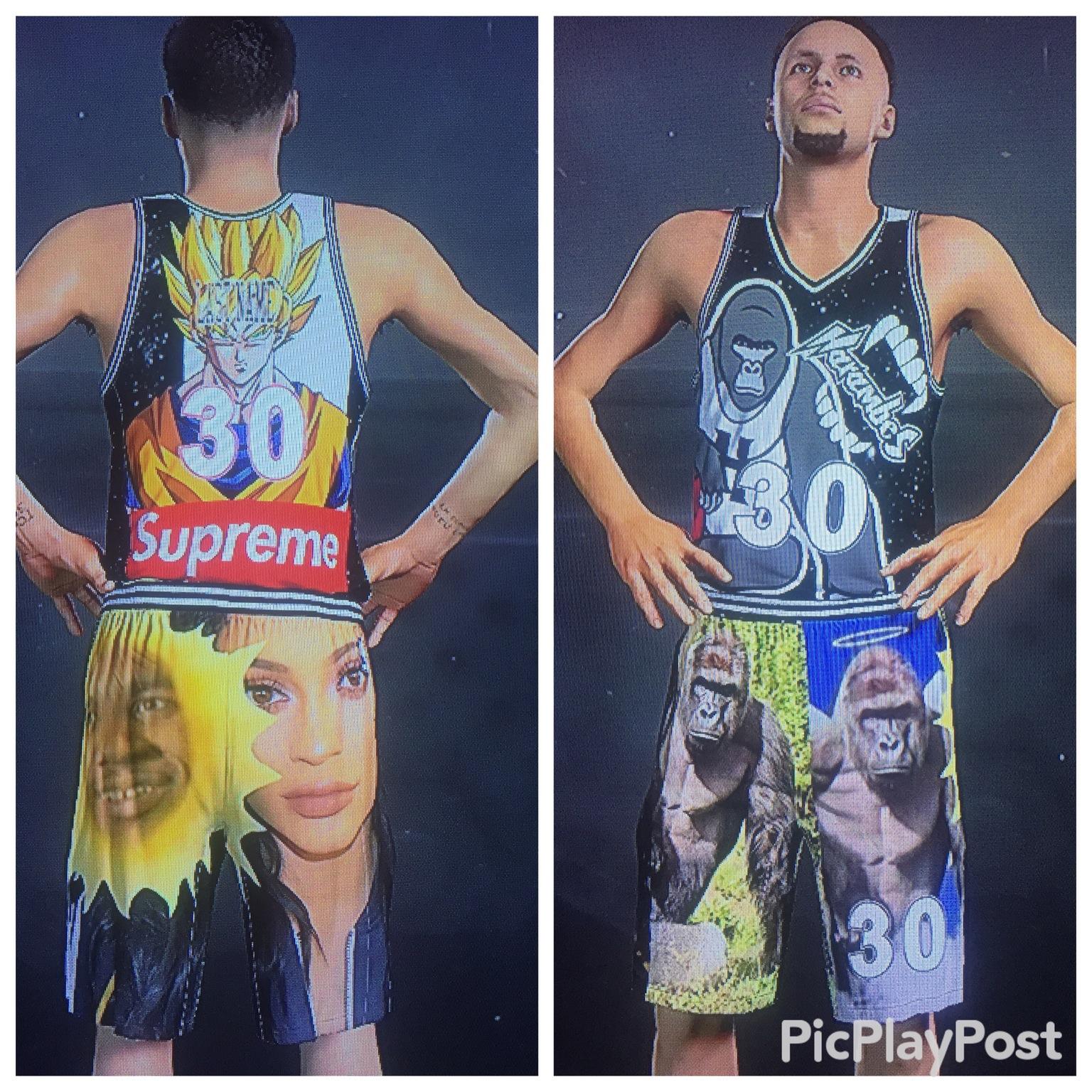 Or, you could do this, I guess
The requisite "trading card" mode, called MyTeam, has improved as well. Though little has changed mechanically, the developers have made it easier to play the mode without microtransactions by increasing access to quality player cards, as well as modifying card ratings to allow for greater parity within the mode.
Upgrades aside, there are still some areas that need serious improvement in NBA 2K17. The MyGM mode, intended to be a more "executive" oriented season mode, continues to be needlessly tedious. It's expected that a mode like that would be detail-heavy, but MyGM gets too hung up on aspects like the frustrating player morale system to be enjoyable. Additionally, the game's "VC" system, which increases player ratings and buys avatar accessories in MyCareer and MyGM, feels far too greedy on the developers' part. Acquiring the amount of VC that is required to upgrade your player at a reasonable rate is almost impossible without either purchasing it with real money or lowering the game's difficulty. Finally, the game's presentation as a whole took a major hit this year. Though the new in-game commentary, which features several rotating commentators rather than the same two for every game, is a major improvement, the in game menus and graphics have regressed. Each menu is a dull all-white scheme, and at worst, the menus look plainly amateurish. Additionally, the soundtrack, a mix of pop rap and indie rock which was curated by, for some reason, Grimes and Imagine Dragons, is the worst that the game has had in recent memory, particularly on the hip hop side.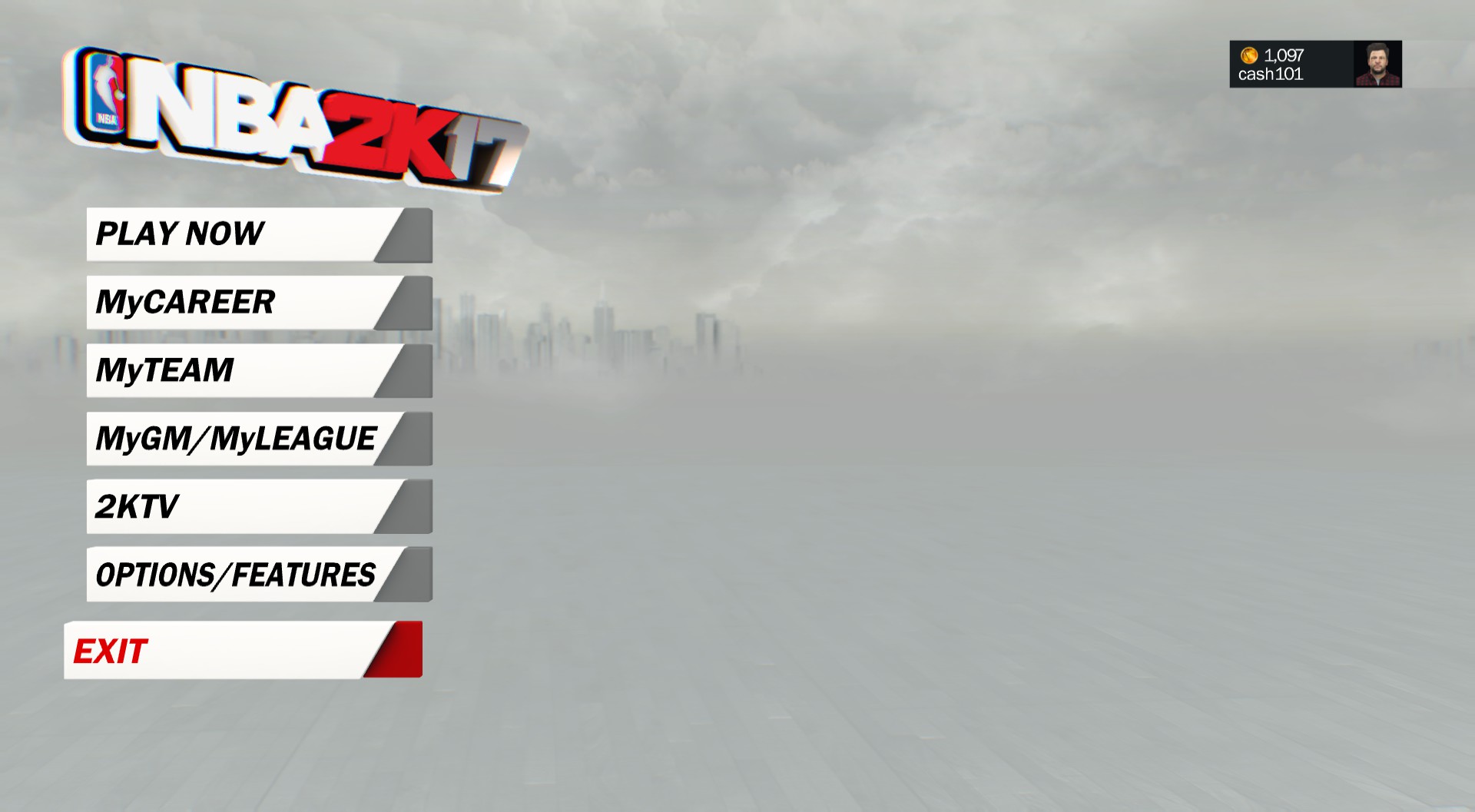 This is probably what the "neutral" afterlife looks like. Or maybe it's Pittsburgh
Source: Screenshot
Even if it's far from perfect, NBA 2K17 is a significant step forward for sports video games. It's certain to appeal to sports fans, and with the improvements in MyCareer, there is a chance that non-sports fans who pick it up may finally change their minds about the genre.
Verdict: Recommend
Reviewed on PC, also available on PlayStation 4, Xbox One, PlayStation 3, and Xbox 360.