The Legacy of Lara Croft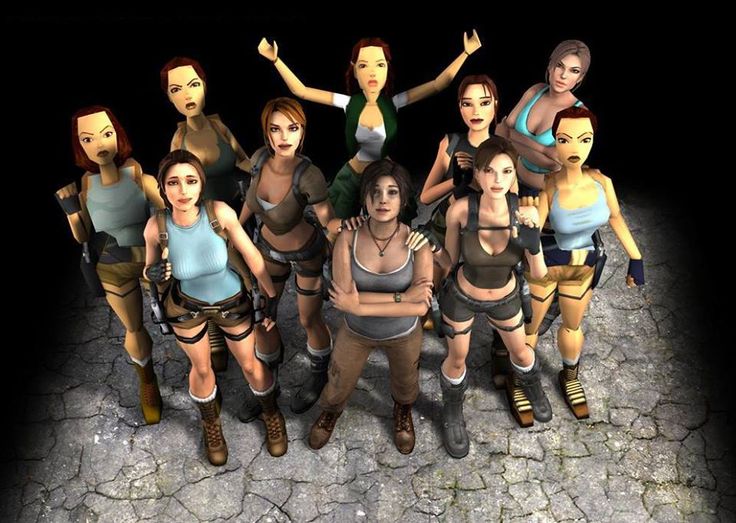 There are few video game characters who have been able to successfully achieve longevity in the industry. Series end, reboots flop, or the characters just don't gain enough traction. For every Mario and Master Chief, there's 10 more Captain Blastos. But among those anthropomorphic animals and leading men, there's a distinct lack of female (or even feminine) characters. There's really only one badass heroine that stands tall in the sea of testosterone that is the pantheon of gaming mascots, and that's Lara Croft.
Lara is the lead character in the Tomb Raider series. A genius archaeologist with some serious  physical strength, acrobatic ability, and finesse with firearms, this independent heroine has been able to stay relevant for over 20 years. With 18 games, a pair of movies starring Angelina Jolie, a comic series, and six Guinness World Records under her belt, she is one of the most identifiable characters in video games. Now, with the newest reboot film gracing screens and SHADOW OF THE TOMB RAIDER scheduled to be released in September, it's a good time to probe into who exactly Lara Croft is, and what she means to gaming.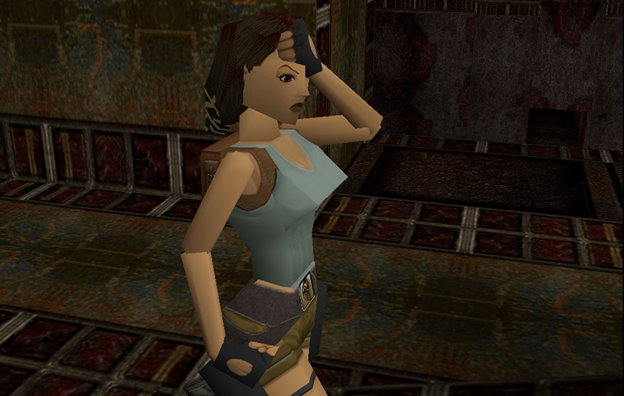 >tfw triangle boobs
Lara Croft was originally created in 1996 for the original TOMB RAIDER by Core Design, a subsidiary of UK publisher Eidos Interactive. Primarily drawing inspiration from Indiana Jones, artist Toby Gard started with concepts for a male character, before switching genders for originality and design's sake. After a few more iterations, Gard then came up with Laura Cruz, an ambiguously South American character, who Eidos management later changed to be British. Lara's original body was outlandishly cartoonish, with humongous breasts and a tiny waist (Jolie wore padded bras during filming to increase her cup size from C to D). Her frame was closer to that of a model than an athlete capable of executing the impressive physical maneuvers in the game. Like Bayonetta or Jill Valentine, Lara's agency is nonetheless defined by her sexualization and objectification.
These are strong characters, yes, but ones that constantly remind the player through the patriarchal lens of their presentation that they are women. For both Lara and the Tomb Raider franchise, however, it was a blessing in disguise. Before Lara, the only playable characters female gamers could identify with (outside of the ALIENS arcade game's Ellen Ripley, of which the less is said, the better) were the likes of Chun-Li and Sonya Blade from 2D fighters and METROID's Samus Aran, who is only revealed to be a woman if you beat the game fast enough. Lara was all woman, all the time, and thanks to the sexualization that drove her conception, she was able to own her femininity in a way that no other character in gaming had done before. There wasn't a masculine bone in her Jessica Rabbit-esque build, but with the player behind the controller, she kicked just as much ass as Duke Nukem or Gordon Freeman, and she certainly didn't need their help to get herself out of a bind.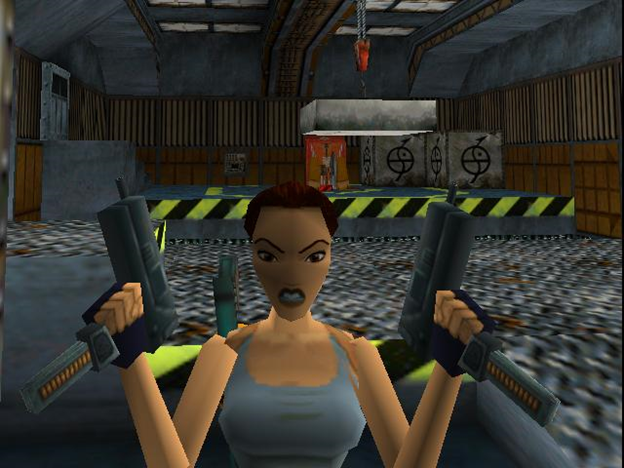 I'm here to kick ass and find sacred religious artifacts. And I'm all out of artifacts
One rare instance Lara couldn't save herself was 1999's THE LAST REVELATION. Core Design was burnt out on the series, and their solution was to kill Lara off in a cliffhanger ending. Of course, money is mightier than the pen, so Eidos ensured Lara was resurrected without explanation two games later in 2003's ANGEL OF DARKNESS, which was rushed to coincide with the release of the movie TOMB RAIDER: THE CRADLE OF LIFE.
Despite boasting a strong narrative and a suite of technical upgrades, ANGEL OF DARKNESS was widely panned for its outdated control schemes and clunky stealth mechanics. When THE CRADLE OF LIFE failed to meet box office expectations, Paramount blamed Eidos and their poorly-reviewed game for low ticket sales. Eidos, in turn, took development responsibilities away from Core Design and give them to another subsidiary, Crystal Dynamics. The switch led to TOMB RAIDER: LEGEND, the first full reboot in the franchise, and allowed Lara to be reinvisioned with new perspectives, saving the series and bringing a legend back to dedicated fans.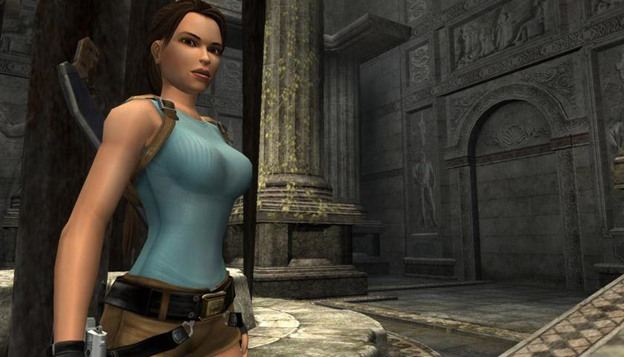 There's a positive correlation between better graphics and Lara looking like a genuine human female
A lot of people clearly take Lara's depiction seriously, so maybe it isn't so surprising that hairs were raised among players and press alike when an early trailer for the 2013 Square Enix reboot, also entitled TOMB RAIDER, depicted a sequence where Lara gets captured by some handsy bad guys, where many assumed inaction on the players part would result in her rape. Failure of said scene in the release build actually just resulted in Lara dying, but the controversy echoed the paradigm shift that the franchise was witnessing. This new Tomb Raider was gritty and violent, focused more on Lara's attempt to escape the mythical island she is shipwrecked on, not pilfering the treasures hidden within. Though no less fantastic a scenario than any other title in the series, TOMB RAIDER 2013 at least presented a veneer of authenticity.
The reboot's biggest overhaul was, of course, Lara herself. Not only was Lara's physique the most realistic thus far in the series, featuring a mountain climber's build and the attire to match, she was finally given a backstory that lent her more depth than "that chick who raids tombs." Frequently covered in mud and blood, trading out her signature twin pistols for a handmade bow, and frequently made to eat wildlife for basic sustenance, this Lara dropped all pretenses of glitz that were present in previous adventures. Likewise, being held against her will by men with dubious morals is not as glamorous an activity as outrunning T-Rexes or somersaulting through laser tripwires, but it is far more indicative of real situations too many women find themselves in every day. Sexual violence, or even just an allusion to it, was a far cry from par for Tomb Raider, but with a more believable Lara came more believable perils.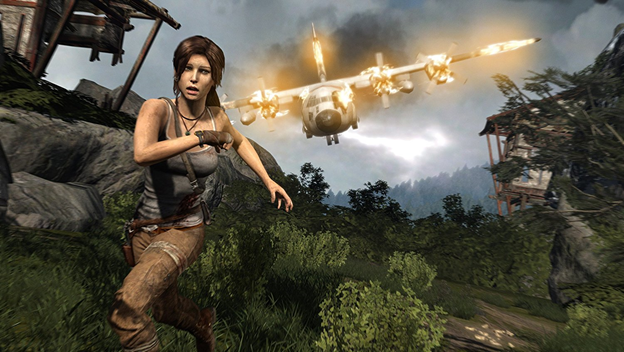 "Believable" is relative
Fan loyalty to Lara initially led to outrage over what could've been a cheap, exploitative stunt, but fortunately for everyone, Square Enix's rebranding of Lara as a desperate woman struggling to scrape by in a hostile environment resonated with gamers and critics alike. The game successfully developed Lara as strong yet vulnerable, juggling multiple internal struggles. 2016's RISE OF THE TOMB RAIDER was able to give the character even more depth and conflict, redefining her from a problematic heroine to a purely badass one. This Lara's continuity doesn't pose her as a trust fund kid plundering ancient crypts for shiny new additions to her manor's gallery, but rather a crafty and tenacious survivor attempting to find her place in the world.
There are so few female protagonists or even characters in games where there isn't a large roster or a basis in pre-existing source material. Even then, narrative arcs can carry negative racial and gender stereotypes. Roleplaying games have long allowed personal characterization, but those are mainly reflections of the player and don't explore the societal contexts associated with an established persona. The Mass Effect series allows for Commander Shepard to be a woman and/or a person of color, but Shepard can just as easily be a white man, and regardless of what the player chooses, their identity has no bearing on the story. The specificity of Lara's personality and narrative is important because it gives female players a rare opportunity to empathize with a hero without simply proxying themselves as the protagonist.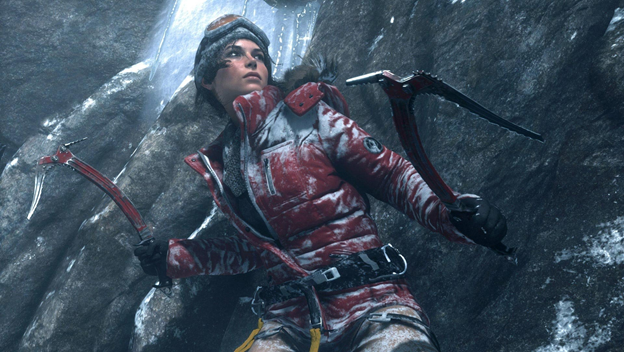 After two decades of adventuring, Lara finally sells enough treasures to be able to afford sensible clothing options
The newest TOMB RAIDER film, starring Alicia Vikander, is based on the 2013 reboot, and with that, the movie depiction of Lara benefits from the updated material. Like the virtual version, Vikander's Lara doesn't start out at the top of her game, instead placing her maturation, rather than the spelunking, as the main narrative arc. The camera doesn't oogle over Vikander like it did for Jolie, and there isn't a pair of booty shorts in sight. In a refreshing break from a parade of male names in the credits, one of the screenwriters is Geneva Robertson-Dworet, also working on the CAPTAIN MARVEL adaptation, who was adamant about Lara being relatable but also "kicking ass", a sentiment that is the perfect jumping off point for describing how to write women who can have flaws but still avoid tropes.
That relatability is still one of the major selling points for the Tomb Raider series. With each iteration of the character, Lara Croft has provided an increasingly essential locus for the femme gaming audience, as well as serving as a valuable role model for powerful women. This transformation, from being sexy for the male gaze to being sexy simply due to her strength and wits, is not a change that many characters undergo. Lara has paved the way for an influx of strong female heroines in gaming, though she will always be remembered as the first. And hopefully, she'll keep raiding tombs for the foreseeable future.