Music Roundup 3/27/18
We're here to tell you what's hot and what's not in this week's music roundup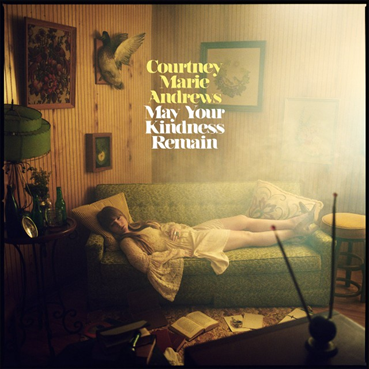 Courtney Marie Andrews – MAY YOUR KINDNESS REMAIN
Genre: Singer-Songwriter, Americana
Favorite Tracks: "Border," "May Your Kindness Remain," "Rough Around the Edges"
Courtney Marie Andrews' fourth studio album, MAY YOUR KINDNESS REMAIN (and her first with Fat Possum Records), shows what she truly values and hopes for people. Kindness— featured in the title of the album and as a subsequent title track—appears to be the number one trait. Over the course of 10 tracks, the former Jimmy Eat World touring member creates the perfect road trip soundtrack in songs that detail her travels and interactions, her heartwarming lyrics repeatedly talking about love, laughter, and kindness being far more important than physical things. This theme is felt even when it's not as explicit, as she dwells on the plainness of objects in her storytelling; it's hard not to admire the virtuous message.
MAY YOUR KINDNESS REMAIN is filled with soaring vocals and tight vibrato that's reminiscent of old country singers. The effect is emotional, making her words sound wise and backed with personal experience. The background vocals are gospel-y and very much in the foreground, adding to the preachy feeling. This is the most prominent in the opening track, where the Arizona native consistently creates a warm and inviting sound that feels as if you've stumbled upon a group of friends jamming, just singing to each other with no one else in mind. But all the songs seem to hang around the same spot tempo-wise and stick to the same instrumentation, true Americana marked by shimmering guitar, organ, and soft drums. It's not the most dynamic release, but it shows she's found the sweet spot in her writing both in tone and lyricism. It's optimistic and a good reminder to focus on kindness even when it doesn't seem to be at the forefront of politics, current events, or really, other songs. [Stephanie Caress]
Verdict: Recommend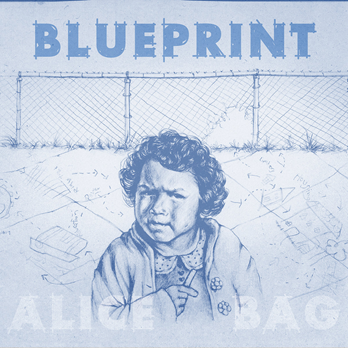 Alice Bag – BLUEPRINT
Genre: Punk Rock
Favorite Songs: "Turn It Up,"  "Shame Game,"  "Etched Deep,"  "Adrift," "White Justice
"White justice is a travesty." Alice Bag is bestowing unto us her feminist BLUEPRINT in her second solo release. Though the album isn't packaged as a feminist manifesto, Bag's activist heart is undeniable as she critiques the world she lives in. Like an actual blueprint, it can feel overwhelming and confusing at times—just when you think you have a grasp of the direction and style, it changes and takes you into a new unpredictable place. Throughout her second solo album, Bag doesn't just sing about herself, but belts for all women and minorities. She kicks BLUEPRINT off with "Turn It Up" and it is exactly what you want from an album opener or a concert encore: a melody that draws you in and makes you want to dance while you sing along to the catchy chorus: "Toss it out, play something new instead / And turn it up, turn it up / Until it resonates in your soul." Bag follows it up with the swaying "Invisible," which delves into a broken relationship, her smooth vocals the main attraction as they become accompanied by immaculate guitar riffs. And then, in true punk fashion, Bag disrupts the flow of the album. Just like life's unpredictable course, BLUEPRINT switches from a slower, soulful ballad to a full-rage mosh pit. The real powerhouse on the 11-track album is "77," a critique on the wage gap between women and men, featuring Bikini Kill's Kathleen Hanna and Bratmobile's Allison Wolfe. The shrill, rage-induced, scream-like vocals from these women carry the rightful anger that feminism hasn't taken us as far as we'd like More than just the wage-gap, or white justice, Bag also brings up the counterproductive act of women bringing down other women in "Se Cree Joven," after an encounter with woman who criticised her in Spanish thinking she couldn't understand. Feminism isn't just a women's issue, or a man's issue, or a color issue, it's about uniting all of us—there can be no room for barriers. I could go on and write a PhD on BLUEPRINT, but instead I'll mention that "Shame Game" has a disco/soul vibe you have to listen to, and that "Adrift" is dramatic enough to be the next Bond theme song. Bag has proven that punk isn't just a sound, but still an ethos. With time she has found a good blend of genres (punk, ranchera, soul, disco) that bring out the honey and smoke in her voice. The optimist approach that seeps through every song is meant as an encouragement for change. All that's left now is for y'all to go treat yo'self to some punk magic from one of the genre's original queens. [Liliane Neubecker]
Verdict: Recommend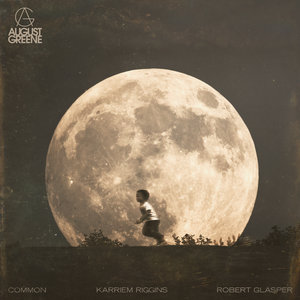 August Greene – S/T
Genre: Jazz Rap
Favorite Tracks: "No Apologies," "The Time," "Practice," "Optimistic," "Swisha Suite"
August Greene, the supergroup formed by Robert Glasper, Karriem Riggins, and Common, is a pleasant new direction for collaboration between experimental worlds in hip hop, jazz, and soul. Recent music in this vein by Kendrick Lamar, Thundercat, Flying Lotus, and Glasper has been pushing a very heavy, ethereal, jazzy, and uncompromisingly complex approach to these avant-garde worlds. Those songs and albums were great music, no doubt, but they're cerebral music, appreciable by all but designed for the "heads."
Given the technical capabilities of Robert Glasper and Karriem Riggins, we could've easily gotten another one of those. But August Greene's self-titled debut shows remarkable restraint. Other than the occasional mixed-meter jam ("Aya"), the songs mostly stay in the reachable spheres of the musical atmosphere, even in its back half, where the album picks up in intensity.  That is, until the album's outro, "Swisha Suite," where the instrumentalists get to stretch out a bit over some haunting vocals, wind instruments, and a spoken pidgin English ode to swishers (things get gloriously weird). Common largely rises to the occasion, delivering some of his best verses in years (especially verse one of "Practice," and his verse on "Optimistic"), despite some occasional disappointing moments (over the piano interlude). Also, I can't be the only one who missed Brandy (featured on "The Time" and "Optimistic")—her appearances, along with fellow vocalist Samora Pinderhughes, are some of the album's shining moments. [Femi]
Verdict: Recommend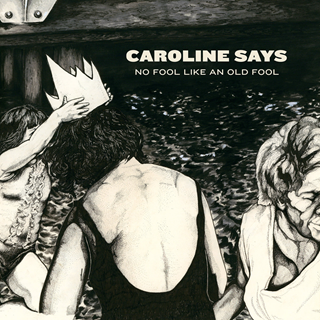 Caroline Says – NO FOOL LIKE AN OLD FOOL
Genre: Indie Folk
Favorite Songs: "A Good Thief Steals Clean," "First Song,' "Lone Star Tall Boy"
Caroline Sallee, project mastermind behind Caroline Says, switched gears for her second album, NO FOOL LIKE AN OLD FOOL, giving up the indie folk from her debut 50,000,000 ELVIS FANS CAN'T BE WRONG (originally released on cassette in 2014 and digitally released in 2016), instead embracing a darker, more hypnotic record with an ambient style and a side of shoegaze. Written and recorded in Sallee's mildewed basement apartment, you can almost hear the dust flecks floating across a beam of light cast in the wee hours of the morning. NO FOOL was inspired by Sallee's return to her hometown of Huntville, Alabama, where you either come to terms with small town life or are plagued with the desire to escape. The ethereal pop melodies capture your attention, but unfortunately, you'll only be able to make out half of the whispery lyrics through all the distortion, though I guess the point is for the distortion to bridge the darker lyrics and brighter melodies. Some of the clearest vocals appear on "A Good Thief Steals Clean," such as, "But a person can know a song without knowing all the words." As ironic as that might be, the song is actually about the complexity of loving a heroin addict. Poetic lyrics like this are strewn throughout NO FOOL from varying perspectives, like "Rip Off," which was inspired by the death of an Iraqi man who was about to move to New York and has Sallee singing, "There's things they can't erase / If my voice is in your head / Feel free to let me go." If you follow CarolineSaysMusic on Instagram you'll agree that the edginess of NO FOOL is a better representation of the Austin-based quartet, who are beautifully uncommercial. Because it sounds so different from their first album it's hard to say which direction Caroline Says will go in, but I think Sallee and company have a few more surprises for us. [Liliane Neubecker]
Verdict: Recommend
Jimi Hendrix – BOTH SIDES OF THE SKY
Genre: Classic Rock
Favorite Tracks: "$20 Fine," "Send My Love To Linda"
This one is kind of a tricky review, isn't it? Because as you sit here, you already know whether or not you're interested in Jimi Hendrix's BOTH SIDES OF THE SKY, a compilation album of sorts that acts as the third release in a trilogy of posthumously released archival recordings that were meant to follow-up 1968's classic ELECTRIC LADYLAND. Hendrix's legacy will, of course, not be any more or less established here on BOTH SIDES OF THE SKY, but just as producer Eddie Kramer did with 2013's PEOPLE, HELL & ANGELS and 2010's VALLEYS OF NEPTUNE, there is a tender and free-flowing nature to these songs, elevated above scraps and demos but nonetheless a nice peek behind the scenes. The guitar noodling on songs like "Power of Soul" and the swampy "Hear My Train a Comin'" remains entirely captivating, although as always it's hard to tell if its intrigue lies at the behest of Hendrix's raw talent or a marveling sigh in the wake of his tragic fall. The never before released "$20 Fine," which features Stephen Stills on vocals, or Hendrix's instrumental runthrough of Joni Mitchell's "Woodstock," are nice highlights that provide fantastic context for just how long ago this was recorded. But you listen to the singular "Send My Love To Linda," which opens to two minutes of just Jimi and his guitar, and you hear 40 years of singer-songwriter rock music, from Santana to Kurt Cobain to Jack White. If you're a classic rock enthusiast or a Hendrix die hard, BOTH SIDES OF THE SKY has probably already been in the musical rotation for you, but even if many of these songs feel somewhat pedestrian in the canon of rock, it's worthy of throwing on in the background just to remind yourself what someone as pedantic and savant-like with the guitar sounds like. [CJ Simonson]
Verdict: Recommend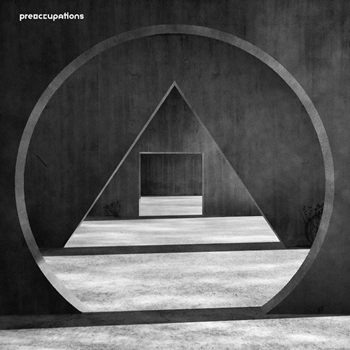 Preoccupations – NEW MATERIAL
Genre: Post-Punk
Favorite Tracks: "Antidote," "Solace," "Compliance"
An immersion into the future of electronica and an expansion on post-punk, NEW MATERIAL revisits a hollow genre by way of Canada's Preoccupations. This re-examination of synthpop ignores the era of music we are in, instead making '80s-reminiscent beats as they deserve to have evolved. As the second full release following the band's name change (previously Viet Cong), NEW MATERIAL isn't progressive by any means, and even the album art strikes up the fundamentals of geometry: circle, triangle, and square. It starts off with fun synth and a key kick drum on "Espionage," testing out '80s glam while not predicting the course of the album. With solidifying pessimistic lyrics, "Disarray" features a carefree and euphoric tone that is only mimicked again during "Solace." Incompressible vocals cover "Disarray," a pleasing track that would fly at any dance party with its rose-tinted drum machine claps; it's the only time good energy is pumped out on-the-nose. "Antidote" is futuristic and spacey, like a science museum with performance-driven vocals. The track switches beats halfway through for repetition of, "Information overdose / looking for antidotes / uneven ratios / under a microscope." It sums up the album: living gets harder and harder with the more you know about the world around you, lost in a void of false innovation. A change occurs at "Antidote," where the last half of the album becomes genuinely enjoyable, maybe just a side effect of getting used to the performance style of Preoccupations. The instrumental track "Compliance" gears itself up for a step into drama, growing in complexity and layers for all the drum beats and synths have to offer in the realm of NEW MATERIAL. Preoccupations has keen instincts on what makes them work, and it comes together in a dark and grungy way on NEW MATERIAL, even if it might not be what this year was calling for. [Nikki Reifler]
Verdict: Recommend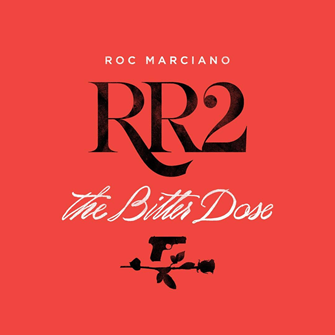 Roc Marciano – RR2: THE BITTER DOSE
Genre: East Coast Hip Hop, Gangsta Rap
Favorite Tracks: "C.V.S.," "Saks Fifth," "The Sauce," "Muse"
The sequel to his 2017 release, ROSEBUDD'S REVENGE, Roc Marciano's RR2: THE BITTER DOSE reinforces his empire, collecting cash and garnering respect because of it. What works in crafting the tone of RR2 is looping soul songs and zeroing in on boom-bap production with bass drums and snares. Marciano plays everything cool, spitting self-assuredly, much better than mumbling. Knowledge the Pirate and Action Bronson are the album's two featured artists on "Bohemian Grove" and "Corniche," respectively, establishing camaraderie with Marciano, but not competing in style or flow. He has an inherent talent in delivering melancholy and quiet threats that stand above others, even as his breaths are crafted better than his featured artist's lyrics.  In the first four songs, among soul song samples with full bands and radio static for authenticity, our leading man sounds off on his status: invented swag, comfy living, and rocking the Purple Label—I'm jealous. "C.V.S." changes the tone by adding more emphasis on the drum to hold the beat, more agitated and hot tempered while tying in a police arrest story. "Saks Fifth" reinvents RR2's whole vibe with marimbas, suddenly show-off flattery asserting him as the king of all—a living prophet to idolize, and sexually accomplished to boot. Fitting right in the zeitgeist of ego, "The Sauce" is a unique freestyle on one loop of a dark drum base, mechanical and grungy: "futuristic shit, you know what I'm sayin?" The album doesn't stray from its intended path, but continuously surprises with experimental samples like the suave saxophone and sensual monologue throughout "Muse." RR2: THE BITTER DOSE is an ongoing proclamation of Roc Marciano's kingdom, emphasizing the idea is he's in charge and has the sound effects to illustrate the picture. [Nikki Reifler]
Verdict: Recommend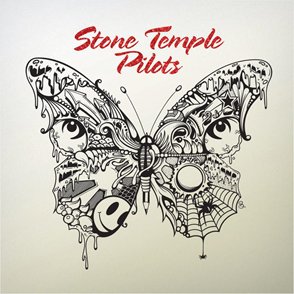 Stone Temple Pilots – S/T
Genre: Alternative Rock
Favorite Tracks: "Guilty," "Six Eight," "Roll Me Under"
Scott Weiland was one of those frontmen whose voice and real-life antics overshadowed his band, who were never essential grunge listening, but could put together a classic arena-rock riff like "Sex Type Thing" and had some interesting psychedelic experimentations later on in the '90s. With him leaving the band and subsequently passing away, they've fumbled for a new frontman, but there's just no way that anyone could fully replace Weiland. His replacement, former nu metal frontman for Dry Cell, Jeff Gutt, is totally interchangeable and more fit for a bad Cheap Trick cover band; the group's previous fill in, Linkin Park's Chester Bennington, wasn't a great fit for Stone Temple Pilots, but his agonized wailing hit some of the same notes Weiland did, even if he lacked the foreboding baritone that added a seductiveness akin to that of Mark Lanegan. Then again, the flat vocal production that throws on tons of odd filters don't help Gutt at all. Stone Temple Pilots were at their best when they were dark and brooding, but the music here is this bland Southern rock with zero color or grit to it at all. It's too boringly pleasant to be grunge, and with the exception of "Roll Me Under's" rollicking chorus and confrontational tone, and a few songs that capture hints of classic rock swing, the entire album is forgettable and easily disposable. The worst part about the record is the bold decision to self-title it, implying this music will define the band from now on, when there's nothing distinct about it other than the name. Stone Temple Pilots is a zombie at this point, still stumbling on even when their greatest assets have decayed or been lost. It's quite sad, honestly. [Blake Michelle]
Verdict: Do Not Recommend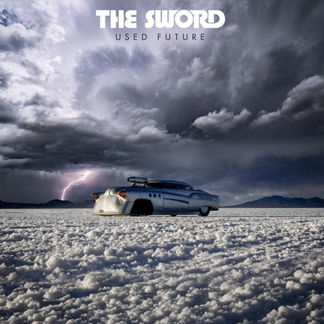 The Sword – USED FUTURE
Genre: Stoner Metal
Favorite Tracks: "Twilight Sunrise," "Book of Thoth," "Brown Mountain"
I don't listen to The Sword for their concepts about Norse mythology or zooming through the cosmos; I listen because they deliver massive grooves out of a lost Black Sabbath songbook with a straight face, unlike so many other retro-metal acts. AGE OF WINTER, WARP RIDERS, and especially APOCHYRON, deliver unabashedly old-school and gloriously ear-wormy riffs, blowing contemporaries like Wolfmother out of the water. However, any rock band whose appeal is built on riffs will usually have to branch out into more musical ideas, something The Sword tinkered with on their last record, HIGH COUNTRY. It was a little bloated, but the record's fuzzy atmospheres and leaner production worked well with their existing formula. USED FUTURE continues this experimentation with more complex instrumentation and new guitar textures, but the end result fails on its own merits and as a Sword record.
The biggest issue is that it flows terribly, both on a micro- and macro-level. There are a noticeable number of abrupt endings, like on "Deadly Nightshade" and "Book of Thoth," and instrumentals like "The Wild Sky" and "Nocturne" feel like incomplete song ideas rammed together awkwardly or stretched out to the point of tedium. The Sword's vocals have always sounded intentionally cheap to match their dawn-of-metal aesthetic, but their production is much more inconsistent here, to the point of being so faint on "Come and Gone" they might as well not be there. I've got no issue with stoner metal using synthesizers and more liquid, ethereal effects, but bands like Kylesa and Baroness know how to incorporate these into a sensible musical whole. Here, the riffs aren't nimble or weighty enough to be enjoyable, the attempts at atmosphere aren't mixed in well with the retro-metal core, and the only song that comes together as an epic, trippy, powerful tune is the second-to-last song. It takes a lot for a record to make me say this, but USED FUTURE is so head-scratchingly bad that it made me question whether The Sword were ever any good to begin with. [Blake Michelle]
Verdict: Do Not Recommend