Music Roundup 4/17/18
We're here to tell you what's hot and what's not in this week's music roundup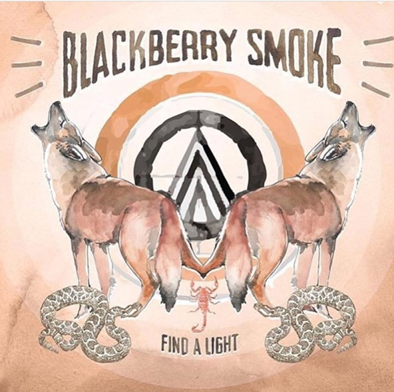 Blackberry Smoke – FIND A LIGHT
Genre: Southern Rock
Favorite Tracks: "Run Away from It All," "I'll Keep Ramblin' (featuring Robert Randolph)," "Nobody Gives a Damn," "Mother Mountain (featuring The Wood Brothers)"
It's kind of amazing to me that Blackberry Smoke aren't headlining Stagecoach. It's also kind of amazing to me that there aren't more articles being written like the ones Chris Stapleton has been showered with over the last two years, all about their rejuvenating and refreshing approach to country and Southern rock and how their outsider status is going to change the world (or whatever). In so many ways, Blackberry Smoke are the crossover band that Nashville needs, because as we can perhaps surreptitiously believe that Stapleton's music fights his inside-the-machine status, or that country oddities like Kacey Musgraves or Sturgill Simpson are affecting actual change, those things still live in country music's ecosystem more than the mainstream. Blackberry Smoke's last two albums have hit #1 on both the U.S. Country charts and #7 and #3, respectively, on the U.S. Rock charts, and if rock is going to have a chance to to make some kind of legitimate comeback, why not start with Atlanta journeymen Blackberry Smoke?
FIND A LIGHT, the band's sixth full-length album since they formed in 2000, is as accessible a release as they've ever had, a rawkus Southern rock album that checks all the boxes, from gospel ("I'll Keep Ramblin,'" with the legend Robert Randolph), to duets ("Let Me Down Easy," featuring Amanda Shries), to movie credits soundtrack fare ("Nobody Gives a Damn") and Black Crowe's worship ("The Crooked Kind"). If you close your eyes, Charlie Starr sounds like Chris Cornell, and the music flows freely between Audioslave's crunchier moments and deep-in-the-hills Southern rock circa Skynyrd and ZZ Top. It's all just a further, slightly more mainstream sounding extension of their excellent 2016 album, LIKE AN ARROW, which at times still felt like it lived in a Southern dive bar on a Tuesday night. FIND A LIGHT mostly takes them out of the dive bar and onto mainstream rock radio, and it's a sound that suits them really well. You could hear "Run Away from It All" sitting proudly next to other traditional rock standards on the radio and not blink once. If there's any justice, Blackberry Smoke will get their due with FIND A LIGHT, but regardless, they've got a solid discography with the power of rock salvation and it's worth exploring. [CJ Simonson]
Verdict: Recommend
The Damned – EVIL SPIRITS
Genre: Post-Punk
Favorite Tracks: "Standing One The Edge of Tomorrow," "Look Left," "Procrastination," "I Don't Care"
Influencing gothic culture since 1976, The Damned release genre-specific music for concept album lovers and are ready to play along with true punk metaphors. Their first album release in 10 years, The Damned crowdfunded EVIL SPIRITS on PledgeMusic and had fans contribute to the art they wanted to hear: a classic, retro U.K. punk band, with softer rock than what you might initially think. Using more than guitars and drums, the band members utilize a good amount of trumpet, piano, and some tambourine sprinkled around for character, with glam rock resurgence. Some tracks indulge in a fantasy realm of ghouls like "Standing On The Edge Of Tomorrow" or "Devil In Disguise," both of which are entirely entertaining and joke about aggression and annoyance rather than being truly bitter at the world. Other tracks like "Look Left" or "Procrastination" play more into internal demons of the mind: heavy and angsty topics are covered, but never feel depressing, more uplifting and fun than anything. The only song that slightly turns in a dramatic shift is "I Don't Care," rich with Dave Vanian's storytelling voice, a nice lilting piano, and a theremin effect thrown in to set up a late night graveyard lament that then picks up in an energetic rock segment with strong chorus vocals to keep a spooky, theatrical tone in the upbeat portions. EVIL SPIRITS is self-aware as an album, but not planned and calculated. It is a celebration of what makes The Damned great in all their gothic glory, like a punk masterpiece from the '70s you would stumble across in a record store today, wishing to be alive when the album came out. Luckily we are. [Nikki Reifler]
Verdict: Recommend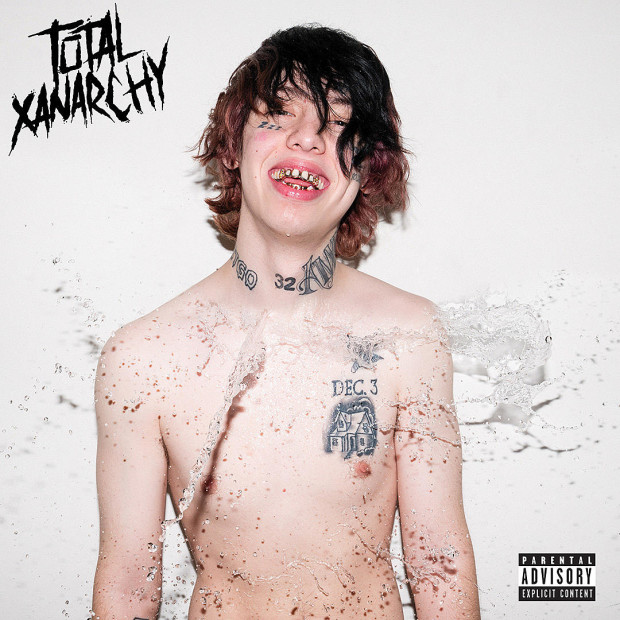 Lil Xan – TOTAL XANARCHY
Genre: Trap Rap, Cloud Rap
Favorite Tracks: "Who I Am," "Wake Up," "Tick Tock," "Moonlight," "Betrayed," "Far," "Slingshot"
This will probably earn askance looks from most people, but for me, there's something endearing about Lil Xan professing he just "fucked [his] dream ho." It's a sign that he's made it, that he's actually amounted to something. It's not too far off from when Tupac was asking everyone to picture him rolling. Lil Xan, there's certainly some things out of focus, but overall, I can make out the picture pretty clear and it's looking good. On his debut album, TOTAL XANARCHY, the 21-year-old is just happy to be here.
This was all so close to never happening. Xan struggled with xanax abuse and has even seen friends lose to the battle, but he affirms that from now on, everything is going to happen, including sleeping with dream girls. Right off the bat, he's swearing off the drug on "Who I Am," and later again on his star turn, "Betrayed." Especially in the wake of Lil Peep's death, it's refreshing to hear someone censure modern rap's widowmaker. Sometimes there's suggestion that the dream could still collapse, such as on tracks like "Deceived" or "Basically," but Xan clarifies it won't be from drugs, rather a new obstacle, one that seems to be a necessary lament in the advent of fame: fake friends (and by extension, fake females). However, he doesn't let the woes overpower. "Saved by the Bell" is pretty much his asking his teachers to picture him rolling, he's feeling nothing but himself on "The Man," and while he feels like he's dead on "Wake Up," I'd like to believe it's because all this new wealth has rendered his reality a heaven on earth.
Xan is still far from proficiency though: there's distracting adlibs (enough with the Nextel chirping please), a marked amount of phoned-in bars, occasionally substance is scotched for repetition,  and the most detrimental: the Lil Uzi impersonating. It's obviously out of admiration, Lil Xan's whole persona is indebted to Uzi, but tribute looks better when you can add your own spin to it. However, I will admit that the majority of these can be forgiven thanks to the top-notch production across the board. On mid-album highlight, "Moonlight," Charli XCX and Xan may make an effective duo as they espouse carefree lovin' and livin', yet for the most part, Xan is overshadowed by the features here. Granted, it's hard going toe-to-toe with YG and 2 Chainz on "Round Here" and "Tick Tock," respectively. Xan is young, though, and has time to progress. There's enough evidence here to suggest he'll be proving haters wrong again. [Nick Funess]
Verdict: Recommend
Alice Merton – NO ROOTS EP
Genre: Indie Rock
Favorite Tracks: "No Roots," "Lash Out," "Lie to My Face"
The massive international success of Hozier's "Take Me to Church" and self-titled debut proved there was an untapped market for singer-songwriters with an authentic, independent spirit who still fit comfortably on alternative rock radio. Rag'n'Bone Man's "Human" was a clear successor, but the song's whiny unpleasantness wasted a great vocalist, something that "No Roots" does not do. The fat, bouncy bass and a star-making performance from Alice Merton wet my appetite for future material, and NO ROOTS EP is further proof of her potential. Each song roughly follows the same formula as "No Roots": take one personal emotion and blow it up with tight guitar licks, a killer chorus, and theatrical flourishes of piano and cheering. However, she uses the formula to explore new sounds to great success, like the noodling, reverb-heavy build of guitar on "Jealousy" to the straight-forward funk rock of "Lash Out." Familiar instrumental quirks sound fresh in her hands, thanks to crisp production and a combination of Florence Welsh bombast and Fiona Apple's no-holds-barred emotionality. Sadly, there are moments where the synthetic elements ruin the mood, like the stomping percussion and incessant bleeping of "Hit the Ground Running," though it's not as jarring as the fake rootsy clang of "Human." It's unlikely to change your mind on Merton if "No Roots" did nothing to sway you, but those who have bought into the hype will find no reason to jump off the train here. [Blake Michelle]
Verdict: Recommend
Princess Nokia – A GIRL CRIED RED
Genre: Alternative R&B, Trap Rap
Favorite Track: "At the Top"
Where the bars at?
It's the only thing I could think two songs into Princess Nokia's new release, A GIRL CRIED RED, her "emo" turn and follow up to her delightful mixtape-to-album debut, 1992 DELUXE. Look, while emo rap's witching hour of crossover undoubtedly approaches (Lil Uzi Vert's recent toe-dipping seems to indicate a next level of rap stardom is about to push the chips all in on the genre), overhauling your sound to self-medicated indie rock is probably a bad idea. Case in point, A GIRL CRIED RED, which is perfectly fine emo rap, but a jarring and misguided misdirect for an artist as young and exciting as Princess Nokia. There is none of that slapping New York rap sound on A GIRL CRIED RED, and going back to "Tomboy" or "Bart Simpson," it's really hard to see what she's artistically gaining in this new genre. Princess Nokia is, at best, a serviceable singer, and this album relies pretty heavily on her voice to carry songs rather than her raps, which when they do come through are effects-laden and mildly irritating. Her entire persona is overhauled here, with the closest we get to that sharp, brooding wit leading a song coming when she spits, "I'm a stone cold killer / couple notches in my belt" on "At the Top." Opener "Flowers and Rope" and closer "Little Angel" both seem like signature enough tracks for this EP, poppy sad boi guitar rock that indignantly stares down the world of hip hop, so if that's what you're looking for, God bless.
My aversion to this EP is mostly rooted in my appreciation for her previous material, and this emo heel turn comes with as little warning and indication as the project itself. Fans of this bold new era of SoundCloud rap will find some things to appreciate about this EP, but even compared to Lil Peep or Trippie Redd, whose lives in the genre are fully engrained, A GIRL CRIED RED feels like a rough transformation in the making, more closely rooted to the actual indie rock these rappers are channeling than a true embrace of the rap subgenre. Fans of 1992 DELUXE will have to go elsewhere for hard-hitting, female-fronted New York rap, but these days, where could you even FIND something like that? [CJ Simonson]
Verdict: Do Not Recommend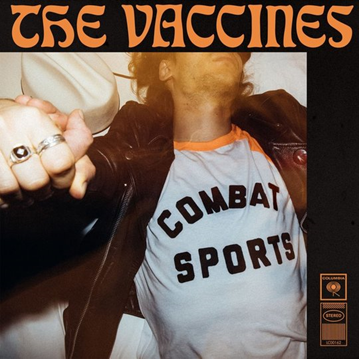 The Vaccines – COMBAT SPORTS
Genre: Garage Rock
Favorite Tracks: "Surfing in the Sky," "Nightclub," "Out on the Street," "Someone to Lose"
The Vaccines are a pop act with enough distortion to call themselves a garage rock band. There's nothing wrong with that, but their increasingly bloated albums keep stretching the band's talents past their capacity. After ENGLISH GRAFITTI's half-hearted new wave experiments, The Vaccines have wisely merged their surf-rock guitars with synths better than ever, and the result is a lean, pulsating, addictive new record, COMBAT SPORTS. Despite the tired opening of "I Can't Quit" and "Put It on a T-Shirt," songs that the Vaccines could have made in their sleep, the record comes into its own with the kinetic blasts of "Surfing in the Sky" and "Nightclub." It's reminiscent of Franz Ferdinand's ALWAYS ASCENDING, as both are the most frank pop records of the band's careers and are all the better for it. However, Ferdinand actually has the charisma to sell their douchiness with a knowing wink and smile, while the Vaccines regularly drop in these bizarrely sincere moments that do not match at all. Here, it's relegated to mostly "Young American" and "Maybe (Luck of the Draw)," but they still manage to kill the vibe due to Justin Hayward Young's inability to convey anything that doesn't sound like he's desperately spewing nonsense to impress a girl. When the music supports that mood, The Vaccines truly shine, and COMBAT SPORTS recognizes that more so than any of their past discography. As a result, it's their most consistently satisfying record yet. [Blake Michelle]
Verdict: Recommend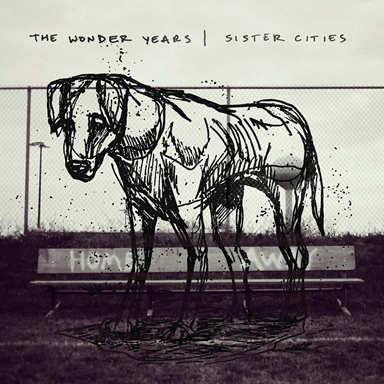 The Wonder Years – SISTER CITIES
Genre: Emo
Favorite Tracks: "Flowers Where Your Face Should Be," "Heaven's Gate (Sad & Sober)," "We Look Like Lightning," "The Orange Grove"
Evolving beyond teenage suburban angst, SISTER CITIES matures The Wonder Years with a sophisticated new viewpoint as lead vocalist Dan "Soupy" Campbell whines more than sings, sounding on the verge of tears. "Raining in Kyoto" gets right into the album, lyrics rushing in and foreshadowing that this is obviously not going to be comfortable, but will be endlessly surprising. SISTER CITIES is about feeling disconnected from the world and finding sympathy from anyone willing to listen, and the album is vocal about feeling out of place. The first half of the album is one-dimensional, covered in screaming punk and accompanied by smashing drums and electric guitars. Only halfway through does the vibe change in a softer ballad like "Flowers Where Your Face Should Be," which emphasizes that their emotional content is just as effectively communicated as it is in the noise of songs such as "Heaven's Gate (Sad & Sober)," which swiftly changes from soft and easy to the extreme center of a rock venue. The most interesting songs are the ones that stray from pop punk, like "When the Blue Finally Came," where Campbell's voice feels fully accompanied by low guitar and cymbals, very much an emphasis on echoes and sound pieces that fail to evolve and morph into anything more exciting, but rather please in their softer tone. When songs unexpectedly slow down but also contain wise knowledge to share, The Wonder Years become better than the loudness that they are popularly known for. SISTER CITIES covers new terrain for the band, with the most exciting songs being those with experimentation and depth, straying from dynamism and finding solace in the quiet. [Nikki Reifler]
Verdict: Recommend