Music Roundup 4/3/18
We're here to tell you what's hot and what's not in this week's music roundup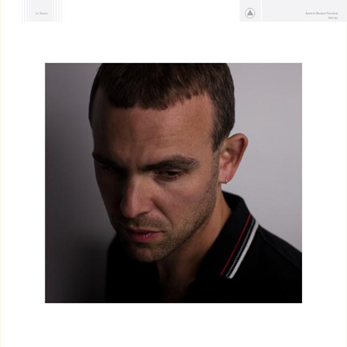 Amen Dunes – FREEDOM
Genre: Neo-Psychedelia
Favorite Tracks: "Skipping School," "Miki Dora," "Believe"
When critiquing an album, there's an ever-present tension between wanting to say the band is either playing it too safe or going in a direction they don't have a solid grasp on. On the surface, FREEDOM seemed like a solid compromise between the two, embracing a less-is-more philosophy that I would otherwise appreciate. Amen Dunes' garage rock and jangle pop influence is gone, as are the more wild vocal antics and effects, leaving residue that should've been the nocturnal, mesmerizing soundtrack to long walks through the big city. The problem is, it's just so painfully indie; it thinks the little riffs at the center of each song are enough to carry them for their entire running time, and that Damon McMahon mumbling his lyrics and jutting his chin out after every line are the pinnacle of emotion. Psychedelic rock shouldn't be as dry and bare-bones as FREEDOM, as the attempts at fuller soundscapes are crippled by monochromatic production and songs dragging their feet in one-note synths. The sturdier strumming of 2014's LOVE is far better than the delicate noodling of "Freedom" and "Saturdah," even if there are a few moments of quirkier guitar on "Miki Dora" or the layered, slow-burn build of "Skipping School." Overall, I like my post-punk-inflected indie to have the momentum of Doves or the thicker resonance of The National, and FREEDOM has neither of those. Making pretty music is easy, making pretty and engrossing music is a lot more difficult. [Blake Michelle]
Verdict: Do Not Recommend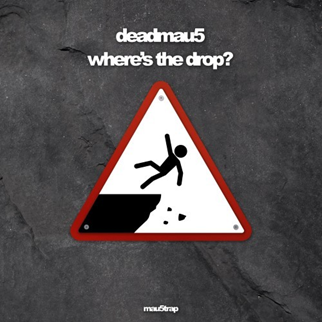 deadmau5 – WHERE'S THE DROP?
Genre: Orchestral
Favorite Tracks: "imaginary friends," "monophobia," "fn pig"
Turning what we know as the deadmau5 brand on its head, WHERE'S THE DROP? replaces house and electronic styles for an orchestral symphony. It challenges the naysayers—those who don't think any skill or thought goes into crafting intense festival bangers and electronic party anthems. WHERE'S THE DROP? is a repackaging of the DJ's past songs played by a string ensemble and brass sections, sometimes sparsely joined by electronic stylings, but only enough to tease a memory of what deadmau5 has crafted himself to represent. Collaborating with Gregory Reveret, music arranger of films such as DEADPOOL, most of the tracks, such as "coelacanth" and "acedia," are sparse and slow, trickling in piano and violin to create a mood of listening to a film score. "monophobia" is one of the more obvious restylings of a past song, the quick EDM notes translated into the highest octave of a piano easily identifiable, a type of celebration of past achievements. "monophobia" is one of the few that utilizes electronic synths at the end, leading to an unsatisfactory climax that doesn't manage to go anywhere. "fn pig" picks up the album once again, reminding us that after four sequences of pure symphony, there is a deadmau5 song hiding underneath it all. Becoming suspenseful and dramatic, "fn pig" is a turning point, featuring more horns than before and combining a sporadic synth that whizzes around in pure ecstasy. Other tracks have highs and lows, changes in pace, and are enchanting, but sound too similar and lack strong themes, which is what makes orchestra film scores worth listening to. WHERE'S THE DROP? is not the direction deadmau5 is taking for the rest of his career, more of a passion piece that gets it out of his system, and as such, die-hard fans may or may not be ready to accept this project. It's definitely a beautiful experience, something your math teacher would play as you take a test in middle school, but would not be the go-to in any situation. [Nikki Reifler]
Verdict: Do Not Recommend
Diplo – CALIFORNIA
Genre: EDM, Pop Rap
Favorite Tracks: "Suicidal (featuring Desiigner)," "Look Back (featuring DRAM)," "Wish (featuring Trippie Redd)"
I wouldn't want to hang out with Diplo. His face is somewhat punchable, his reputation precedes him, and his self-awareness of both of these facts, rather than making him endearing and cheeky, makes him somehow more of an ass. But all and all, I've never disliked his music, even if my indifference to it, generally speaking, has probably made me sound decidedly anti-Diplo. His collab with Skrillex as Jack Ü took me by surprise and his remix work has always been perfectly acceptable; even though his solo work never seemed marketed towards me (I'm about six abs short of enjoying places that would be playing his music in the first place), when I did come across it, I saw its appeal and tipped my hat at it. His newest EP, CALIFORNIA, is five songs (and a remix) of really internal-looking EDM, palatable in every sense of the word and grinning through a kind of painstaking sadness. In short: it's surprisingly amazing. He's assembled a really telling group of features, including a pair of SoundCloud emo rappers in Trippie Redd and Lil Xan, and outwardly emotional breakout performers like Lil Yachty and DRAM, to make a pretty but aching release.
CALIFORNIA is centrally an EP about mental health, a subject that has slowly crept into all aspects of our collective culture, perhaps most surprisingly in the masculine worlds of hip hop and sports. Desiigner delivers a cloudy and open feature on "Suicidal," giving his all on what is some of the most unconventional production he's rapped over during his young career to really provide something honest ("See my soul floating up / Can't feel nothing, just feel the spirit / Go hard or go home, baby"). "Look Back," the guitar-shredding gospel song that sits in the middle, is a painstaking explosion, and DRAM goes to fucking work on it, delivering one of his best performances to date, flipping between breathy and brassy vocals about moving forward beyond pain. When he nails, "And I haven't looked back / since I made up my mind," DRAM channels the late Charles Bradley for a soaring, chill-worthy chorus. "Wish" and "Color Blind" employ features that elevate the tropical house and big room EDM beats that they both utilize respectively. Trippie Redd deals his whiny sorrow over "Wish's" slow, tropical beats that stab with more emotion and less angst than his previous work, while Lil Xan is (smartly) utilized more as a tool than a full feature for Diplo's heaviest track on the album, "Color Blind," a showcase of forlorn yet wobbly club music. CALIFORNIA is unquestionably Diplo's most interesting non-Major Lazer work, and a full album's worth of this smartly curated sadboi electronica from one of music's most punchable faces would be embraced with open arms. [CJ Simonson]
Verdict: Recommend
The Garden – MIRROR MIGHT STEAL YOUR CHARM
Genre: Experimental Rock
Favorite Tracks: "Call The Dogs Out," "Voodoo Luck," "Good Luck," "Who am I going to share my wine with," "Stylish Spit," "Good News"
The Garden came onto my radar a few years ago from a suggestion by a few art class buddies who described Wyatt and Fletcher Shears as twin-models-turned-bizarre-punk-duo. That logline was enough to get my foot in the door to the Orange County natives, who are known for their bombastic shows, eclectic style, and quirky, unconventional take on punk music. While their 2015 release, HAHA, had a few worthy tracks ("Egg," "Crystal," "Haha"), overall, the lack of coherency and proper song structure left a lot to be desired. Many of HAHA's tracks were pittingly short, barely pushing past the one- or two-minute mark, becoming bogged down and muddy by the twins' alternative stylings. Fortunately, MIRROR MIGHT STEAL YOUR CHARM does not forgo the group's odd but rocky initial musings that set them apart from their contemporaries, instead building upon them to make their newest release a strange but downright captivating listen.
It is indisputable that THE GARDEN have already cut out a type of sound that is all their own, in their own words described as "Vada Vada." There are many examples of their left field instrumentation, especially when it comes to pure sampling, featuring a wide variety of sources and genres. A prime example being the strange but surprisingly fitting song "DK Island Swing," from the DONKEY KONG COUNTRY soundtrack, featured on "Shameless Shadow." Along with many other downright silly vocal quips, the shouting or murmuring throughout gives MIRROR MIGHT a giggle worthy, jovial nature. Many tracks play with interludes or chorus arrangements that vibe with art pop, helping alleviate the tracks from being too bogged down in their weirdness. There are even moments resembling that of spoken word or hip hop, as heard on the track "Good News," where the shrill backing beat, along with the Shears' tonation, sounds like a less gnarled RICH BRIAN. While the overall rifts and beat patterns within many of the tracks are quite simple and repetitive, there is never a moment of boredom to be had on MIRROR MIGHT. Unlike on HAHA, the songs here are often pushing up to or past the three-minute mark, leaving them feeling far less claustrophobic and allowing for a far less rushed and unfinished experience. The whole project feels much more like a cohesive and complete album rather than a wannabe mixtape. This is easily The Garden's best project to date, leagues ahead of their past work and leaving me truly excited to see where the next stop on their strange journey is heading. [Will Turmon]
Verdict: Recommend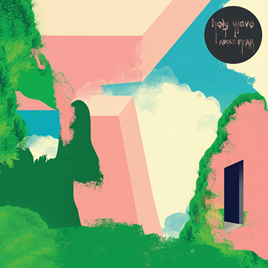 Holy Wave – ADULT FEAR
Genre: Psychedelic Rock
Favorite Tracks: "Habibi," "Dixie Cups"
I'm not sure if I entirely mean this as a mark against it, but Holy Wave's ADULT FEAR is redolently soporific. Putting it on around 10 PM, my head was nodding by 10:20, and I barely managed to let "Time is Not Okay" tie itself into a bow without my head crashing into the keyboard. I get it; it's mood music for your deeply, truly, fundamentally high, and mood music that would make much more sense released in the oppressive, sludge-ridden call of the dog days of August than late March to boot. To its credit, ADULT FEAR is masterfully assured in the aesthetic it intends to carve out, a fuzzily mixed, reverb-soaked collapse into the floor—it's just not an aesthetic I can ever imagine being particularly invested in. To me, psychedelic music is at its best when it can capture that lightning-in-a-bottle panic of losing your goddamned mind, which is why the heavier, garage-derived releases from Oh Sees and King Gizzard and the Lizard Wizard always get high marks in my book. As for Holy Wave's third LP, somewhere between the muddled vocal levels, Steve Lacey guitar licks, and sunshine pop melodies culled from the '60s songbook, I just feel tired. Not bored, exactly—ADULT FEAR still features the loose, low-stakes jamming of "Habibi" and the rose-colored Youth Lagoon-Real Estate hybrid of "Dixie Cups"—but like literally sleepy. I suppose it's pleasant enough to put on when you're drifting off, but I don't run this magazine in addition to doing four jobs by taking a goddamn NAP! [Thomas Seraydarian]
Verdict: Do Not Recommend
Kate Nash – YESTERDAY WAS FOREVER
Genre: Indie Pop
Favorite Tracks: "Life in Pink," "Karaoke Kiss," "California Poppies"
YESTERDAY WAS FOREVER encompasses all the sophisticated depth of rhyme poetry found in a middle schooler's diary. It's cute and unique, but was it meant to be discovered? England pop-punk courses through Kate Nash's discourse on this aggressively silly post-romance album, material that is sometimes displeasing and sometimes annoyingly catchy; I'm sold. Despite her questionable popularity status, Kate Nash is consistent in being an odd bird, screeching as much as she soothes. "Life in Pink" transforms through quiet acoustic guitar and sing-songy lyrics about thinking of death and times when her mental health was fine, before lashing into garage band strength: "I keep heart-shaped glasses close to me / for when it rains (life in pink)," a delusional perspective on the world, to keep sanity in check and remain on the fringe.  Something the 2000s would love to put on the radio is "Hate You," except for the sincere, "I really fucking hate you," a cheery way to shit on a flakey boy. Nash continues the hate on an obvious twist of a phrase, "Drink About You." It's a meeting point for bubble gum punk and ska, but maybe needed more distinct staccato piano notes to really distort and throw it all into chaos during the chorus. Nash is not as chaotic at the back end of YESTERDAY WAS FOREVER, becoming a theoretical optimist. Introductory spoken word piece, "Musical Theatre," showcases Nash's interest in simple lyrical construction like a monologue with a quick ticking clock, before making sure you did not forget she sings on this album by holding onto a high school dream. "California Poppies" follows her classic trajectory of melancholy happiness, pop verses and hardcore choruses, all about precipitation and blooming flowers, ending in some gorgeous vocals for a welcome change of pace. YESTERDAY WAS FOREVER may not be everyone's cup of tea, but it speaks to those with the skill to listen to a narrator. [Nikki Reifler]
Verdict: Recommend
Snoop Dogg – SNOOP DOGG PRESENTS BIBLE OF LOVE
Genre: Gospel, Contemporary R&B
Favorite Tracks: None
SNOOP DOGG PRESENTS BIBLE OF LOVE is bad. And by that, I mean . . . quite bad. Having listened through this nearly two-and-a-half-hour double LP, twice, all the way through, I just sat there thinking: what has happened to Snoop Dogg? Many could (and do) critique his current output from the last several years, and while the music he is making other than BIBLE OF LOVE may be mediocre, Snoop obviously has his eye set on business and profiting first and foremost and seems quite content with a mediocre creative lifestyle. So for a rapper who claims to smoke 81 blunts a day to come out with a completely serious and unironic Christian gospel album is . . . head-scratching to say the least. The songs themselves are typical gospel fair with large choral arrangements, grand piano backing tracks, and a surprisingly funky aesthetic to many of the compositions. The amount of features is quite astonishing as well, with almost each of the 32 tracks featuring a different singer or rapper, which undoubtedly keeps the variety of the album up. But those are this project's only saving graces, and for an album centered so heavily on religion, it would truly need a miracle to save this disaster. BIBLE OF LOVE is just so, SO bloated, making it an absolute slog to get through. While there isn't anything in particular that is appalling or cringe-worthy with many of the tracks, as a whole they are just so bland and uninspired that they begin to mesh together like a grey amorphous mass. Throughout my second listen I just kept thinking to myself: What is Snoop Dogg bringing to the table here that is revolutionizing such a well-established and cemented genre such as gospel? What makes BIBLE OF LOVE worth a listener's precious time? In addition, who is the album made for? The answer to those questions: nothing and nobody. Classic hip hop fans, unless they are truly die hard Snoop fans (and I mean ride to the grave hard), will have little to nothing to receive from this. They'll feel it's drab, slow, and preachy (which it obviously is). Gospel album fans will receive nothing of value either, for there are far greater albums available that are not only significantly better than BIBLE OF LOVE, but also not two-and-a-half hours long. [Will Turmon]
Verdict: Do Not Recommend
Sunflower Bean – TWENTYTWO IN BLUE
Genre: Indie Pop
Favorite Tracks: "Burn it," "I Was A Fool," "Twentytwo," "Memoria"
Sunflower Bean is one of the most exciting young bands of this generation. Reviving the incendiary energy of classic rock monoliths such as Zeppelin and Hendrix, this Brooklyn trio requires that you see them live in order to fully appreciate them. And while some of this simply comes down to how explosive they are in a live setting, it feels as though their studio releases subsequently pale in comparison. While shiny and polished, TWENTYTWO IN BLUE is the album in which Sunflower Bean abandons their edge without any clear sacrificial benefits. Instead, the songs (other than "I Was A Fool") lack the immediacy or catchiness to be provocative OR memorable. Guitar tones feel tame and vocal ideas all feel as though they repeat themselves, even though bassist Julia Cumming and guitarist Nick Kivlen split singing duties. Maybe Sunflower Bean is simply a singles-driven band—there's nothing wrong with that. But when they are already standing on the shoulders of musical giants, it feels disappointing to see them miss the mark considering how eager I was to see them evolve into much more than just hit-or-miss pop tunes. Sunflower Bean is a band that is capable of becoming legends, and though they're churning out a couple of great tracks per record, if they don't start to reinvent the wheel soon, this wheel is going to get very, very monotonous. [Daniel Cole]
Verdict: Do Not Recommend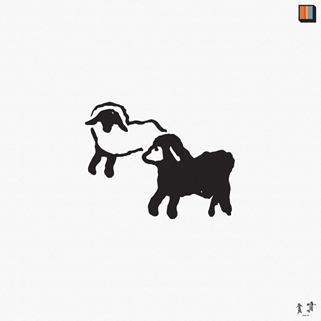 Trace Mountains – A PARTNER TO LEAN ON
Genre: Lo-Fi Indie
Favorite Tracks: "Adeline," "Forgiveness," "Soil"
I don't get Trace Mountains, Dave Benton's solo platform that has now expanded (officially) to a full-band project with the release of A PARTNER TO LEAN ON. Partly I don't get it because many of these songs still sound like the work of a solo musician, pared-down and simplistic in delivery, and partly I don't get it because that very delivery lends these songs to sound more like demos for his other, fuller project, LVL UP, than worthy of anything more than an intriguing peek into the creative process. The songs on Benton's latest album highlight his quirky voice and slacker train of thought, with twee, K Records-sounding songs that act like a modern, more earnest descendant of acts like Beat Happening or Moldy Peaches. The eccentricness is in full bloom on tunes like "Cary's Dream," "Salty Sweet," and "Turn Twice," but those drum machines, vocal modulators, and meek organ sounds never elevate their pleasantness beyond being winsome in a DIY kind of way. What feels frustrating is that we've seen Benton take these types of songs and push them to their natural conclusions (see most directly: "i am extra natural" with Trace Mountains vs. with LVL UP), and in their own way they're charming, but never feel like they're in their fullest form. Of course as a songwriter and musician, Benton's genius remains intact on an album that has its share of clever quiffs and some decent guitar playing, but the tracks that best highlight those features come primarily on its fuller second half, which highlights stretched-out and meandering rock songs that provide a much needed whiff of gusto. Those songs (mostly) justify their existence while almost capturing Trace Mountains' admittedly bizarre essence, specifically the crunchy "Soil," the catchy "Forgiveness," or the building "Adeline," but with that I'd just ask: Why aren't these simply LVL UP songs? A PARTNER TO LEAN ON fails to architect anything that works in the shadow of Benton's clearly superior band, and while these songs will charm his fans, they mostly made me wish for another LVL UP album. [CJ Simonson]
Verdict: Do Not Recommend