KOD by J. Cole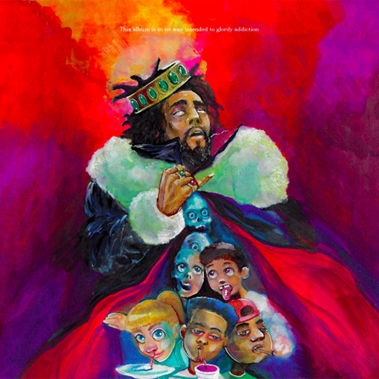 Genre: Conscious Hip Hop
Favorite Tracks: "KOD," "Motiv8," "FRIENDS (featuring kiLL edward)," "1985 – Intro to 'The Fall Off'"
J. Cole is a storyteller trying to help humanity deal with pain. KOD rides through many themes, but is mostly a messenger statement about causes and effects of drugs, predominantly weed. Released on 4/20, KOD subtly ties in marijuana all throughout the album's trajectory, as even the acronym KOD stands for Kids on Drugs, King Overdosed, or Kill Our Demons; it's not a fun album, but it's meant to entertain by imparting life lessons through J. Cole's teachings.
"KOD" lets us know J. Cole is uninterested in conventions of modern day rap, material items, and insignificant features. From the start he smacks the sense out of validation, treating himself as a success story relating to drug deals. The hook is catchy as all get out, "This is what you call a flip / Ten keys from a quarter brick / Bentley from his mama's whip / K.O.D., he hard as shit," putting something powerful and wild in the forefront. His delivery in each verse sums up his higher level of writing, shown in the outro where he equates concepts such as money and power to drugs. "KOD" prepares the direction of the album, and while he later hits harder with family and love, this introduction is just the surface.
As can be expected, money is a tried and true topic in "ATM" as well as "Motiv8." The former is nuanced in using a money counting machine for extra sound effects, even coming to a complete musical halt before starting up again and concluding for good, while the latter is one of the catchier tracks, an essential story point in the portrayal of the addiction to getting money as another drug. Greed also comes into play on "The Cut Off (featuring kiLL edward)," where kiLL edward delivers the hook "gimme drink, gimme smoke" and so on, taking advantage of J. Cole's wealth and power. KOD boasts about being unappreciated and feeling somber even when seemingly turnt. There is always a dark side to each track of KOD, emphasized by J. Cole's grim hooks delivered in a sweetly tinged and sincere voice.
These songs are just as much about the cause as well as the effect, delivering a complete story. The end of the album talks about family trauma, integral to finding the blame of drug addiction. Cole and kiLL edward have a relationship where edward is always the example of what not to do and Cole analyzes the grander picture. On "FRIENDS" they reveal what to blame addiction on while landing on the fact that meditation is superior to medication.
KOD ends with the intro to J. Cole's next album, "1985 – Intro to 'The Fall Off.'" It does not tie into KOD, but is relevant to establishing Cole as a teacher and higher figure than up-and-comers that don't respect his notoriety. It most importantly targets up-and-coming black rappers about how white audiences view them, saying to think twice before being a stereotype and jumping on trends to get popular.
KOD is not about being popular, instead reflecting on exposing how everyone treats that popularity. J. Cole did not get to this position by hopping on the bandwagon of everyone around him, he got here by setting his own tone about teaching and being a storyteller. The power of drugs might drive a crazy work ethic, but it should not replace the power of love in whatever way is most applicable.
Verdict: Recommend