COZY TAPES, VOL. 1: FRIENDS by A$AP Mob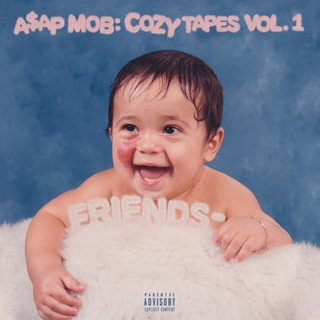 Genre: East Coast Hip Hop
Favorite Tracks: "Yamborghini High," "Young N***a Living," "Runner," "Telephone Calls"
The A$AP MOB is arguably the most influential group currently making hip hop, headlining festivals across the world, setting trends in streetwear, and consistently releasing insanely fresh rap. Nearly two years after the untimely death of founding member A$AP Yams comes the COZY TAPES VOLUME ONE: FRIENDS, a memorable collection of the new wave of hip hop, featuring members of the A$AP MOB with their friends and collaborators, such as Tyler, the Creator and Playboi Carti. Though Yams has passed away, THE COZY TAPES makes it abundantly clear that his legacy of stylish, feel good music remains alive. With great production, features, and vision, THE COZY TAPES is energetic and exciting to listen to, evidence that the A$AP MOB deserves all the praise and cultural appreciation that they get.
While A$AP Ant and Nast have a couple nice contributions to the tapes, their verses are comparatively small next to Rocky and Ferg, who have already carved successful careers for themselves. Both Rocky and Ferg have standout verses throughout, though nobody appears as much as Rocky. Even so, the album's most memorable tracks are the ensemble pieces such as "Yamborghini High", where every rapper brings a delicious flavor to trippy, trap-based production with electric chemistry. Listen to "Young N***a Living" for one of the best A$AP Ferg verses yet. Besides the rapping of the mob itself, THE COZY TAPES features high profile guests, including a Three 6 Mafia-esque Juicy J appearance and a Tyler, the Creator verse that parallels some of his best lyrical efforts. Other appearances include self-proclaimed King of the Teens Lil Yachty, Wiz Khalifa, and SoundCloud phenom Lil Uzi Vert.
THE COZY TAPES plays like a mixtape with its loose organization, but feels like one of the most prolific releases under the A$AP name. Though Rocky and Ferg are the stars of THE COZY TAPES, the free-flowing dynamic works throughout the whole album. While guest appearances are sporadic, they add flavor and fun to an already very fun and flavorful project. Four years after their last group effort, LORD$ NEVER WORRY, the mob seems to really be finding a unique sound that draws a bit from southern hip hop and a bit from psychedelia to create something that is both compelling and unique.
The Dirty South-inspired sound that A$AP Rocky has been experimenting with since his first mixtape continues to grow and develop on THE COZY TAPES, with 808-driven downtempo beats composing most of the instrumental half. The wavy, hard-hitting production complements the charismatic style of rap to great effect, and it's apparent that Rocky continues to define his own sound with every song. On the downside, it's hard to look at FRIENDS as an A$AP Mob project as opposed to an A$AP Rocky project. While more Rocky is no complaint, I'm afraid that THE COZY TAPES doesn't live up its potential ability to shine a spotlight on Ant, Nast, Bari, and other co-signs. Even so, their brief appearances are welcome, and FRIENDS is incredibly satisfying and fun to listen to from start to finish.
THE COZY TAPES VOLUME ONE: FRIENDS comes to us at a time when rap is changing. It's a special thing when an artist can deliver consistently fresh, organic-feeling rap music without sounding cliche or stale, especially in a group setting. FRIENDS succeeds in being something that fans of hip hop can appreciate rather than cringe at. Whether its through fashion or music, A$AP Rocky has established himself as a name to recognize and respect. The A$AP Mob's brand of flashy, boastful, and stylized yet self-aware music has been making waves in the rap scene for awhile, marking a distinct shift from topics of street violence to high fashion and fine living. If THE COZY TAPES is any indication of a shift into more culturally distinct and stylized hip hop, then it's certainly welcome.
Verdict: Recommend