CAER by Twin Shadow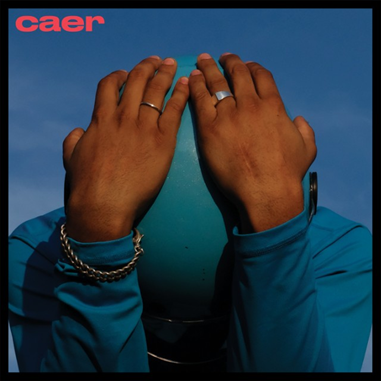 Genre: Synthpop, New Wave
Favorite Tracks: "Saturdays (featuring HAIM)," "18 Years," "Too Many Colors"
You are George Lewis Jr. You celebrated your 35th birthday at the end of March and you've just released CAER, your fourth record under the moniker Twin Shadow. You're staring 40 down the barrel of the gun and you're hoping this newest album, a forlorn collection of youthful pop songs and summer heartbreak synth tracks, can set your career back on track.
In 2010, you set indie music circles on fire with FORGET. Produced by Grizzly Bear's Chris Taylor, it arrived to immediate praise, a critical darling that seemed special from the moment people heard it. To this day, it contains some of your best songs, groovy new wave revivalism to be played loud in seedy motel rooms long after the bars have closed. "When We're Dancing," "Shooting Holes," and "At My Heels" are kaleidoscopic dance tracks—some of the best the 2010s have seen.
You were taken aback by FORGET's immediate success. You weren't prepared. How could you be? You channel a motorcycle accident you were involved in a number of years back as the inspiration for your follow up, CONFESS, an album that rightly pushed you into a bigger, brighter spotlight. You icily stare down your fans on the cover, feeling confident these songs will push you to the next level. Your first single, "Five Seconds," will be the defining song of your early career, a racing, synth-laden pump-up that converted your sound into something radio friendly without conforming to any rules. As you gaze upon your fans from the album cover, the warm red light spilling onto your face, you know that songs like "The One" and "Golden Light" are going to make you a bonafide indie icon. In your motorcycle jacket you look like a star, and now you're going to act like it.
And so you do indie pop star things.
You canceled a tour over "creative differences." You signed to Warner Bros. and left your home at 4AD. You dated Zoe Kravitz. You throw around words like "elitist" to describe your old sound, a sound that itself was already updating and romanticising Depeche Mode and the Human League. You don't want to be an indie pop star anymore. You want to be a star.
In 2015 you record and released ECLIPSE. It's a different kind of record. Other than the inclusion of the GRAND THEFT AUTO V banger "Old Love / New Love," the dance-friendly after hours mystery is gone. You've made an album that's definitively uncool, more Phil Collins than O.M.D. The mixes are numbingly straightforward, with overproduced drums, messy beats, and bizarre vocal recordings. You tried to make a U2 record in a time when U2 weren't en vogue, and you went from staring us down in that leather jacket to literally falling back into the shadows. You wanted to be a pop star without taking on the responsibility.
Now the time has arrived. You've finally released CAER. It's finally out there. But it's eight years removed from FORGET and you're smack dab in the middle of your 30s. You're now too old to be a conventional pop star. What do you do when you've lost the ability and, quite frankly, the desire, to capture the mystique and haze around late night synth music?
You start by releasing not one, but two singles. You choose to release two very different sounding tracks—it'll display the duality you're attempting to channel on this new album. "Little Woman" is a dark, Auto-Tuned Disney sing-along, a sparse ballad with not much production that affirms one of your albums central themes: "Love is a song." The other features the ladies from another group who retooled and refocused '80s nostalgia to stardom, HAIM, and it's a cheesy romp simply entitled "Saturdays." HAIM figured out how to take the pieces you were messing around with on ECLIPSE and make them actually work. In many ways "Saturdays" is your best song since signing to Warner Bros. because it embraces the corny simplicity you seemed to think your early work was missing.
You record some songs that throw back to your early work. You tell people that this is a sister album to your debut, FORGET, but no one believes that. You don't even believe that. "18 Years" is a humming slow burn, but the vocals are just way too clean. You like your music clean now. "Littlest Things" falls into that same pocket, your own shiny, galloping CHARIOTS OF FIRE theme. And then you include "Too Many Colors," because you needed something to complement the energy of "Saturdays," but you know it doesn't soar with the same kind of grinning schmaltz. You include some interludes ("Twins Theme," "Rust") because nothing says non-elitist like albums with interludes.
But the whole thing doesn't work. You spent some of 2017 covering PURPLE RAIN, so you try and be him on "Obvious People." You aren't Prince. It's obvious now that you never will be even if it really felt like the potential was there in the beginning. But you try anyway. Your strange creative instincts alienate the straight pop album you're trying to make, but when there aren't strange alienations the music is boring. Your R&B isn't sexy enough, your pop isn't catchy enough, and your funk isn't groovy enough. No matter how hard you try, you can't make all the pieces fit together. A sparkling, slap-happy, faux-Enya sound on the opener "Brace" bleeds into the summer hit "Saturdays," which fades into a forgettable Rainsford-assisted Yazoo outtake. Your last three tracks, the aforementioned "Obvious People," "Runaway," and "Bombs Away (RLP)," are drainingly mid-tempo, concluding the record on a retreating wimper. The genius your fans always assumed you had is there, and there are moments of it on CAER, but only in small glimpses.
But what are you supposed to do? This is what you recorded. You wanted to be a pop star but you never had the instincts or the hits. Prince made it so effortless. Now you're just left with an indie crowd that doesn't care about you and a mainstream audience that never caught on—HAIM-assisted singles be damned. CAER is better than ECLIPSE, and that has to count for something . . . right?
Now your album is out there. It hasn't made much of an impression but, then again, it took a minute for FORGET to catch on. Maybe this will be the same way? All you can do is hope. You let the album cover speak for itself, just as it has for all the other records. On it you hang your head with your arms covering your motorcycle helmet as though to duck from the criticism. Or will people think its a Daft Punk helmet? Nevermind. Maybe it's best you avoid the pop comparisons from now on. That was a mistake . . .
You are George Lewis Jr. You go by Twin Shadow. You used to be an indie pop star, of some kind. Now? Who knows.
Verdict: Recommend