SCHMILCO by Wilco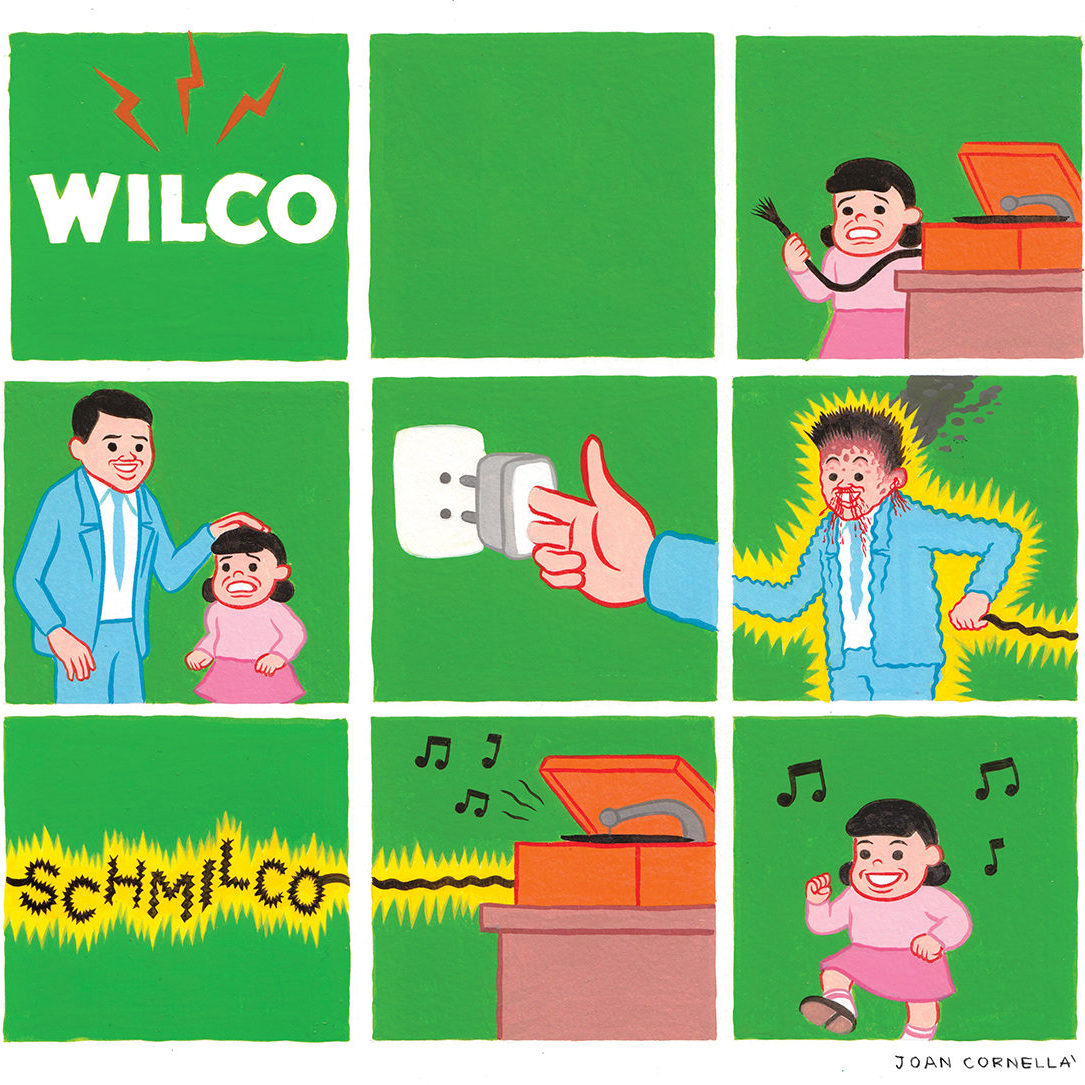 Genre: Indie Rock, Folk Rock
Favorite Tracks: "Normal American Kids," "Common Sense," "Quarters," "We Aren't The World (Safety Girl)," "Just Say Goodbye"
Wilco's Jeff Tweedy is almost 50 years old, seemingly determined never to take anything seriously ever again — and good for him. Wilco was one of the very first bands to fall victim to the mass media hype-beast, and to this day multiple music-writing wise guys refer to them as "America's Radiohead," which stems mostly from their similar timelines, but also perhaps from their longevity and consistent quality. But instead of participating, Tweedy has been radically self-serving in his career moves — starting a band and going on tour with his teenage son, spontaneously releasing an album called STAR WARS with a painting of a cat on it, and even making some forays into the world of comedy. And now, we have SCHMILCO, which makes a powerful self-deprecating statement with its title alone and features an eye-catching cover drawn by the internet's favorite cartoonist/sadist Joan Cornella.
That cover is quite effective as a prelude for the album, in fact, as it hints at the light-hearted misanthropy that Tweedy affects on SCHMILCO. It's rarely outright angry or hateful, but a clear sinister undercurrent exists here. Tweedy's delivery is often a mix of Lou Reed and Elliott Smith, combined with lyrics that are alternately bitter, sad, and jokey, while wedded to sparse but deliberate instrumental work. SCHMILCO is the musical equivalent of a shrug with a big, goofy grin — detached on the surface, but still effective in invoking a lot of deeply mixed emotions. On SCHMILCO, Wilco retreats into minimalist orchestrations, with several songs having little more than two acoustic guitars and light drumming. The result is a collection of songs that aren't terribly exciting (though that was never Wilco's bag anyway), but are incredibly self-assured and relaxed.
The most interesting moments from this album come when it's at its most nightmarish. "Common Sense," a song about religion with an eerie and dissonant musical backdrop, has an extensive instrumental session that is almost reminiscent of The Beatles or the Beach Boys at their most experimental. The song's disjointedness makes it stand out as the most memorable song on the album.
"Normal American Kids," another outstanding number, opens the album on a more mournful than angry note, and serves as a rejection of the "normal" that feels bold coming from Wilco, who cut their teeth on the kind of heartland-ish music that often embraces the John Cougar Mellencamp narratives of childhood and youth. Tweedy, a highly reactionary (and at times contrarian) artist, uses the song as an opportunity to position himself against the expectation that an acoustically-based album, such as SCHMILCO, is grounded in sentiment and nostalgia, while also, perhaps unintentionally, still managing to evoke those very feelings.
Musically speaking, "We Aren't the World (Safety Girl)" and "Just Say Goodbye" are probably the two songs that most closely resemble previous Wilco releases. "We Aren't The World" uses light keyboards and strummed acoustic guitar to counter Tweedy's gentle sprechgesang in a song that is extremely pleasant musically but contains some of the most openly pessimistic and abrasive lyrical content of the album. The juxtaposition between the romanticism-skewing arrangement and Tweedy's off-handed dismissal of the song's subject ("We aren't the world / we aren't the children / but you are my safety girl") is one of the best examples of black humor on an album that is full of it. "Just Say Goodbye," which feels like the climax of an album that builds steadily until its end, still manages to keep it simple while feeling much bigger than it actually is, relying on a chorded bass and organ in the vein of a stripped-down Spacemen 3 and brings Tweedy's curmudgeonry back into a more likable place to close the album.
SCHMILCO isn't going to be remembered as Wilco's best work, but it seems that's almost the point; Jeff Tweedy does what Jeff Tweedy does. What is immediately clear is that this was a therapeutic exercise for Tweedy, who has never released an outright bad album, that stays interesting even though it's more of an artistic stepping stone towards something bigger than another YANKEE HOTEL FOXTROT-level album. It may not stick with you or with most listeners, but it's a surprising record that is certainly worth a half hour of your time.
Verdict: Recommend