S/T by case / lang / veirs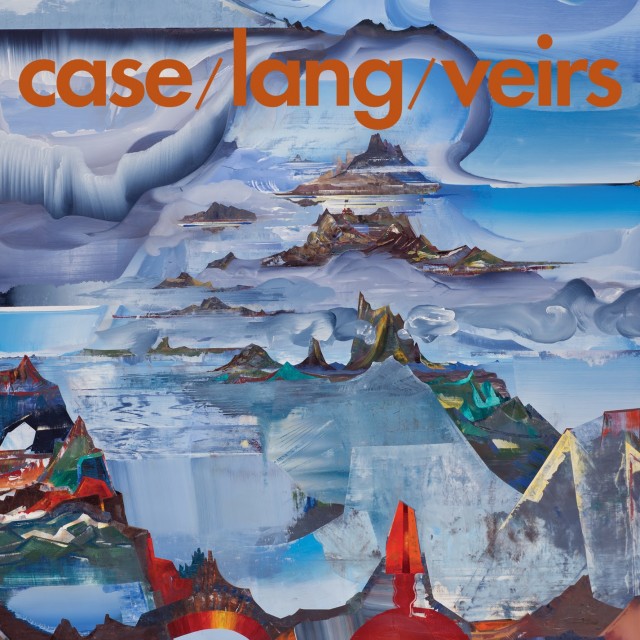 Genre: Chamber Folk
Favorite Tracks: "Atomic Number," "Blue Fires," "Delirium," "Behind the Armory," "1,000 Miles Away," "Supermoon"
It may not be rare for an artist of any kind to attempt to create contemporary progressions over foundational roots, but to do so gracefully and without falling flat may be a skill maintained only by two kinds of people: those with an acuity for detail and those who have been around the block for a while. For example, LITTLE HOUSE ON THE PRAIRIE author Laura Ingalls Wilder was both ahead of her time and yet grounded in the traditions of farm life. Wilder had lived in the rural Midwest long enough to understand the minutia which would inform works that are now considered literary classics and classroom essentials for their simplicity, wistfulness, and attentive narration.
The collaborative CASE/LANG/VEIRS album by Neko Case, k.d. lang, and Laura Veirs follows in this same vein. Although they may not have lived secluded on the prairie with ma and pa, they have lived on stage long enough to know how to vulnerably and gracefully share their inner selves with strangers and spectators, which is reinforced by the 14 tracks on this record. Having sustained seats in the music industry as vocalists, guitarists, writers, and producers, Case, lang, and Veirs have created a 43-minute partnership which emulates 30+ years' worth of folk and country career experience with redolent imagery and relevant production to make a record that feels as warm and wizened as your cool aunt's humble pie.
On this record, though without a particular identifiable thesis, cooperation corroborates lyrical musings on love and heartache, recounting the dark story of singer Judee Sill, and painting imagery of purring city buses, the sun radiating onto a lover's sleeping body, and smelling freshly cut grass while driving through the Pacific Northwest. Especially when narrating love, lang particularly stands out as the most nostalgic and battered, counseling that a suitor's adoration is "all honey and smoke," or dejectedly quizzing, "How do blue fires burn in me / Yet not in you?" amidst doo-wop backing vocals and rainy, jazz club drumming, respectively.
On the other hand, while unencrypted, lyrics from tracks like "Song for Judee" and "Best Kept Secret" are borderline cheesy with Veirs' gentle folk voice, but perhaps such is the risk with the straightforward storytelling which is characteristic of the genres the trio appeal to. And whatever those songs lack in gravity, it is made up for with thoughtful production and mood. For example, the hopeful call to underdogs and artists, "I Want To Be Here," surprisingly layers textures that include a disjointed autoharp, wholesome three-part harmonies, and understated electric bass and guitar lines that subtly and calmly swell as Veirs proudly declares, "If there's a limit / it hasn't found me yet."
CASE/LANG/VEIRS consistently tastes of different flavors without any single track sounding irrelevant to this folk mixtape. The brooding, cowgirl-caravan-at-sunset vibes in "Greens of June" are proportionately balanced with the flirtatious, swaying rock of "Delirium" and the rumbling, determined build of "Down I-5." The album opener "Atomic Number" proves dreamily holy with airy strings and steady percussion as the only song where all three women exchange semi-enigmatic lines back and forth before postulating, "Why are the wholesome things / The ones we make obscene?" Details like the single haunting horn underlying placid acoustic plucking on "Behind the Armory," and the sweeping string quartet which effortlessly embellishes "Supermoon" are just a couple of the many instances where CASE/LANG/VEIRS transports the listener to a reality reminisced from the sentimental, velveteen memory of the performers.
It seems like country and folk music has shifted in the new millennium from accessible, toe-tapping storytelling, to predictable instrumentation and adulterated caricatures of country values (see: sexual attraction to tractors, beer-drinking as a skill, honky tonk badonkadonks). Luckily in CASE/LANG/VEIRS, the integrity likely expected of household names like Dylan and Cash is honored through the ingenuity of lang, the songwriting of Veirs, and the edginess of Case. Laura Ingalls Wilder once wrote, "We who live in quiet places have the opportunity to become acquainted with ourselves, to think our own thoughts and live our own lives in a way that is not possible for those keeping up with the crowd." On CASE/LANG/VEIRS, unsullied rumination is facilitated by a complete acquaintance with details and artistic identity, which in turn makes for a record that is altogether mature, synergetic, and informed simply by experience.
Verdict: Recommend