The Thomas Top Five: 8/22/16
The Thomas Top Five has switched to a themed format. This week, our Editor-in-Chief had an existential crisis upon realizing that the first GUITAR HERO game was released over a decade ago, and decided to go back to look at the best albums that had songs featured on the first game.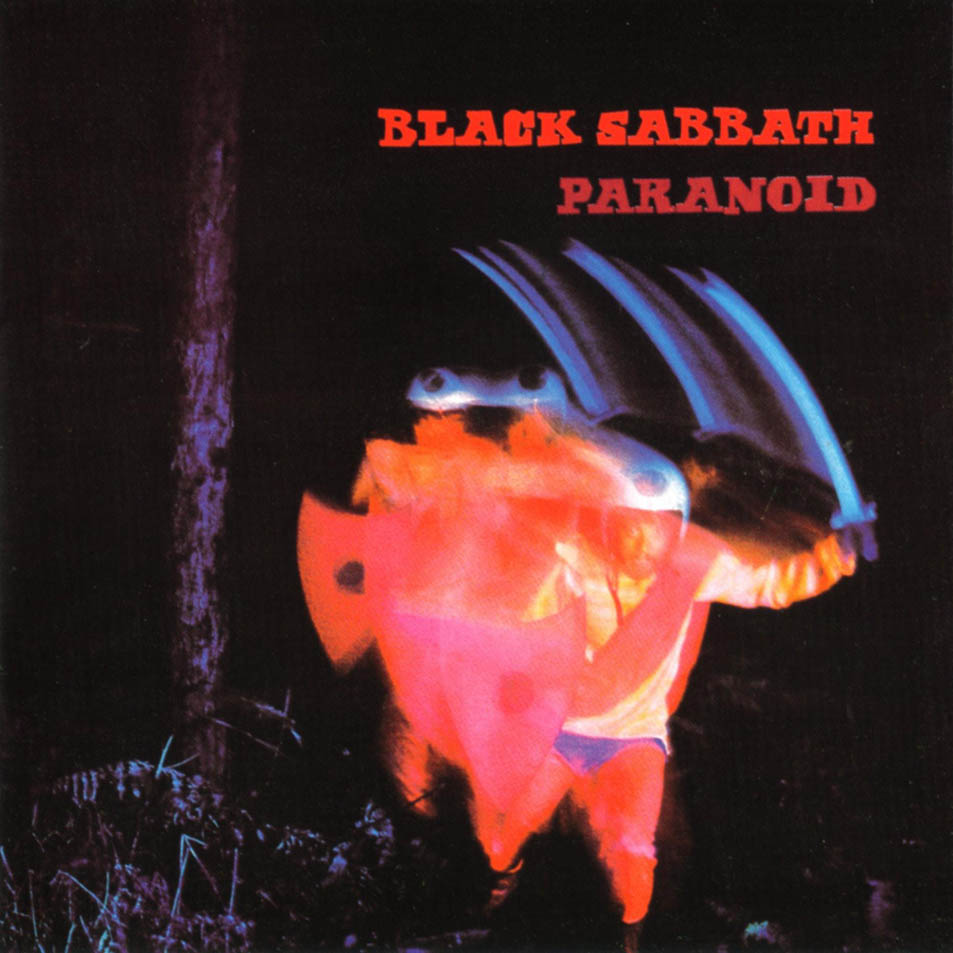 Black Sabbath – PARANOID
Genre: Heavy Metal
Year: 1970
Favorite Tracks: The entire album
How could a guitar rhythm game marketed to middle school boys not include "Iron Man"? And while that particular cut suffers from overplaying, PARANOID is easily one of the most essential albums that music has to offer. To this day, the early offerings from Black Sabbath still sound more fundamentally evil than practically any metal that gets released presently, made all the more impressive by the bare bones fundamentalism of much of the playing. This being the 70s, things were kept simple in terms of composition and instrumentation, with four blues-rockin' occultists having one job to do and kicking the shit out of it. Tony Iommi's oppressive, misanthropic guitar tone literally started an entire genre of music (not to mention his endlessly virtuosic guitar solos!!!), Ozzy's ghostly caterwauling is still as eerie and hair-raising now as it was the first time I heard it, and Bill Ward's drum fills could carry the entire effort alone. Deftly balancing both an apocalyptic pessimism ("War Pigs/Luke's Wall," "Electric Funeral") and a lighthearted penchant for fantasy ("Jack the Stripper/Fairies Wear Boots"), PARANOID is the blueprint for metal, but demonstrates enough traditional dad rock trappings for the typical naysayer. Really bad cover though.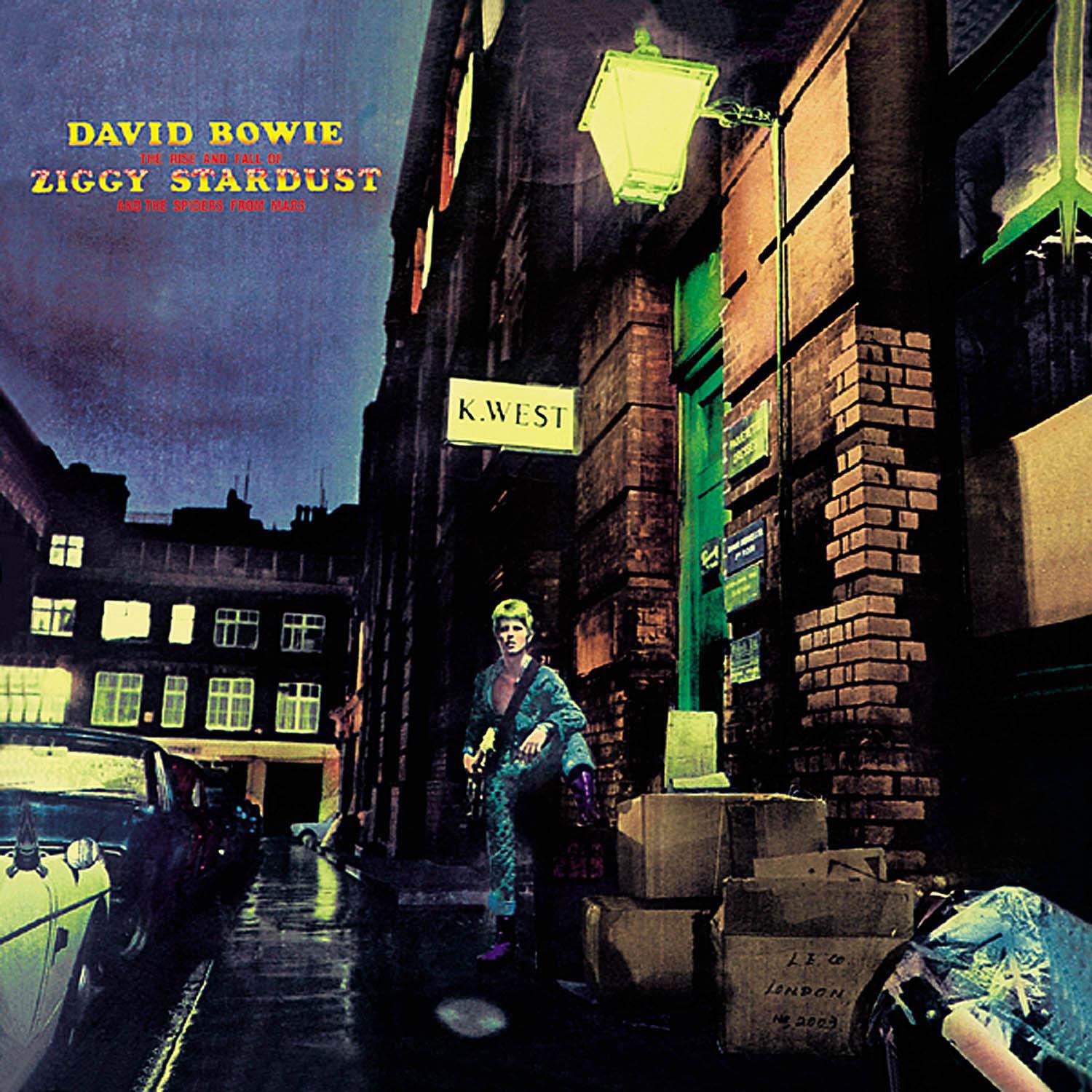 David Bowie – THE RISE AND FALL OF ZIGGY STARDUST AND THE SPIDERS FROM MARS
Genre: Glam Rock
Year: 1972
Favorite Tracks: "Five Years," "Moonage Daydream," "Starman," "Ziggy Stardust," "Suffragette City"
Awww, man. 🙁 I'm ashamed to say that "Ziggy Stardust" went over my head as a tyke, as I just wanted to hear the riff from "Smoke on the Water" until my ears bled. However, listening to it now, right from the opening notes of "Five Years," I know that I'm lucky to participate in something this special. David Bowie was many things to many different people, but THE RISE AND FALL OF ZIGGY STARDUST AND THE SPIDERS FROM MARS sees him at the peak of his glam rock prowess. This is an exceptionally indulgent album, but in the best way possible, the theatricality of recorded musical performance perhaps never again being able to reach either both the highs and lows that Bowie is able to here. Though commonly billed as a concept album, ZIGGY STARDUST actually only delves into the narrative of the titular group on a handful of tracks, which is a compliment to how masterfully Bowie is able to craft the atmosphere of an intergalactic pop rock opera, his impeccable capabilities as a frontman injecting each second of music with bombast. Musically, ZIGGY STARDUST keeps its cards closer to its chest than some of his later experimental work, but the album is designed in such a way to slowly accumulate intensity and energy (the second half is decidedly more "rocking" than the first), and the charm of Bowie's preferred piano boogie can put a smile on anyone's face. We miss you. <3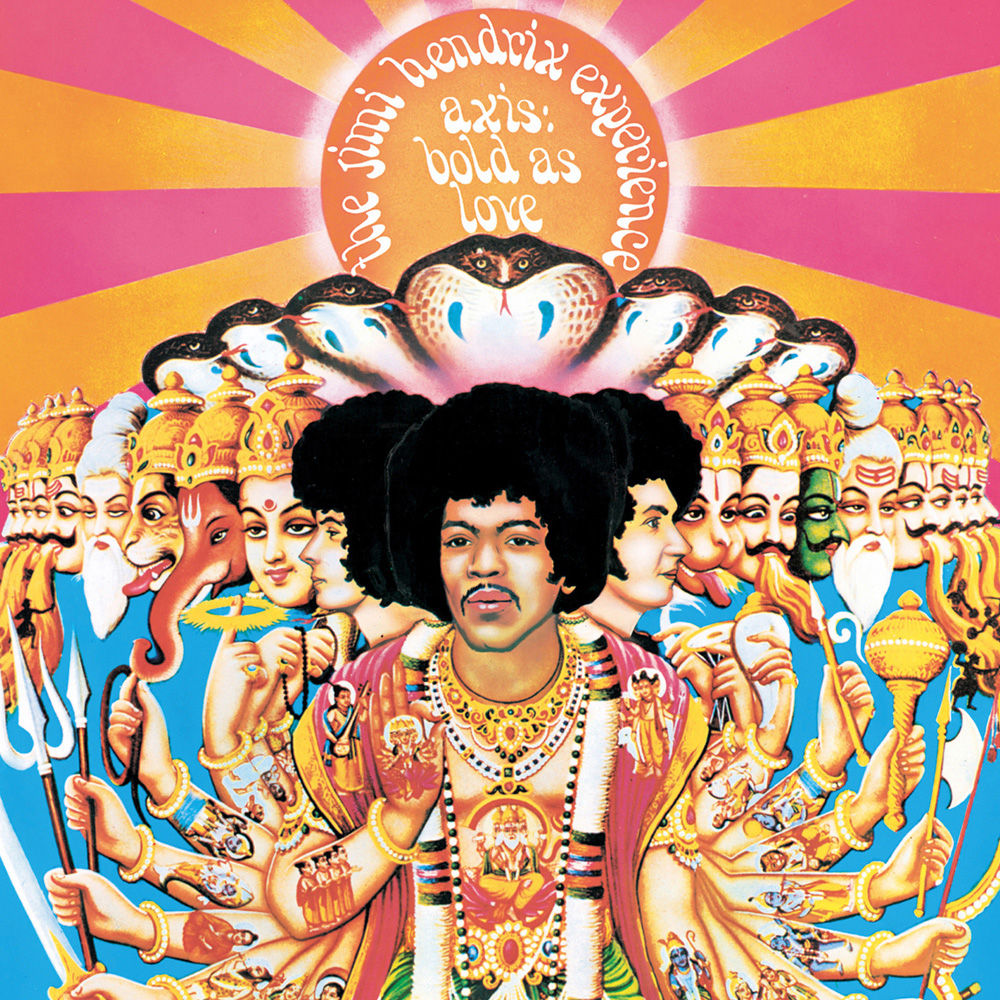 The Jimi Hendrix Experience – AXIS: BOLD AS LOVE
Genre: Psychedelic Rock
Year: 1967
Favorite Tracks: "Spanish Castle Magic," "Wait Until Tomorrow," "Ain't No Telling," "Little Wing," "If 6 Was 9," "Bold As Love"
I think there's an interesting paradox involved in being a music fan in 2016, since there's such a long history of reifying certain artists and albums that they're inherently considered classic without much actual attention or revisiting. As such, I will sheepishly admit that I had only heard a greatest hits compilation of Jimi Hendrix before this week, and I only got that because "Spanish Castle Magic" was on GUITAR HERO. In any case, AXIS: BOLD AS LOVE lives up to its considerable reputation. Although Hendrix's infamous guitar playing, when it's let loose, is just as flooring as you've heard on tracks such as "Spanish Castle Magic" and "Bold As Love," what is particularly striking about AXIS: BOLD AS LOVE is that, for the most part, it's Hendrix and company putting their own twist on soul ("Little Wing") and the slightly more "soft" style of rock championed by the Who ("Wait Until Tomorrow"). Considering the mythology that Jimi Hendrix has been buried in, it's somewhat refreshing to just hear him find a groove with Mitch Mitchell and Noel Redding and rock the fuck out of it without soaring guitar acrobatics on deeper cuts such as "Ain't No Telling." Surprising moments of studio experimentation ("EXP") prove that there was much more to the man than "Purple Haze." Of course, the lengthy, stumbling journey through hazy hallucination that "If 6 Was 9" provides is deliciously appropriate for the era, and a few tracks became canon, but overall, AXIS: BOLD AS LOVE features Hendrix like many youngsters haven't bothered to hear.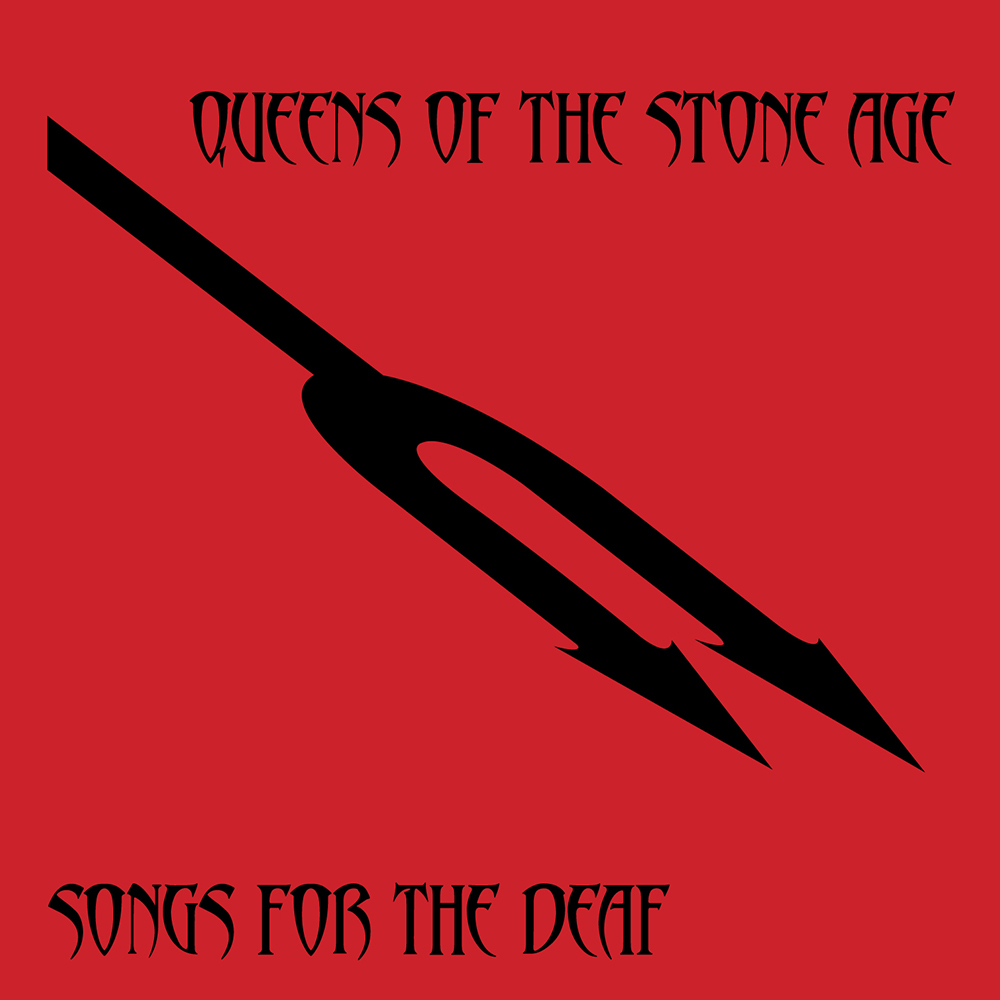 Queens of the Stone Age – SONGS FOR THE DEAF
Genre: Hard Rock, Stoner Rock
Year: 2002
Favorite Tracks: "You Think I Ain't Worth a Dollar, But I Feel Like a Millionaire," "No One Knows," "Go With the Flow," "God is in the Radio"
"No One Knows" was literally the manifestation of the coolest sounds my sixth grade brain could imagine when it first ripped through the room at my friend's sleepover birthday party, but for some reason, I never kept up with QotSA afterwards, apart from downloading the other singles that made it onto GUITAR HERO and ROCK BAND off of Limewire. The band seems to have ended up being quite polarizing, as, yes, there is absolutely no pretense of technicality or poise in terms of the songwriting over the course of SONGS FOR THE DEAF, but fuck you, this is an album that plain and simply rocks. Everything's loud and proud, with smashing, chunky guitar chords, pulverizing drumming from Dave Grohl, and a fuzzed-out, psychedelic aura that rears its head in the guitar solos and backing vocals. From a sound mixing perspective, the extreme depths of the low end make everything seem larger than life and as expansive as the desert that permeates every nook and cranny of sound, and the band mostly elects to occupy a plodding mid-tempo pocket that is perfect for nodding off to while under the influence. Channel your inner high school male and have some fun.
White Zombie – LA SEXORCISTO: DEVIL MUSIC VOL. 1
Genre: Groove Metal
Year: 1992
Favorite Tracks: "Welcome to Planet Motherfucker/Psychoholic Slag," "Thunder Kiss '65," "Grindhouse (A Go-Go)"
Alright, look, this week's installment could have very easily consisted solely of dad rock, considering that if you're a guitar game you've gotta pay respect to the canon, but upon looking at the tracklist, I realized that "Thunder Kiss '65" was a pretty bizarre inclusion, and my interest was piqued. Is LA SEXORCISTO: DEVIL MUSIC VOL. 1 a great album? No, but by golly if it isn't a fun one! The early 90s saw a strange and uneasy combination of influences in its heavier music, with funk and hip hop elements beginning to sneak their way in via Mike Patton and Rage Against the Machine, as well as grunge influences that continued to bleed over, blurring genre lines in the process. LA SEXORCISTO is certainly part of this legacy, but Rob Zombie adds a vaguely psychedelic, vintage occult feel to the proceedings that would later manifest itself in his directorial content. Speaking of Zombie, he's an absolute madman on the mic, incoherently growling with such fervent intensity that things are at the very least amusing when they're less traditionally meritable. This generally lighthearted approach to the themes and topics introduced is a welcome change from the metal's typically brooding posturing, and the use of samples from various external media is cohesive and manages to avoid feeling arbitrary. This is unapologetic, get-blasted-and-headbang music, but for being the strange, inebriated nephew of Slayer, it ain't half bad.