JESSICA JONES Season Two Review
With its first season, JESSICA JONES proved itself to be the most mature superhero show on television. Jessica Jones (Krysten Ritter) herself was immediately established as an alcoholic and rape survivor. In that manner, Kilgrave—played to terrifying perfection by David Tennant—was the perfect villain and counterpart to Jessica, a haunting example of powerful men who assume they are entitled to anything and everything—sound familiar? After the intense stakes of fighting Kilgrave that ultimately led to Jessica snapping his neck, the writers of the show had a choice to make for the second season: either create a villain to rival Kilgrave or take the series in a completely new direction. Thankfully, creator and showrunner Melissa Rosenberg and her team of writers chose the latter.
Season two of JESSICA JONES is far from perfect, but it marks a change in the Marvel Netflix series that have been steadily expanding for the past three years. Without giving away any specific details, I can say there is no true villain this year, at least not one comparable to Kilgrave or DAREDEVIL's Wilson Fisk. Granted, the first half of the season sets up a nemesis (a mysterious killer with superpowers beyond Jessica's own), but the second part turns our expectations against us. Rather than a superpowered villain, the true enemy turns out to be the bad decisions each character makes that, in turn, have their own consequences on other people. To that effect, JESSICA JONES continues to prove that having super strength, the ability to fly, or any other power doesn't make someone any less human.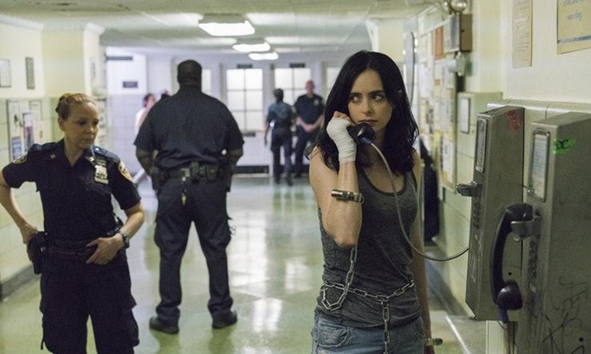 That awkward moment when you have to call your family to bail you out of jail
JESSICA JONES starts off where the previous season ended: Jessica has returned to her work as a P.I., with former drug addict Malcolm (Eka Darville) as her assistant. (It is worth noting that you don't need to watch THE DEFENDERS before seeing JESSICA JONES season two; the events of that series are never mentioned.) However, things have changed for Jessica—people recognize her as a super-vigilante now, a new P.I. company led by Pryce Cheng (Terry Chen) wants to take over her investigations business, and a mass murderer with abilities similar to her own is on the loose. Along with those issues, Jessica and her friend Trish (Rachael Taylor) search for information on I.G.H., the mysterious company that did horrific experiments on Jessica and possibly others. There doesn't seem to be much focus within the first few hours, but by the end of the sixth episode where a major plot twist occurs, the season's direction becomes much clearer.
Despite all the external conflicts that arise, the second season manages to pull its focus inward and concentrate more on developing its core characters, along with several new ones. Each main character, in a way, faces his or her demons in some shape or form and has to question whether one's horrific past determines one's future. Jessica, in searching for the killer, says to herself, "It takes a monster to stop a monster." Because she was experimented on and given dangerous powers, because she has killed two people before, does that make Jessica a monster? The biggest compliment I can give this season is that, after 13 episodes, I know these characters so much better than I did at the end of season one.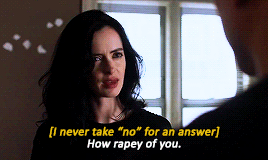 Best one-liner of the series, hands down
There are several flaws in season two of JESSICA JONES that are still worth mentioning. The season, like most of the Marvel series before it, drags with a 13-episode length, especially in the first half. Some character arcs (particularly Trish's) are brought to a standstill for a couple episodes, then rushed suddenly. However, what ties the season together are the incredible performances by each cast member. Krysten Ritter in particular should be commended for not only embodying the hard-drinking, short-tempered Jessica Jones, but also gaining sympathy for a hero that is difficult to like compared to the likes of Captain America and Luke Cage. It's also vital to mention that season two of JESSICA JONES (released on International Women's Day) had all woman directors. Not only does the show demonstrate time and again strong, realistic female characters, but it also gives opportunities for women behind the camera as well as in front of it, which is no small feat.
Some fans of the first season might be disappointed by the new episodes JESSICA JONES has to offer: there is no final fight sequence or confrontation as with Kilgrave. Regardless of what you think about the second season, however, it is refreshing to see a Netflix-Marvel series change its format and upend what it means to be good or bad. In some episodes, the killer is the villain; in others, Jessica or Trish or Jeri is. Ultimately, the "bad guys" are the vices, the weaknesses,and  the demons of each character that end up controlling them. The careful attention to character rather than plot makes JESSICA JONES not only one of the best superhero shows today, but also one of the best things Netflix has ever produced.
Verdict: Recommend