Interview: Raffaela Capp
From stage to screen, New York transplant Raffaela Capp has worn many theatrical hats. Lately, her pursuits include using her lifelong performance experience to sing pop music that's altogether fearless and accessible. Crossfader contributor Sienna Kresge had a chance to ask Raffaela about her upcoming single, "Hurricane," and get to know her artistic inspirations and perspectives on the ever-evolving entertainment biz.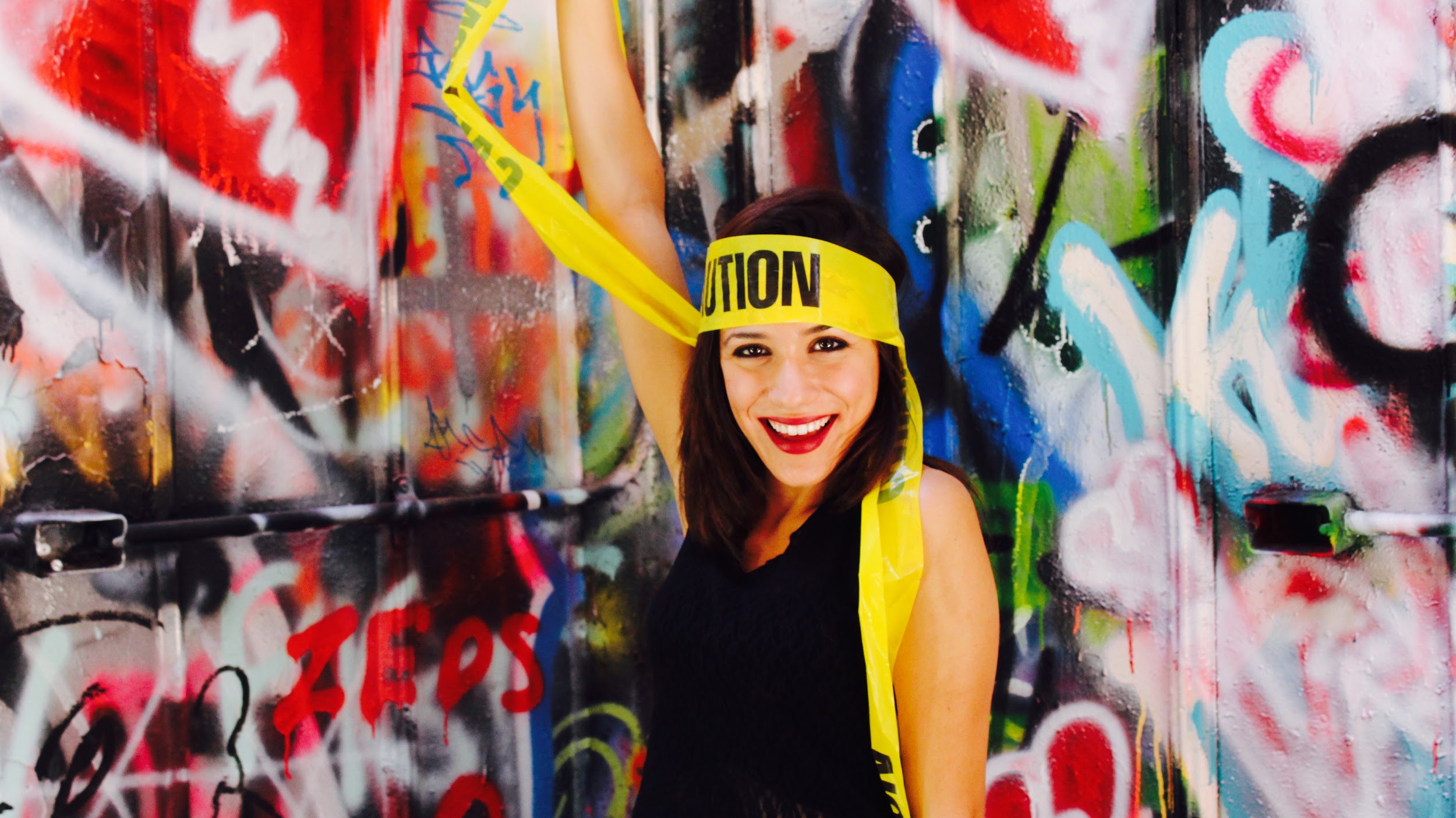 Image Source: Raffaela Capp
Tell me about your new single! Who or what inspired it? What excites you most about the final product?
My new single is called "Hurricane," written by Bruce "Automatic," Ebony Vanderveer, and Elise Legrow. "Hurricane" is about female empowerment. [I am inspired by women] who push the boundaries placed by society. I heard the song one day while rehearsing at the InRage Manor and loved it. I told Automatic and Ebony I wanted to sing it in collaboration with Chris Redd (Actor, Comedian, Rapper). Chris and I were searching for a song to collaborate on and Hurricane seemed like the perfect opportunity. [I'm excited that the] song lead to another collaboration; I'm excited to share the music video, too.
Your music video for "So What" features quite a bit of acting and dancing alongside your singing, and your resume likewise boasts a long list of performing experience. Can you remember any early memories in which you were first attracted to pursuing a multidimensional art career? Or did it start out as one single goal?
Growing up on Long Island I did a lot of theater. My first show was at the age of five as a little princess in THE KING AND I. I performed in over 50 theatrical productions by the time I was 18, singing, dancing, and acting, and every once in awhile I would lock myself away and write some music. I also love to write stories. I attended Sarah Lawrence College, school to some of the world's greatest writers. I knew I didn't want to do anything else for the rest of my life but perform and create magic; it was just a matter of somehow incorporating it all together, [and] having my path and career goals make sense along the way. That's what I have been doing over the last six years — finding myself. Dabbling my feet in each area of my artistry.
Since you've touched almost every realm of performing art — live theater, television, movies, web series, and more — what other artistic explorations or endeavors do you hope to accomplish in your lifetime?
Something with food and something with clothes. Italian and New York.
As someone who is secretly a huge musical theater nerd, it always surprises and impresses me when I hear a theater voice move to the realm of radio music. Has that been a challenging transition? Or do you find ways in which your live theater skills transfer into becoming a songwriter and pop music performer? Is this an organic progression for you?
It's hard! I find myself just wanting to belt my face off. Pop music is all about vocal intimacy.  Musical theater is also intimate, but in a larger-than-life way. I love a great challenge. It's been amazing to grow and sing in both worlds.
I wouldn't assume becoming a pop artist is easy in any way, and is probably a path that requires a lot of charisma. Do you feel that this comes naturally to you, or have you ever had to take on a Beyonce-style "Sasha Fierce" persona?
There's definitely an alter ego when it comes time to the artist Raffaela vs. everyday Raffaela. I am actually quite shy.
What kind of music inspires you or informs your work outside of the genre you make music for?
Broadway Baby! Barbra! Heart! Freddy Mercury! Madonna (even though she is pop, she is the queen)! Celine Dion! Pat Benatar!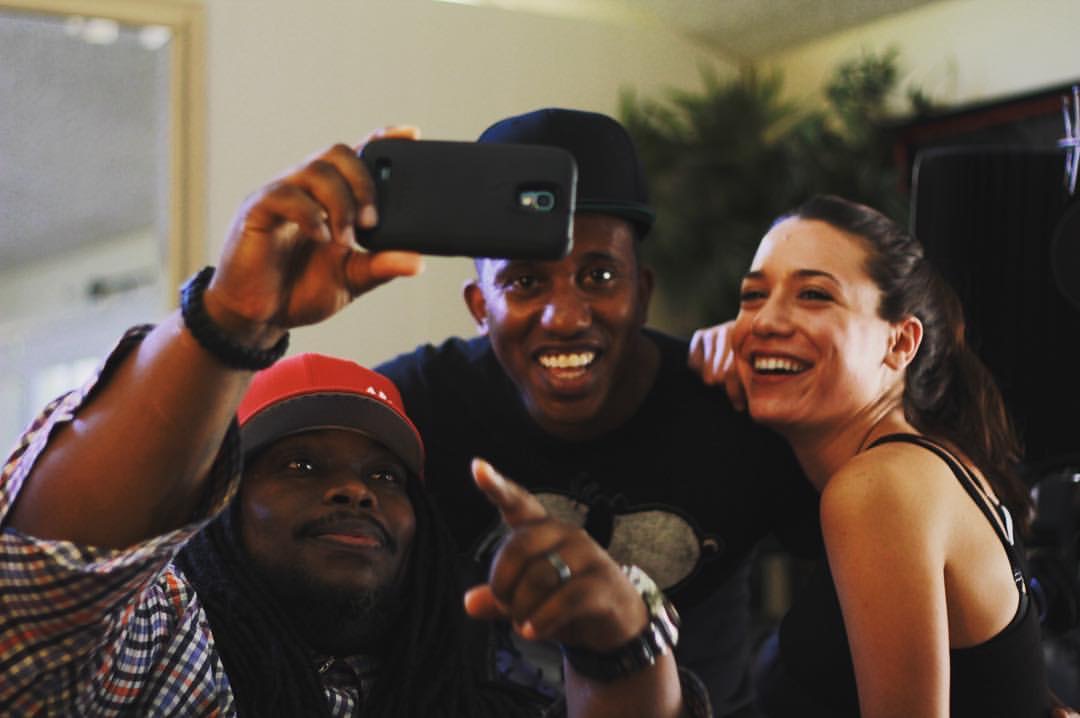 Automatic, Chris Redd, and Raffaela
Image Source: Raffaela Capp
It's not uncommon these days for an artist to pursue work independently because of the freedom it gives them when it comes to making and releasing their music, especially in the internet age and with the ease of social media. Do you sympathize with that? And how do you find that signing a development deal with your entertainment label has guided you?
Yes, I think if you want something, you need to go for it! With the accessibility to everything via the internet and social media, there are no excuses not to forge ahead. You need to be responsible for your own path, and eventually you will attract the right people who believe in you and want to help you on your journey. Those people for me are Bruce, Ebony, and Blackbird at InRage Entertainment. InRage Entertainment is now considered family to me and have taken me under their wing. Together we are shaping myself and my music into something this world has never seen! They're helping me take things to the next level.