Interview: L.M.I.
Having recently secured a spot on our Bandcamp Picks of the Week series, I had the pleasure of catching up with Will Hinkle of Pennsylvania "punk" band L.M.I. 
Check out their Bandcamp here. 
Like them on Facebook here. 
Alright, let's start with some easy stuff! Who are you and where are you from?
We are L.M.I. from Lansdale, Pennsylvania.
What does L.M.I. stand for? 
It stands for Lazy Middle-Class Intellectuals.
Give us a lil' band history; how did you come together, all that jazz.
Our bassist and I have known each other since elementary school and I met our drummer in middle school. In high school our bassist and I started jamming together and we needed a drummer so I talked to our drummer who I knew from middle school and he agreed to jam.
The first thing that strikes me about the band is how you play fast and loose with genre conventions, occasionally even switching genres within the same track. If I put a gun to your head and asked you what genre you are, what would you say? 
I can honestly say that we as a whole don't really care what you would label us as. I think of us as a heavy punk band but if someone listens to us and thinks something else that's no problem. If you like what we play then you like what we play.
If I'm not mistaken, your first demo was recorded in the general area of 2009/2010…?  How did you originally spread your music?
It was all digitally. We didn't really know how to use online marketing properly, but we have sort of learned over time. At that time we pretty much spread our music through our old MySpace page and would give out burned CDs of our demo at shows we played.
Photo Credit: Sam Pinola
Do you think that the digital music revolution has made it easier for voices to be heard because of accessibility, or harder because there are now so many voices clamoring to be recognized?
I think the internet and digital music made it a bit tougher for people to be recognized, but that doesn't mean digital music is all that bad. I think that being able to use the Internet for networking if you are in a band is hugely beneficial. It's really a double-edged sword, since it's because of digital music and the Internet that I've been able to find many bands that I know and love today.
Would you point to the collaborative process as the reason why such a variety of sounds from seemingly disparate influences get incorporated into your work?
I usually write most of our material, but the inspiration can range significantly from song to song, which is probably the cause of songs sounding significantly different from track to track. Some of my personal biggest influences would be bands like Kylesa and Best Coast. But it's really about what I'm feeling at the time of writing it.
Photo Credit: Jay Breslin
Having listened to your entire discography, I've noticed that you've progressed from a fairly straight-laced punk band into something that's picked up intensity and an edge (especially in terms of the vocals), often leaning towards hardcore in many instances. What shifted in your lives as musicians and people that inspired this change?
We've gotten into a lot more aggressive music since we started. For me personally, it would be bands like Converge, Neurosis, and Kylesa, to name a few. Regarding changes in our lives, I think it really has to do with the fact that we're just more comfortable with what we do now. When we first started we just wanted to be like a punk/ska band. But we grew out of many of the bands we listened to then such as NOFX, Catch 22, Leftover Crack, and our views have changed significantly.
We all know that the East Coast is notorious for its huge scene; what's your personal take on why so many bands playing this style of music emerge from that area? Do you feel your music fits in with a particular "local" style?
I believe it has to do with how things are organized when it comes to setting up shows. If you have a certain group of people always putting on shows with solid bands from all over the place, it will affect the area itself and help the scene prosper. However, even though there are some great bands that originated here like The Minor Times, Inkling, CDC, and Leavenworth, I don't really think our music fits with the local scene in Lansdale.
Photo Credit: Sam Pinola
What's with the "stoner punk" label? Just to dig at you a bit (no hard feelings), I've never heard of that used as a descriptor before. Are you a genre pioneer? What constitutes a "stoner punk" record?
We sometimes call ourselves Stoner Punk simply because we are all fans of stoner metal/rock and punk. We have a lot of influences from both genres so we figured we would combine the name to describe our music. It's a fun thing to try out. But we don't go out of our way to call ourselves stoner punk.
What has been the biggest challenge you've faced in terms of being labelled a (in a general sense) punk band?
Usually, people don't really know what to call us [laughs]. We almost have the opposite problem, where we play shows and sometimes people don't know how to react to us. They like what we do but they really don't know what to call it. So I'd say we have more of a problem where people don't know what to call us besides a punk band.
I think it's no secret that the ideological aspects of this style of music were left behind long ago. As such, are you comfortable using the outward aesthetics of a genre such as punk without the "message" behind it? 
I'm going to have to disagree with you on that point. Punk doesn't have to have a specific ideological message behind it to be punk rock. There are plenty of great punk bands today that may not be about proving some political message, but they can still be just as angry and aggressive as a band that is about a specific political point. At least for us, many of our songs have to do with personal struggles and internal debate. There may not be an outright message that I want people to follow in our songs, but that doesn't make it any less meaningful.  Songs don't have to be political for you to feel the anger or aggressiveness in them. I mean, you can look at punk bands stretching back over the past 40 years and some of them may not be about politics, but rather other struggles in life.
Why make music like this in 2016?
We play this music in 2016 because many of our favorite bands came out of this scene and, frankly, we love playing this music because it really doesn't follow any strict rules. You can do whatever you want and call it whatever you want. No one can tell you that because of the style or way you play that you aren't a punk band.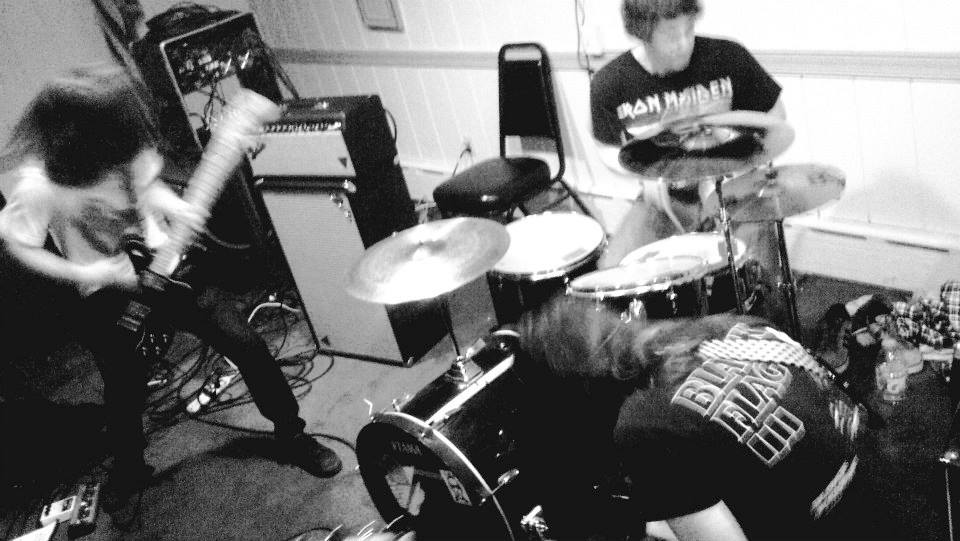 Photo Credit: Sam Pinola
If you could pick one band to tour with, who would it be?
I think it would be great to tour with a band like Kylesa or Best Coast. Maybe a band like Weedeater would be cool, too.
What's the one L.M.I. release people should hear?
L.M.I. III, our latest release.
Thanks for the interview!