Hit or Sh**: FX's AMERICAN CRIME STORY – THE PEOPLE V. OJ SIMPSON
In this Crossfader series, our intricate and complex rating system will tell you definitively whether new television pilots are worth your valuable time. We call it: HIT OR SH**.
The timing of FX's AMERICAN CRIME STORY: THE PEOPLE V. OJ SIMPSON's release could not be more perfect. After decades of being relegated to late night History Channel desperation, the True Crime genre has made a resurgence, thanks in part to the viral success of 2014's SERIAL podcast. More recently, Netflix's MAKING A MURDERER documentary captured audiences' attention, solidifying a new idea amongst television creators: Why make shit up? Real life is crazy enough.
Having premiered right on the heels of the MAKING A MURDERER frenzy, THE PEOPLE V. OJ SIMPSON is in a prime position to be FX's next big hit ‒ and if they can keep up with the quality of this first episode, it will succeed. Based on Jeffrey Toobin's book of the same name, executive producer Ryan Murphy's new anthology series promises to retell the story that captured America's attention 20 years ago in a way that fits into today's Renaissance of Television.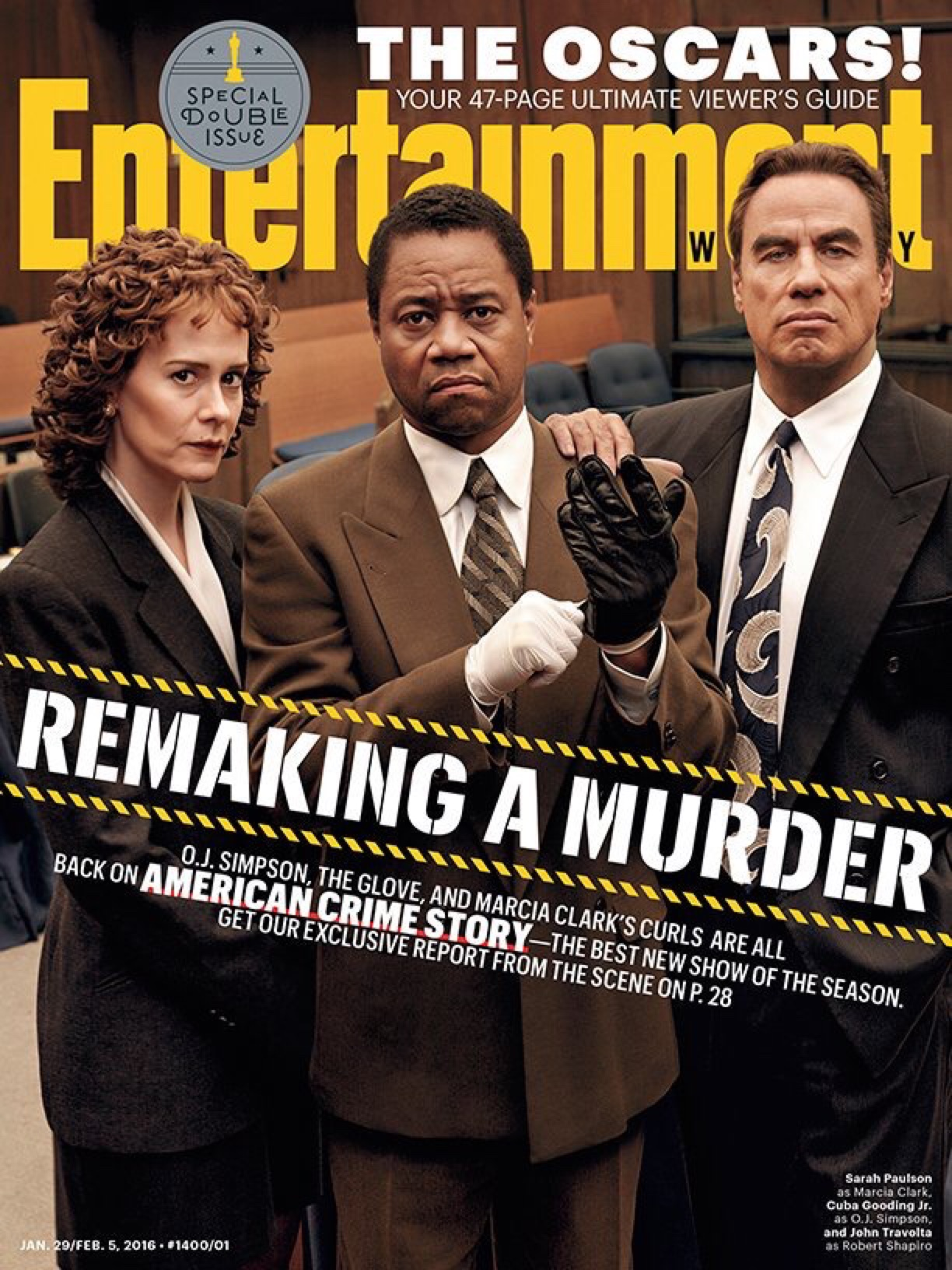 I see what you did there, EW…
The first episode covers an impressive amount of ground. From the finding of the two bodies, to the initial crime scene investigation, to the gathering of lawyers, to the warrant for Simpson's arrest, to his escape, there is never a dull moment. Considering the twists and turns this story took in real life, the rest of the season has the potential to be equally enthralling.
THE PEOPLE V. OJ SIMPSON stars the underrated (if you can call Oscar-winning underrated) Cuba Gooding Jr. as the man himself: The Juice, as all of his buddies call him. His performance is perfect ‒ manic, unhinged, yet disarmingly friendly. Gooding Jr. plays OJ as both dangerous and likeable at the same time, giving him that mysterious edge that fascinated the nation. He has the audience asking the same question as the public did twenty years ago: Is he just a rich football doofus caught up in a (possibly racist) conspiracy or a violent maniac behind closed doors?
The entire supporting cast is stellar (except perhaps John Travolta, but we'll get there in a moment), but there are two performers who stood out from the pack in this first episode. The first is FRIENDS' David Schwimmer as Robert Kardashian, OJ's close friend, defense attorney, and late patriarch to the Kardashian clan. He does a great job of showing Kardashian's internal struggle but prevailing loyalty. As OJ's best friend, he's supposed to be on his side, but what if everything he knows about Juice is wrong?
The second is AMERICAN HORROR STORY's Sarah Paulson as the lead prosecutor Marcia Clark, a determined woman driven by justice. In the role, Paulson is more than a talented actress rocking an 90s perm; she really embodies Clark. In interviews, both Paulson and the real Marcia Clark have stated how they share a common personality trait ‒ tenacity. And that's very true. Paulson's tenacity comes to life in the way she portrays Clark's exasperation; this is a single mother with two kids who does not have time for a celebrity's bullshit.
And the Emmy for Outstanding Period Hairstyle goes to…
The sheer plethora of stars is also part of the fun of the first episode. Recognizable faces abound (for example, Captain Pike from JJ Abrams' STAR TREK films makes an appearance as the district attorney), but the most exciting are the chameleons who are a little harder to catch. Some favorites include a white-haired Nathan Lane as F. Lee Bailey, one of OJ's defense attorneys, and the always great Connie Britton. That's right: Mrs. Coach Taylor herself shows up as Faye Resnick, bitchy friend to Kris Jenner (played by Selma Blair, also perfectly cast) and actual Real Housewife of Beverly Hills.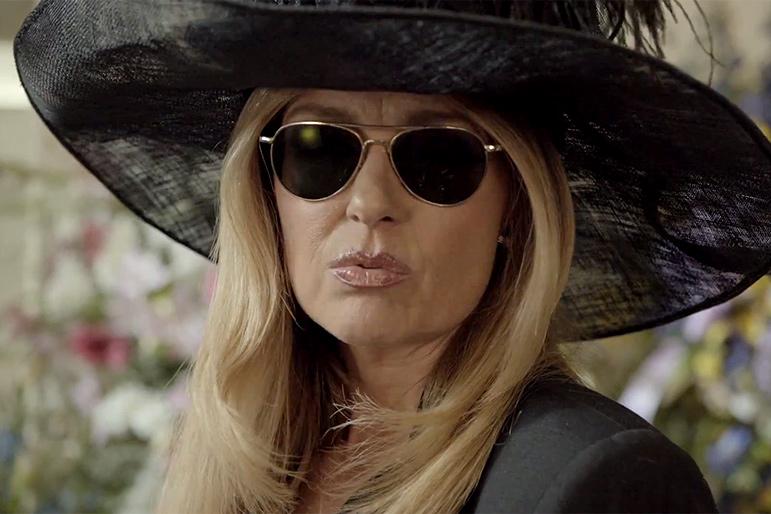 Tami? Is that you?
Truly, only one casting choice can be categorized as unsuccessful: John Travolta as Robert Shapiro, OJ's lead shark of a lawyer. To Travolta's credit, his performance wasn't as terrible as other reviews warned. He was slimy, cocky, and larger than life ‒ everything you'd expect out of a notorious L.A. defense attorney to the rich and famous. No, the real deal breaker is the amount of makeup piled on his big head. You see, Travolta doesn't resemble the real Shapiro in the slightest, so the only (very poorly executed) solution was to pile on enough bronzer and eyebrow color to make him resemble the surface of Mars.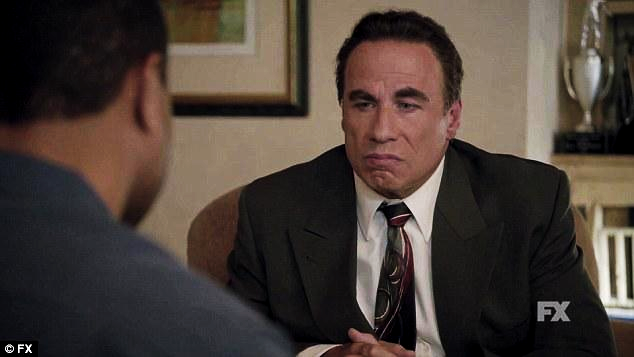 Brows not on fleek
Aesthetically, THE PEOPLE V. OJ SIMPSON has it all going on, especially in the production design and costume departments. The amount of detail work takes the production from a show set in the 90s to a period piece. It felt like they put as much work into making everything accurate to 1994 Los Angeles as DOWNTON ABBEY puts into recreating early 1900s England.
Considering how much audiences like it when fucked up shit actually happened for real, THE PEOPLE V. OJ SIMPSON is sure to be a hit with viewers and critics alike. From the first episode's fantastic acting, compelling writing, and impressive production design, this show has the creative chops to be something really badass. Hopefully it can keep up the momentum for the rest of the season, which would normally be a tall order for executive producer/perpetual ruiner Ryan Murphy (see: GLEE, AMERICAN HORROR STORY: FREAK SHOW). But we as an audience are blessed; Ryan "Good at Ideas, Bad at Execution" Murphy isn't writing a damn word of it. Praise be to the Juice.
Verdict: Hit
AMERICAN CRIME STORY – THE PEOPLE V. OJ SIMPSON airs on Tuesdays on FX