Dad Rock: Jeff Rosenstock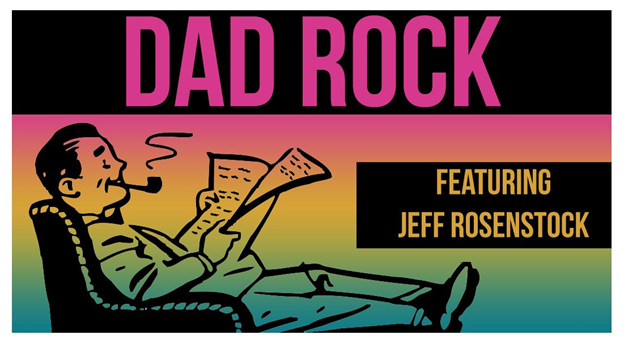 In DAD ROCK, our writers send their dads to concerts to report on the live acts that are exciting the world of music today and whether or not the show is worthy of your hard-earned cash. In this week's installment, we review the energetic live performer Jeff Rosenstock.
The Live Performer: Jeff Rosenstock
The Show: Rebel Lounge, AZ, Thursday, Feb 15th, 2018
The Dad: Music Editor CJ Simonson's Dad, Rob Simonson
The Background: Rob Simonson, like many of the dads in the "Dad Rock" generation, cut his teeth on the radio rock of the 1970s. He's a Rush fan, but he's not annoying about it. Despite his wife's disdain for it, he'll still play a fair amount of The Cure around the house. His other interests include '90s post-grunge rock (Counting Crows, Gin Blossoms, Matchbox Twenty) and Death Cab for Cutie.
CJ Simonson: What was your familiarity with Jeff Rosenstock before being asked to go to the show? Did you do any homework before going and, if so, what were your impressions?
Rob Simonson: Prior to the concert, I had very little familiarity with Jeff Rosenstock. I had heard one song, "Nausea," that you had forwarded to me several months ago. As for homework, I looked him up on Spotify and listened to the top five songs. I also looked at the set list for some of his recent concerts. I enjoyed several of the songs and was looking forward to hearing him live.
CS: Did you end up catching any of the openers, and if you did, what were your thoughts?
RS: I arrived at the venue at around 8:40 and saw most of the second opening act (Lemuria). I liked what I could hear, but their sound system wasn't very good and I could not hear most of the vocals from the female lead.
CS: What were your impressions of the crowd?
RS: The crowd was a lot of fun. There was a lot of energy from the moment I entered the venue.  It was an all ages show, so the under-21 crowd was up front near the stage. The back half of the venue had a bar and was blocked off for the older patrons. I was able to find a seat at a high top table near the rear of the room. I watched the younger crowd pushing towards the stage and dancing. As the second act finished, much of the crowd in the bar area moved closer to the stage. I was impressed at how most of the crowd knew all of the lyrics to his songs and they joined in. During the more "ska" songs, there was a decent amount of crowd surfing going on.
CS: Did you run into any other dads in the crowd? Jeff's influences seem very dad-friendly, but his music could kind of go either way. 
RS: There were a few other guys around my age in the crowd.  The overall demographic was the 18-28ish crowd. And that was probably split 50-50 male and female.
CS: Do you feel like the the all ages vibe of the show helped push the energy and intensity? Rosenstock's kind of a leader in that scene, as far as all ages shows and cheap ticket prices, so everyone has a chance to go, inclusivity, etc. 
RS: If you didn't know it was an all ages show, I don't think you would have been able to tell.  The whole crowd mingled together and everyone sang and danced. I was tempted to fight my way up front to see the crowd surfing. Sitting towards the back gave me a nice overall perspective of the band and the crowd. I took notes re: the songs so I could go back later and listen to the studio versions.
CS: Which songs did you end up gravitating towards and enjoying regarding your notes? 
RS: I enjoyed quite a few songs. "All This Useless Energy" had a little bit of a Weezer feel.  "Festival Song" was a crowd favorite and fun to watch. I liked "TV Stars" and "Melba."  "I Did Something Weird Last Night" was another fun crowd sing-along. I liked the lyrics to "…While You're Alive." "We Begged 2 Explode" was a great ending to the concert.
CS: What were your impressions of Jeff? He's a bit of a character and he and his bandmates tend to have pretty fun banter. 
RS: I loved his personality and attitude. He genuinely looked and felt like he was having fun.  He also did a very classy thing commenting on the upcoming midterm election and urging the crowd to get out and vote. He listed the local districts that had upcoming votes, and never pushed an agenda. The band as a whole looked like they were enjoying putting on the show and both Jeff and the sax player got into the crowd surfing during the encore, which I enjoyed watching.
CS: It's interesting that you noted his lack of agenda pushing, because that was something I noted too, having seen his recent shows in California. He urged people to vote, but there were no "Fuck Trump" speeches, which has been something I've come to expect from artists at this point, kinda like when you and I saw Roger Waters last year. Even a subtle jab or something, but there was nothing. I found it to be pretty odd, because his new album, POST-, is decidedly left leaning and pretty political. Perhaps he figured the songs themselves, since he played almost everything off the album, would speak for themselves and that his rainbow pot leaf flag made his stance pretty clear.
Would you recommend people go to this show without knowing a lot, if anything, about the music?
RS: Yes, mostly because I don't feel like Jeff's music is pigeon-holed into one genre. So, I feel that I could tell my friends to go knowing they will find several songs they would enjoy. Additionally, the concert was more than just the music. It had an energetic vibe that most people I know would get in to. Some of this had to do with the smaller venue, and the rest had to do with the crowd feeding off of the band; I would say that knowing some of the older songs would make it more fun to sing along with.
Jeff Rosenstock is on tour now, you can check out his dates here. Also check out our review of his new album, POST-.