Crossfader Magazine's Top 50 Films of 2017
Separate from the list below, Crossfader film section editor, Sergio Zaciu, decided to get together with podcast editor, Carter Moon, and video games editor, Ed Dutcher, to discuss their favorite films of 2017. Listen to the podcast for more!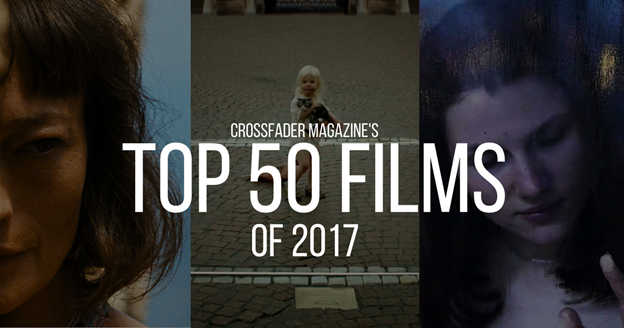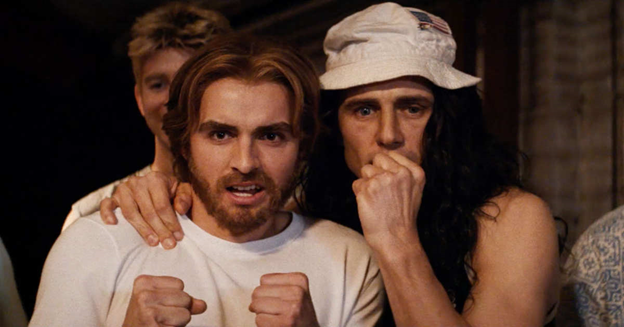 50. THE DISASTER ARTIST
DIRECTOR: James Franco
GENRE: Comedy
As our 30 year cycle slowly dips into the '90s, we're getting films featuring "Rhythm of the Night," and I'm loving it! THE DISASTER ARTIST's great silver lining is one thing and one thing only: it doesn't condense the mythology of Tommy Wiseau, it extrapolates it. Franco and company are not here to provide answers. They are here to serve a tall tale. And I understand, people are rightly peeved that almost two decades since THE ROOM's release we still aren't being given any declarative response in regards to Tommy's age, place of birth, or wealth, but that's kind of the point. Let me posit this: hasn't the enigma of Wiseau become impossibly intertwined with THE ROOM's mythology? Wouldn't it be a huge disservice to the cult status of the world's best worst movie if we'd know everything about it? I only say this because people throw a tantrum when their favorite horror movie gets needless backstory in a sequel. If we're so upset about midichlorians, then we'd hate it if Tommy Wiseau would be revealed as a 58-year-old Bulgarian weapons distributor. I'm just sayin', be careful what you wish for and relish the fun of this millenial ED WOOD. [Sergio Zaciu]
Read the full review here.
49. WORMWOOD
DIRECTOR: Errol Morris
GENRE: Documentary
What is is about murder that clings to the human psyche? Even when we have most of the answers to how a murder occurred, why does it leave behind family members who are forever scarred? Errol Morris has covered murders, cover-ups, and corruption throughout his illustrative career, and WORMWOOD proves to be the ultimate expression of his groundbreaking approach to documentary filmmaking. Stretching over five-and-a-half hours in length, WORMWOOD is an expansive and dizzying affair, and in many ways an intentionally unsatisfying one. Tracing the tragic experiences of Eric Olson, Morris unravels a shocking cover-up by the CIA of the gruesome death of Eric's father, Frank Olson. Morris takes the time to carefully lay out a shocking case against the CIA, the state department, and ultimately the entire US military industrial complex, but they aren't really the focus of this epic saga. Instead, Morris was savvy enough to focus on Eric, a brilliant, broken man who is forever defined by his quest to uncover the truth about the father he never got to know. Murder, Morris reminds us, is foul because of who it leaves behind. [Carter Moon]
Read the full review here.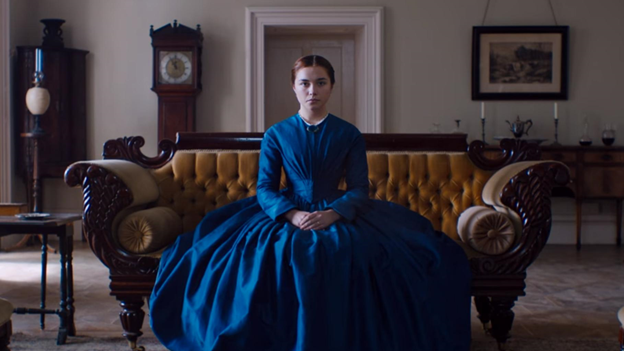 48. LADY MACBETH
DIRECTOR: William Oldroyd
GENRE: Drama
An 1865 period piece that unfolds in truly unexpected ways and is bolstered by the mesmerizing debut performance of newcomer Florence Pugh, LADY MACBETH was quite the overlooked oddity. Pugh plays Katherine Lester, a young woman trapped in a loveless marriage to a wealthy landowner who treats her like his various properties. She is forced to maintain a strict schedule and is forbidden from leaving the rural moor estate that she unhappily shares with him. Her deep-seated desire for freedom is suppressed until she begins an affair with one of the house servants, Sebastian. This is where the metaphorical title of "Lady Macbeth" comes into play. Like the opening of a pandora's box, something changes inside Katherine and she becomes determined to live a life of total freedom, no matter how heinous or deadly she has to be. The suspenseful unfolding of Katherine's feminine rage and moral descent make her a twisted, feminist anti-hero. The film further pulls you in with incredible production design and cinematography, all the more impressive considering its modest $650,000 budget. LADY MACBETH keeps you tense; a wickedly fun version of the moody, moors-set novel WUTHERING HEIGHTS. [Max Schafnitz]
Read more in our LAFF 2017 roundup here.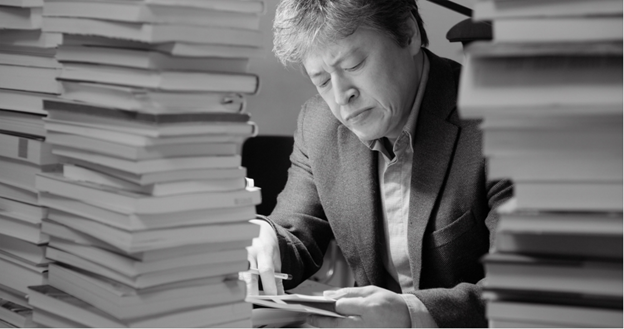 47. THE DAY AFTER
DIRECTOR: Hong Sang-soo
GENRE: Drama
It's 4 A.M. in Seoul and South Korea's most active auteur just finished his latest script within an hour. While newcomers may find Hong Sang-soo's naturalistic style haphazard in its approach, none can deny that his endless, soju-slick dive into the subtle complexities of male/female interaction is captivating and nearly surpassing the efforts of Woody Allen and perhaps even Rohmer. On her first day working for a book publisher, Areum (played by Hong's real life extramarital squeeze and South Korean superstar Kim Min-hee) finds herself in the middle of her new boss's love affair as his wife mistakes her for his new boo. Facing the aftermath of infidelity would be horrifically painful for anyone but Hong; reflecting on his own misdeeds, it seems, paints the most searing and awkward of pictures that is near impossible to tear your eyes away from all in morose black and white. Even if Hong has more welcoming works under his belt, THE DAY AFTER's viscerality is sure to draw a gawking crowd. [Alexander Larios]
Read more in our AFI 2017 roundup here.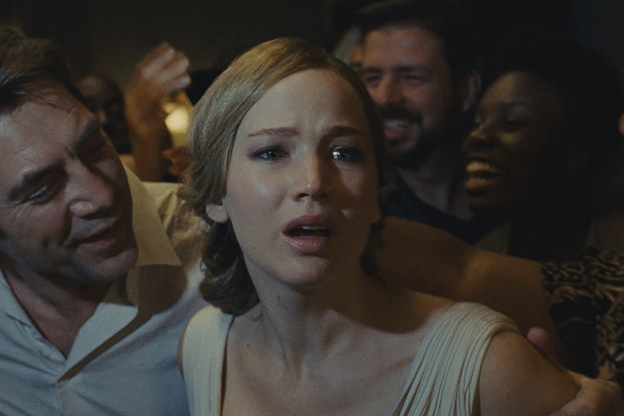 46. MOTHER!
DIRECTOR: Darren Aronofsky
GENRE: Drama
For all its expert technical craft, it is hilarious how MOTHER! has the attitude of a little boy sticking his tongue out at you. Designed as The Old Testament meets THE EVIL DEAD, Jennifer Lawrence's ROSEMARY'S BABY moment is even odder and more abrasive than much of the cult cinema it emulates. It leeches on nearly every one of our basest disturbances and fears, and this is before Aronofsky goes full gonzo. While the ballistic, final 40 minutes have been hyped in just about every film circle, the off-kilter battle between peaceful home-living and ordained chaos is both effortlessly maddening and giddily fun. MOTHER! is 20 different movies in one: an ALIEN-esque conveyor of misogyny, an apocalyptic chamber tale, and a weird spin-off to the house party franchise. It is a rare case in which unpacking the troubling essence of each is key to the film's enjoyment. That this was released in thousands of theaters nationwide gives me hope for the future of exploitation films sneaking their way through the system and into the hands of many who need a spring-to-action vision of reality this viciously altered—MOTHER! is a vital shock to the system. [Kevin Cookman]
Read the full review here.
45. ALIEN: COVENANT
DIRECTOR: Ridley Scott
GENRE: Sci-Fi / Horror
Look, I'll be the first to tell you that if you watch ALIEN: COVENANT for its portrayals of its human characters, you have every right to feel disappointed by it. From the jump, however, Scott made it clear that this film is not meant to be watched from the perspective of the humans, but rather from the perspective of the androids that once were only minor characters in the Alien universe. Well, the androids and the xenomorphs that is. You see, Ridley Scott proposes an extremely dark vision of our place in the universe as conscious beings, and isn't particularly charitable towards us, or our chances for long-term survival. The drama the human characters experience is entirely secondary to the drama between Michael Fassbender's phenomenal duel performance as David and Walter. To view this film as a subpar space horror experience is to miss its deeper philosophical message, and for a franchise as storied and important as Alien, it's essential to recognize the implications of the expansion of the canon of these films. We are alone in space and no one can hear us scream, but with COVENANT, Scott implies that it's all due to our own folly. [Carter Moon]
Read the full review here.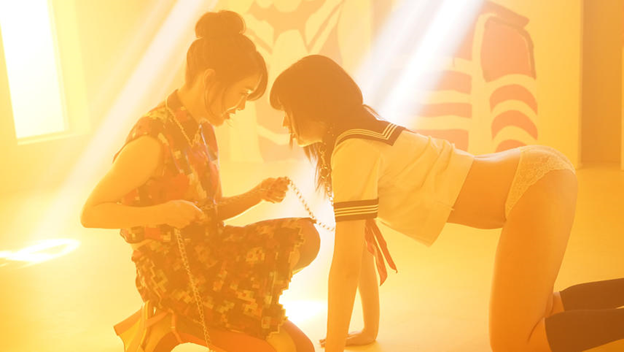 44. ANTIPORNO
DIRECTOR: Sion Sono
GENRE: Experimental
Leave it to Sion Sono to make the most ostentatious overlooked film of the year. Oddly enough, ANTIPORNO actually bears great similarity to this year's CASTING JONBENET, but Sono's knack for visual candy and obfuscations of reality make this a beast that is entirely its own. There is content in here you cannot find in any other director's work, it is just so far out. From lesbian fashionistas parading around in strap-ons to women dunking their heads on cake in the name of high art, this is without a doubt 2017's most gonzo release. The entire concept of the Nikkatsu Roman Porno revival might be my favorite contribution to cinema this year. It feels both smutty, intellectual, reverent, and nostalgic all at once, a wonderful dose of absurdist self-reflexivity. The way Sono tackles his assignment to create softcore porn is unapologetically meta, and confronts Japanese society head on, begging the question what defines smut. If you're looking for something heavily pornographic, as the title suggests, ANTIPORNO may not be the movie for you and you may be better off going to somewhere like hdsexvideo instead. However, if you're looking for a unique take on an interesting topic, we'd defintely recommend this one. I doff my hat to you, sir. [Sergio Zaciu]
43. WESTERN
DIRECTOR: Valeska Grisebach
GENRE: Drama
Few films have stuck with me quite the way Valeska Grisebach's melancholy neo-western, WESTERN, has. With a name as blunt as a sledgehammer to the face, this blue collar TONI ERDMANN does away with any and all narrative subtleties in order to craft a beautifully layered tapestry of outsourced labor in eastern Europe. Its protagonist, a German construction worker tasked with providing infrastructure to a Bulgarian village, finds himself in the midst of a classic western conflict with the local townsfolk and his rowdy wild bunch of German bachelors, each more garish than the last. It's a brilliant depiction of "second world" nations, and the way "advanced" nations opportunistically insert themselves into the progress of these countries, all captured with a distinct sense of verité that feels virtually absent in most films of this ilk. Meinhard Neumann's muted performance evokes the best of Clint Eastwood and Harry Dean Stanton, swelling up each scene with unspoken tensions and sexual frustrations: a modern fable unlike anything from this year. [Sergio Zaciu]
Read more in our AFI 2017 roundup here.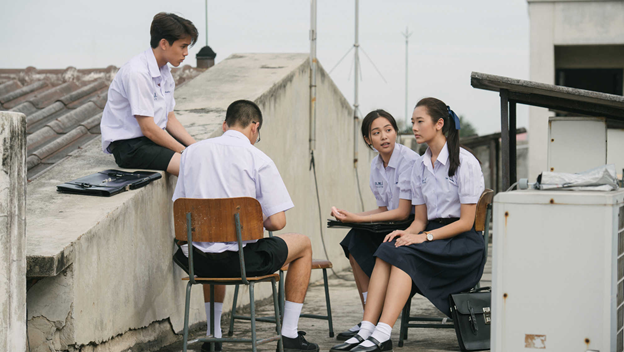 42. BAD GENIUS
DIRECTOR: Nattawut Poonpiriya
GENRE: Comedy
Easily the most charismatic release of 2017, BAD GENIUS is not only an absolute riot, it's nail-biting in its intensity, quite possibly among the most thrilling capers of the year. What initially starts as a clever, albeit absurd, method of cheating during a standardized test quickly escalates into an incredibly complex, globe-trotting heist film. Its fusion of music and rote memorization is absolutely brilliant, and the way it all neatly ties into a greater social critique on Asia's obsession with perfect grades is outstanding. The reversals here keep you on your toes like every great heist film should, and no character needlessly chews screen time, always finding new ways to justify a player's inclusion in the greater narrative. I can see the lukewarm American remake on the horizon already, but if that gets more people to go back and watch BAD GENIUS, I'm not exactly opposed to it. Hell, I'm still reeling from the excitement. This is without a doubt one of 2017's most charming films. [Sergio Zaciu]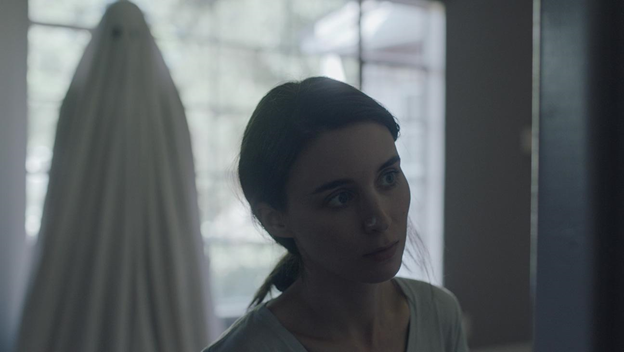 41. A GHOST STORY
DIRECTOR: David Lowery
GENRE: Drama
David Lowery's 2017 Sundance hit A GHOST STORY is a haunting, heartbreaking, and visceral experience. It's all too often that a film is cited for being "unlike any film this year," but few really live up to that hype quite like A GHOST STORY does. The film is an abstract art piece providing striking meditations on life and death. It is wholly ambitious and full of interesting creative choices, including a symbolic, curved, 1.33:1 aspect ratio. For Casey Affleck's character, "C," his death is just the beginning, and he is doomed to new existence as a ghost. Recalling classic ghost imagery, he is wrapped in a cascading white sheet, seeing the world through two round eye holes. He is eternally tethered to the home he lived in with his wife played by Rooney Mara (in a still, controlled, and sorrowful turn). Years go by, and people move into and out of the home as he watches helplessly. From there, the film takes you on a journey traversing time itself and it feels as wide, mysterious, and expanding as the cosmos. Although hard to imagine, A GHOST STORY successfully makes you feel the enormity of existence. [Max Schafnitz]
Read the full review here.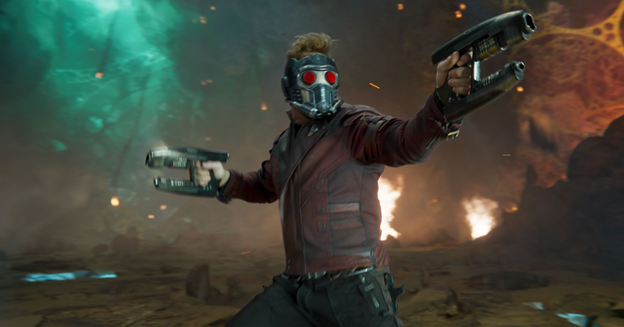 40. GUARDIANS OF THE GALAXY VOL. 2
DIRECTOR: James Gunn
GENRE: Comedy / Fantasy
The second installment of James Gunn's neon explosion of action-y goodness delivered exactly the tumble through the cosmos we were looking forward to since the first movie. GUARDIANS OF THE GALAXY VOL. 2 bursts onto the screen with an excellent title sequence during a battle between the Guardians and an interdimensional space monster, backed by Electric Light Orchestra's "Mr. Blue Sky." But my favorite development of VOL. 2 came in the form of Yondu, a seemingly secondary character from the first movie, and his relationship with Chris Pratt's Peter Quill. Extraordinarily deft in its portrayal of converting a formerly irredeemable character into an individual for whom we feel very deeply, Marvel really outdid themselves in pulling at our heartstrings. GUARDIANS OF THE GALAXY VOL. 2 is a colorful rollercoaster ride with a heart of gold, for behind all the unicorn-puke colored space battles is a real exploration of the father-son relationship and what it means to be family. [Nicole Barraza Keim]
Read the full review here.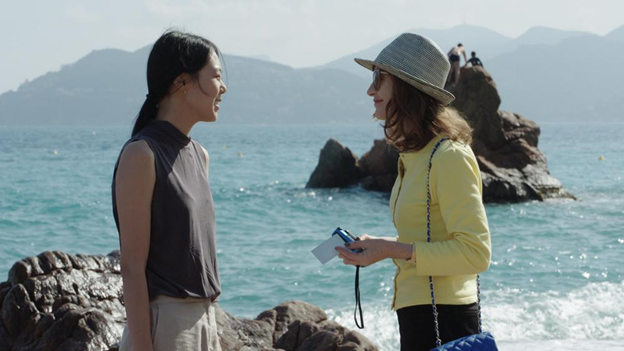 39. CLAIRE'S CAMERA
DIRECTOR: Hong Sang-soo
GENRE: Drama
Part of what makes Hong Sang-soo South Korea's greatest auteur is definitely his work ethic. Though to the uninitiated CLAIRE'S CAMERA may seem like a one-take, 70-minute vanity project shot at Cannes Film Festival, fans placing it in the greater context of his previous work are served up a tight sampler of his best elements. After getting laid off from her job at a Korean film acquisition company in the middle of the festival, a lovely Kim Min-hee finds the irresistibly sweet high school teacher Claire, played by Isabelle Huppert, snapping her photo. As was the case with IN ANOTHER COUNTRY, the charms of the English language barrier bridge make the two fast friends as they gleefully discover more about each other and eventually the higher-ups who fired her. "You're not the same person you were in this photograph. You've changed," Claire explains to Director So, played by Jung Jin-young, who only meets the weighty assertion with awkward laughs. Whether these be meditations on the authenticity of Hong's unique yet heartbreakingly honest portrayal of life in his films or film as an art in itself, there's much more to CLAIRE'S CAMERA than meets the eye. [Alexander Larios]
Read more in our AFI 2017 roundup here.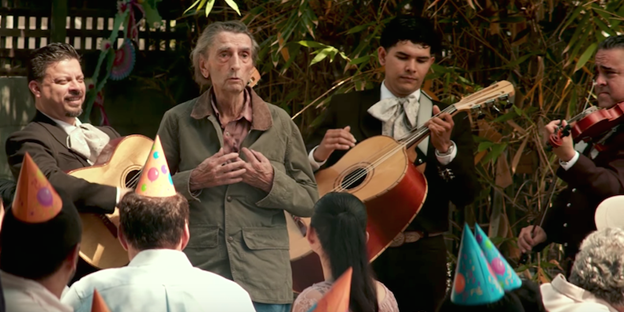 38. LUCKY
DIRECTOR: John Carroll Lynch
GENRE: Drama
Those familiar with 2016's PATERSON will find many similarities in LUCKY; in fact, the similarities are so stark (film title is the protagonist's name, meandering narrative, intense focus on daily routine and side-character vignettes) that it's a wonder these were made by two different filmmakers. With only his first feature, John Carroll Lynch has made a film that stands mightily along Jarmusch's pantheon. While PATERSON basks in the repose of the ordinary, where tomorrow is but another opportunity to love, LUCKY carries a much heavier weight of mortality, wherein our titular character learns to make peace that every tomorrow may be his last. Lynch leaves us not with the anticipation of the main character's death, but for his many days yet to come. Stanton is incredible as himself, essentially, and the supporting cast is chock-full of lively character actors, but most impressive is just how well-balanced the final product is. Never too quirky, never too morose, but always so truthful. Life's but a stroll towards the end, saying howdy to the folks you know along the way, ebbing with the seemingly minimal yet rippling changes to your social pattern. A life preserved in amber; we're lucky to have LUCKY, and even luckier to have met Stanton. [Kevin Cookman]
Read the full review here.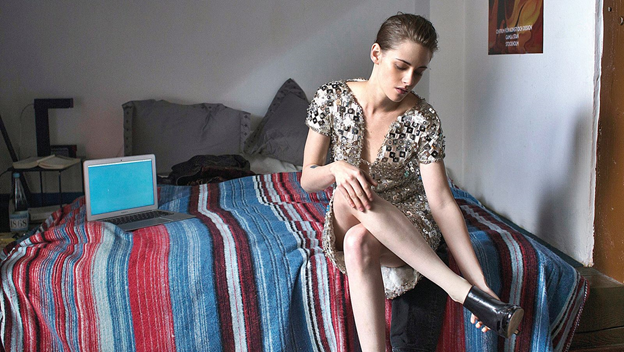 37. PERSONAL SHOPPER
DIRECTOR: Olivier Assayas
GENRE: Drama
True story: when I saw PERSONAL SHOPPER at 10 P.M. on a Thursday night, a drunk man passed out in front of me and shit himself. Despite the awful smell, I couldn't bring myself to fetch a theater attendant, so enrapturing is Olivier Assayas's exceptional filmmaking. There are few contemporary filmmakers working today who can transfix the viewer and root us in a character's unique experience quite the way Assayas can. Dealing with themes of identity and grief, PERSONAL SHOPPER is the kind of ghost story we need more of. Much like CLOUDS OF SILS MARIA, Assayas still seems to be fascinated by PERSONA, and all the various approaches to character Bergman opened up with that film. Only a few movies this year left me feeling shaken and uneasy the way PERSONAL SHOPPER did, not simply because of the dramatic stakes of the film, but because of the implications Assayas presented. How much are we our own autonomous beings and how much are we defined by our ties to the people around us? Assayas poses this question beautifully, but leaves his audience to untangle their own complex answer. [Carter Moon]
Read the full review here.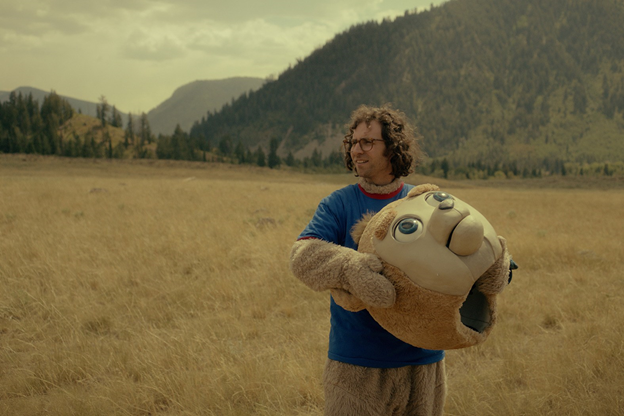 36. BRIGSBY BEAR
DIRECTOR: Dave McGary
GENRE: Comedy
It's still hard to believe that one of the most genuinely heartwarming films of the 2010s came from the Good Neighbor gang. Even more than THE DISASTER ARTIST, BRIGSBY BEAR is a testament to the beauty of friendly artistic collaboration, and the strength that films and TV have in one's soul. Yes, a Kyle Mooney film has become a beautiful portrait of creative collaboration and all its joy. Its empathetic streak is memorable, especially thanks to the hard, emotionally grounded work of its cast. Mooney himself is disarmingly good, merely shifting his stammering voice into the grounded. He manages to not lose the comedy when gunning for empathy, either; it's a deeply impressive lead debut outside of its own cultural context. Taken along on a narrative of high concept and risk in sticking the landing, BRIGSBY BEAR ultimately reaches home achieving its humble, tender ambitions. It's one of the funniest films of the year, and one of the best feel good movies in quite some time. Enjoy it, share it with your friends, then make some art together. It's what Brigsby wants. [Rocky Pajarito]
Read the full review here.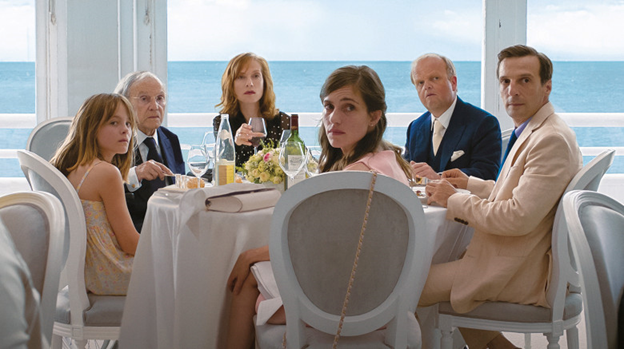 35. HAPPY END
DIRECTOR: Michael Haneke
GENRE: Drama
Considering that we live in a culture so enamored by the "my computer has teeth" cynicism of Black Mirror, I'm honestly flabbergasted that HAPPY END wasn't met with critical acclaim far and wide; but then again, I suppose there's a difference between British cynicism and French nihilism, something director Michael Haneke seems to have perfected in his 40 year stint as Cannes' meanest mainstay. Rebounding from the highly sentimental, Oscar-winning success of AMOUR, I suppose it only made sense for the director of FUNNY GAMES to spin a 180 and provide his audience with a meandering, sardonic look into bourgeois domesticity (now that I think about it, AMOUR fits that bill too). It's a fascinating concept, one made doubly intriguing through Haneke's incorporation of social media and Europe's migrant crisis, resulting in an oddly topical film for a filmmaker who hasn't shied away from being political—though he's certainly never been this upfront about it. What follows is some of Haneke's funniest filmmaking, but brace yourselves, not even this man's humor is devoid of cruelty. [Sergio Zaciu]
Read more in our AFI 2017 roundup here.
34. A FANTASTIC WOMAN
DIRECTOR: Sébastian Lelio
GENRE: Drama
Immersing the viewer into a mesmerising blend of poetic fantasy and harsh reality centered around a trans woman in Chile, A FANTASTIC WOMAN follows the trials and tribulations of Marina, played with captivating realism by trans actress Daniela Vega. It's refreshing for Vega to have this platform, considering Hollywood's tendency to cast cisgender actors (from Eddie Redmayne to Hilary Swank) as trans characters. Vega's career will undoubtedly blow up as a result of this film. Her nuanced performance makes the film not only work, but soar. After the sudden, aneurysm-related death of her partner, Orlando (played by veteran Francisco Reyes), Marina experiences homophobic prejudice not only from his family who wishes her erased from his legacy, but also a cruel police detective who targets her as a suspect in his death. What makes this film so revolutionary is director Sebastián Lelio's empathy for Marina and attention to her internal quest to accept herself. In addition, the film boasts a gorgeous orchestral score that pairs well with cinematographer Benjamin Echazarreta's striking visuals. Heartbreaking but ultimately triumphant, A FANTASTIC WOMAN will be cited for many years to come as an essential work of LGBT cinema. [Max Schafnitz]
Read more in our AFI 2017 roundup here.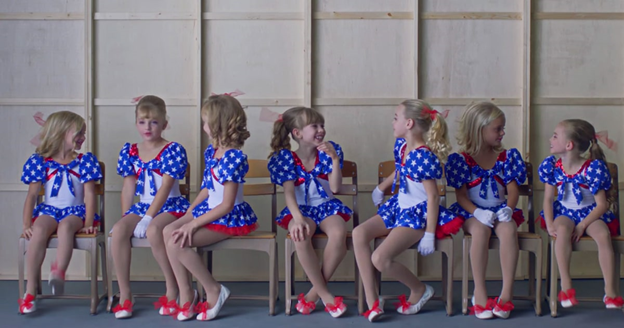 33. CASTING JONBENET
DIRECTOR: Kitty Green
GENRE: Documentary
The murder of JonBenét Ramsey is a horrific crime, but had she not been white, wealthy, and pretty, it's unlikely her murder would have gripped the nation quite the way it did. Americans were enraptured with the crime because such things are not meant to happen to girls like JonBenét. What's so clever about Kitty Green's documentary is that she does not try at all to solve the mystery of what happened to the little girl, but instead turns a mirror on us, the culture that ghoulishly devoured every conspiracy surrounding the murder. As the adults in this documentary attempt to relay their foggy memories of the investigation, we are also presented with an increasingly ludicrous amalgamation of dozens of JonBenét lookalikes all prancing on the stage simultaneously. The documentary eventually becomes less about the crime itself and more about the narratives we tell ourselves, the lies and half-truths we invent to create meaning out of chaotic, inexplicable events. The truth may be out there regarding JonBenét, but Green suggests that we liked the fictions we could invent more than whatever the factual explanation may be. [Carter Moon]
Read the full review here.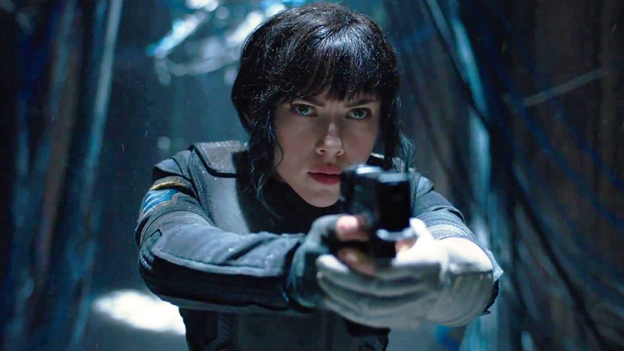 32. GHOST IN THE SHELL
DIRECTOR: Rupert Sanders
GENRE: Sci-Fi / Action
It seems almost silly now that, after such an unbelievably tumultuous year, the release of a live-action adaptation of a decades-old anime was met with such controversy. And yet, how fitting for a story so concerned with ideas of consciousness and identity. Masamune Shirou's groundbreaking manga, later Mamoru Oshii's landmark anime, and now Rupert Sanders's film have all wrestled with the very nuts and bolts of what it means to be human, even alive, in a world that is less and less so, and in a way few other properties have begun to touch. Of course, GHOST IN THE SHELL is not without its issues, and no amount of technical or visual wizardry could ever satisfy its detractors (not that I'm saying it should, either), but you know what? It's still a pretty damn good movie! Even for all of the style-over-substance charges against it, GHOST IN THE SHELL thrust its audience into a claustrophobic, anxiety-inducing, yet gorgeous techno-dystopia while—perhaps inelegantly—highlighting the more human aspects of transhumanism. For everything that can be said of it, at the very least, I await the day that the geisha scene is recognized for the bit of aesthetic perfection it is. [Joseph Simpson]
Read the full review here.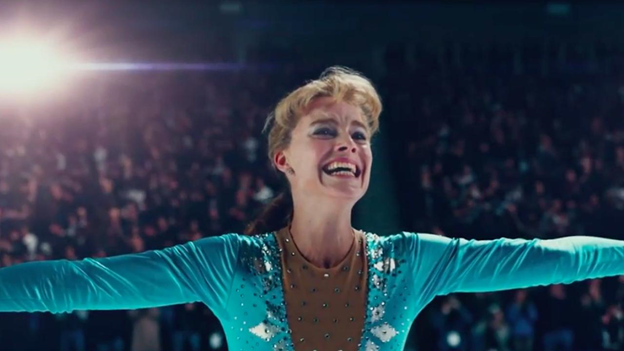 31. I, TONYA
DIRECTOR: Craig Gillespie
GENRE: Biopic
Like Tonya Harding herself, her 2017 biopic, I, TONYA, is a dark horse contender. Right now, no film in the awards conversation is as scrappy and relentless as this true story of subjective truth, classism, and abuse. Margot Robbie excellently portrays Tonya Harding in a transformative role, bringing to life the story of the disgraced figure skater who will forever go down in American infamy for a single incident. Of course I'm referring to the well known 1994 knee-cap bashing of Tonya's competitor, Nancy Kerrigan. This "incident" transformed Tonya's life and made her a hugely scrutinized and slandered media target. It's an examination of our 24-hour news cycle that harkens back to Gus Van Sant's excellent TO DIE FOR. Since director Craig Gillespie found the stories of Tonya and her ex-husband Jeff Gillooly so contradictory during the interview phase of pre-production, he decided to tell both of their perspectives throughout. As such, everyone has their own version of the truth, and the actual truth lies somewhere in between. Allison Janney stands out as Tonya's mother LaVona Golden, mesmerizing as the tough-as-nails, chain-smoking, unsentimental, and pushy figure skating mom from Hell. Quite the odd-duck biopic, indeed. [Max Schafnitz]
30. THE POST
DIRECTOR: Steven Spielberg
GENRE: Drama
When looking at the major awards contenders this year, few movies seem more by-the-numbers or conventional than Steven Spielberg's THE POST. Make no mistake, though: THE POST, despite being set in the early 1970s, may be the most politically resounding movie nominated today. Following The Washington Post staff as they try to get the Pentagon Papers (government reports of classified American intervention in Vietnam) published, Tom Hanks, Bob Odenkirk, Carrie Coon, and more are outstanding in their roles, yet it is Meryl Streep who shines the most as Katharine Graham, the publisher of the Post. Streep—who has been known to play confident, loud characters—goes against type as Graham, portraying a timid, shy woman stuck in a man's world who is forced to rise to the occasion. Yet what THE POST truly celebrates is the news itself, and that is what makes it so wonderfully relevant. In a time where our own presidential administration calls CNN, The New York Times, and many more "fake news," THE POST reminds us that journalism isn't just important to a democracy: it is as essential today as it was 45 years ago. [Ethan Cartwright]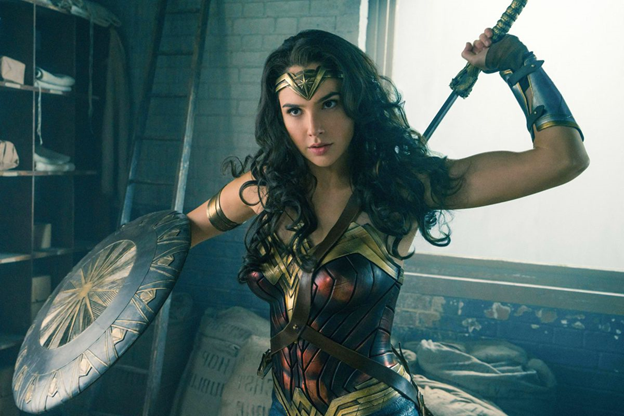 29. WONDER WOMAN
DIRECTOR: Patty Jenkins
GENRE: Action / Fantasy
I grew up hating my athletic body. I played seven different sports and dabbled in a few more by the time I got to high school. While I was proud of my accomplishments, I hated the fact that my thighs curved out with muscle. WONDER WOMAN finally made me feel like maybe it was society's problem that people were intimidated by muscular women. As the first sequence swept through the streets of Themyscira, women of all heights, shapes, sizes, and skin colors filled the screen. It was the first time that I saw more than a token woman in an action sequence and it filled my heart with such happiness. In fact, this sequence made me soak my shirt in ugly tears all three times I saw the movie during opening weekend. Maybe you think I'm being overdramatic, but you cannot imagine how proud WONDER WOMAN makes me. I'm insanely proud that it was directed by a woman, and I'm proud that the little girls who come after me have a hero whose costume they can wear. We have a long way to go to fix the representation problems in film, but WONDER WOMAN is resounding proof that the industry can be a little more daring with the movies they champion. [Nicole Barraza Keim]
Read the full review here.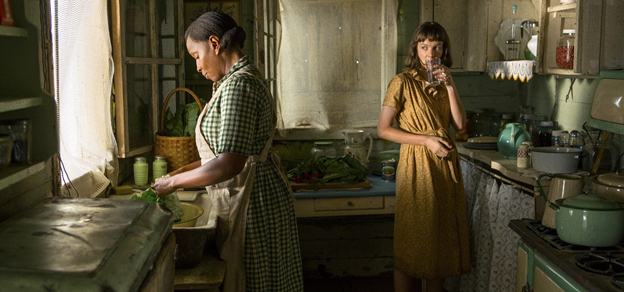 28. MUDBOUND
DIRECTOR: Dee Rees
GENRE: Drama
MUDBOUND is spectacular, but it sure feels like Netflix doesn't want you to know so. In classic fashion of burying their best content, MUDBOUND's recent awards success seems to have been incidental, the result of a runaway that managed to escape the paws of its overlord. A historical epic that explores over eight personal psyches while interrogating the national one, and all under 140 minutes, Dee Rees goes full Steinbeck and Hooks. Any scene between Carey Mulligan and Mary J. Blige showcases subtle, damning racism, while Clarke emphasizes the colonialist core to many a thoroughbred American. The soapy drama is enrapturing, while the racial conflict is pure, pulse-pounding tragedy. Every frame, glazed with the painterly brush of Rachel Morrison, carries the weight of 250 years of history, primed with tan colors and natural greens. This is mature, novelistic filmmaking that helps fill a gaping crater of suppressed, mid-20th century black voices, a film that doesn't reinvent the wheel, but gives new voices a chance to take it. You may think you've seen this type of movie before, but you certainly haven't felt the American cinematic narrative through the eye-opening lens of femininity and sensitivity. [Kevin Cookman]
Read the full review here.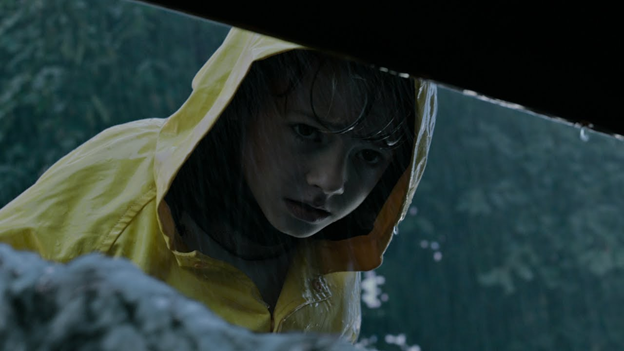 27. IT
DIRECTOR: Andrés Muschietti
GENRE: Horror
2017 was a watershed year for horror, in which the historically overlooked, ignored, and often maligned genre finally got its dues, both in box office numbers and critical reception. From Gore Verbinski's high-concept A CURE FOR WELLNESS, to the ongoing success of Black Mirror and its peers, horror was on the up-and-up. If 2016 boasted some of the best horror films in a single year, 2017 made the genre hip to laymen far and wide. However, there was one horror film that smashed damn near every box office record in 2017: IT. One would be quick to attribute IT's hype and subsequent success to simply being in the right place at the right time—let's not forget just how en vogue both "nostalgia" and clowns were in the last two years. But that would be doing a major disservice to the film. Even enjoying relative safety as a remake and arriving in the wake of the wildly popular Stranger Things, Andrés Muschietti tried his own hand, and offered a horrifying, yet ultimately heartfelt take on the unfilmable novel. And while certain sects may love to hate it, there is no denying IT's place in not just 2017, but the greater modern horror canon. [Joseph Simpson]
Read the full review here.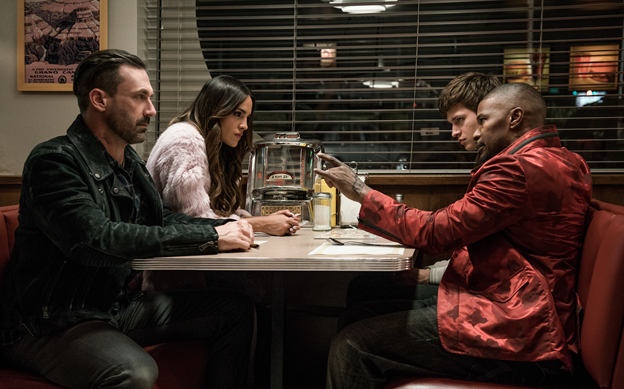 26. BABY DRIVER
DIRECTOR: Edgar Wright
GENRE: Action
Edgar Wright was back with a vengeance in 2017, delivering an exhilarating heist caper disguised as a cutesy action-comedy. BABY DRIVER plays like a bubblegum PULP FICTION: oversaturated with bright colors, a slick style, and shocking bursts of violence throughout. The film is further revved up by a killer soundtrack and a breakthrough performance by action-lead newcomer Ansel Elgort. It's a tale as old as time . . . kid involved with the mob as a getaway driver must complete one last heist to win his freedom from a menacing mob boss, a story that bodes well as a fascinating side-by-side case study with Nicolas Winding Refn's DRIVE. With BABY DRIVER, Edgar Wright rendered this unoriginal setup into something bracingly original. The chase sequences are tense and breathtaking, truly pushing the boundaries of stunt driving in cinema. I imagined myself in the backseat of Baby's car throughout the film, clutching tightly to my theater seat and holding my breath. True filmmaking, an excellent escapist experience. [Max Schafnitz]
Read the full review here.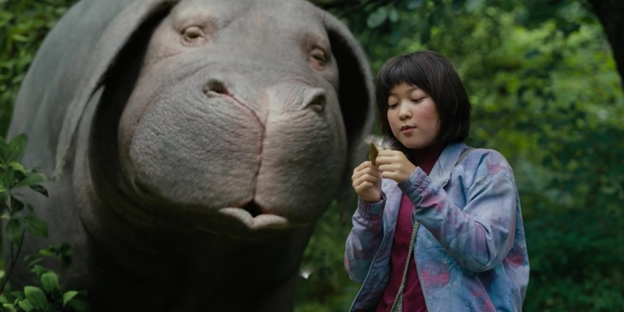 25. OKJA
DIRECTOR: Bong Joon-ho
GENRE: Adventure
Bong Joon-ho's utterly kooky adventure, OKJA, is a Spielbergian feat, but also one that demands recognition of its own creator, known for his eclectic action, jaw-droppingly calculated visual storytelling, and pause-to-catch-your-breath sense of humor—thank heavens this one's on Netflix! Everything he's beloved for is on full display here, yet the film functions as more than a thesis of what he is capable of: it's also one of his most daring, dazzling, and heart warming efforts to date. It's absolutely all over the place, and at an admirable clip. The parable for capitalism's effect on the food industry features entertainingly boisterous performances from a lovely ensemble, an incredibly loveable and memorable CGI character (that there are no available Okja plushies is a crime), and some of the most stunning set-pieces committed to film this decade, including a chase through Seoul that sprints like RAISING ARIZONA met E.T. It's a prime package, offering the literal promise of "you'll laugh, you'll cry, you'll gasp, etc." A sledgehammer swing of a film. [Rocky Pajarito]
Read the full review here.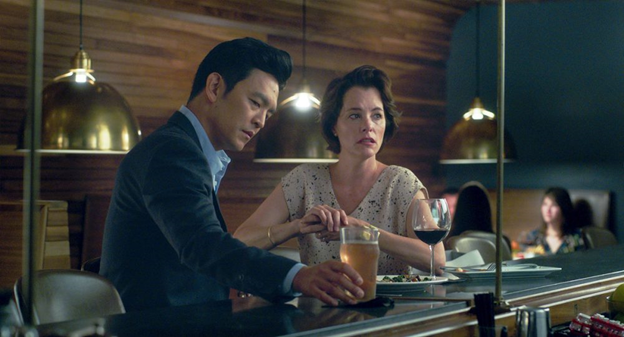 24. COLUMBUS
DIRECTOR: Koganada
GENRE: Drama
One of the most overlooked films of last year, Kogonada's COLUMBUS is a wonderful ode to Japanese director Yasujiro Ozu in both content and form. When his elderly father falls into a coma, Jin (John Cho) flies to Columbus, Indiana from Korea. While waiting for his father to get better, Jin begins a friendship with Casey (Haley Lu Richardson), a younger woman working in the local library. Columbus is famous for its modernist buildings and both Jin's father and Casey are fascinated with architecture. This recurring theme also plays perfectly with Kogonada's framing of static shots. Just as in Ozu's family dramas of the 1950s, there is no camera movement, which only makes Kogonada's debut all the more refreshing. More importantly, though, COLUMBUS is—at its core—about passion. Even if you have no interest in architecture, it is utterly fascinating to hear Casey describe her favorite buildings to Jin: her passion bleeds through the screen. Even though there are no flashy camera movements, no tense action scenes or heightened moments of drama, COLUMBUS is a film that moves you and keeps you engaged for every minute of its runtime. [Ethan Cartwright]
Read the full review here.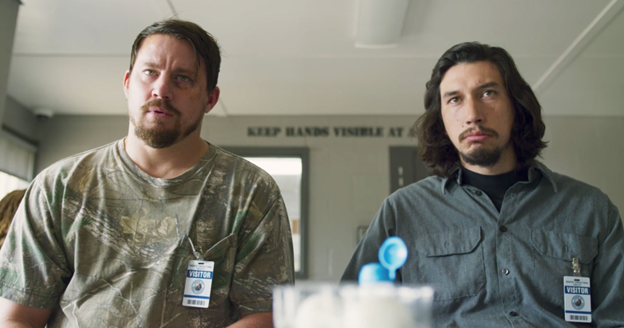 23. LOGAN LUCKY
DIRECTOR: Steven Soderbergh
GENRE: Comedy
LOGAN LUCKY is a unique package, wrapped around a formula perfected by Soderbergh himself. It's been cited as Ocean's 7-11, in that instead of George Clooney's perfect teeth and million-dollar smile we get an armless, redneck Adam Driver and a limping Channing Tatum. its characters are poorly educated, blue-collar people trying to strike rich and support their families. In this sense, taking the film as part of Soderbergh's oeuvre brings greater meaning to the film. In the era of Trump, the film seems to be Soderbergh's attempt to understand the other. Even if the characters are somewhat cartoonish, he is still able to humanize them. With no Hollywood polish, we are able to glimpse a world that the country deems unworthy of our attention—both politically and in media representation. This American subculture has lashed out within the past year, and LOGAN LUCKY dares you to forget about them. Also, bleach blonde hair Daniel Craig is fantastic in it and blows stuff up, so what are you really waiting for? [Sam Wall]
Read the full review here.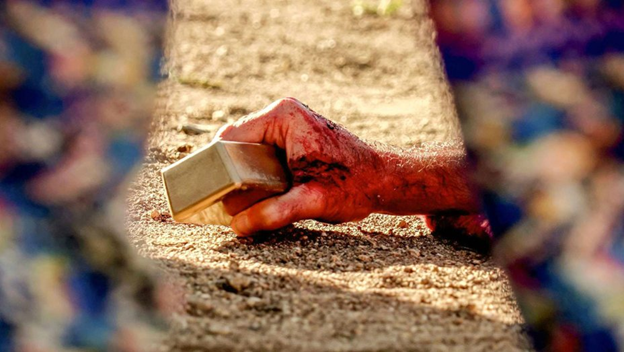 22. LET THE CORPSES TAN
DIRECTOR: Hélène Cattet and Bruno Forzani
GENRE: Action / Experimental
Get ready to be blinded by a ballet of bullets dipped in acid. French experimental filmmaking duo Hélène Cattet and Bruno Forzani give us a FREE FIRE-esque shootout through a heavily stylized new wave filter that would make Seijun Suzuki dizzy. It may seem like a feature-length action scene with barely a minute or two of breathing room, but it's definitely a ride worth taking. Following a nonlinear, time stamp-filled narrative about a single day's deadly quest for a stolen pile of gold, nearly every frame of LET THE CORPSES TAN surprises with visual glee. Playing like a round of TOM CLANCY'S RAINBOW SIX SIEGE on LSD, any angle, corner turn, or even reflection could mean life or death for our eccentric lady Luce ("light"), the estate owner, and the various armed thieves hiding in plain sight. Light itself plays just as big a role as guns and is presented with just as much hairpin precision. It's guaranteed to cause some audiences to perspire, if not throw in the towel out of exhaustion, but for those who thought Wheatley's and Tarantino's kills have been a little bland as of late, this one's for you. [Alexander Larios]
Read more in our AFI 2017 roundup here.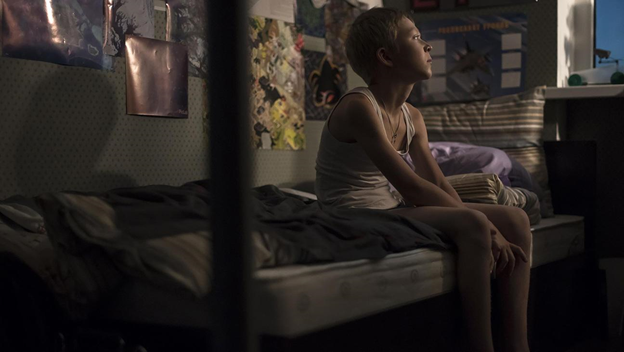 21. LOVELESS
DIRECTOR: Andrey Zvyagintsev
GENRE: Drama
All aboard Papa Ziggy's Russian train of pain. While the trolly's window is deceptively small as always, Andrey Zvyagintsev's latest provides a tight tapestry of the generational effects of self-absorption within these vital familial bonds. In the midst of an intense divorce, a husband and wife grapple with the sudden disappearance of their son, a boy that neither of them were particularly invested in retaining custody of. Moscow police, in finding nary a trace of the boy, provide no help, while a volunteer group, exhibiting more devotion than the boy's parents ever did, stick with the desperate search, painting a tragedy of astronomical proportions. Zvyagintsev's longtime cinematographer Mikhail Krichman beautifully captures the capital's icy trees as they comb every inch of snow, the tearful agony of these carefully-directed performances, as well as tastefully shot sex scenes draped in foreboding shadow. And complete with the Galperines' tense piano, LOVELESS haunts just as much as the other films in Zvyagintsev's audacious, brutal catalog. [Alexander Larios]
Read more in our AFI 2017 roundup here.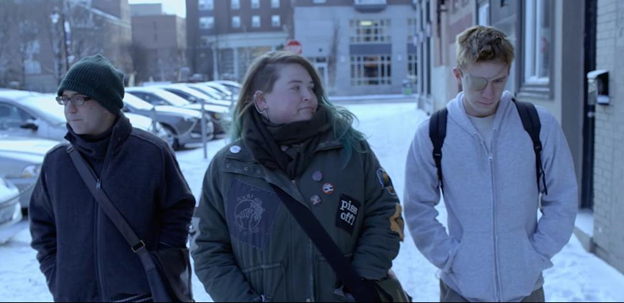 20. SOME FREAKS
DIRECTOR: Ian MacAllister McDonald
GENRE: Romance
The High School Story is an archetype as old as Hollywood, and it's been refreshing to see some alternate takes on the tropes associated with it turned in by such fare as THE EDGE OF SEVENTEEN. But for my money, none have done it quite so brutally honest and no-holds-barred as SOME FREAKS. High school sucked, but high schoolers suck even more, and Ian MacAllister McDonlad's debut makes sure to rub our faces in the fact that our heroes are just as deeply flawed and deplorable as those who pushed them into outsider status. Telling the story of Matt (Thomas Mann), a one-eyed loner who falls in love with the relentlessly bullied Jill (Lily Mae Harrington), what starts as a heartwarming story of finding shelter in the storm of adolescence turns into an emotional drudging as everyone's fatal flaws and vicious insecurities serve up a recipe for disaster. Nearly masochistic in its desire to make sure nobody gets off scot-free, SOME FREAKS is the rare film that offers little redemption for its victimized protagonists, showing that we're all someone else's bully and boogeyman. It left me openly crying in its finale, but those who grew up on John Hughes are long due for a rude awakening. [Thomas Seraydarian]
Read more in our Newport Beach Film Festival 2017 roundup here.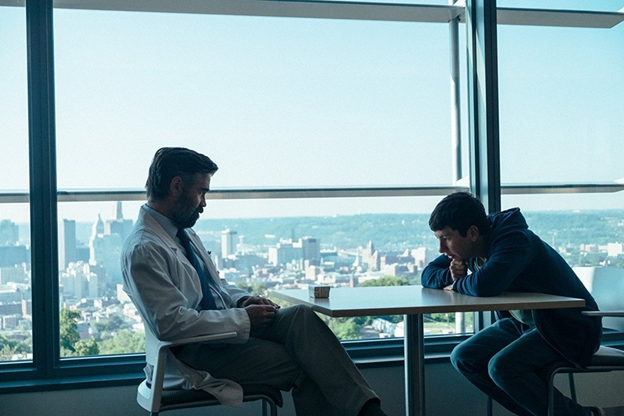 19. THE KILLING OF A SACRED DEER
DIRECTOR: Yorgos Lanthimos
GENRE: Drama
For how derivative it is of Kubrick and Haneke, Lanthimos's latest has enough ice in its veins to lay stake to a new pathway of guilt exploration by exploiting the crossroads of transgressive cinema and cringe comedy. What Lanthimos views as amusing is what keeps 97% of us awake at night, scratching at our scalps, biting our fingernails down to the raw ends. He's giggling the whole time while we sit with churned guts. Barry Keoghan's antagonist is a chilling performance derived from Heath Ledger's Joker as played by the spaghetti-chomping GUMMO kid. It's a phenomenal comedic performance in one of the bleakest and funniest dark comedies in recent memory. For a movie that opens on an intense close-up of an open-heart surgery, it's a miracle that SACRED DEER's fetish for grueling emotional torture never becomes glib. Instead, Lanthimos unveils the repressed evils of the elite and the malicious wishes of the economically oppressed—for all on display, the nuclear family is as formidable as a house of cards. Cherry-on-topped with one of the meanest, most absurd, most intense finales I've ever bore witness to, THE KILLING OF A SACRED DEER is EYES WIDE Oh Lord, What Is Happening. [Kevin Cookman]
Read the full review here.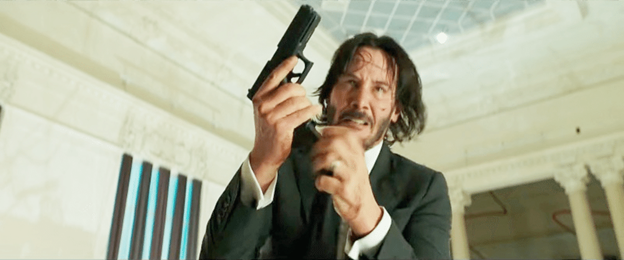 18. JOHN WICK: CHAPTER 2
DIRECTOR: Chad Stahelski
GENRE: Action
JOHN WICK: CHAPTER 2 starts off slow, taking almost 40 minutes for the inciting incident to rear its head. But once the ball finally gets rolling, it's nonstop carnage till the ride is over. Where the original JOHN WICK proved itself through brilliant moments of violence, CHAPTER 2 surfs a tidal wave of adrenaline for the duration of its runtime, refusing to let its foot off the gas for even a second. Much of this is thanks to our leading man's intensity and sheer kinetic dynamism. Keanu Reeves hasn't had many opportunities to flex his formidable action muscles in the years since THE MATRIX, so he dials it up to 15 here. Anyone who has witnessed the guy training for this film should immediately realize that Reeves is the most dedicated martial artist to come out of Hollywood. Not since THE RAID have I seen a theater come to life as much as during the rollicking gun-fu of CHAPTER 2. If you want to behold a mind-boggling bodycount built in the most bombastic manner possible, this is one ride you can't afford to miss. [Ed Dutcher]
Read the full review here.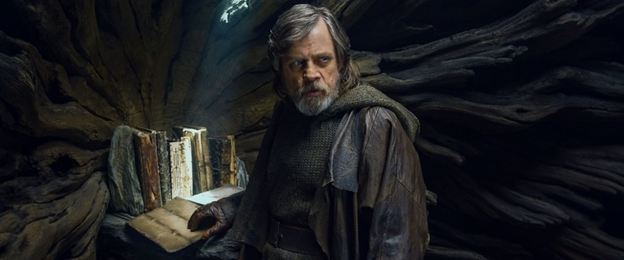 17. STAR WARS: THE LAST JEDI
DIRECTOR: Rian Johnson
GENRE: Sci-Fi / Fantasy
It's true that THE LAST JEDI only had to be "good enough" in order to be a success. Following an insipid spinoff and a reboot that was similarly hackneyed in retrospect, the bar was set low for the eighth numbered Star Wars film. It's almost unnecessary then that THE LAST JEDI leaps so far beyond anyone's expectations for a Disney Star Wars movie. Rian Johnson's take on the beloved franchise has been incredibly polarizing, meeting many series fans' criticisms of where it lies in the established canon. But no matter how you feel about its faithfulness to the universe, THE LAST JEDI is undeniably the most interesting interpretation of that galaxy far, far away that we've seen yet. Incredible action segments, jaw-dropping set pieces, and the most fully realized characters to ever pick up a lightsaber are all the proof you need that the Force is strong with this one. With the franchise moving back into JJ Abrams's hands for Episode IX, time will tell if this brave new trajectory sticks, but here's hoping that future installments share THE LAST JEDI's pervading enthusiasm and intrepid spirit. [Ed Dutcher]
Read the full review here.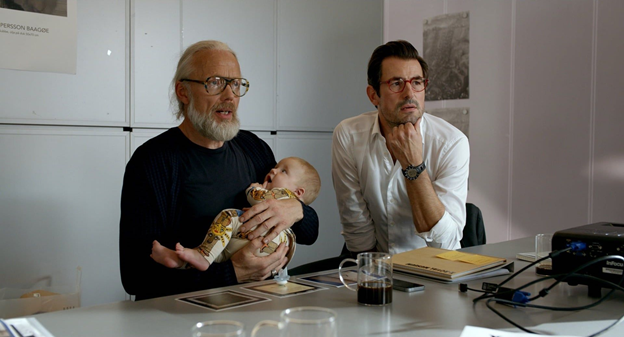 16. THE SQUARE
DIRECTOR: Ruben Östlund
GENRE: Comedy
"The Square is a sanctuary of trust and caring. Within it we all share equal rights and obligations." As is the theatre screen. Our right is to make ourselves comfortable, and our obligation is to remain quiet with respect for the filmmaker. Cinema is the church of the 21st century, an analogy that at this point has been said eloquently enough in CINEMA PARADISO and THE LONG DAY CLOSES. But Ruben Östlund has something else in mind. His concern does not lie with the public's ceremonial migration to the movie theatre, but with the act of their spectatorship. As voyeurs, we must decide when something is art. It's a distinction that only begins to take shape through the actualization of the film's world. The more we believe in the square (read: the silver screen), the more layers of artifice we can project upon it. THE SQUARE is a satire of the pretentious, positing that a squabble over a used condom is just as avant-garde as a pile of rocks seated inside the museum of contemporary art. This winning the Palme D'or is honestly the most rejuvenating moment of 2017: a glorious middle-finger delivered with a big, fat grin. [Sergio Zaciu]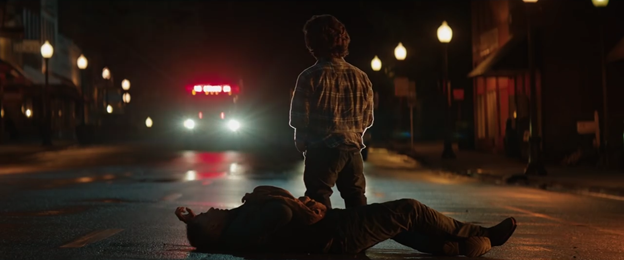 15. THREE BILLBOARDS OUTSIDE EBBING, MISSOURI
DIRECTOR: Martin McDonagh
GENRE: Drama / Crime
I can't begin to describe how enthralled I am that Martin McDonagh didn't let me down with his 2017 outing, THREE BILLBOARDS OUTSIDE EBBING, MISSOURI. It's wonderfully compassionate to its disastrously flawed ensemble, and controls its tone with an incredible precision. The fact of the matter is that McDonagh's film isn't necessarily funny, it's just incredibly charming. Frankly, that's its most important asset: rendering much of its deeply disturbing melodrama into something far more digestible. It's absolutely brilliant in its construction, and pays off virtually everything it sets up. Yes, the skill of McDonagh's ensemble really carries much of this film, but the addition of Carter Burwell's outstanding score (FARGO sends its regards), Ben Davis's reserved, but exceptional, cinematography, and a career-high performance from Frances McDormand really elevate the profundity of each performance. Sure, it might not be on par with IN BRUGES as a work of sheer wit, but its political relevance certainly elevates it to a point that will grant it a much longer shelf life. [Sergio Zaciu]
Read the full review here.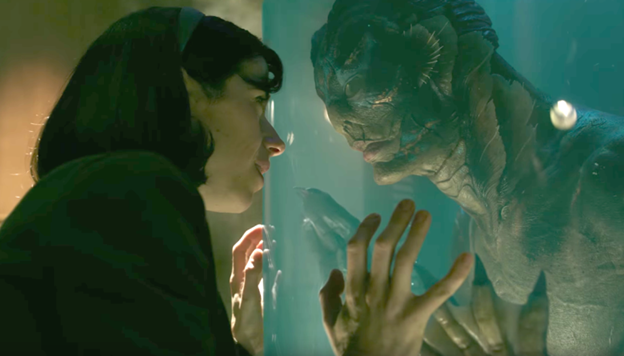 14. THE SHAPE OF WATER
DIRECTOR: Guillermo Del Toro
GENRE: Romance / Fantasy
Uniquely combining a monster movie and Cold War heist film is no simple task, but leave it to veteran gothic nerd Guillermo Del Toro to deliver on that promise. Few directors truly deserve recognition for a feat of such challenging tone and execution. Drawing upon the darkly-shrouded playfulness of PAN'S LABYRINTH, THE SHAPE OF WATER proves to be Del Toro's return to form. Lead actress Sally Hawkins shines as the film's star in both her performance and role in the story, but Richard Jenkins is able to flex his acting muscles and Michael Shannon scares the living bejesus out of us per usual. It's nice to see that a filmmaker is willing to continually prove his role as an auteur within the studio system and create something poignant and unique. Del Toro consistently brings monsters into his films contrasting with the idea that often the real horrors of life are hate and systemic oppression. The film asks the audience to let others love who they wish, while remaining flexible and forgiving, or else we all may become the hardened antagonists that populate the film's darkest corners. [Sam Wall]
Read the full review here.
13. THE MEYEROWITZ STORIES (NEW AND SELECTED)
DIRECTOR: Noah Baumbach
GENRE: Comedy
Well, Adam Sandler made me cry again. It happens about every five years, with the help of a revered filmmaker, and boy is it exciting each time. This past year, he did so with Noah Baumbach. THE MEYEROWITZ STORIES (NEW AND SELECTED) is Baumbach in his home court, telling stories of broken families trying to pick up the pieces and assess the damage. Though it's familiar territory, this is also Baumbach at the absolute top of his game, bringing some of the funniest, and saddest, material he's ever generated. Armed with the likes of Sandler, Ben Stiller, Dustin Hoffman, and Elizabeth Marvel, Baumbach dishes out his traditional brand of pain with potency, but follows it up with a newfound level of empathy he's been exercising for the past couple of films. Ever since GREENBERG, he's become more and more caring of his protagonists, and the incredible strength of his ensemble proves to be some of their best work yet. The warmth of this film after all the humanity and hurt it explores might just be Sandler and Baumbach's respective masterpieces. [Rocky Pajarito]
Read the full review here.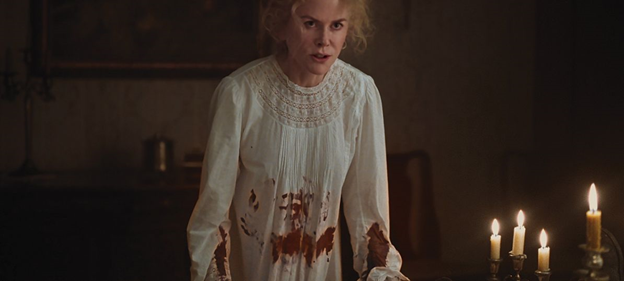 12. THE BEGUILED
DIRECTOR: Sofia Coppola
GENRE: Drama
Criminally underrated, upon rewatching THE BEGUILED I'm honestly flabbergasted as to how this seemingly flew under everyone's radar. As a Sofia Coppola stan I may be a tad biased, but her sixth full-length sees her in top form, turning in a lean, moody-as-all-Hell period piece that builds to a devastating climax. Effectively subverting some of the queasy gaze of the 1971 original, THE BEGUILED is a yonic tour de force, strongly establishing the core cast of women as characters of agency and power and making it clear that Colin Farrell's errant Union soldier is a plaything of desire and fantasy dancing at the end of a string. But what's most impressive is just how much unrequited lust Coppola is able to cram into nearly every frame, a feverish, frothing slow build that continually teases both the players and the audience, practically having us beg for consummation. Until the script is immediately and violently flipped, that is, with a third act that becomes as dark and brooding as the rest of the film was pensively sexual. Subtle and understated while still entirely engrossing, you're well past the due date for sleeping on this one. [Thomas Seraydarian]
Read the full review here.
11. LOGAN
DIRECTOR: James Mangold
GENRE: Action / Fantasy
Just when you thought Fox couldn't possibly squeeze out another Wolverine movie, they did exactly that. Out of the clear blue sky, LOGAN struck like a bolt of lightning summoned by Storm. A mature and wholesome conclusion to the many decades of Wolverine's life, the most extraordinary thing about LOGAN is the clawed hero's growth into something he could never have seen himself becoming: a caregiver and a father. Somehow, the care for the ailing Professor X ends up in the hands of the same man that Logan told to "go fuck himself," the same man who resisted joining the X-Men so vehemently. But now, Wolverine is more X-Man than anybody else alive, and his change is absolutely complete. As the remainders of the once-mighty X-Men fade away, it seems there is nothing and no one for Logan until he finds out about Laura, a mutant created artificially as a weapon with a sample of Logan's DNA. Logan finds a daughter in Laura and sacrifices himself for her. In a tear-jerking all-timer for superhero fiction, Hugh Jackman not only gets the send-off his character so rightly deserved, but one of the most memorable closing shots in cinematic history. [Nicole Barraza Keim]
Read the full review here.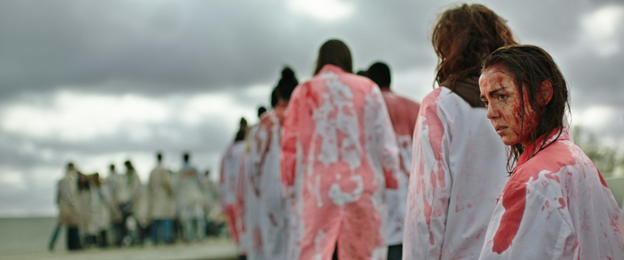 10. RAW
DIRECTOR: Julia Ducournau
GENRE: Horror
What a banner year for minority horror! In fact, I probably never need to see horror as crafted by white men again. RAW is serving you GINGER SNAPS, THE CRAFT, and IT FOLLOWS vibes, but a fair bit sicker. Directed by Julia Ducournau, the film follows Justine as she explores her carnal desires while enrolled in veterinary school. Besides making audiences faint in the face of intense gore, Ducournau so aptly captures the awkwardness of starting a new school as the Cool Girl's younger sister and the pressure to push one's boundaries. Garance Marillier fully inhabits the role of Justine, particularly well displayed in the sickeningly mesmerizing love scene with her roommate. At its core, RAW is a coming-of-age tale that highlights the ups and downs of sisterly love—there just so happens to be a lot of flesh-eating. Ducournau approaches Justine with such tenderness that you can't help but hope that everything turns out okay for her, and while the end of the film leaves you with the certainty that no, things probably won't be okay, there's a twisted part of you that can't help but feel excited by the kinship she's found. [Aya Lehman]
Read the full review here.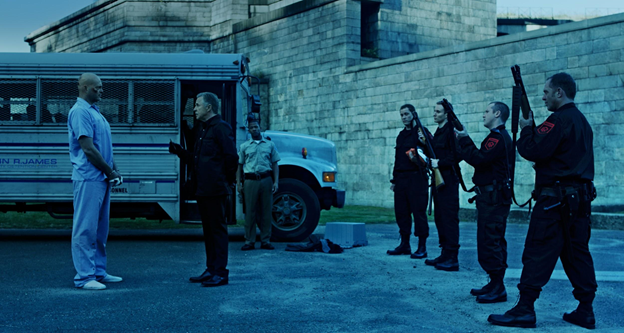 9. BRAWL IN CELL BLOCK 99
DIRECTOR: S. Craig Zahler
GENRE: Crime / Thriller
The binary nature of the idiom "brains versus brawn" suggests that both qualities cannot exist together, when time and again overwhelming force has proven to be the most pragmatic solution to any conflict. BRAWL IN CELL BLOCK 99 is the least elegant film I've seen in years, but I'll be damned if it isn't brutally effective at achieving its goals. Like lead actor Vince Vaughn himself, BRAWL is big and doesn't fuck around, each shot delivering its message like a hammer to the head. The simple tale of a wronged man seeking revenge takes over two hours to tell, but this has nothing to do with clumsiness and everything to do with sadistic pleasure. Excruciatingly, BRAWL twists the screws so far past the point of breaking that when it finally relents, the ensuing orgy of bloodshed provides a release that you will never forget. Driven by stark photography and a terrifying central performance, BRAWL not only marks Vaughn's well-deserved graduation to "tough guy," but serves as a transgressive exemplar of the grindhouse genre the likes of which hasn't been seen since THE TEXAS CHAIN SAW MASSACRE. [Ed Dutcher]
Read the full review here.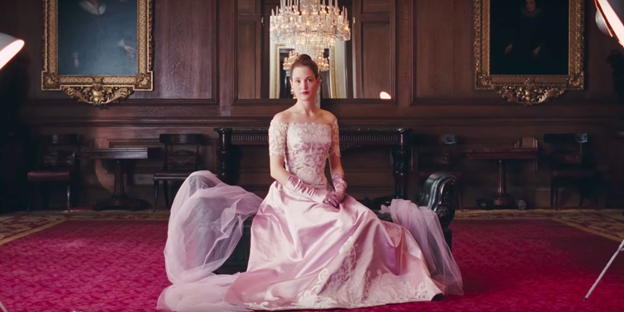 8. PHANTOM THREAD
DIRECTOR: Paul Thomas Anderson
GENRE: Romance
Painted as a classic, gothic romance, Paul Thomas Anderson's newest film slowly veers away from just masterful docu-specific observations on 1950s dressmaking and becomes a comedy of manners with intense observations on being in love. If PUNCH-DRUNK LOVE is an anxiety-ridden "before" picture of the sensation, PHANTOM THREAD is a prickly chokehold of an "after" image. Practically co-directed by Jonny Greenwood's immediately legendary score, PHANTOM THREAD effortlessly blends romance with dread and an esoteric sense of humor. This ride of a film finds its power in the faces of Daniel-Day Lewis, Lesley Manville, and the deeply underrated Vicky Krieps. This trio of performances not only brings the heat through biting dialogue, but they carry moments of silence into poetic staring contests, full of gorgeous visual riddles to crack. A well-dressed, subtextual battle of relationship wills becomes a visceral roller coaster that ends in the strangest positive spin on the absurdities of "being in love," highlighting the joys, nightmares, and indiscernible combinations of the two. PHANTOM THREAD is proof that Anderson is still at the top of his game, and is not only improving, but gaining more interesting perspective. [Rocky Pajarito]
Read the full review here.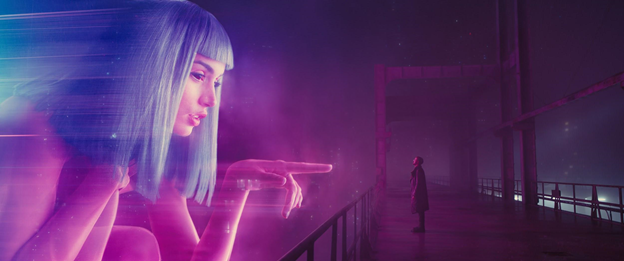 7. BLADE RUNNER 2049
DIRECTOR: Denis Villeneuve
GENRE: Sci-Fi
I want to be clear that I've never been one for self-serious hyperbole. That said, BLADE RUNNER 2049 is a triumph of human achievement, one which will stand alongside the original BLADE RUNNER, AKIRA, 2001: A SPACE ODYSSEY, SOLARIS, and METROPOLIS as one of the greatest science fiction films of all time. I stand by both of these claims. But, to rein it back in a bit, BLADE RUNNER 2049 is a mesmeric, heartbreakingly beautiful film that—far from being merely a visual, auditory, and technical tour de force—is imbued with a greater, certain intangible profundity. It is awesome, in the true, original sense of the word. Indeed, a full appreciation of it may only be possible through not just a working knowledge of the 1982 film and Philip K. Dick and his body of work, but also of the Bible, Gnosticism, Nabokov, and Freud as well. What may or may not be absent here from the original film that sent some critics into a tizzy is more than made up for by Hampton Fancher's brilliant nesting doll of a script. And Denis Villeneuve, having once again proven himself as one of today's leading visionaries, may have just carved himself out a spot beside Tarkovsky. [Joseph Simpson]
Read the full review here.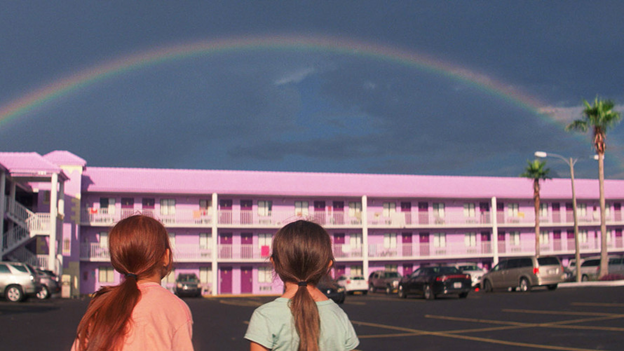 6. THE FLORIDA PROJECT
DIRECTOR: Sean Baker
GENRE: Drama
We live in an absolutely despicable gilded age, one that creates abominable wealth and unconscionable poverty. Sean Baker has a seemingly unique ability to depict extreme poverty in a way few American directors can; not with a condescending sense of pity, but with humor, grace, and most importantly, dignity. THE FLORIDA PROJECT may show us characters who rarely get the spotlight, but under Baker's careful eye, everyone involved in this picture gets a chance to absolutely shine. In particular, Brooklynn Prince and Bria Vinaite prove themselves to both be breakout stars; hopefully they'll both become household names within the next couple of years. Baker never has to force his characters to deliver awkward monologues about inequality in order to make his point painfully clear: there is no reason for anyone to live like the characters in THE FLORIDA PROJECT are forced to live. We have the means to take care of these people, we simply choose not to. Yet, despite this fundamental cruelty at the heart of American culture, we're left with an odd feeling of hope, that the more decent, joyful, tenacious angels of our nature will win out in the end. There is something brighter, just at the other end of the rainbow. [Carter Moon]
Read the full review here.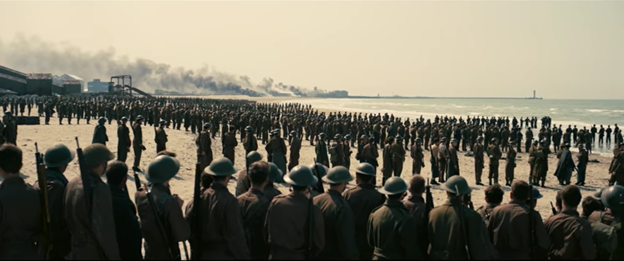 5. DUNKIRK
DIRECTOR: Christopher Nolan
GENRE: War Drama / Action
Easily the pinnacle of director Christopher Nolan's career, a resumé that includes some of mainstream cinema's most testy epics and a fan base more insufferable than Star Wars', DUNKIRK is the soaring filmmaking of Lean and Griffith truncated into a razor-sharp 109-minute feature. Absolutely invigorating, Nolan and Hoyte Van Hoytema capture a stunning sense of perspective and scale. No other film from 2017 wears its geography, its textures, its weight and its sonics like well-worn boots as this does; Nolan has somehow delivered a film from 1915, 1952, 1979, 2017, and 2044. DUNKIRK is the work of a truly masterclass auteur trimming the fat of his faulty pictures, namely the delusional insistence that paper-thin caricatures can carry the emotional core of plotty, mechanical, process-heavy narratives. The man can't do characters well, so he throws them to the wind. The tides of war pummel in and wade out. Soldiers as meat-sacks lined up along beaches, ships, and trains awaiting their re-packaging as war heroes—the sole reward for a tour of trauma, this artificial redemption for a campaign of carnage. [Kevin Cookman]
Read the full review here.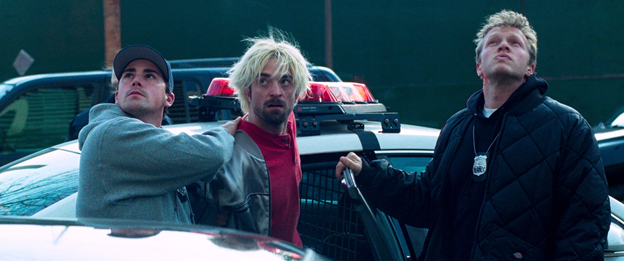 4. GOOD TIME
DIRECTOR: Josh and Benny Safdie
GENRE: Drama
For an electrifying barn burner, what sticks out most in GOOD TIME is the emotional juxtaposition of its patented kinetic energy. Josh and Benny Safdie have proven marvelous as new wave filmmakers with firecracker agility, having made some of the most confoundingly thrilling set-pieces of recent film history. Buddy Duress's (a standout performance) flashback sequence is sure to go down as legend. But what makes the film tick is the surreal romanticism in its core relationship—an inherently toxic one. The film knows this, and weaves a twisted web of subversion and complicated sympathies. GOOD TIME simultaneously directs its focus upon the livelihood of the disenfranchised, whilst showing someone sickly gaming the trust of others, despite the honor of his misguided intentions. It succeeds when tied up by Robert Pattinson and Benny Safdie's dynamic performances, laden with otherworldly charisma and heart-shattering humanity. Topped off with a classic score from Oneohtrix Point Never, GOOD TIME is a staggering roller coaster through the messiness of life, lost in the chaos of it all, hoping for the best at all costs. [Rocky Pajarito]
Read the full review here.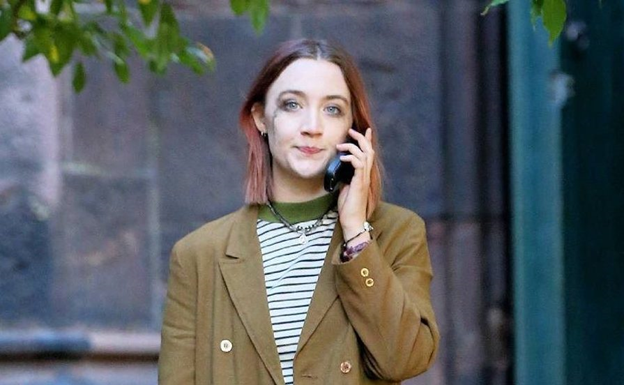 3. LADY BIRD
DIRECTOR: Greta Gerwig
GENRE: Comedy
My usual response to anything reminding me of what a piece of shit I was in high school is to hole up in my room and watch THE GREAT BRITISH BAKING SHOW for 10 hours. LADY BIRD, on the other hand, is so tender and true in its portrayal of teen girlhood that it evaded my flight response and soared to the top of my year-end list. Gerwig's coming of age tale mysteriously captures a level of specificity that had me wondering if she assimilated into the student body of JSerra Catholic High School and made this movie deliberately about me and my friends. My high school sweetheart played Jack in our school's production of "Into the Woods," and when Lady Bird falls in love with her beau to his rendition of "Giants in the Sky," I felt a sensation I can only describe as my soul leaving my body. I've never seen a film capture the delicate dance of conversation and argument that confounds anyone who's ever heard me talk to my mother. And yet, if you've heard one thing about LADY BIRD this year, it's how #relatable it is to everyone. It perfectly distills the most vital moments of adolescence in a way that feels downright magical. See it with your best friend, see it with your mom, or see it alone. However you see it, LADY BIRD is a triumph of storytelling and deserves every accolade it gets. [Kate Brogden]
Read the full review here.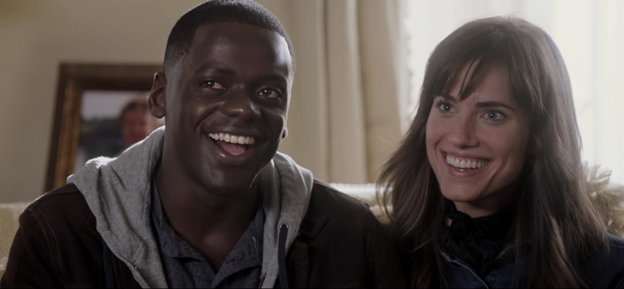 2. GET OUT
DIRECTOR: Jordan Peele
GENRE: Horror
In an incredible directorial debut for Jordan Peele, GET OUT finds itself in the unique position of being both thoroughly enjoyable, intelligently made, and strikingly relevant. It is exciting for so many reasons, but even more so because it represents a new perspective in American cinema—not to mention the horror genre at large. Naturally, its box office success has been a large topic of conversation—a refreshing change of pace from the genre's recent trend of micro-budget filmmaking towards a healthier mid-range indie budget a la THE WITCH— but the film's messages of systemic racism, oppression, and stereotypes yell even louder. Clearly the horrific and violent scenarios in the film are taken to extremes, but they stick with us because of their more subtle iterations which continue to permeate society. GET OUT rips off the loose band-aids society has slowly applied to discrimination and race relations and remains one of the year's best horror movies. Most of us aren't the protagonist and we should consider how to change that. Watch and re-watch this film, because GET OUT will be relevant for years to come. [Sam Wall]
Read the full review here.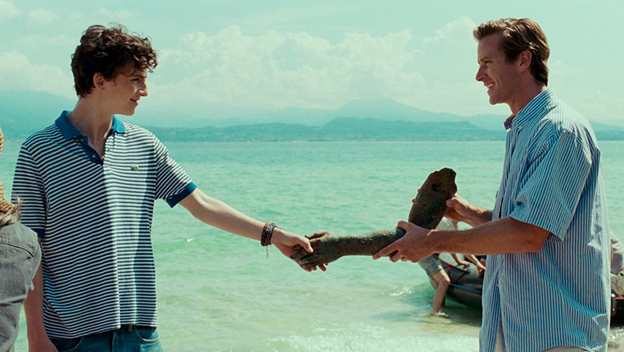 1. CALL ME BY YOUR NAME
DIRECTOR: Luca Guadagnino
GENRE: Romance
There's an absurdly fun and under-discussed scene about halfway through Luca Guadagnino's Hellenistic masterpiece, CALL ME BY YOUR NAME, in which an over-the-top Italian couple joins the central family for dinner and one of the guests proclaims: "Film is a mirror of reality and it is a filter." The beauty of CALL ME BY YOUR NAME is that it's not real—it's too beautiful, too lilting, too easy. It's a glorified memory, based in reality but not quite. But what exists of that reality is overwhelming: every scene drips with feeling—peach trees, the river, soft-boiled eggs, piano playing quietly from another room, the fireplace—it's so saturated and warm and welcoming you feel like you're right there, sitting next to your dad, Michael Stuhlbarg, and he's telling you you're going to be okay. Each shot composed like a fête galante painting with metaphors lining every inch of the screen. CALL ME BY YOUR NAME is a nuanced, moving film that's all sentiment without the weight of sentimentality; but the triumph is what it leaves you with. After I took my mom, she wrapped her arm around me and said, "That was so beautiful." So I guess it left me with my own Stuhlbarg moment—what more could I ask for? [Aya Lehman]
Read the full review here.