ADORE LIFE by Savages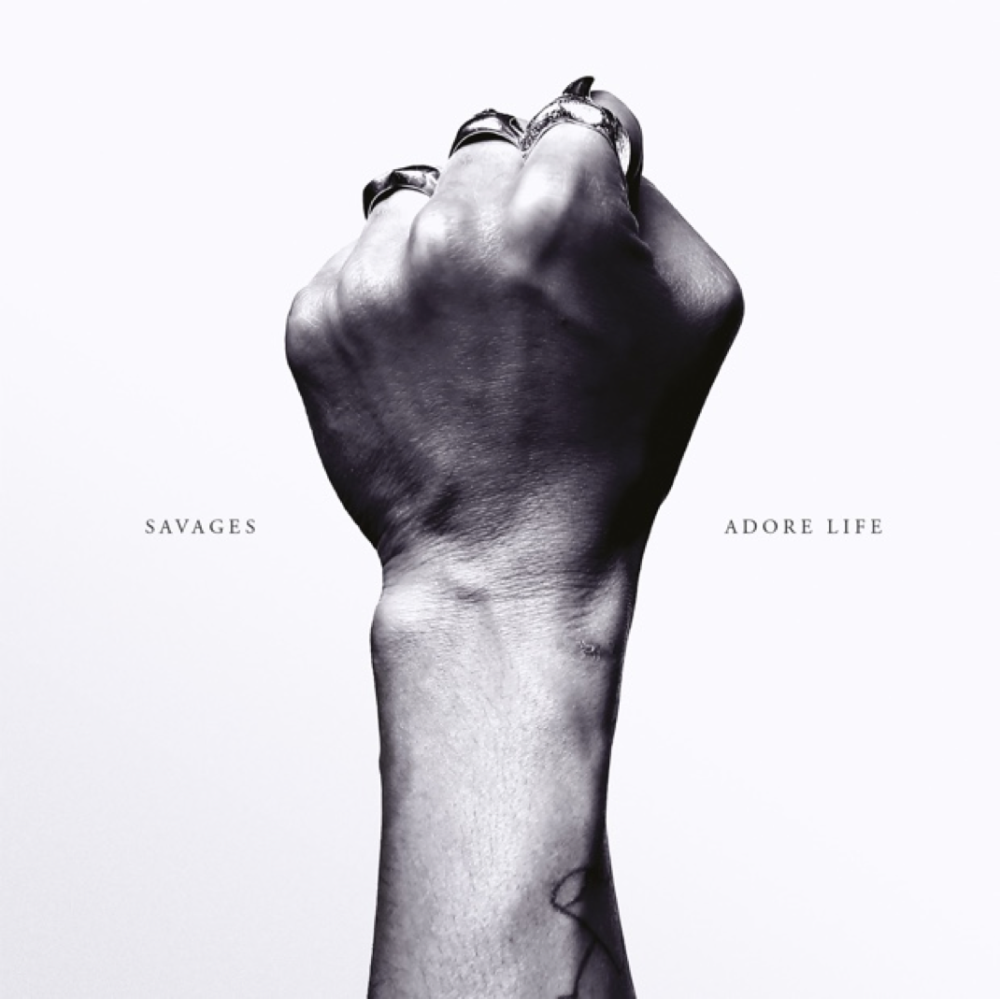 Genre: Post-Punk
Favorite Tracks: "Sad Person," "Adore," "T.I.W.Y.G."
"Is it human to adore life?" frontwoman Jehnny Beth croons on the slow-burning track "Adore." The potency of the question stupefies. The self-doubt, the insurgent pressure to withstand the test of time, the desire to extract great pleasure in our prosaic routines all lacerate at Jehnny Beth's (rhetorical?) mantra. The all-female outfit hailing from London captures the essence of post-punk: cynicism coated with bona fide zealousness. "Adore" is fastened in the core of Savages' sophomore album ADORE LIFE, an austere assemblage of searing ballads and adrenalized torch songs.
Parading a raucous combo of the siren-esque vocal stylings of SIOUXSIE AND THE BANSHEES stomped on by sheer post-punk brutality reminiscent of SWANS and SUICIDE, Savages surfaced in 2013 wired to their spell-binding premiere album SILENCE YOURSELF. The album was instantly praised for its well-oiled assemblage of tunes that grooved at an adrenaline-pumped velocity, paired with Jehnny Beth's diverging ballads that broke down patriarchy and glorified sexual dominion.
It's a tough act to follow, but ADORE LIFE succeeds in paying no attention to emulating a previous esteem and chooses to tap into the listener's emotional intelligence via biting lyrics, slow-release tempos, and erupting feedback. While a portion of the album floats on hookless bits of sinister, yet hackneyed tracks, ADORE LIFE's best moments ooze with spiky, captivating tenderness.
The obliterating opening track "The Answer" is a soulful outbreak of romantic frenzy: "There are things I know we should/Better not do but I know you could/Sleep with me/And we'd still be friends/Or I know/I'll go insane." Guitarist Gemma Thompson hammers a raucous riff as Jehnny Beth begs for an urgent release from her self-abstention and neurosis. Love is the all-consuming force, it is determined, a ferocious answer to toxic self-doubt and hesitation: "What is the point/To cry for life/To cry about love/To wait for her/To wait for dying/I can't wait/I saw the answer."
The bruising track "Sad Person" investigates dissolution and its effect on desire: "I am, I am/A sad, sad person…I wanna know why I hesitate/To brace myself and love you/To brace myself a good, good, girl/To face myself and hear me roar." One of the quicker-paced tracks on the album, "Sad Person"'s fear mongering hooks coax the listener to seek confidence under the threat of self-masochism. Savages' knack for post-punk derision succeeds in building a constructive message from melodious destruction.
"T.I.W.Y.G" is ADORE LIFE's kicker and reassures the listener that Savages remain as uncompromising as their debut. Perilous romanticism is enhanced with Fay Milton's frenzied drumming and bassist Ayse Hassan's domineering maneuvers. Savages offer their final musings on love in they way they do best; loud, keen, and coarse: "This is what you get when you mess with love/A morning in darkness, the eyes of the dawn/Suffering, straight from the gods/No medicine, no drugs."
It's with Savages' brazenness that births humanity. ADORE LIFE realizes the importance of life through an outlet of unwavering punk fury.
Verdict: Recommend