90th Academy Award Predictions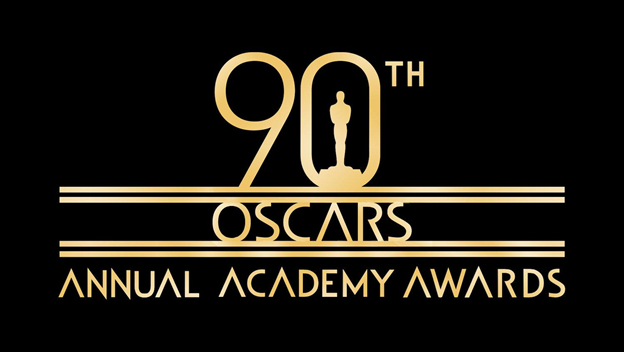 Tomorrow the Academy of Motion Picture Arts & Sciences will be unveiling the nominees for the 90th Academy Awards. In the wake of last year's notorious LA LA LAND–MOONLIGHT mix-up, Hollywood seems more shaken up than ever. From a Trump presidency to the barrage of sexual misconduct allegations in the entertainment industry, filmmaking is poised for an upheaval. Though 2017 never reached the cinematic heights of the two years prior, this year boasted more aggressive experimentation than ever before. Directors stepped out of their comfort zones, studios entrusted filmmakers with original IPs, and even remakes/sequels dared to push the limits of the status quo. From Luc Besson's wacko space opera, VALERIAN, to Steven Soderbergh's LOGAN LUCKY, we saw filmmakers take star-studded capers into their own hands. Meanwhile, the likes of Greta Gerwig's LADY BIRD and Jordan Peele's GET OUT contributed to the growing diversity of Hollywood's output. Edgar Wright and Gore Verbinski gave us BABY DRIVER and A CURE FOR WELLNESS, respectively, and James Mangold and Rian Johnson redefined the possibilities of the tentpole genre with LOGAN and STAR WARS: THE LAST JEDI.
So without further ado (IN NO PARTICULAR ORDER), here are Crossfader's predictions for the likely nominees and some we personally believe deserve those nominations as well (or instead).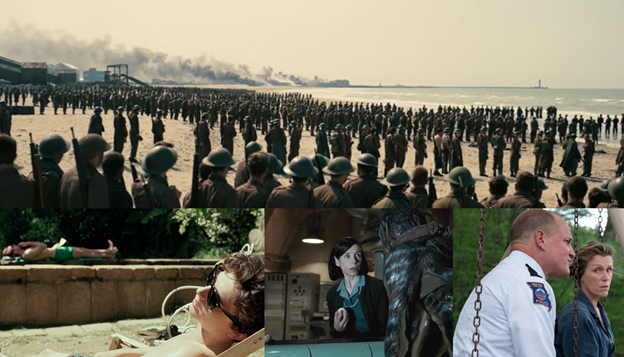 WHAT CROSSFADER BELIEVES WILL BE ACADEMY FAVORITES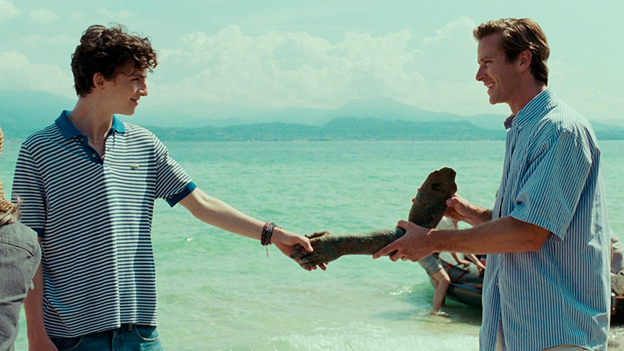 CALL ME BY YOUR NAME
In our post-MOONLIGHT world, LGBT cinema seems to be gaining far more traction within circles of the Academy that had previously been a little conservative. What's more, CALL ME BY YOUR NAME does register as somewhat of a "safe" LGBT film, what with its two handsome white, male leads basking in the sun of the Italian countryside. It's an objectively gorgeous film, and one that isn't out to tell a story of high drama—there's no brutal coming out story here, no rejection from family, no Jake-Gyllenhaal-getting-murdered-by-bigots. But that's also very much the point. CALL ME BY YOUR NAME is a utopian gay romance, one that posits the merits of living in a society free of shame and discrimination. Lead actors Armie Hammer and Timothée Chalamet are absolutely outstanding in their respective roles, and Luca Guadagnino's ravishing camera direction lends a depth and beauty that will surely be noted by the Academy. Fingers crossed Michael Stuhlbarg lands a nomination too—arguably the best actor of the bunch. Read the full review here.
THE SHAPE OF WATER
Perhaps 2017's most unique quality is that we don't have a technological titan leading the Oscar race. There is no GRAVITY, AVATAR, or MAD MAX: FURY ROAD that we can bet most of our chips on—hell, there isn't even really a LA LA LAND. The closest thing we have is Guillermo del Toro's THE SHAPE OF WATER: a quirky, abject love story about a mute woman's infatuation with a monstrous amphibian. While this year certainly gave us the likes of DUNKIRK and BLADE RUNNER 2049, neither boasted central performances that could carry them to landing any best actor/actress nominations. Sally Hawkins, however, is a virtual shoe-in for best actress. Though the category is particularly strong this year—from I, TONYA's Margot Robbie to LADY BIRD's Saoirse Ronan—Hawkins remains the only performer to be playing right into the Academy's hands. It's a delicate, mute performance: textbook screen acting. With the added clout of del Toro's ravishing creature design and the film's profound "love trumps hate" messaging, it seems like a no-brainer that THE SHAPE OF WATER is this year's Academy frontrunner. Read the full review here.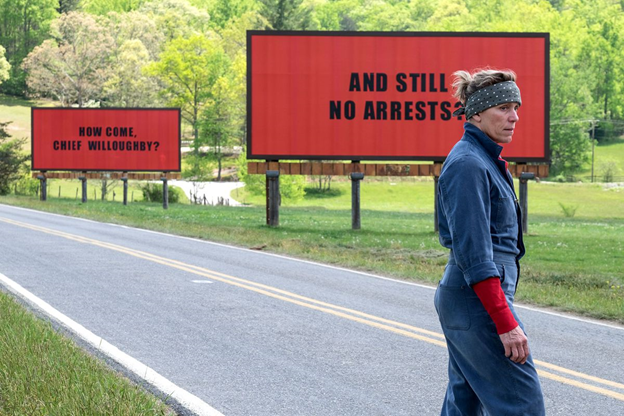 THREE BILLBOARDS OUTSIDE EBBING, MISSOURI
It really was only a matter of time before Martin McDonagh would attain the venerable status of Academy Award nominee, and with the undeniable screenwriting chops on display in his latest feature, THREE BILLBOARDS OUTSIDE EBBING, MISSOURI, he may just become an Academy Award winner. It seems to be that everyone has their own personal take on McDonagh's catalogue. Many still fanboy over IN BRUGES as the man's greatest accomplishment, some odd ducklings push for the merits of SEVEN PSYCHOPATHS, and a resolute group of die-hard fanatics refuse to even acknowledge his cinematic outings, lauding his theatre work instead. Whatever the case may be, McDonagh has finally cracked the code for the American public, creating a timely portrait for a divided, 21st century United States. Although his latest picture seems to have left slightly polarizing opinions with his committed fanbase, THREE BILLBOARDS OUTSIDE EBBING, MISSOURI seems poised for inevitable screenwriting, acting, directing, and picture nominations. Read the full review here.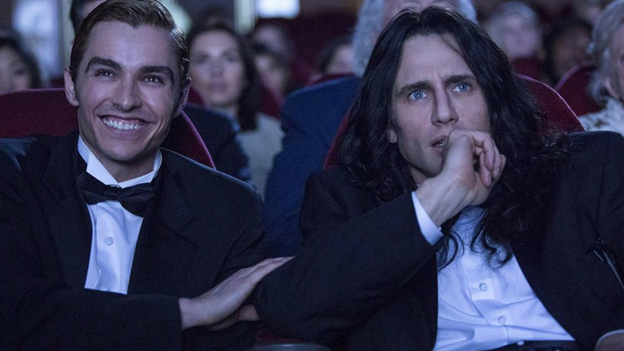 THE DISASTER ARTIST
It's rather fascinating that A24 pulled its first Best Picture win last year with MOONLIGHT, only to follow it up with something the likes of THE DISASTER ARTIST. Though the indie titan pumped out countless critical darlings this year, James Franco's latest directorial outing seems to fit squarely in the Academy's template; which is odd, because A24 always felt like the last company that would ape the sentimental, romantic pigeonholing that got Damien Chazelle's LA LA LAND to the Oscars. All that is to say, yes, A24 had MOONLIGHT beat LA LA LAND only for them to release a film that uses the latter's catchphrase. THE DISASTER ARTIST is a film for dreamers, yada yada, you can fill in the blanks yourself. It's really no secret that this is among A24's weakest Academy frontrunners in years, but Franco's dedicated performance and Tommy Wiseau's cult status might just take them all the way. For what it's worth, consider that this year might actually boast an Oscar ceremony where a comedian's impersonation of a wackjob enigma beats out a tried and true thespian the likes of Daniel Day-Lewis for an Academy Award. Read the full review here.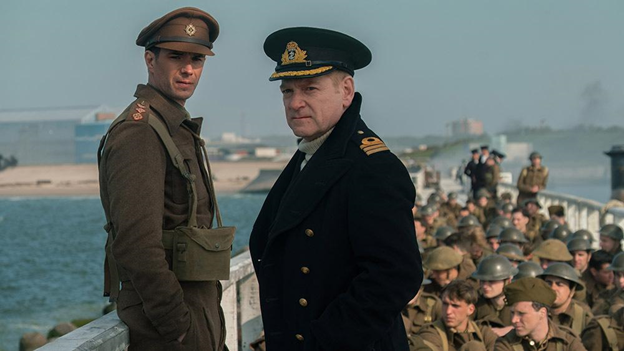 DUNKIRK
As I've said innumerable time by now, 2017 was a banner year for daring cinematic exercises. Few were quite as lavish as Christopher Nolan's DUNKIRK, a film that may go down as Hollywood's most expensive experimental film. A brilliant showcase of a director learning from past mistakes, adapting, and reconfiguring his narrative in order to create a commendable, populist war film in the wake of post-Brexit England, DUNKIRK is perhaps Europe's most important political march of solidarity. It is a reminder to hold sacred what our ancestors fought to uphold, and to maintain unity when fascism is at our doorstep. It's a film that opts out of singular heroism in favor of group efforts, all ideas that were initially set into place by George Miller with MAD MAX: FURY ROAD. Nolan crystallized these thoughts into something far more organic, and Rian Johnson had the courage to apply them to tentpole franchising with STAR WARS: THE LAST JEDI. The era of heroes and villains is over, and DUNKIRK may go down in cinematic history as the trailblazer of this movement. Though it doesn't boast any central performances that can guarantee actor nominations (and in turn, a Best Picture win), it most certainly will be front and center in the directing and tech categories. Read the full review here.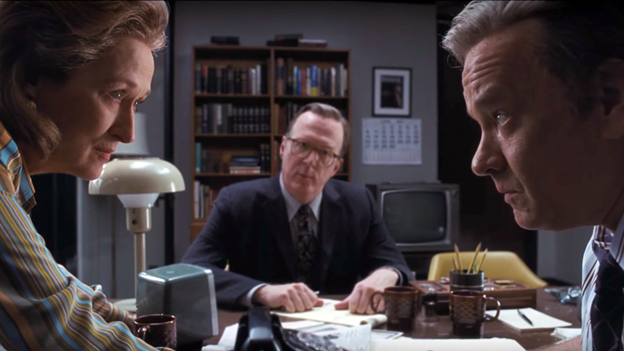 THE POST
Steven Spielberg has become the Academy's inevitable staple nominee. As long as the man touches something remotely political, he finds his way into a handful of nominations. So it goes without saying that a pairing of Spielberg and Meryl Streep is a recipe for Academy attention. Which is a shame, because THE POST registers as a film undeserving of such high praise. In an era where our journalistic institutions are constantly under attack, THE POST uses the story of the Pentagon Papers as a means of forming a query on journalistic—and ethical—responsibility. It's a film that will register with countless Academy members, especially when considering the demographics that control the voting process. All that is to say that THE POST is admittedly an old person's dissertation on journalism, using events from the Vietnam war to form parables for today. It's well intentioned, but rather flat: a film that champions the freedom of the press but doesn't actually showcase the complexities of field reporting. For a film released in the wake of SPOTLIGHT's win a few years ago, THE POST is likely to land some nominations, though it probably won't take home any major statues. Read the full review here.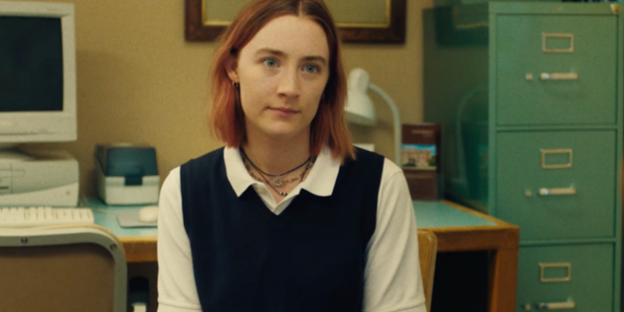 LADY BIRD
I'm going to say it: there's a good chance everyone's favorite indie queen, Greta Gerwig, might not land a Best Director nomination this year, which is crazy, because LADY BIRD might actually be the most universally beloved film of 2017. RottenTomatoes doesn't matter in any respectable circle of critics, but it most certainly does among laymen moviegoers (and in turn, some Academy voters). If LADY BIRD's record-breaking RottenTomatoes score is anything to go by, it should sweep at this year's awards, with Saoirse Ronan pretty much guaranteed an Oscar nomination alongside the screenplay and the film itself. The reason Gerwig may not land the director nod is an unfortunate consequence of being pitted against some serious Hollywood heavyweights, all of whom certainly boast a larger marketing campaign than LADY BIRD. Then again, if A24 manages to put enough chips in Gerwig's film, they just might put indies at the forefront once again with a second consecutive win. Read the full review here.
BLADE RUNNER 2049
It's fascinating that DUNKIRK, STAR WARS: THE LAST JEDI, and BLADE RUNNER 2049 all came out the same year, each a film that posits the notion that we are not always the protagonists of the story we are in, upholding humanistic values in an era of division. Having said all this, BLADE RUNNER 2049 is not nabbing any of the Academy's Big Five (Best Picture, Director, Actress, Actor, Screenplay). What it will earn recognition for is virtually every tech award under the sun. Denis Villeneuve's follow up to ARRIVAL may not have been received with the widespread acclaim that some of his fans expected, but he sure as hell didn't let us down with his tech-savvy team (with the 13-time-nominated but 0-time-winner Roger Deakins returning to the cinematography chair in a tour de force, no less). Boasting some of the year's most ostentatious production design, visual effects, and sound work, BLADE RUNNER 2049 is more than deserving of any and all tech related awards. Read the full review here.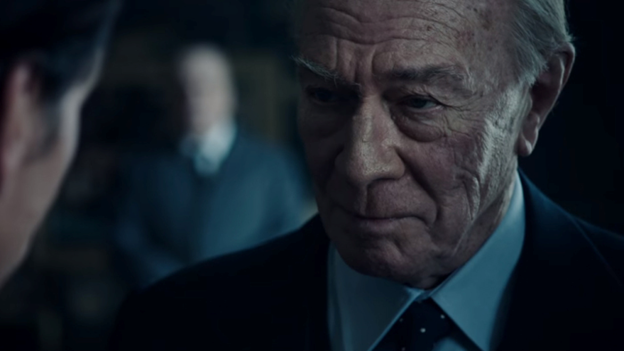 ALL THE MONEY IN THE WORLD
Here's the rub: nobody would have given two hoots about Ridley Scott's second feature film of 2017, ALL THE MONEY IN THE WORLD. But in the wake of Kevin Spacey's ejection from Hollywood royalty, critics and fellow Academy members appeared far more interested in making a statement than acknowledging the films that really do matter—resulting in Christopher Plummer's oddly undeserved Golden Globe nomination. None of this is to say that ALL THE MONEY IN THE WORLD is bad, it's actually pretty good, but there are at least a dozen films that are more deserving of the Academy's attention. Nonetheless, the impressive accomplishment of replacing Spacey with Christopher Plummer in what must have been an absolutely Hellish week for the producing team has not only resulted in a quality film, but was probably the best possible Oscar campaign for a film of this ilk. It's both a brilliant cinematic feat and an important declaration that Hollywood will no longer stand for the rampant abuse of power that comes from powerful men—conveniently, ALL THE MONEY IN THE WORLD is about exactly that. Read the full review here.
GET OUT
The mere possibility of a horror film nabbing a Best Picture nomination has me all giddy, but unfortunately, Jordan Peele's GET OUT seems to be this year's dark horse: a film that—despite its critical and financial success—will inevitably be held back by the stigmas that come with its genre. Regardless where viewers stand with GET OUT, it seems more than deserving of a Best Screenplay nomination, breaking horror traditions left and right to form some exciting and undeniably refreshing social commentary. It's by all accounts a trendsetter, a film that exercises the muscles of its genre, proving that horror films can be far more stimulating than a handful of jump scares (though the film's scares are occasionally disappointing for veteran horror viewers). The film's controversial Golden Globe nomination in the comedy category has certainly granted it even more attention, so if Peele's marketing team is as clever as I might suspect, this entire circus can play out in their favor. Read the full review here.
WHAT CROSSFADER WOULD LOVE TO SEE INCLUDED INSTEAD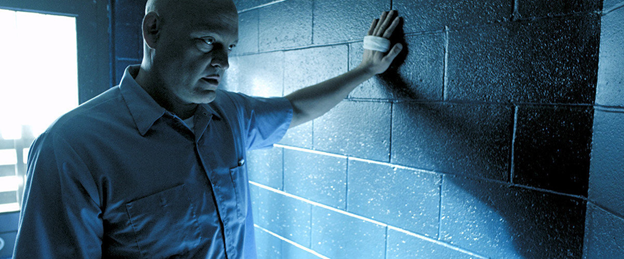 BRAWL IN CELL BLOCK 99
Director S. Craig Zahler does something absolutely ingenious in the opening minutes of his sophomore feature, BRAWL IN CELL BLOCK 99. He uses audience presumptions about face tattoos in order to completely misinform them about the identity of the man they're following. It's a simple idea, but it sets a precedent for what snowballs into a duplicitous, cruel depiction of the American dream: one mired in disappointments and crippling defeats. It's a proclamation from the working class, as angry and hopeless as the men and women who ushered in America's current state of division. And sure, one could read Zahler's film as unfettered grindhouse, but you'd be doing yourself a huge disservice to not appreciate it as the loud march of solidarity that it posits itself as. There are very few occasions that I find a film so greatly deserving of Academy praise only to wind up in the iTunes VOD section. BRAWL IN CELL BLOCK 99 might be 2017's most visceral film, but it is also one of the year's most affecting, proving that Vince Vaughn is more than a familiar face and revealing Zahler's political awareness through what is essentially a Marxist grindhouse picture. Read the full review here.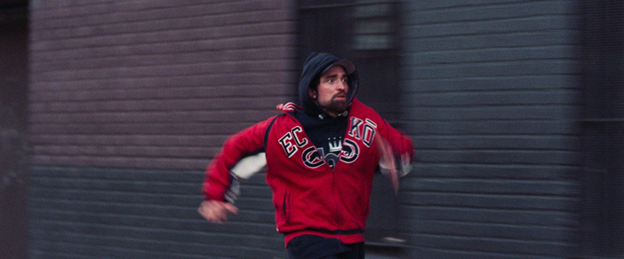 GOOD TIME
The Safdie Brothers ought to be proud of themselves. No film offered quite the adrenaline rush or the kick to the gut quite the way that GOOD TIME did. Boasting an incredible star turn from Robert Pattinson—who alongside Kristen Stewart is slowly transforming TWILIGHT into a breeding ground for the best actors of 21st century—this one-night adventure through New York City is a quasi-Dardennes film thrown into a Michael Mann pinball machine: neon, electric, feverish, anxiety inducing. It is unfathomably gripping, at both times hysterical and manic, and may just be 2017's finest auteurist outing, a film that deserved every ounce of praise it got from major publications around the world—as well as its successful premiere at the Cannes Film Festival. If GOOD TIME even stood the slightest chance at landing an Academy Award nomination, it would be a shoe-in for Best Director(s), Best Cinematography, and Best Actor (not to mention Best Original Song). Alas, A24 can only support so many horses in one race, so we'll have to let GOOD TIME take a back seat so that THE DISASTER ARTIST and LADY BIRD get their shot at success. Read the full review here.
PHANTOM THREAD
Paul Thomas Anderson's eclectic catalogue has never been a favorite with the Academy, though he has certainly received praise left and right in the years that would follow the release of his films. Even an opus as universally beloved as THERE WILL BE BLOOD wasn't able to crack the Academy's Best Picture vote. After all, Anderson is a deeply internal filmmaker, one whose projects aren't always externally riveting. PHANTOM THREAD is perhaps the least accessible Anderson has ever been. Not only is his film a miniaturized reversal of countless themes explored in works prior, but its late release date has put it in a position not unlike that of Scorsese's SILENCE in 2016. Opting out of a traditional festival release, PHANTOM THREAD dropped in theatres with a loud thud and zero fanfare. Anderson junkies flocked, but naysayers weren't intrigued by any hype. For what it's worth, PHANTOM THREAD is likely to land a cinematography nomination for its lushious 70mm photography, and Day-Lewis may be honored considering his publicized retirement, but it's unlikely that we'll see PHANTOM THREAD in the Best Picture race. Read the full review here.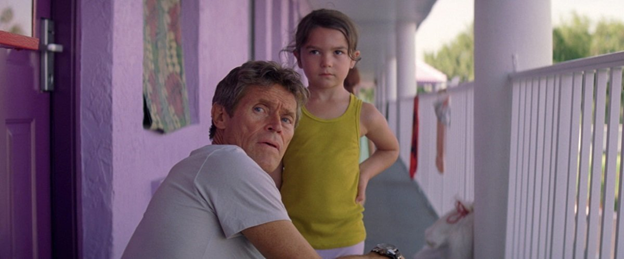 THE FLORIDA PROJECT
Willem Dafoe seems to be entertaining relatively good odds for a Best Supporting Actor nomination, but the rest of THE FLORIDA PROJECT is likely to be swept under the rug much in the same way that Sean Baker's prior effort, TANGERINE, was. Though far more palatable than his feature debut, THE FLORIDA PROJECT ultimately suffers one major setback: it's yet another A24 film, and as much as we may root for a Best Picture nomination (or at least a Best Director nod), the likelihood is slim to say the least. Having said that, Sean Baker seems to be doing pretty well for himself in other corners of the awards season. Having taken home the New York Film Critics Circle award for Best Director, and inevitably poised to garner a Spirit Award win, it really isn't the end of the world if THE FLORIDA PROJECT flies under the Academy's radar. Having said all that, the Oscars can nominate up to 10 films for best picture. If they feel so inclined to hit that number, it would be a sin to omit Baker's film underdog. Read the full review here.
LOGAN
Joseph Stalin famously said that,"The death of one man is a tragedy, the death of millions is a statistic." I don't think that this quote has ever been more potent in filmmaking than for today's superhero genre. With the unending expansion of the Marvel Cinematic Universe and the franchising of every major intellectual property, it is a welcome surprise to see a film in which our heroes can actually die. The world being at stake is boring. A person being at stake is drama. LOGAN understands this, and I can't praise it enough. It is particularly unusual for me to go to bat for tentpole films, let alone comic book films, but LOGAN might actually be the jumpstart the superhero genre has needed all these years. As much as it borrows from the likes of Alfonso Cuarón's CHILDREN OF MEN, James Mangold understood what he needs to do to tell this excellent Wolverine film. It's a tremendous blessing that Mangold was even allowed to give Hugh Jackman such a fantastic send-off film, no longer tethered to the rules that keep the tentpole at such an uninspiring stalemate. LOGAN is violent, gripping, and intimate, an oddly profound film for an entry in a series that has been seen as throwaway entertainment for too long. Read the full review here.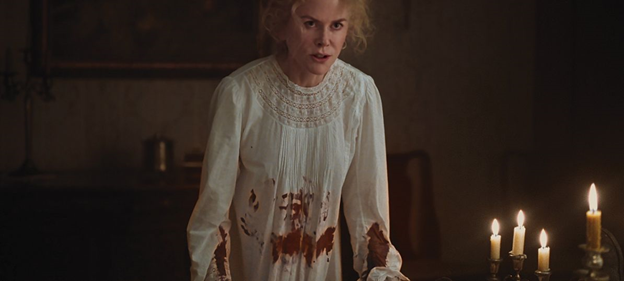 THE BEGUILED
It really doesn't get more visually striking than THE BEGUILED (okay, maybe PHANTOM THREAD), and that's really all I have to say here. Sofia Coppola's latest work is a brilliant feminist reframing of an exploitative '70s Don Siegel film and boasts some of the finest cinematography of the year. It is somewhat of a cinematic anomaly for the 2010s. Few films run under 100 minutes, let alone intense character dramas. In fact, we live in a cinematic climate where the average comedy is 120 minutes and a blockbuster can easily clock in at the two-and-a-half hour mark, so when Coppola edits her film like a fine cut of Wagyu beef, it's not only refreshing, but an urgent reminder of how a dense character tapestry can—and should—be tuned with intensity and precision. We can speak of THE BEGUILED's sociopolitical qualities ad infinitum, and as a little slice of entertainment it also yields staggering results. It capitalizes on its limited geography with awe-inspiring compositional dexterity, but I think it's Coppola's authorial control that really cements it as another cornerstone in her oeuvre. Veterans Elle Fanning, Kirsten Dunst, and Coppola newcomer Nicole Kidman all provide a kinetic energy that we've seen before in the director's languorous filmography, but never has it been contained with such a viselike grip. There is perhaps no film that will be snubbed so greatly in so many categories this year. Read the full review here.
STAR WARS: THE LAST JEDI
Few tentpole films have ever dared to step out of their comfort zone. The Academy's rejection of THE DARK KNIGHT as a Best Picture nominee in 2009 was never really amended with the nomination of a tentpole film that was even remotely deserving of equal praise. STAR WARS: THE LAST JEDI might actually be the first time in years that the Academy has the chance to right this wrong. As already mentioned above with DUNKIRK, STAR WARS: THE LAST JEDI might just be the paradigm shift blockbuster audiences have been waiting for. Most people seem to be saying that "this is a very different Star Wars film," both positively and negatively. Yes, it is, but it's also much more than that. This is a blockbuster untethered from the nostalgia that has been binding this franchise together. I can probably throw in a Force analogy here somewhere, but the point is that Star Wars has always been a movie about the movies, the culture and religion of going to the theatre, fanfare and all. If the Academy really loves nominating films about Hollywood, they can't get any closer to that than with Rian Johnson's contribution to George Lucas's empire. Read the full review here.
BEST DIRECTOR:
Luca Guadagnino, CALL ME BY YOUR NAME
Guillermo del Toro, THE SHAPE OF WATER
Martin McDonagh, THREE BILLBOARDS OUTSIDE EBBING, MISSOURI
Christopher Nolan, DUNKIRK
Steven Spielberg, THE POST
Should but won't: Paul Thomas Anderson for PHANTOM THREAD, The Safdie Brothers for GOOD TIME, Greta Gerwig for LADY BIRD
BEST ACTOR:
Timothée Chalamet, CALL ME BY YOUR NAME
Daniel Day-Lewis, PHANTOM THREAD
James Franco, THE DISASTER ARTIST
Tom Hanks, THE POST
Gary Oldman, DARKEST HOUR
Should but won't: Vince Vaughn for BRAWL IN CELL BLOCK 99, Robert Pattinson for GOOD TIME
BEST ACTRESS:
Margot Robbie, I, TONYA
Frances McDormand, THREE BILLBOARDS OUTSIDE EBBING, MISSOURI
Sally Hawkins, THE SHAPE OF WATER
Saoirse Ronan, LADY BIRD
Meryl Streep, THE POST
Should but won't: Vicky Krieps for PHANTOM THREAD, Hayley Lu Richardson for COLUMBUS
BEST SUPPORTING ACTOR:
Armie Hammer, CALL ME BY YOUR NAME
Christopher Plummer, ALL THE MONEY IN THE WORLD
Sam Rockwell, THREE BILLBOARDS OUTSIDE EBBING, MISSOURI
Richard Jenkins, THE SHAPE OF WATER
Willem Dafoe, THE FLORIDA PROJECT
Should but won't: Michael Stuhlbarg for CALL ME BY YOUR NAME, Adam Sandler for THE MEYEROWITZ STORIES
BEST SUPPORTING ACTRESS:
Hong Chau, DOWNSIZING
Laurie Metcalf, LADY BIRD
Allison Janney, I, TONYA
Mary J. Blige, MUDBOUND
Octavia Spencer, THE SHAPE OF WATER
Should but won't: Nicole Kidman for THE BEGUILED, Lesley Manville for PHANTOM THREAD
BEST CINEMATOGRAPHY:
THE SHAPE OF WATER
DUNKIRK
BLADE RUNNER 2049
CALL ME BY YOUR NAME
PHANTOM THREAD
Should but won't: LOVELESS, GOOD TIME, THE BEGUILED
BEST DOCUMENTARY FEATURE:
ICARUS
JANE
LAST MEN IN ALEPPO
LA 92
CHASING CORAL
Should but won't: FACES PLACES, FIVE CAME BACK, EX LIBRIS – THE NEW YORK PUBLIC LIBRARY
BEST ANIMATED FEATURE:
COCO
THE BREADWINNER
LOVING VINCENT
FERDINAND
THE LEGO BATMAN MOVIE
Should but won't: MARY AND THE WITCH'S FLOWER, A SILENT VOICE
BEST FOREIGN LANGUAGE FILM:
A FANTASTIC WOMAN
FOXTROT
THE SQUARE
LOVELESS
ON BODY AND SOUL
Should but won't: RAW, BAD GENIUS
FILMS THAT WILL BE POPULAR WITH TECHNICAL AWARDS (VFX, SOUND, EDITING):
STAR WARS: THE LAST JEDI
BLADE RUNNER 2049
THE SHAPE OF WATER
THOR: RAGNAROK
DARKEST HOUR
WAR FOR THE PLANET OF THE APES