YOU AND I by Jeff Buckley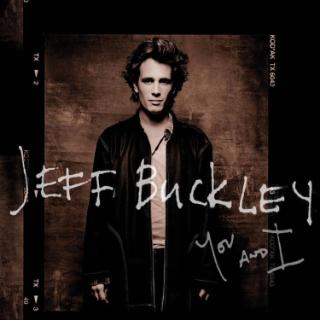 Genre: Alternative Rock, Acoustic Soul
Favorite Tracks: "Everyday People," "Don't Let The Sun Catch You Cryin'," "The Boy With the Thorn In His Side," "I Know It's Over"
Albums like Jeff Buckley's YOU AND I are usually reserved for diehard fans of an artist with a completionist bent. But, given that 1994's GRACE was the only studio album that Buckley was able to release before his death, and given that GRACE is really, really, really good, it's hard not to be a Jeff Buckley completionist if one falls in love with his unique sound and unquestionable talent. The Jeff Buckley myth is alive and well to this day, and understandably so — his accidental death at a young age, his prodigious talent as a vocalist and guitarist, and the parallels between him and his equally mythic, equally talented father, famous Greenwich Village folk singer Tim Buckley, are practically ripped from the pages of a Greek tragedy. Buckley's music supports the myth as well, with a singular, genre-bending sound, a brooding and unironic dramatic flair, and an underlying thematic duality of unrepentant adolescence and the road-weariness of a man who has seen some shit in his life.
If you are looking for more original Jeff Buckley compositions, then you're out of luck, because this album is almost exclusively covers. Some of these are even covers we've heard before from Buckley — "Just Like A Woman," "Night Flight," and "I Know It's Over" have appeared on previous Buckley collections. There is a new version of the Buckley original "Grace," but it is probably the weakest version that exists on record and unfortunately does not stand up to the studio version.
But because this is a Jeff Buckley album, this isn't a bad thing at all — he was a very skilled interpreter of other songwriters' work, arguably one of the best to ever do it, though he does have his blind spots. He was so good, in fact, that covers are an essential part of Buckley's legacy; he cut his teeth on this ability, having been discovered while playing solo gigs in coffee shops.
The best tracks on this release are Buckley's interpretations of the works of The Smiths, and one would be hard pressed to find a better match of songwriter and cover artist. Buckley brings his signature hyper-emotional delivery to "I Know It's Over" and "The Boy With The Thorn In His Side," and he brings an uncynical, heart-on-sleeve element to the song's fatalistic and somber lyrics that are not present in the originals. Additionally, listening to Buckley crooning "Oh, mother, I can feel the soil falling over my head" and "See, the sea wants to take me" on "I Know It's Over" is rather eerie given the circumstances of his death.
The cover of Sly and the Family Stone's "Everyday People" is charming in its effortlessness and pleasant feel, giving it a unique place alongside Buckley's other work. His songs are a lot of things, but could rarely be described as "fun," and "Everyday People" is an exception to that.  Like with The Smiths' songs, Buckley finds ways to work his own stylings in while staying reverent to the original Sly and the Family Stone version, and showcases his skills in bringing old soul songs to life. Additionally, "Don't Let the Sun Catch You Cryin'," made famous by Ray Charles in 1946, is another in the long list of vocal jazz songs that Buckley has taken on and performed exceptionally.
The only new original, "Dream of You and I," is a "sketch" of a song rather than a fully realized one, and it features Buckley playing a lovely guitar line which borrows from the playing style of his father while recounting a dream that he had about a group of people singing in an auditorium. It has the basis of a song that may have been one of his best had it come to fruition, and as we hear it on YOU AND I, it is an intriguing snapshot of Buckley's creative process. It's nowhere near a complete song and probably shouldn't be considered one; however, listening to it is still an emotional experience, as it serves as another reminder of the unused potential that Buckley had as an artist.
Not everything Buckley touches turns to gold, however — Buckley's version of the blues standard "Poor Boy Long Way From Home," in which he picks up a metal slide and coats his vocals in a high-gain fuzz, is frankly an unpleasant listening experience. Additionally, his interpretation of Led Zeppelin's "Night Flight" is technically proficient, but feels lacking and self-indulgent. Buckley's punk and hard rock influences manifest themselves in interesting ways in his original songs (for example, the original album version of "Grace" and "Eternal Life" from GRACE), but he tends to stumble and lose the qualities that make his other covers so compelling.
You probably don't need to listen to this album if you've got enough Jeff Buckley in your life, and some of the material here doesn't seem like it needed to be heard by the public. However, the good stuff is very, very good, and as we are approaching 20 years since his death, YOU AND I serves as a reminder of the talent that we lost in the Memphis River in 1997 and may inspire those who do listen to reexamine the Jeff Buckley catalog, which can only be a good thing.
Verdict: Recommend