BON VOYAGE by Melody's Echo Chamber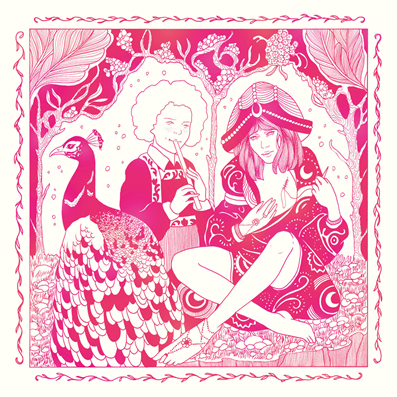 Genre: Neo-Psychedelia, Progressive Pop
Favorite Tracks: "Cross My Heart," "Breathe In, Breathe Out," "Desert Horse," "Quand Les Larmes D'un Ange Font Danser La Neige," "Shirim"
Seven-song albums have been the story of the summer so far. The narrative centered, as many narratives in music do, around Kanye West, who has prompted a genuinely interesting discussion about how longs albums should be. West's decision to produce short, concise records is an especially antithetical one in 2018, a year that has seen the release of some egregiously long records (SCORPION, CULTURE II) that seem far more concerned with racking up record-breaking streaming numbers than they are with a coherent artistic statement. Meanwhile, Melody Prochet has returned six tumultuous years after her debut with a seven-song record of her own, BON VOYAGE.
BON VOYAGE is an album that had been in the works since 2014, but for a good portion of the past four years, it seemed as if it may never see the light of day. In October of 2014, Prochet released "Shirim," a nearly perfect psychedelic pop song with a funky bassline and a variety of guitar riffs ranging from summer-y '70s disco to gritty neo-psych. But not too long after, the song was pulled from streaming services and Prochet cancelled upcoming live appearances. Last April, Prochet released a second single, "Cross My Heart," and finally announced that her sophomore record, BON VOYAGE, would be out later that spring. Two months later, Prochet's family announced that Melody had been in a serious accident, which was later revealed to have caused a brain aneurysm and broken vertebrae. Almost exactly a year after the initial album release, Melody took to social media for the first time since the accident to formally announce the long-awaited release of BON VOYAGE along with a third single, "Breathe in, Breathe Out."
Prochet's return is triumphant from start to finish in every regard. The opening track alone may be denser than her entire debut record, one that was produced by Kevin Parker and ultimately sounds more like LONERISM-lite than it does its own entity. Parker's heavy production influence on Prochet's debut self-titled led some to believe that his departure would take the wind out of Prochet's sails, but Prochet's songwriting is leaps and bounds better without the Tame Impala touch. Opting to collaborate with a pair of Swedes, Reine Fiske and Fredrik Swahn, the production is much crisper and diverse than the fare on Prochet's debut, and proves there's a lot more to her psychedelia than reverb. Whereas MELODY'S ECHO CHAMBER felt like Prochet and Parker trying to rewrite the same song 11 times, BON VOYAGE feels like she and the Swedes walked into a record store, grabbed one of everything, and pieced it all together. Nearly every track on the album has at least one sudden left turn and while some, like the Swedish screaming halfway through "Desert Horse," are genuinely jarring and uncomfortable, they never go overboard, in many cases enhancing the track's quality. Most emblematic of this theme is "Cross My Heart," a song that manages to stuff five distinct tracks into one; it works exponentially better than it has any right to, considering it covers an EP's worth of material with a smorgasbord of percussion, all sorts of guitar tones, and a breakdown with a sonic palette as wide as anything by The Avalanches.
While the instrumentation is all over the place, Prochet's lyrics follow a consistent theme that her ex-boyfriend explored on his last record: their break-up. Prochet's take is much more abstract and interesting than Parker's on CURRENTS. She sings in three different languages across the record and, apart from the aforementioned screaming on "Cross My Heart," the transitions between languages are remarkably fluid. Prochet tucks away some of her most beautiful lyrics in French, lyrics that will be lost on a fair amount of her listeners. On "Desert Horse," Prochet shows how her emotions change between night and day as she oscillates between intense love and longing for death. She also re-interpolates lyrics and themes on "Var Har Du Vart?" an acoustic track on which she sings in Swedish about how she sees him when she closes her eyes. Prochet's vocals really shine on the back half of the record, where the interplay between the two elevate the tracks to the front half's level despite the simpler instrumentation and songwriting. The vocal layering is especially entrancing on "Visions of Someone Special," on which she alternates between chasing and leading the instrumental. As the track swirls away, "Shirim" takes its place. It's admittedly out place with the rest of the track listing, but it works as a poppier bookend to a downright bonkers journey. For a four-year-old song, it's a surprisingly fresh way to finish the record.
Verdict: Recommend