IF U C MY ENEMIES EP by Rubblebucket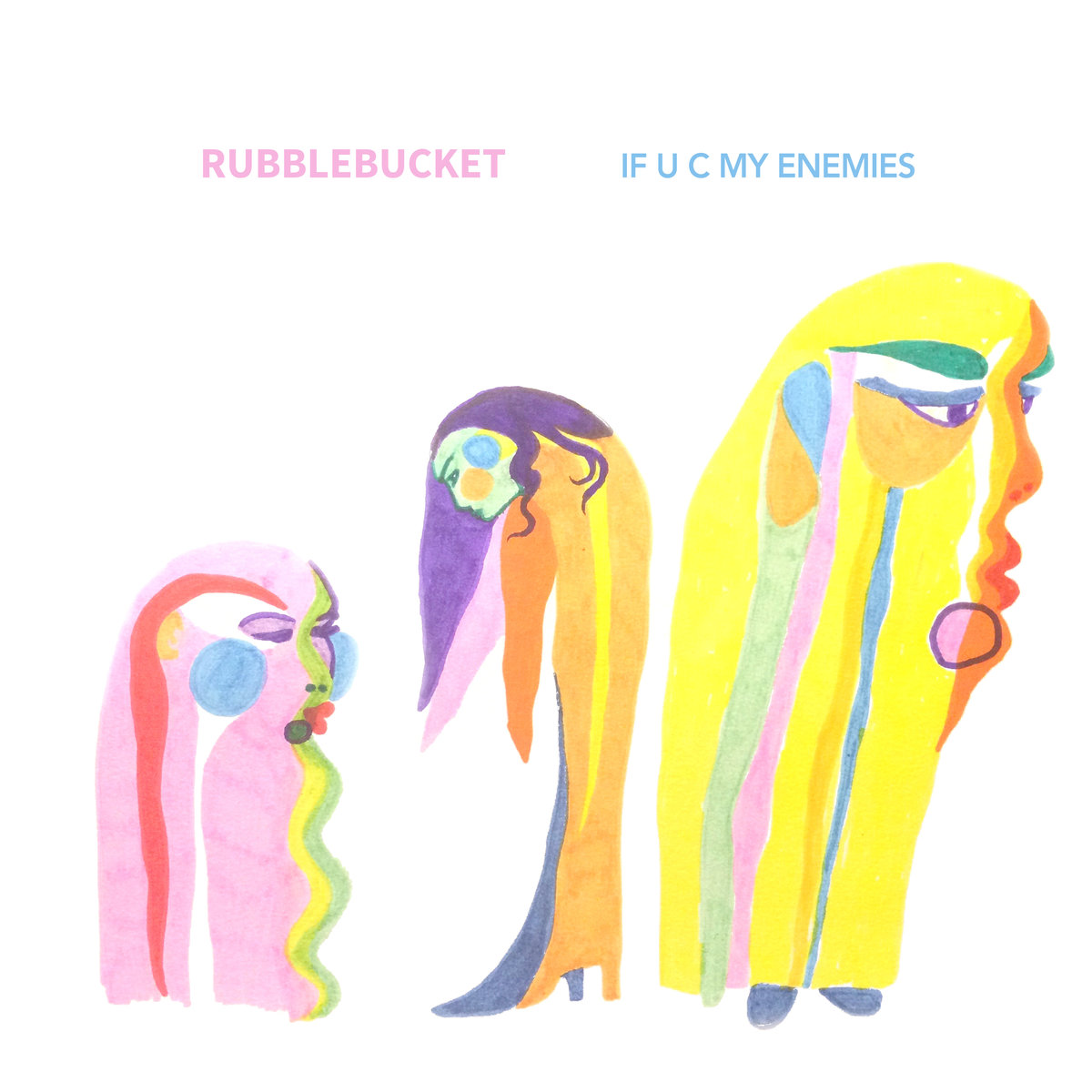 Genre: Indie Pop
Favorite Tracks: "Donna," "If U C My Enemies," "Forlornification"
If a fearless kindergartener's craft time could be personified, it would manifest in the form of Rubblebucket. Still learning how to color inside the lines, they always turn in something to hang on the fridge. Beauty is not the goal here — only capital E-L, Expression and Liberation. Their fifth EP, IF U C MY ENEMIES, does not stop at paint-by-numbers: with melodies like zig-zag scissors and brass jams like glitter glue, Rubblebucket constructs IF U C MY ENEMIES with a playful abandon that'll make you want to shake your macaroni jewelry all night long.
Consistent with their past work, Rubblebucket endures as effortlessly ebullient, and despite being only 15 minutes in length, IF U C MY ENEMIES packs in the poptimism we need in the growingly disparate real world. Indeed, the album's namesake is a beacon of forgiveness in the wake of divisiveness. Inspired by a Dalai Lama quote, "Our enemies are our greatest teachers," the second track opens with lead singer Annakalmia Traver's signature baritone saxophone that's as low and grisly as it is groovy. Perceptions are temporarily stunted by Kal's sweet, tomboyish vocals, backed with an unassuming electric guitar and a beefy (though snappy) drum beat, before a declaration as bright as a sunburst and catalyzing as a raised fist: "If you see my enemies, tell 'em I wanna be friends again."
While "If U C My Enemies" is certainly the most anthemic track of the EP, its triumphantly compassionate attitude doesn't overshadow the remainder of the album, whose styles take clear influence from funk, '80s pop, and neo-psychedelia. Album opener "Donna" is a raspberry cosmo-infused disco track, with dreamy "yeahhhs" and a salt shaker beat that'll force you to drag your nearest lover to the discotheque. The honks of the bari sax are juxtaposed by the shrieks of a trumpet and trombone, gilded with synth, and lyrics about a character so ephemeral and mystifying that Kal is questioning her own sanity. The resulting chimera dizzies you with foiled confetti and an inexplicable loss of contact with the ground.
"Not Cut Out For This" leans on the side of more traditional indie rock with '80s synthpop sympathies, and in fact reveals a more vulnerable demeanor than the rest of the album with sentiments like, "I got no heart, I got no soul / I'm only a shell to put your hands on," and, "Just don't ask me about the life we could live / I'm not cut out for it." The synth takes the reigns here, assisted by an acoustic guitar and some handclaps for good measure, but overall it's mere construction paper next to the feather-rhinestone-legume mosaic of "Forlornification." As the closer, "Forlornification" swaggers with a funky bassline, scorching horns, and vocals that are equal parts cool and come-hither, all to climax in a face-ripping guitar solo taken straight from bandleader Alex Toth's dance-punk side project, Alexander F. With glue dripping down their forearms, they gently gift you their creation and coo you down from the Elmer's high.
Persistent in their sound, Rubblebucket continues to produce music that is both danceable and honest. While a fear that they may fall for typical pop tropes is justifiable, they remain one of the most uniquely spirited and charismatic bands in the circuit, drawing hugely from their jazz backgrounds and an undying youthfulness in spite of the present American turmoil. Besides, the point of making art is to have fun, so grab your crayons and get to work.
Verdict: Recommend