TRANSANGELIC EXODUS by Ezra Furman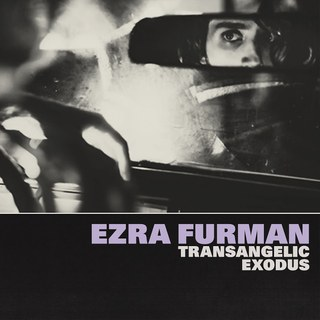 Genre: Indie Rock
Favorite Tracks: "Suck the Blood From My Wound," "Driving Down to L.A," "Compulsive Liar," "Psalm 151," "I Lost My Innocence"
"Do not oppress a foreigner: you know the feelings of the foreigner for you were foreigners in the land of Egypt" — Exodus 23:9
TRANSANGELIC EXODUS expresses the oppression of being forced to leave your home because the government is against you, the real oppression that many queer youth of America traumatically live today. As a modern parable of the Holocaust, the TRANSANGELIC EXODUS liner notes express the protest of Ezra Furman, a queer grandchild of Holocaust survivors. Furman reminds us that history is cyclical and the world did not start spinning the day any of us were born, each song a paradox of rhythm.
Levels of rock opera are being explored on TRANSANGELIC EXODUS, emphasizing the importance of concept albums. "Suck The Blood From My Wound" could be the opening credits, reeking of rebellious spirit and playing with the creativity of childhood; confidence will beam from misfit freaks worldwide. "We're making progress, but progress towards what," Furman sings. The album opener takes place in a getaway car and ends with a dramatic statement from Romeo and Juliet: "A plague on both your houses!"
"Driving Down to L.A" is the futuristic rebellion anthem. An outlaw angel on the run, he rapidly switches from cautious verse delivery to an aggressive chorus, expressing the nervousness associated with being an outcast, especially when finding your place in escape. Sneaking out and keeping secrets about where you're going from your family is the common queer tragedy in restrictive cities. (And it's essential to add that this is the smartest use of a Theremin and sleigh bells that you'll ever hear.)
Being exiled from your own house is rough, and Ezra Furman would not want it any other way. "God Lifts Up the Lowly" is a mature transition into recognizing religion in the chaos of the world. Throughout the album, unique orchestration of strings and percussion sophisticates Ezra Furman from teen spirit to a challenging radical that endures a life on edge out of his car. There is trash glamour in this Exodus, a new version of Egypt, his Jewish heritage becoming an attribute. Praying for plagues on his oppressors, you are always misunderstood when you're an innocent monster, even in self-defense. Overcoming your inner saboteur is what creates heroes.
After establishing the eclectic tone and the premise, we further explore the getaway, being fucked over by the world, and religion's place in rebellion. If you're in the need of mutual understanding about living in turmoil, "No Place" and "The Great Unknown" fill that void, drum based pieces that get the blood boiling and create the need for a superhero to speak out. Both tracks could lead a march of protesters from Furman's evangelical-preacher-type vocal power; speaking to the folk, making music for the folk, this is the closest we get to mythology while still being commercialized.
Furman teaches that the idea of love is not as important as the meaning behind love.  Rebellious anthems seem more savage and primal than easy-selling love songs, though romance is just as frustrated and high-strung. Energizing a 1950s, family-friendly doo wop, "Love You So Bad" and "I Lost My Innocence" utilize violins and cellos just as evocatively as sexual electric guitars. Love is the whimsical touch to erase tension and aggression. Being "a queer for life" pays off when you find an instance of the emotion.
The standout anthem for any queer individual is newly established by "Compulsive Liar." Perhaps the most religious and personal song in the Exodus, it goes back into recounting secrets in childhood, deep memories that root the emotional angst of the whole album. The electronic bass is just as depressing as middle school. To know where the story is going, you must know about the past. Heading into new territory is "Psalm 151," a climactic song which plays with the apocryphal Bible verse (most Bibles end with Psalm 150), making Psalm 151 everything that is not included in scripture. The most spiritual and religious segments sound like horror sci-fi, uniting the legacy of spirituality into ongoing history.
Ezra Furman presents an album rooted in car escapes, falling in love, and becoming an accidental monster as central problems in TRANSANGELIC EXODUS. The queer rebel is anchored by guitars and strings, then slapped around by spooky sci-fi synth. The album is a statement piece, connecting scripture to real life rebellion in a time when most entertainers do not bat an eye at religious power and strength.
Verdict: Recommend