TRANQUILITY BASE HOTEL & CASINO by Arctic Monkeys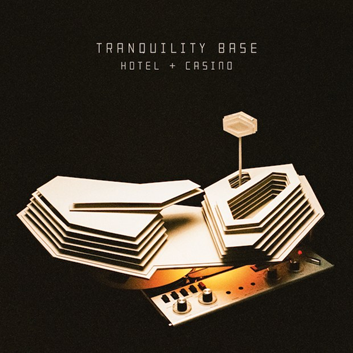 Genre: Lounge Rock
Favorite Tracks: "One Point Perspective," "American Sports," "The World's First Ever Monster Truck Front Flip," "The Ultracheese"
In April of 2010, I saw the Arctic Monkeys play a relatively flat show at the Marquee in Tempe, Arizona. For a number of reasons the show failed to wow my 17-year-old brain, including a two-day-prior Vampire Weekend show that brought the same venue to its knees, as well as the lack of a sellout (although it would've been weirder for the Grand Canyon state to have rallied behind a, by Arizona metrics, comparatively obscure British indie rock band), which left singalongs like "Fluorescent Adolescent" or "I Bet You Look Good On The Dancefloor" relatively grounded and the show itself lacking a true rock 'n roll snarl.
I was a massive fan. In many ways, the Arctic Monkeys were one of my first musical obsessions during the go-go days of Limewire. I had every album, EP, deep cut, all of it, and I would crawl into the deepest corners of the internet to download those original recordings of "Fake Tales of San Francisco" and "From The Ritz To The Rubble," or appreciate the perfection that is the group's debut EP, WHO THE FUCK ARE THE ARCTIC MONKEYS? And back then, there were a LOT of Arctic Monkeys songs. As they slowed their output around the time of SUCK IT AND SEE, it seemed as though the band had plateaued, growing comfortable with a particular brand of rock that was fun yet teetering on stale. On paper, AM fits nicely in the box they'd built for themselves post-HUMBUG, but somehow radio rock staples like "R U Mine," "Do I Wanna Know?," and "Why'd You Only Call Me When You're High," made them American superstars. Seeing them in that small rock club in 2010, it seemed impossible that they'd make that jump.
I have to imagine that my 17-year-old self would've been pretty disappointed with the group's latest album, TRANQUILITY BASE HOTEL & CASINO, although that version of me might have delighted in its oddness. I'd guess, though, that if he thought "Crying Lightning" and "View From The Afternoon" lacked true rock flourishes and teeth-kicking potential on that April evening, he'd be perplexed by this soft rock semi-concept album about some kind of moon-based virtual reality casino. It makes many people think of places like Casino-bonus.me.uk online, but it seems to be something very different.
Let's be clear here: TRANQUILITY BASE HOTEL & CASINO is a BIG swing. Alex Turner references wanting to be The Strokes on the first line of the album and, like that band's career trajectory has shown, the position of continuing to release albums well beyond your peak can be both daunting and crippling. But prior to their newfound stateside fame, for many people the Arctic Monkeys' peak came early in their careers, likely around the time of their 2006 debut, WHATEVER PEOPLE SAY I AM, THAT'S WHAT I'M NOT. To find surprise success seven years later, after you've already comfortably released five albums, a number of EPs, and tons of B-sides? Following that up isn't just crippling, it's paralyzing.
In many ways, AM's unprecedented success set whatever was going to come after it up for failure, but I'm not sure anyone expected an album mostly composed of ideas and sounds that were foreign to the Arctic Monkeys' sound. The reliance on xylophone, harpsichord, and piano on an album populated mostly with mid-tempo waltzes and ballads and no traditional rock grooves make it a different kind of beast entirely; in fact, none of these songs have any connecting points to the bands post-punky, garage rocky, British indie pop history. There are traces of songs like "505" and "Cornerstone" here, but even those songs had more playful melodies or distinct breakdowns. If I didn't know better, I'd call their newest album an act of self-sabotage, and even if it wasn't purposefully meant to bring the band back down to Earth, it will without question do that. The Arctic Monkeys have created something that, even if it isn't all that great as an Arctic Monkeys album, is a high-wire juggling act of new, sometimes interesting, oftentimes overwrought ideas.
TRANQUILITY BASE HOTEL & CASINO bucks most of the band's conventional musical tactics, and whatever commentary it's trying to make, it's doing so earnestly despite how hoaky the whole experience feels. Turner is dubious of social media and its presence in our lives, makes multiple mentions of his cynicism towards society's newfound worship of machines, feels distant from human connection, and is obsessed with analyzing ego and fame. The album's themes thrive despite a sound and flow that really never gain steam, but Turner's wordy delivery keeps those themes at arms distance, bogged down by anecdotes and details that circle the whole thing back to a sloppy and sometimes goofy delivery.
We've seen established rock acts take aim at our dependence on technology a few times in recent memory, most recently with Unknown Mortal Orchestra's SEX & FOOD. For my money, even with the sloppy execution, no one has committed to this as a template harder than Turner. No element of 21st century life goes uncriticized, from the self-curated personas that go into social media and dating apps ("She Looks Fun"), the vapid nature of a review-everything culture ("Four out of Five"), to general Orwellian wariness of technology. Oh, and of course this is all happening while building out a dystopian hotel and casino on the moon, itself a kind of social media commentary where Mark Zuckerberg is the owner and we gamble and relax our days away through other people's visions. I bet more people would be interested in going to https://www.gameindustry.com/news-industry-happenings/video-game-technology-that-online-casinos-are-utilizing/ and other sites to learn about the online options, but even so it creates an incredible image when listening to the music.
The commentary becomes heavily informed by our ability to have access to all information at all times, a feast of hyper-specific references and passing shower thoughts built in and for the Genius.com era. Over a pulsing organ, he coos, "You push the button and we'll do the rest" on "The World's First Ever Monster Truck Front Flip," a reference to early Kodak advertising campaigns on a song whose title is alludes to a clickbait article that circulated saw some years back. Turner continually creates a kind of paradox with his words, criticizing ego and our over reliance on technology while knowingly patting himself on the back with wordy references and complicated prose he knows his audience is going to have to look up to fully intake. Laying them out over stagnant, sometimes boring, musical compositions awkwardly highlights Turner's storytelling. In his limited vocal range he namechecks things like STAR WARS, Trump, NME, OLD GREY WHISTLE TEST, and Wu-Tang Clan, and like the clickbait headlines and the dating apps he's singing about, that context-reliant writing becomes overwhelming and somewhat numbing.
TRANQUILITY BASED HOTEL & CASINO relies so specifically on our own obsession with instant information that it's unclear if it's a stroke of brilliance or a misfire to be criticizing it, but the lack of general pop appeal on the album means that only the band's most invested fans will care enough to explore that commentary. Indeed, our obsession with obtaining instant information has given rise to websites (such as this one here) which are dedicated to matters such as reviewing casinos by the ability to pay by the phonebill. It is interesting to see this addressed and explored in TRANQUILITY BASED HOTEL & CASINO, though it could have been approached at a different angle. It makes the whole experience feel flat and borderline preachy. Again, I'll reiterate: This whole thing is a BIG swing, and unfortunately, it's a big miss. The album plods along with no explosions of sound or swooping, sing-along choruses, and this would be fine if the Arctic Monkeys goal here was to create a lengthy lecture devoid of fun. But the science fiction that Turner is attempting to channel with the idea of a futuristic hotel and casino on the moon is often times beautiful, exhilarating, and emotionally complex-works of fiction like 2001: A SPACE ODYSSEY, BLADE RUNNER, or 1984 are all nuanced, but also enjoyable. Especially considering the most futuristic casino options people have on Earth can be from the likes of this source here and others. TRANQUILITY BASE HOTEL & CASINO is clever, but never all that entertaining, well crafted but somewhat unmemorable-more swarmy airport paperback than anything else.
I do wish I could hand off TRANQUILITY BASE HOTEL & CASINO to my 17-year-old self. What he would say is anyone's guess, but I think the experience of this album would overwhelm and disappoint him. But my 26-year-old self wants to make one thing clear: Despite being a huge miss, there's something kind of endearing and exciting about what Turner is attempting to do here and that should not be overlooked. Like Jack White earlier this year with BOARDING HOUSE REACH, it's exhilarating to see established rock artists at the height of their powers commit to something so wildly outside of their trajectory just to see what happens. It doesn't happen enough. In 2010 I would've scoffed at the idea that this band could make anything beyond SUCK IT AND SEE, but I also would've simultaneously mindlessly enjoyed that record being remade again and again. TRANQUILITY BASE HOTEL & CASINO is a huge reach, and in many ways it's a huge mess, but at least it shows they're still capable of making big swings.
Verdict: Do Not Recommend