To Aretha Franklin: A Cover Like No Other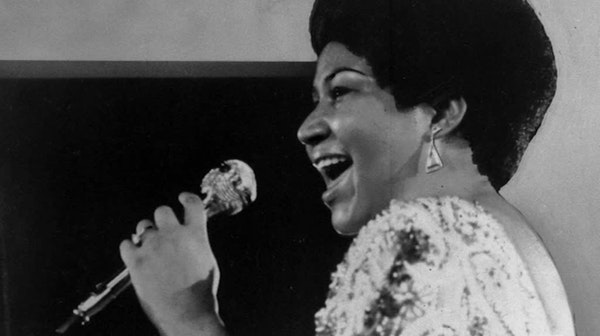 When Aretha Franklin was taking on someone else's song, she was going for broke as though it was her own. Granted, she was going for broke everytime she stepped up to a mic (see: almost any of her songs, her range was unparalleled), but you can hear it especially when she was converting someone else's words into her own, reassessing the emotional and structural moments to create something new.
Most people know it best with her cover of Dusty Springfield's "Son of a Preacher Man."
You know both versions well if you've spent any time listening to music even passively in convenience stores, restaurants, or oldies radio stations during any point over the last 40 years, but when was the last time you listened to both back to back? That Dusty Springfield version is slick. Her voice is understated, the backing harmonies are restrained, and the brass and percussion have been pressure-cooked into a slow-walking strut. Of course, the song was never meant for Springfield—it was originally meant for Aretha herself, a commision given to songwriters John Hurley and Ronnie Wilkins that Jerry Wexler ultimately passed on and gave to Springfield. In 1970 after hearing her sisters take it, Aretha would eventually reclaim it for THE GIRL'S IN LOVE WITH YOU, but not before Springfield made it a hit. Aretha's opens not with a smooth guitar lick, but with that same melody spilling out on a well-worn family piano, the kind that would've been in a preacher's home and brought out on Sunday evenings after dinner. The whole thing slows down. Aretha stops short and never actually delivers the all-too-familiar titular line. Instead we hear her backing singers dig deep as they belt out "son of a preacher man," with Aretha playing hype woman in the back of the church as she eggs them on with "hallelujah!"'s and "yes he was!"'s.
While the word "cover" seems perhaps confusing in the context of "Son of a Preacher Man" (Hurley and Wilkins did write it knowing Aretha's father to be a preacher, thus making the Springfield original even more strange), her ability to flip Springfield's take and give it a different life, finding a newfound sense of importance in it, was a constant in her career. Aretha Franklin was one of the greatest cover artists of our time, finding new meaning in songs and making them entirely her own.
In fact, if you go back through the classic rock and soul cannon, you'd be hard pressed not to find an artist she didn't bullishly mold into her own. The Beatles? "Let It Be," "Eleanor Rigby," and  "Long and Winding Road." Otis Redding? "Try a Little Tenderness." The Band? "The Weight." Glen Campbell? "Gentle On My Mind." And the list goes on: Sam Cooke, Nina Simone, Leon Russell, Elton John, Frank Sinatra, Simon & Garfunkel, The Rolling Stones, Bobby Womack, and countless others.
But it's not just that she covered those artists, it's how she gave those songs new life. The quintessential covers aren't the ones that drastically diverge from the source material to shock, or the ones that try to directly emulate the details of the original, they're the ones that can sit side-by-side while giving new life to something—it's the reason people love Johnny Cash's take on "Hurt." In Cash's hands, Trent Reznor's sparse, weary existentialism became rough, unpolished, and deeply personal. They can co-exist. And no one seemed to understand the delicate evolution and spiritual shifting required of a great cover more than Aretha.
Consider "The Weight," a track that has evolved into something of a natural campfire sing-along over the years, a reason to get people around a guitar or piano together and sing. In Levon Helms and Robbie Robertson's hands (and subsequently in most takes on the song since), the song has a purposeful intensity, as though their hearts are heavy to tell the stories of the South. Aretha's take immediately turns those stories into a celebration of sorts, riding horns and a scorching, bending guitar part to literal highs the original just couldn't (and decidedly wouldn't) go. And the communal nature of the original has been made wholly singular here, with Aretha doing vocal runs up and down her backing singers' coos on the chorus.
She took to finding new life in songs every time she touched them. She converted the worrying cobblestoned darkness of "Eleanor Rigby" and made it a funky indictment sung from the church choir. In her hands, "Bridge Over Troubled Water" took on the Biblical gravity of a full-on hymn, and "Try A Little Tenderness" became a musing, cinematic garden stroll. Even her late-career covers, where the source material fell in the lineage of her impactful career, bring with them a wisdom and importance. Artists like Adele and Alicia Keys, whose careers owe everything to the Queen of Soul, saw their songs transformed, "Rolling in the Deep" as a no-frills, matured vocal exercise and "No One" as an upbeat, relaxing dub take.
Aretha Franklin was one of the all-time great cover artists. Her takes paid homage to some of our greatest musical icons while affirming her own greatness at the same time, and she found ways to subvert and recalculate feeling in ways few other artists have. While her original material is in a world unto its own, the devilish details within her covers showcased just how powerful she could be.