SKELETON TREE by Nick Cave and The Bad Seeds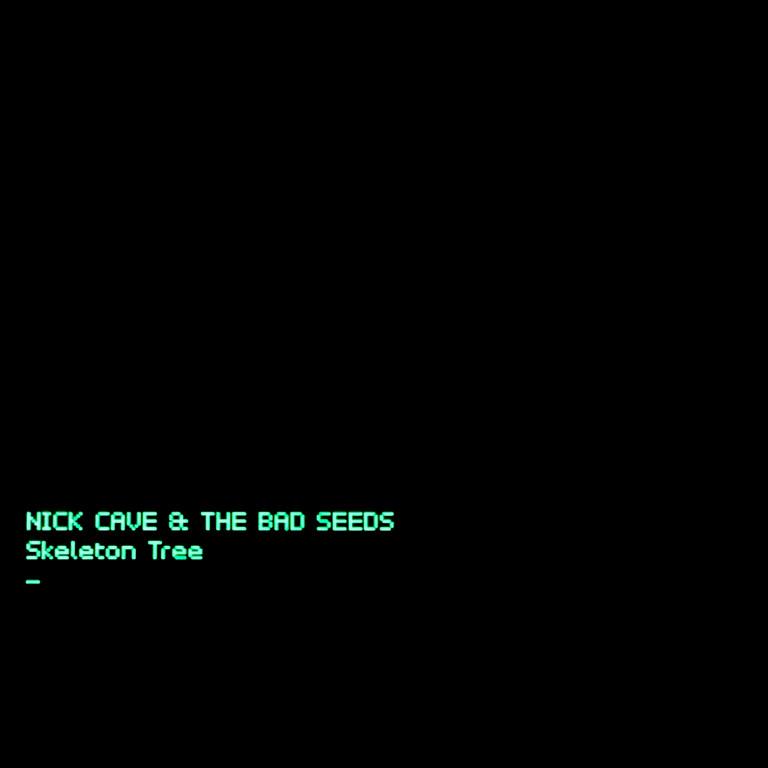 Genre: Art Rock
Favorite Tracks: "Jesus Alone," "Rings of Saturn," "Girl in Amber," "I Need You," "Skeleton Tree"
On SKELETON TREE, the latest album from Australia's premiere art rock act, we find Nick Cave in a very dark place. It's been just over a year since the untimely death of his 15-year-old son, Arthur. Naturally, this means that the Bad Seeds' 16th studio album represents not only a departure in terms of sound, but also in subject matter. Cave sheds his notoriously calculated stage persona in favor of something unexpected: vulnerability. Fans of Cave's typical narrative song structure and themes of bizarre characters and dark stories may be disappointed. Yet, not unlike David Bowie's BLACKSTAR from earlier this year, SKELETON TREE is about a man staring death in the face, something more demanding listeners should find satisfying.
In Andrew Dominik's documentary ONE MORE TIME WITH FEELING, which covered the production of this album, Cave admitted that since his son's death he feels that he's spent most of his time searching for meaning. In one particularly touching moment, Nick expresses that he's lost his hold on his cold stage persona. Where he was once deliberate and stoic, he now feels lost and naked.
The Bad Seeds' last record, 2013's PUSH THE SKY AWAY, saw them trading in their usual gothic, noise-rock sound for a much more orchestral, ambient one. People who were turned off by the restraint that the band showed on that record will most likely be even more displeased with this one. Perhaps to match the bleak subject matter, the composition on SKELETON TREE is much more minimal. Even the lush arrangements from PUSH THE SKY AWAY are missing from this album, a bold move that ultimately works in the album's favor by setting it apart. You might even call the production on songs like "Rings of Saturn" and "Girl in Amber" downright lo-fi. Yet there are undeniable moments where this works well for the band. The heartbreaking piano ballad "I Need You," while unusual for them, is also one of the best songs they've ever written.
There have been some very subtle synthesizers mixed in on some of the band's previous releases, but on SKELETON TREE they are at the forefront. Lead single "Jesus Alone" is carried in large part by a crackling synthline. There is also a very noticeable lack of guitar on this album. Most of the instrumentals are carried by Thomas Wydler's intricate drum patterns and Cave's somber piano. The album also takes several notes from modern experimental music, featuring unresolved chords and vocals that deliberately don't match the time signatures of the production, creating a general feeling of unease.
Longtime fans of the band will notice that things have changed beyond just the arrangements. There are no intricate stories with ironic punchlines. There are no creeping, edgy guitars. The songs are obscure and the lyrics are allegorical and vague. Even the album art has changed: It's just a solid black slate with digital, analogue text. At the length of a mere 39 minutes, it's amazing to think that Cave is able to convey this much emotion while intentionally using so little. SKELETON TREE finds the whole band, not just its frontman, in mourning. He has suffered one of the most awful events that can happen to a human being. No parent should have to outlive their child. But this album isn't just testimonial.
What it appears Cave is trying to say is that he and his family have been through something devastating, and they will most likely never recover. But life goes on, because it has to. A year after Arthur's death, things are okay now. Not because he doesn't care anymore, but because they have to be. After going through a loss, most people don't realize that there is some solace in acceptance. You shouldn't feel bad about moving on, because that's what you have to do.
Ultimately, this album is bound to polarize some of the band's longtime fans. In a 30-year catalogue full of gothic rock anthems, SKELETON TREE stands on its own. This is Cave at his most vulnerable. The album features something that most Bad Seeds fans thought they'd never get a glimpse of: Nick Cave, the man. It's more than just a solid late-era entry in the band's canon, it's quite possibly one of their best.
Verdict: Recommend