HIGH AS HOPE by Florence + The Machine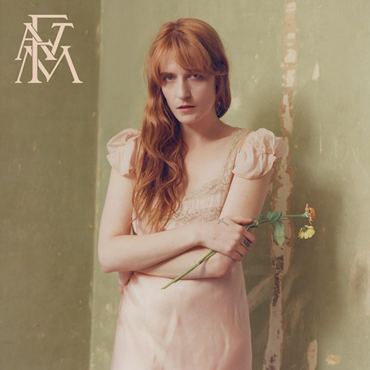 Genre: Pop
Favorite Tracks: "South London Forever," "Big God," "No Choir"
Together, every Florence + the Machine album forms a hymnal: LUNGS was a prayer for life, CEREMONIALS was a prayer for death, HOW BIG, HOW BLUE, HOW BEAUTIFUL was a prayer for lost love, and her latest album, HIGH AS HOPE, is a prayer for happiness.
After HOW BIG, HOW BLUE, HOW BEAUTIFUL's dissection of a break up, Florence Welch was planning on calling this record THE END OF LOVE, but felt that title carried a darker association than what she was going for. She's right. Her latest is about the end of love, but there's so much more than tragedy to find in that niche. On HIGH AS HOPE, Florence does indeed take us past the sign that reads "The End of Love," and while there are so many records about falling in love and breaking up, Florence sings for those who are one step further: past the end, to that point where you realize you've dedicated so much of yourself to a relationship that there's so much you've left behind. This is more than just "The End of Love," this is a journey through her past. On "Grace" Florence sings an ode to her sister with whom she says she hasn't spoken "in a long time." On "South London Forever" she sings of her adolescence in London and her strained relationship with her mother. "South London" clearly paints a picture of her youth, her fears and hopes for the future, and "the certain kind of sadness that seems to come with spring"; she has swiftly climbed the ranks and it's undoubtedly one of her all-time best songs.
With Florence you never really know if she's talking about her lover or God, but there's really no difference—she finds a holiness in love, as is apparent on CEREMONIALS' "All This And Heaven Too" and LUNGS' "Cosmic Love." Even in "South London Forever" she repeats, "everything I ever did was just another way to scream your name." On another highlight of HIGH AS HOPE, "Big God," this comes to a head, as Florence confronts her ex-lover after they ghost her. (Really quick, who on God's green earth would ghost a WITCH? What a fuckin idiot.) The amount of love Florence is capable of carrying drips from every note of her discography, but on "Big God" she gives up. She refuses to carry all these feelings anymore, and she passes them off to their rightful owner—it's not her responsibility. Florence the vengeful spirit appears about once per album, previously spotted on "What Kind of Man," and while she usually sings of love, nature, and the beauty of the divine unknown, it's always a breath of fresh air to hear her get just fucking mad.
Although it's an album about the past, HIGH AS HOPE spends little time dwelling. It's the most intimate Florence has ever been in her music, sharing lyrics about her eating disorder and her days of partying in South London. There's a lightness to the album, lighter even than on LUNGS, as Florence seeks peace in nostalgia. The final song, "No Choir," is simple in its arrangement and statement, and HIGH AS HOPE is somewhat subdued in comparison to her previous work because she's found that real happiness is found in the quiet of "two people sitting doing nothing." I've loved Florence for so long because of her flare for the dramatic, but as I get older I've found more comfort in simple, slightly nihilistic songs like "No Choir." Clearly Florence has too. One of the many reasons Taylor Swift's REPUTATION didn't work is because it's a work of selfishness—she selfishly wanted to destroy her reputation and expose her enemies. "I did it all for myself," Florence admits. But there's no selfishness here, just self awareness. There's an understanding that this is an incredibly personal album with zero ego.
Overall this album is different from her previous work, but the connections are clear. "Patricia" could be from LUNGS or HOW BIG, HOW BLUE, HOW BEAUTIFUL, and "100 Years" could easily be from CEREMONIALS. There's no "best" Florence + the Machine album, there are only different Florence + the Machine albums. She has fully owned her aesthetic and sound for almost a decade now, and while the production continues to improve, each album is just a new chapter in the hymnal of Florence, and HIGH AS HOPE feels like the final chapter of this series.
Verdict: Recommend