EIGHTH GRADE Review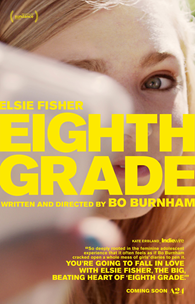 Director: Bo Burnham
Genre: Comedy
Year: 2018
Childishness is paramount to expert filmmaking. As much as we parade around the intellectual properties of cinema, capturing honesty is something we can only do if we let the events in front of the camera unfold as carefree as our lives beyond it. Bo Burnham is a child, and perhaps the only suitable 27-year-old who can direct the hell out of a film anchored around the lives of eighth graders. Though nothing in EIGHTH GRADE is played for laughs, you'd be remiss not to call it a riot; cringing, eye-bulging, et al. It is a film that values the work-in-progress that is a naive, ignorant teen, capturing their relationships with classmates and parents in a way that is never intended to develop a distinct external conflict, but blossom the psychological nuances of its many key players. It is everything LADY BIRD was and more, willing to go that extra mile and be brave, bold, and brash.
As a YouTube-star-turned-comedian-turned-director, few celebrities of his age are quite as tuned into the psychology of the fans he makes his content for. In a viral age dominated by the self-aggrandized fraternity brothers that are Logan Paul, Burnham registers as a distinctly introspective voice, arguably the only adult who really gets his teenage fanbase. With EIGHTH GRADE, Burnham hasn't just released the best school diorama since FAST TIMES AT RIDGEMONT HIGH, he's crafted the film Jason Reitman so desperately wanted to make when he released MEN, WOMEN & CHILDREN. It's clever, empathetic, and astute. But perhaps most importantly, EIGHTH GRADE is untethered from its subgenre ancestry, a work that lives and breathes at entirely its own pace: brimming with anxiety, stress, and the looming uncertainty of one's own future.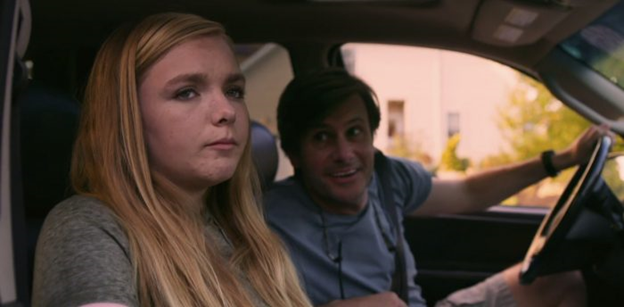 When dad takes you to a Megadeth concert
It's quite fitting that a directorial debut as assured as EIGHTH GRADE is also this palpably personal. Elsie Fisher's Kayla is a clever, thoughtful teen whose therapeutic use of her MacBook's Photo Booth serves as a space for supplication. It's a concept mirrored brilliantly in a later scene where her out-of-touch father literally treats an old-school photo booth as a confessional. Not unlike Burnham, you can see a jumbled mess of character traits in Kayla: a girl desperate to be heard, most confident when she has enough time to think to herself. It's a complex yin and yang of introversion and extroversion, best displayed through the duplicitous lives each of the film's complex individuals live on and offline. After all, if everything down to your school shooting drills are fake, then why can't your identity be as well?
But Burnham isn't here to ostracize social media. Though EIGHTH GRADE certainly comments on its impact, it would be naive to think that Burnham sees Kayla's vlogs as anything other than a millennial diary. Though the social discord between classmates is ever-present due to the intervention of cell phones, Burnham seems less concerned with criticizing their existence than he is with teenage insecurity and the immediate refuge the internet provides. When an electronic device is a fair justification for why you can't look someone in the eye, you can bet your booty that middle schoolers will jump on that safe space. It's all a matter of perspective. Instead of crafting a period piece that nostalgically remembers the days where SNAKE was the coolest timekill on our Nokias, Burnham is brave enough to acknowledge that this change in technology is a riptide we ought to analyze with empathy instead of disdain.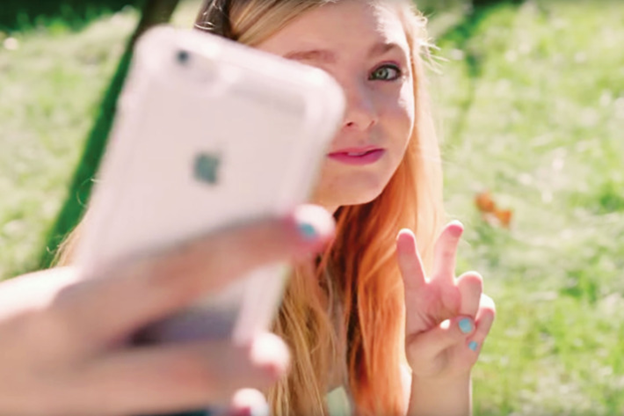 Only 2010s kids will remember
And that's perhaps EIGHTH GRADE's greatest asset. It believes in the complexity of its characters with a steadfastness that few films of its ilk do. While coming-of-age films of late have tried their best to sidestep the archetypal qualities of hallway acquaintances, EIGHTH GRADE feels like the first release to make a concerted effort in trying to understand the icky moral minefield that is the modern schoolyard. Even the film's most vile characters, from arrogant beauty queens to coercive upperclassmen, are given a chance to hold that microphone. These characters can spin their narrative, regardless if we agree with them or not, trying their darnedest to justify their behavior, highlighting much deeper concerns with the social norms that we tolerate in our society. It's this raw honesty that makes EIGHTH GRADE tick. It avoids narrative tropes that have come to define its genre, and embraces the wrinkled tapestry that outlines our adolescence.
Verdict: Recommend