SHAKE THE SHUDDER by !!!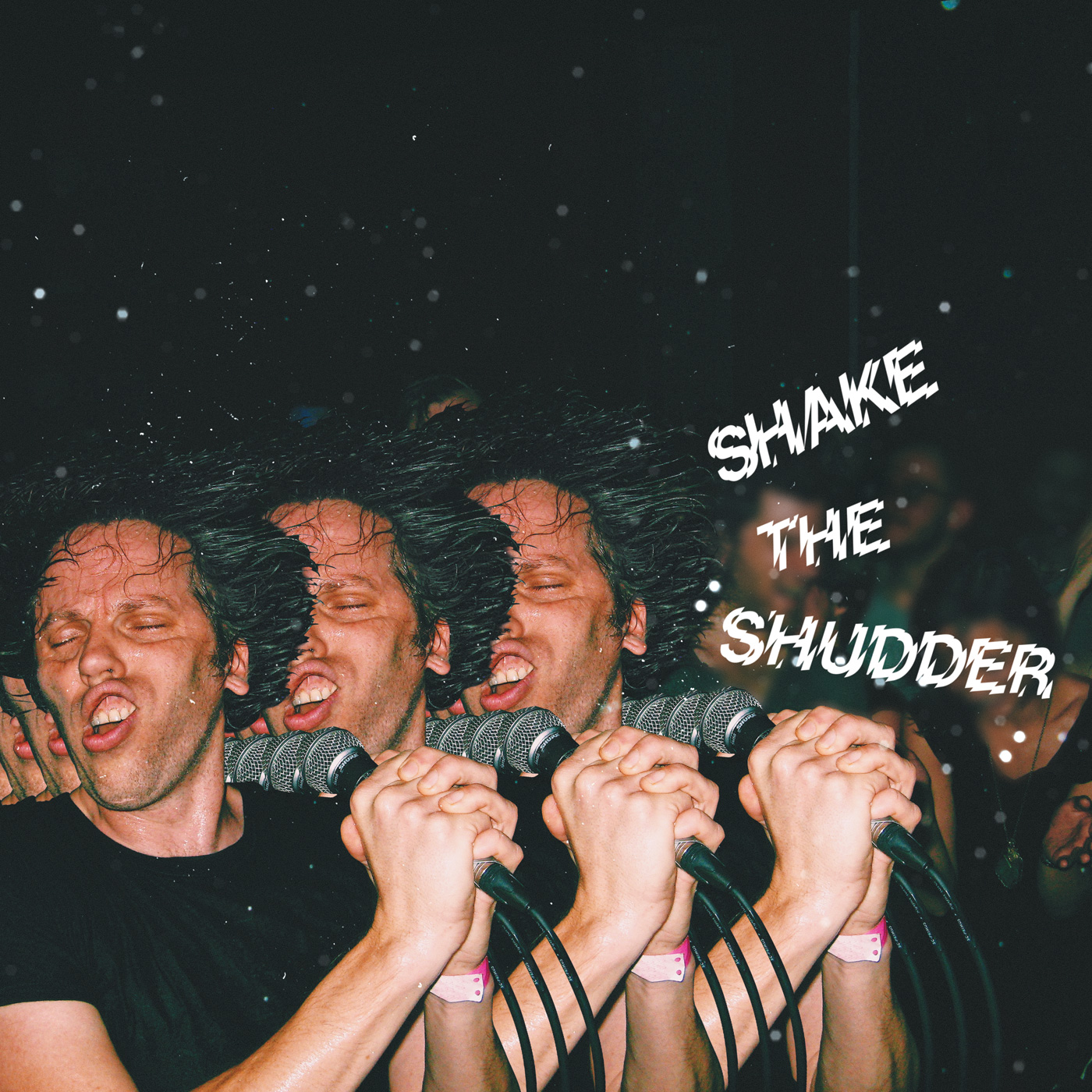 Genre: Dance-Punk
Favorite Tracks: "Dancing is the Best Revenge," "Throttle Service"
!!! (Chk Chk Chk) were never supposed to make it this far. Since dance-punk's prevalent emergence in the mid-2000s, dance music at large has run the gamut of styles and forms, mostly from the vantage point of the turntable. 10 years worth of dubstep, drum and bass, trap, and tropical house (amongst many others) all passed through a hyperlapse lens after decades of remaining dormant in the mainstream. And during that time, acts like !!! continued to be reliable and steady producers of post-punk adjacent and dancefloor-ready rock music.
But !!! largely remained a strange mystery within the relatively small world of modern dance-punk. They never captured Cut Copy's knack for warming romanticism, or LCD Soundsystem's aged wisdom and zealous melodies. They didn't accentuate the "dance" like Hot Chip or Hercules & Love Affair or the "punk" like The Rapture or Death From Above 1979. !!! were always lovable outcasts, never quite an obvious fit within the scene, but not weird enough to exist outside of it. With 2013's THR!!!LER, the group provided their most polished and house-influenced offering yet, an indie disco record with lush, Liquid Liquid-style smoothness. Just a short two years later, though, 2015's AS IF blew up steadiness in favor of off-kilter rhythms, snarling bass grooves, and go-for-broke style. Even if AS IF came across as somewhat desperate, it found a surprisingly rejuvenated and emboldened sound.
SHAKE THE SHUDDER, the act's 2017 release, fails to capture the all-or-nothing mentality AS IF had so recklessly displayed. Just like YACHT or Holy Ghost! before them, it would seem time has finally caught up to !!!.
Not to say that SHAKE THE SHUDDER is a bad album. There are songs on this record that are absolutely vintage powerhouse bangers, from the body convulsing single "Dancing Is The Best Revenge" to the latin swagger of "Throttle Service." Many of this album's best tracks feature humble openings that, over two-to-three minutes, crawl towards huge finales featuring big vocal choruses and exciting multi-layered instrumentals. This is a solid (albeit somewhat tired) formula for the band. All of this is relatively exciting upon the first listen, a mirage of exhilarating dance songs with tons of moving parts that reach obvious conclusions— the dance-punk equivalent to a satisfying beat drop. It's clear !!! still know how to write amazing dance songs that shimmer with quirk, which makes the fact that much of this record feels overly familiar and, at times, boring all the more disappointing.
Take the electrofunk of "Throw Yourself In The River," a stale, mid-tempo space odyssey that never quite builds to anything, choosing instead to focus on cheeky vocals, or "Imaginary Interviews," which never goes anywhere amidst its glitchy guitar solos. Both songs are, in theory, perfectly fine, but neither are given the time to develop into anything. When !!! are at their best they're making bold and sometimes ridiculous dance music (see: "I Feel So Free (Citation Needed)," "Must Be The Moon," "Except Death"). At their most boring they're emulating house music, playing for technical precision that comes across as filler. "What r u up 2Day?" or "Our Love (U Can Get)" lack the colorful punch that this album's highs deliver, and nowhere is this more obvious than the album closer, "R Rated Pictures," a sparse, cowbell-laden track with a poor use of horns. Remember: boring should never be a word associated with a band whose name is literally just three exclamation marks.
While AS IF wasn't a perfect album, it was !!!'s weirdest album by a country mile and one that was hard to pin down. Even at its best moments, SHAKE THE SHUDDER never quite justifies itself amongst the rest of the band's catalog, sometimes feeling like an ode to straightforward-skewing dance-punk acts like New Young Pony Club or Shitdisco. Certainly fans of the genre will find a lot to like here, as what !!! have created is pretty on brand, but it's an easy album to want more out of. Why doesn't "Five Companies" end with punchier beats? Why does it feel like "Things Get Hard" disappears during moments? These kinds of questions creep into your peripheral and make SHAKE THE SHUDDER feel more and more like wasted potential than a successful dance record.
If SHAKE THE SHUDDER featured more of the zany oddities AS IF had brilliantly brought to the surface, we would likely reconsider the band's post-hype discography as refreshing amidst recent dance-pop trends. Alas, !!! continue to chart uneven waters in a genre that's simply trying to keep its head above water, and SHAKE THE SHUDDER is emblematic of the uphill battle dance-punk has, and will continue to have, going forward.
Verdict: Do Not Recommend