Seen 'Em Live: Tropicalia
As far as fail safe combinations are concerned, music and tacos may top the list. With a lineup of well known artists ranging from latin to punk, Tropicalia was a surprising but exciting four stage festival at the historic Queen Mary in Long Beach, CA. The nautical backdrop provided a relaxing setting for an impressively curated culture festival.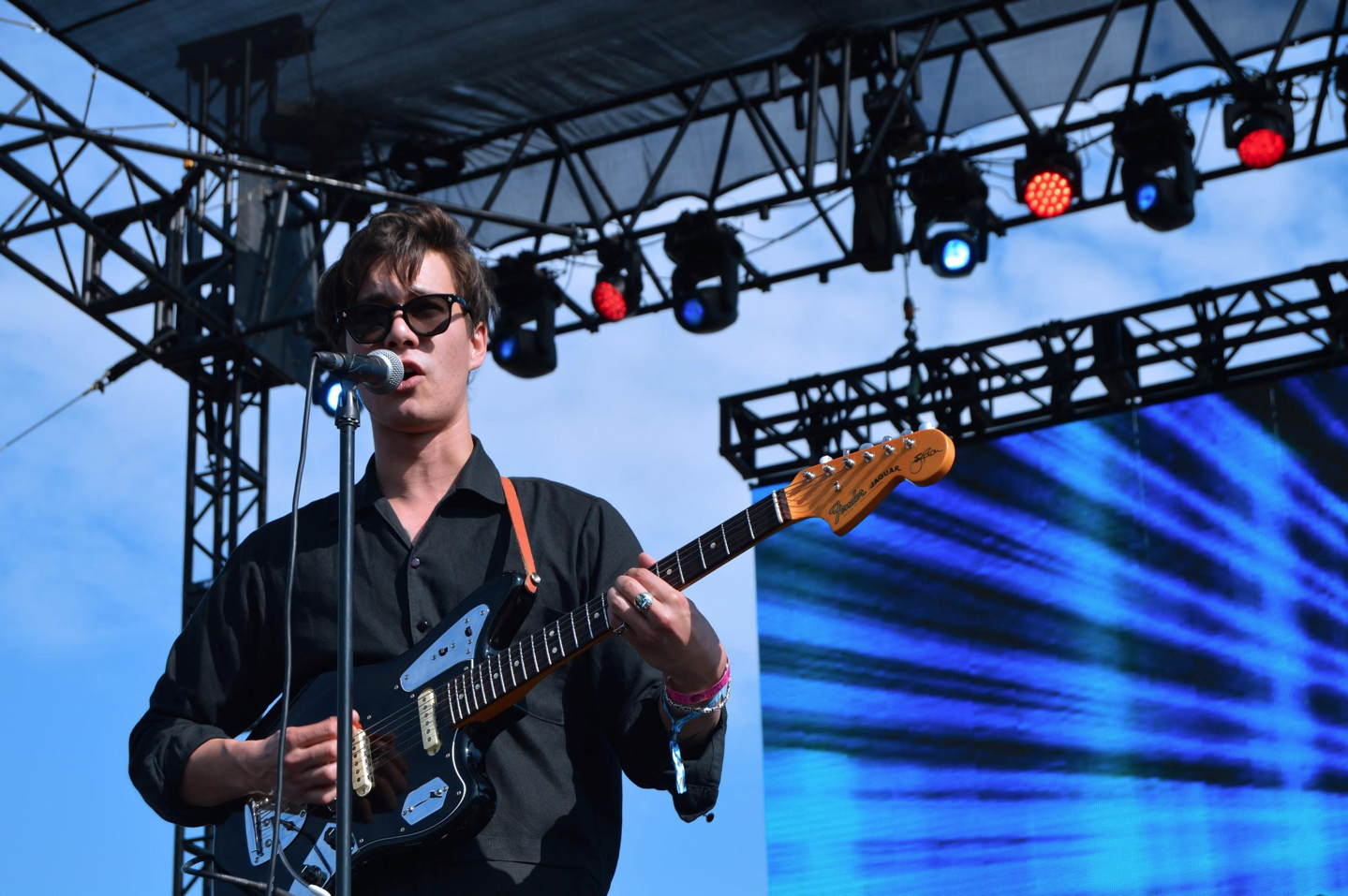 The Buttertones
I arrived pretty early in the day, but still missed two of my must-see acts: Phony PPL and Summer Salt. Luckily, I made it in time for The Buttertones' set. My first time catching them was at their sold-out show at The Glass House in Pomona, so I knew to expect well-rehearsed, raucous, authentic surf. Their live sound was reminiscent of The Growlers' 2013 album HUNG AT HEART, completed by their saxophone player, who elevates them to a more intriguing plane. Having caught two standout Buttertones shows in the course of two months, it is clear that the band is solidifying their place as one of the only modern surf rock acts that still feels innovative.
During The Buttertones' set I also grabbed my first free taco from one of Tropicalia's open taco trucks. The taco from stage sponsor Dia de los Puercos was the best taco I had of the day, and also the cheapest. Although the line was absurdly long, The Buttertones helped the time spent in line fly, and I finished my taco in time to hear them shred their hit "Orpheus Under the Influence."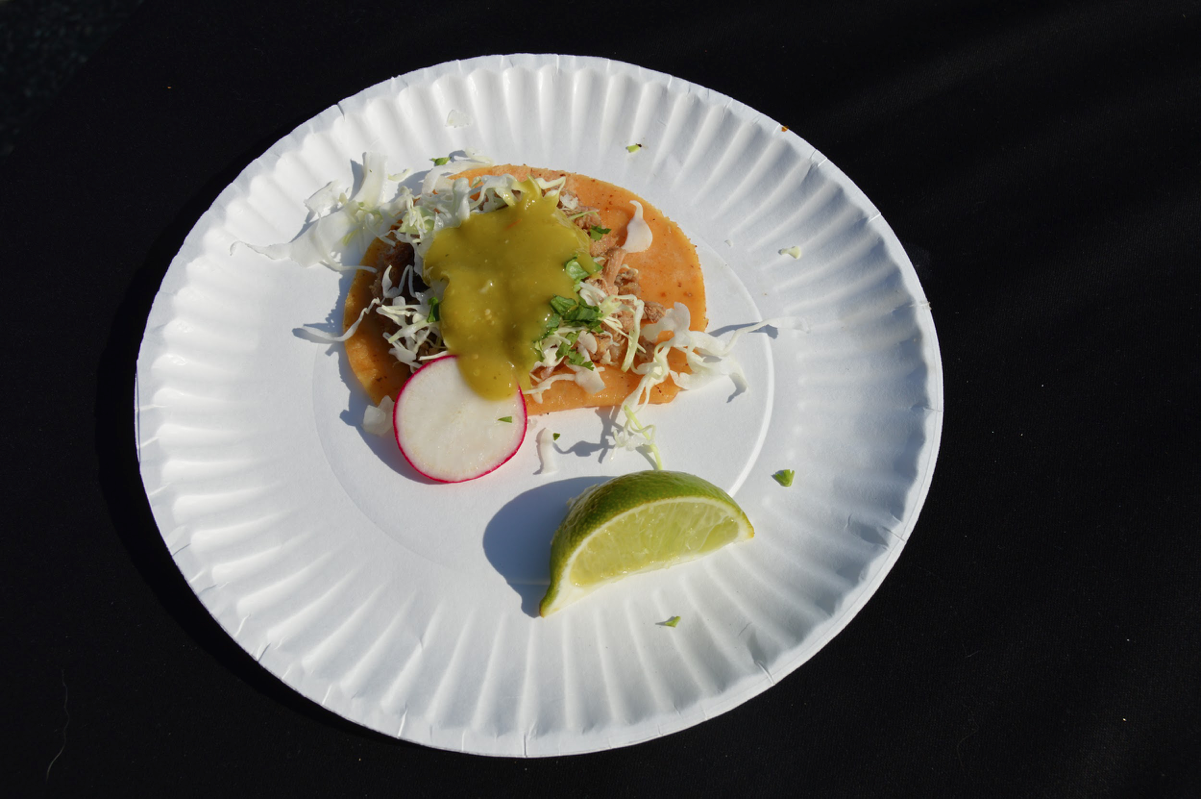 Taco from Dia De Los Puercos
Up next on the same stage was Maryland R&B legend Ginuwine. The crowd went wild as the singer humped his microphone, struck epic poses, and even ran into the audience. Ginuwine played a set of throwback hits, including "So Anxious," "In Them Jeans," and "Pony." As seductive at 47 as he was at 21, Ginuwine had the crowd amped—I even saw one fan cry at multiple times during his set.
Ginuwine
I caught Surf Curse next on the Dia De Los Puercos stage. While I had seen their drummer Nicholas Rattigan perform before in his band Current Joys, I hadn't seen the full act before. Although their sound is clearly more suited for a cramped venue like The Smell as opposed to an expansive outdoor festival environment, they played well. Rattigan was especially impressive, slamming a hi hat-less drum kit in a manner reminiscent of No Age's Dean Allen Spunt.
Surf Curse
Following Surf Curse were Los Angeles alt-poppers Inner Wave, who I had the pleasure of interviewing shortly before their set. The band drew an enthusiastic crowd for their set of sunny psychedelia. Singer Pablo Sotelo replicated the vocal sound of their recordings well, surprising given Sotelo's impressive warped Julian Casablancas tonalities. The rest of the group was tight, well-tuned, and fun to watch. Their style and stage presence complemented the music well and helped accentuate their understated yet commanding stage presence. My first time catching Inner Wave live, it was clear that their four years as a recording band have made them one of the most original and refined acts in the LA area.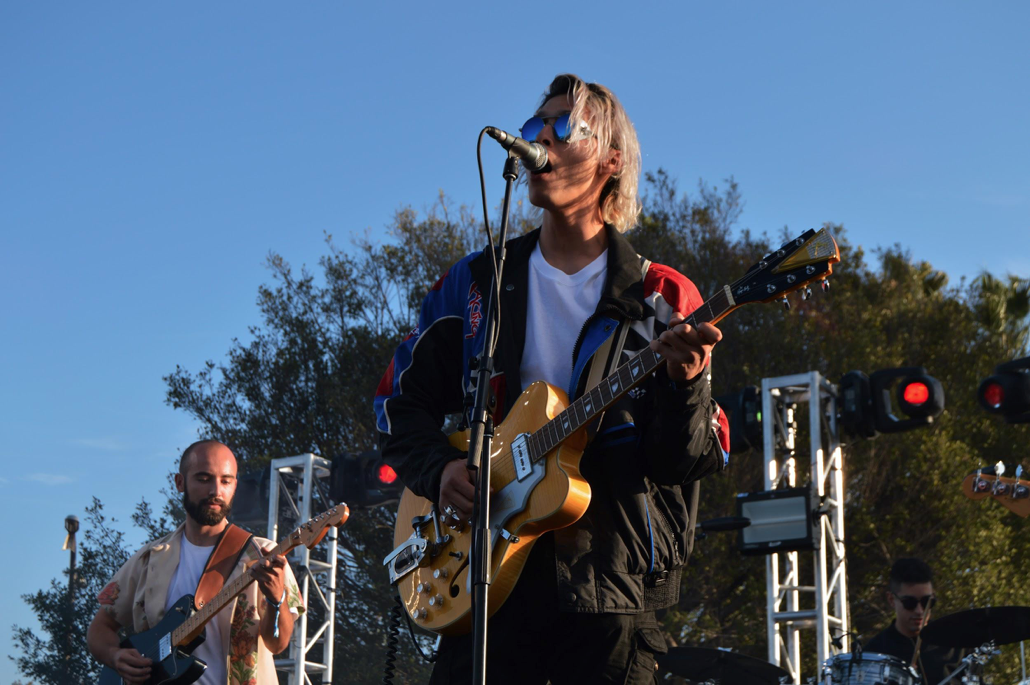 Inner Wave
I wandered around the park after Inner Wave's set and caught a bit of Chicano indie pop star Cuco's set on the festival's mainstage. Drawing a surprisingly large and engaged audience for a daytime performer, it's clear that Cuco is soon going to be one of the largest acts in California and has the potential for widespread fame.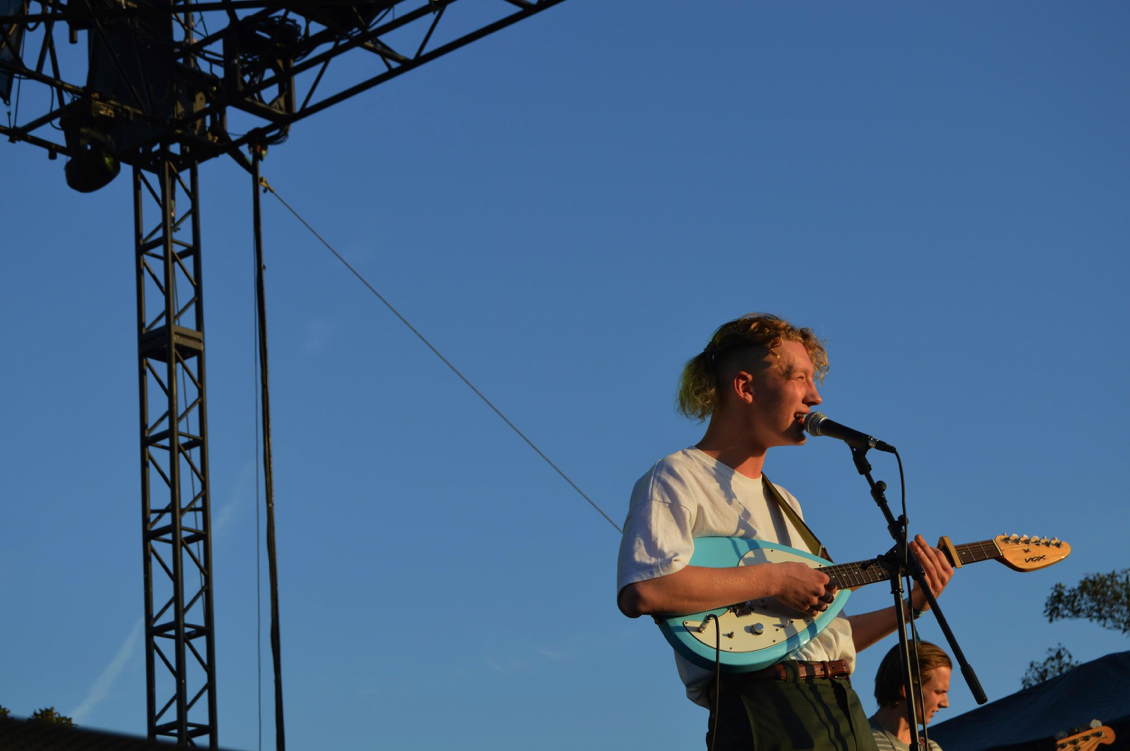 Yellow Days
After Cuco I wandered back to the taco area to try and catch XXYYXX and made it just in time to catch the last few songs of rising UK indie-pop act Yellow Days' set. Playing an ironic Vox guitar and sounding a lot like King Krule, Yellow Days was a quintessential act from across the pond. They played well, but were one of the more redundant acts of the day, and with King Krule on a few hours later, Yellow Days were the less impressive of the two British indie artists I saw at the festival.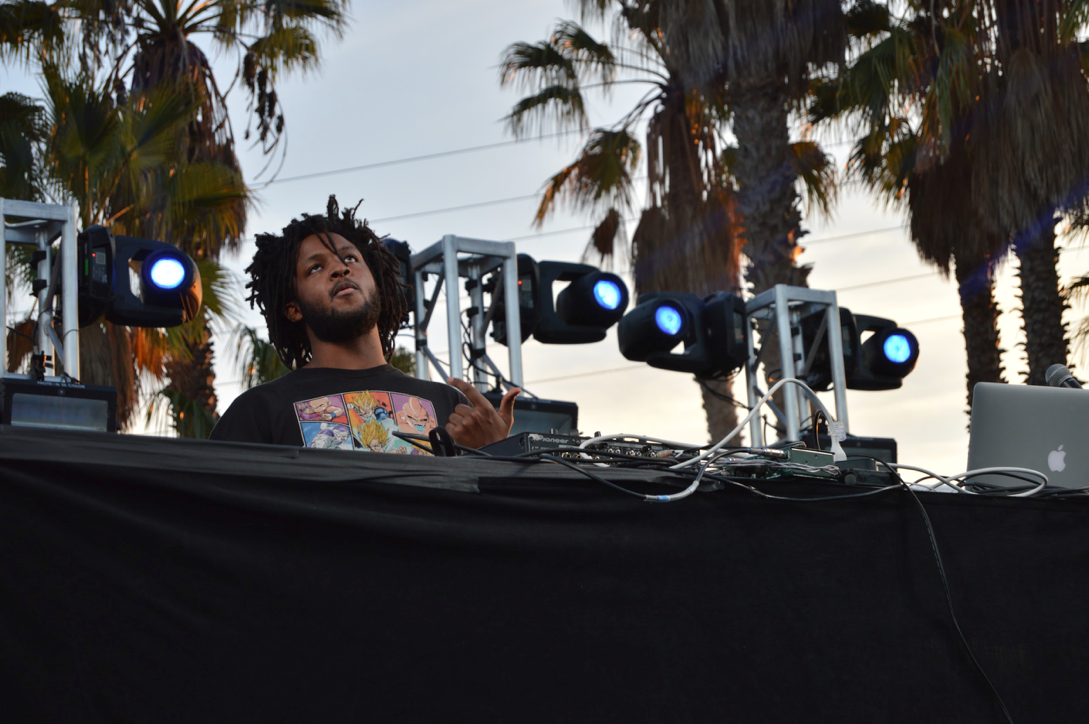 XXYYXX
Let me just say that whoever decided to book XXYYXX and Madlib consecutively may genuinely be a genius. XXYYXX's set was mostly comprised of new material and remixes, a departure from the last time I caught him, when he primarily spun tracks from his 2012 debut. Although the crowd seemed pretty unphased by his set, the sunset backdrop and pounding bass were a welcome departure from the jangly indie rock that dominated the majority of the first part of the day. Madlib followed, spinning classics in front of a neon backdrop projecting psychedelic visuals, including stills from FANTASTIC PLANET. Most of the crowd didn't seem to be familiar with the producer's legacy and few people actually grooved to the music, but despite the lackluster crowd participation, 'Lib's set was a standout and it was surreal to see the Stones Throw legend in the flesh.
Madlib
Madlib was followed by the highlight of the day: King Krule. Fresh off his sold out El Rey theatre show, I half expected Archy Marshall to flake on his Tropicalia obligations. The rest of his band set up their gear on time, but 20 minutes after he was supposed to start performing, he was nowhere to be seen. Finally, Marshall appeared on stage looking gaunt and slightly strung out. After angrily screaming "fucking shit" to himself, the band launched into 6 FEET BENEATH THE MOON track "Has This Hit?" The rest of the set was largely comprised of new material and deep cuts, but Archy still played fan favorites "Dum Surfer," "Easy Easy," and "Baby Blue." Marshall genuinely embodies the spirit of UK punk in a way dissimilar to most modern artists, and even on a festival main stage, Marshall's passion translated fully. King Krule seemed to hate playing Tropicalia as much as he seems to hate everything, which ultimately made his set even more engrossing.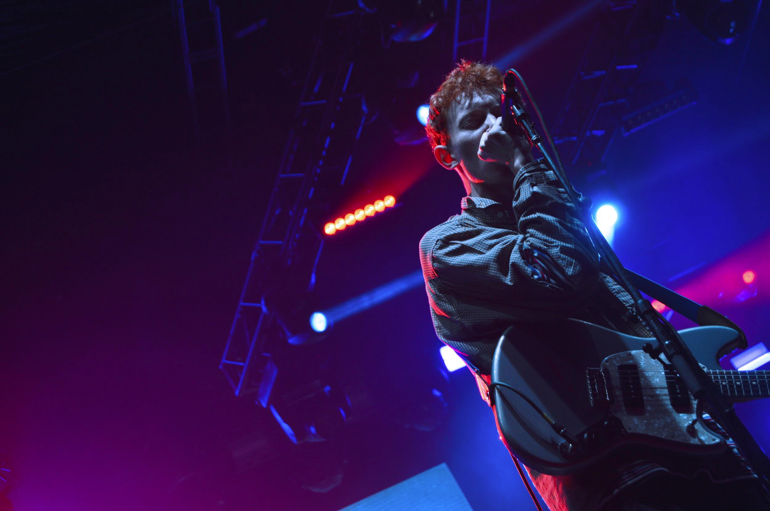 King Krule
The final set I caught of the day was Kali Uchis. The Colombian soul singer was backed by Brooklyn's Phony PPL, who I was happy I didn't completely miss at the festival. Uchis danced gracefully around the stage while beautifully replicating her studio sound. A stark contrast to the gruffness of King Krule, Uchis had the crowd mesmerized with her refined and professional live sound. Her genuine soul and spirit are unlike that of many other living musicians, and speculation that Uchis is the Amy Winehouse of our time may be prove itself true if her legacy continues to be as impressive as it already is.
My belly full of tacos, my ears ringing with live music, and my feet sore from a full day of standing, I decided to let Uchis play me out. Despite the mellow crowd, Tropicalia was the best Orange County festival I have been to. For its first installment, it was a magical experience and I can only hope we'll be graced with a follow up.