SCORPION by Drake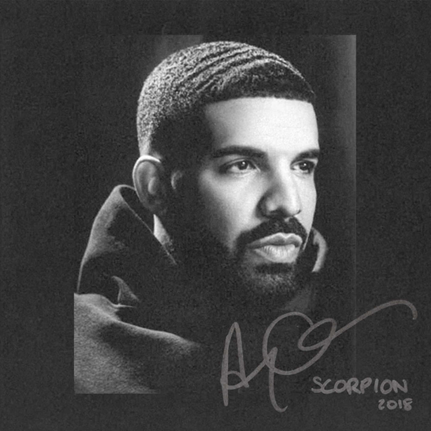 Genre: Pop Rap
Favorite Tracks: "Emotionless," "God's Plan," "8 Out Of 10"
To put it bluntly, the last two months in hip hop have been absolutely f***ing bonkers. We read in awe as the Louis Vuitton Don tweeted himself into a grave and then climbed back out seven songs at a time, argued with colleagues over who would win—a hip hop legend or a pop titan—then debated the future of rap with an unveiling of the 2018 XXL Freshman Class, and likely felt torn about the violent murder of a young Florida rapper. What makes it such a cardinal phase for the genre is that these events are not living within the world of blogs or Instagram post comments. Rather, each scenario unfolded on a national, if not global, stage. In reaction to that, the standard source of opinions in the hip hop world have started to germinate and mesh with massive outlets who recognize just how huge the genre is today—CNN had panels to discuss XXXTentacion's slaying, while the New York Times had to put out an "unpacking" of the Pusha-T vs. Drake feud.
But amidst the bombardment of rap news, there was a constant that went under the radar, bubbling slowly towards a release that was anticipated to seemingly serve as the transition from a chaotic spring into a heedless, sun-soaked summer: Drake's fifth studio album, SCORPION. After all, it was reported Drake wrote the hook for Kanye West's "Yikes," he rejected a spot in the 2010's XXL Freshman Class, was accused of stealing flow from XXXTentacion, and most notably took a beating worse than Apollo Creed in ROCKY II when he went against Pusha-T. In a way, SCORPION should have been the perfect book-end to an era of madness that uniquely related to him on all fronts, but unfortunately we got an album that missed the mark and left us a little less than deserved.
Following a mélange of tactfully executed G.O.O.D. Music releases that all fell under eight songs and were 30-35 minutes, Drake's SCORPION is a 25-song schlep that will run you around 90 minutes of listening time from beginning to end. While the Wyoming projects each moved with gusto and varied in terms of feel, keeping the song lengths in check, those projects were able to get across a theme without building up unnecessary tension. At times the pacing on SCORPION can be calculated, but often it feels lackluster in both length and sampling. "Emotionless," a gospel-inspired stream of consciousness, is a reverie for Drake as he critiques the superficial nature of the girls he sees today, but songs like "Jaded," "Finesse," and " Blue Tint" are utterly forgettable and bloat the album—especially against club bangers like "God's Plan" and "Ratchet Happy Birthday," both of which have excitable hooks made for radio. Part of the reason the album drags less than half way through is a lack of features, with the exceptions being a socially charged verse by JAY-Z on "Talk Up" and supporting vocals by Ty Dolla $ign on "After Dark." With Drake going solo for nearly nine songs in a row, it is easy to grow bored with his consistent tone. Past versions of Dreezy have offered up anthems with his Young Money family or a platform for emerging vocalists in the likes of Majid Jordan and Kyla. SCORPION is so much a solo show he rarely even pledges his standard allegiance to mentor Lil Wayne or labelmate Nicki Minaj.
In a world of SoundCloud mumble rappers, Drake's lighter R&B style is incessantly growing older to its key audience. If this year's XXL Freshman Class is indicative of one thing, it is that the new guard is comfortable taking on dark subject matters with a grungy intensity that allows for experimentation of post-genre sounds. Most of that confidence can actually be attributed to Drake: he brought emotions to the forefront years ago and continues to live up to his reputation today. "Summer Games," an electric dancehall jam, discusses a romance gone awry right before the summertime that leaves Drake with confusion and heartbreak, with a bridge that is quite literally him repeating "Breakin' my heart." This type of vulnerability has become standard fare for the Six God. Oftentimes, he backtracks to cover up his weakness with witty bravado, in this case using "Nice For What" and "Finesse" to celebrate the women in his life on top of his usual tricks.
But perhaps what makes this album so uninteresting is the predictability of Drake's emotional range, and SCORPION fails to communicate who he wants us to believe he is on this project. To hear how he feels about the same issues on repeat cripples his accessibility. Newcomers like Trippie Redd, Ski Mask the Slump God, and Smokepurpp tend to open themselves up in terms of mental illness, depression, and reckless behaviors, with distorted patterns and frequent inaudibility. The goal for the new age is not so much breaking streaming records as much as it is making intimate connections with listeners on an individual basis. In his short-lived feud with the now deceased XXXTentacion, Drake was accused of stealing his flow for "KMT" from X's sleeper hit "Look At Me Now." When asked about the accusation by BBC radio's DJ Semtex, Drake swept XXXTentaction under the rug with the sense that he was a small fry in Drake's global kingdom. Today, the two battle for a number one spot on the Billboard Top 100 even after X's passing. Even these unknown rappers can take on seasoned giants with less production value or monetary power.
Of course, the wishful main event on SCORPION could have been a response to the obliterating diss track "The Story of Adidon." A direct response would not have been necessary (Drake already took an L against Pusha-T), but many hoped for an album dominated with explanation of the coming of Drake's son and his plight as a father. While the mini-six god is mentioned sparingly, Drake does not appear to be ready to share his child to the world à la DJ Khaled's son Asahd. "Emotionless" and "8 Out of 10" acknowledge his existence without actually giving him a name. He thwarts Pusha's allegation of foul play, claiming, "I wasn't hidin' my kid from the world I was hidin' the world from my kid." And on "March 14th," he admits shame in his actions as an unpresent parent. His taking the high road publicly surely does not make up for his loss to Pusha-T, but it signals a shift in his power as a chart-topper. Pusha-T could never outsell Drake, but Drake could never out-rap Pusha-T. By even having to scrape the surface of his love-child situation, it becomes clear that rap is not just about sales as much as street credit and reputation. That alone reveals how contrived SCORPION is on several levels and ultimately will not stand out in the future of rap.
Drake should still pop the Dom Perignon—the album absolutely shattered records within its first week. On the release day alone it set new heights, with Spotify reporting a little more than 132 million streams. So sure, Drake is still a behemoth and likely the largest fish in the pond, and those leading singles "God's Plan" and "Nice For What" are tracks you can slap to for the rest of the year. Yet, when we throw SCORPION under a critical lense, especially in comparison to what occurred immediately leading up to it, it becomes a chore to justify whether it really has some cultural grasp, or is just strong poison for the masses.
Verdict: Do Not Recommend