RUINS by First Aid Kit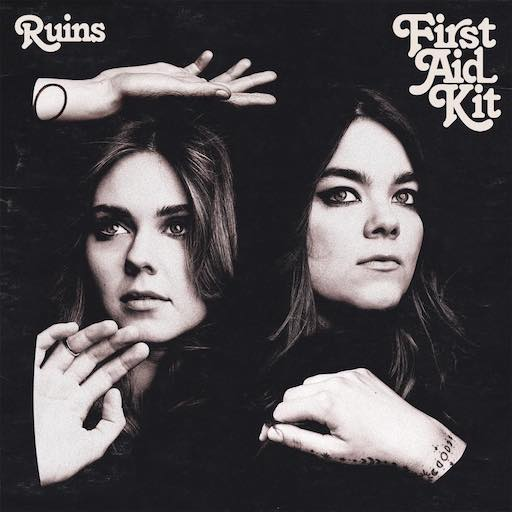 Genre: Americana, Indie Folk
Favorite Songs: "Distant Star," "Hem Of Her Dress," "To Live A Life," "Nothing Has To Be True"
Over the years, First Aid Kit have been criticized for being cute Swedish girls who made Fleet Foxes covers before it was cool and unjustly compared to ABBA. This is fake news. These two sisters are queens of Americana-tinged folk, and if you let RUINS play after hearing their first three albums without paying much attention, you'd think it's more of the same (yay!). But when you listen carefully, the painful lyrics bring the already talented Klara and Johanna Söderberg to a new level of songwriting. Most sources aren't talking about how this album is as much about two sisters burning out on tour and having to rekindle their spark as it is about Klara's broken engagement. Entering adulthood and facing your first big heartbreak is difficult enough when you're not in the spotlight and touring nonstop for six years, but let's be real: spending that much time with your sibling would test any relationship. That's why we forgive First Aid Kit for taking 18 months to write RUINS.
If you've ever felt like you hit rock bottom, or had the rug pulled from under you, you will find solace in RUINS. First Aid Kit showcase a more vulnerable and raw side to their music than in their previous albums. In the title track they sing, "I lost you / Didn't I? / First I think I lost myself." No one escapes from ruin unscathed and K+J aren't hiding from it. That's what makes this album so powerful, hitting the same emotional significance as Kesha's comeback single, "Praying," but over the course of an entire album.
There are some obvious musical influences that seep into their writing, most notably with "To Live A Life," their homage to Bob Dylan. In 2016, not only did they cover his songs after his Nobel Prize nomination, but they attended the award ceremony in December. They didn't just capture his lyricism; what's most impressive is the way they sing his prose and pair it to good old fashioned guitar strumming. In addition, it was around that time that Leonard Cohen passed away, and you can hear his style in little moments throughout RUINS, notably on "Fireworks," which showcases Cohen's dreaminess and takes it one step further. Both songs have a quality to their melodies that sounds like a slowly falling leaf swaying its way back and forth to the ground.
I'm not gonna skirt around this next part: First Aid Kit bring up every question we've all asked ourselves when we feel like our lives are falling apart. If the lyrics cut you in the feels like a knife, remember that you've been warned: "Is it because of [me]?" ("Rebel Heart"), "Why do I do this to myself?" ("Fireworks"), "Will I know what this all means?" ("My Wild Sweet Love"), "You could have been mine" ("Distant Star"), "You say you found yourself / Holding someone else" ("Hem Of Her Dress"). They masterfully bring up these doubts and pains in the most positive way. In "Rebel Heart," the high pitched chorus, "Is it because of my rebel heart?," switches to a lower bridge: "Nothing matters, all is futile." The angry, albeit bleak, questioning makes way for acceptance that diffuses the tension. Then they opt for an upbeat tempo in "It's A Shame" and use a trot-like folk cadence for "Postcard," both of which convey a carefree attitude. First Aid Kit save the sweet, nostalgic melodies for "My Wild Sweet Love," "Distant Star," and "Ruins" to add variety.
However, the most cathartic moment is on "Hem Of Her Dress." It is the only time they actually use the timbre of their voices to show raw anger as they sing, "So loud and so discreet," letting out a raspy, angry "loud" and immediately reeling it back in for a restrained, quieter "discreet." They balance out the aggressive outburst with a fantastic outro of the people you meet at closing time in a bar, everyone joining in a chorus together to sing along. Throughout the album, you can tell that, even though they feel like their lives are in ruins, they won't give in to the darkness or stew in anger until it consumes them.
If you consider the stages of grief, RUINS focuses on moving on and letting go. The song order is perfect. The themes in the lyrics evolve and you feel like you're trudging along and moving forward. In "Postcards" they ask, "Won't you let me know?," and by "My Wild Sweet Love" the question becomes, "Will I know?" Finally, by "Distant Star" there's the hard truth that "I will never know." "Nothing Has To Be True" serves as a killer epilogue. Though they touch only gingerly on mortality in RUINS, they open the final song with, "Each and every breath we take / A step towards death." If that's not enough to get your attention, then the stripped-back instruments paired with honest lyrics (about realizing part of the problem was you) should do the trick: "You can tell yourself so many things / And nothing has to be true." This song is about understanding how you found yourself in ruins, why it played out the way it did—that it was a choice to stay instead of walk away, a choice to turn a blind eye. The long, instrumental outro gives you the chance to process the lyrics and feelings not just from this specific track, but the album as a whole. Trust me, it's brilliant.
First Aid Kit are showing off with RUINS. Yes we knew they could harmonize, and yes, we knew they could write great lyrics for folk songs, but the intensity of this album is mesmerizing, like watching a train wreck happen in reverse. We all get insecure and lost when our lives start to crumble and RUINS is the perfect embodiment of that. I have a feeling it will be a staple of mine when times get rough, and hopefully it will be for you too.
Verdict: Recommend