ROOM INSIDE THE WORLD by Ought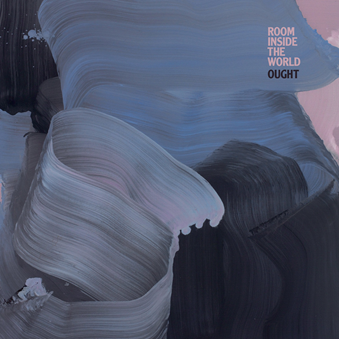 Genre: Post-Punk
Favorite Tracks: "Disaffectation," "These 3 Things," "Desire," "Take Everything"
For their third full-length effort, ROOM INSIDE THE WORLD, Ought has taken a step away from the bracing art rock tendencies that filled their 2015 release, SUN COMES DOWN, in order to dive head first into classic '80s post-punk and new wave. The aggressive, and sometimes frantic, guitar work that has driven their previous LPs has taken a backseat to pounding bass and tasteful synths. The shifts in their sonic stylings may surprise longtime fans of the Montreal group, but for the most part, the obvious changes are quite welcome.
The first thing that immediately grabs your attention happens in the first few seconds of album opener "Into the Sea," when you realize vocalist Tim Darcy is actually singing, and he's doing a damn fine job. Darcy's traded in his snarky incantations for a more soulful delivery reminiscent of Orange Juice's Edwyn Collins. While Darcy's dialed back the aggression in his delivery, the sharp commentary and poesy are still present in lyrics like, "I see the stain in the people now." If there really is ROOM INSIDE THE WORLD, it is evident that Darcy is hesitant to step into it.
This is the most dynamic and spacious sounding Ought record to date, with a heightened focus on Ben Sidworthy's rock solid bass lines, which are perfectly exemplified on album standout "Disaffectation." While initially carried by an upbeat bass that is perfectly accented by echoing guitar lines that would not sound out of place on My Bloody Valentine's "Ecstasy and Wine" single, the song drops into a dissonant break with the swagger of post-traumatic stress disorder-driven big-top extravaganza. "Disaffectation" is the only track that evokes the emotionally urgent yelp of Darby's previous efforts with Ought, boldly asserting that, "disaffectation is holy/ it keeps me alive," a desperate plea to disconnect from an emotional awareness that plagues any empathetic being that dreads social stagnation. Lead single "These 3 Things" struts similar upbeat bass grooves and is complemented tastefully by crunchy guitar licks and classic synth tones, echoing The Cure's "Lovesong."
"Desire" follows the two most upbeat tracks on the album, and its sleepy swagger is truly stunning. As each verse approaches its end, the quiet, dreamy guitar lines rises to meet Darcy's rising voice, only to scurry back into the shadows. The full explosion is realized in the chorus, where the repetitive lament of, "Desire / it was never gonna stay" is soulfully echoed by a choir.  "Brief Shield" is the only obvious clunker during ROOM's 40-minute run time, lacking the exciting stops and turns that keep the other tracks interesting.
Fortunately "Brief Shield" is followed by "Take Everything," which reverts back to the multi-part song structure that is present in several of the better tracks. The slow and dreamy intro verses only make it about 90 seconds before getting kicked in the teeth by a pounding beat and punchy guitar line. This middle section can fool a listener into thinking they are listening to a completely different track before it seamlessly slides back into the patterns of the songs opening moments. "Pieces Wasted" similarly delivers structural variations, jumping between three distinctive movements throughout the song. A lyrical highlight, the wit and wordplay in lines like, "It was like another planet, so you really couldn't plan it," and, "pieces, pieces, wasted/peace is, peace is, wasted" serve as a small call back to the cheeky poetry and delivery of their previous offerings. Album closer "Alice" begins as a haunting dirge that slowly gives way into an atmospheric jam that lasts the perfect amount of time to keep you engaged.
ROOM INSIDE THE WORLD is an intriguing and mostly successful step forward for the group that finds them approaching previously tackled topics of social disillusionment and romantic disappointment in a way that is more somber and reflective than their previous efforts. The mellowing maturity does not seem forced in the slightest, as Ought's critical cynicism towards the outside world seems to have naturally transitioned into a sorrowful acceptance: an acceptance of the fact that while there may be room inside the world, it is not a space you actually want to occupy. It will be interesting to see how this new introspective sound blends with the rest of their catalog when they hit the road in early March.
Verdict: Recommend