Podcast of the Week: OFF BOOK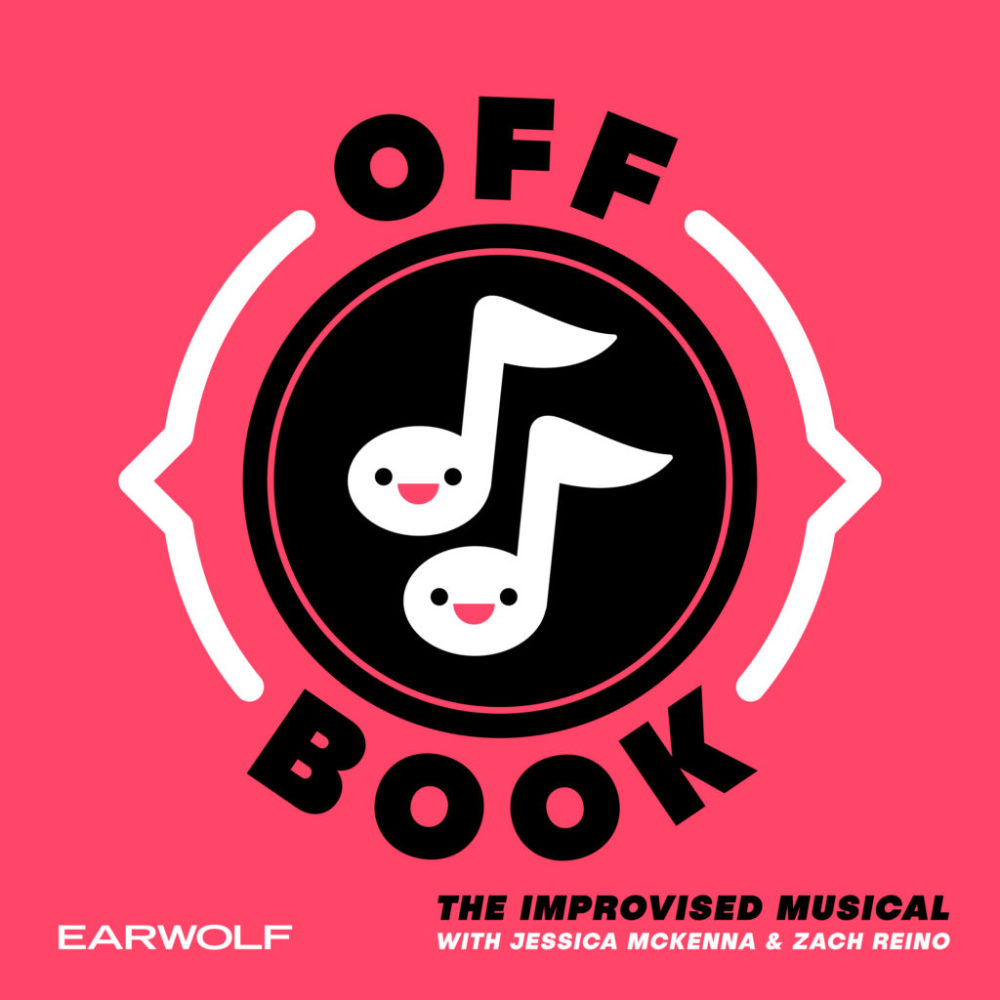 Here is a list of things that happen in the first 25 minutes of a recently recorded live version of OFF BOOK, an improvised musical podcast featuring hosts Jessica McKenna and Zach Reino and, in this episode, special guest Rachel Bloom (CRAZY EX-GIRLFRIEND):
After accidentally stumbling upon a talking point about basketball in the intro, the musical kicks off into a song entitled "Why Do People Like Sports," a topic that is almost fundamentally built to trip up the three non-sports enthusiast performers, leading to our main characters traveling through a wormhole to a world where other common jobs are revereared the way sports are (specifically the job of being a fireman).
In an effort to try and raise money to get his degree in blogging (yep) from Northwestern, one of Reino's characters is revealed to be a gambling addict who bets on firefighting in the same way that you or I would bet on horse racing or college football. The thing is, when reading into this article on http://www.profitaccumulator.co.uk/news/front-page/how-good-are-no-deposit-bonuses/ or another website similar, you can't imagine you'd be getting such bonuses while betting within a firefighting gambling ring, so which do you think would be better for profits?
Bloom's booky character, who runs an illegal firefighting gambling ring, sings a song about her dead son who was, in fact, a firefighter. Oh, and he was a firefighter who also had asthma.
Children who were saved from a raging fire (Reino and McKenna) by Bloom's son meet her, which launches a song about her taking them to Subway (the fast food restaurant) and ostensibly becoming their new mother.
This kind of illogical series of events isn't off brand for the world of improv podcasts, but the musical numbers (soundtracked regularly by pianist Scott Passarella) push OFF BOOK into a world all its own, and one that impressively stumbles its way into first, second, and third act narratives (at least most of the time).
OFF BOOK rides high on an undeniable charm in its unabashed love of the musical genre and Broadway. No topic is safe. From singing in heavy Eastern European accents about the plot of Dragon Ball Z with Tawny Newsome, to crooning about getting mud on your Jeep Cherokee with Drew Tarver, the story paths for the characters that inhabit OFF BOOK's world are random and off beat, helping to create lasting comedic moments and dynamite songs. While the level of talent ranges from non-singing comedian Paul F. Tompkins to actual Broadway performer Nicole Parker, Reino and McKenna do the Lord's work prompting and working with the guests, whose improv instincts can guide the podcast but whose musical abilities range wildly. I had the opportunity to ask both hosts about the process of recording and creating the podcast, and their answers reflect a genuine excitement for developing a start-to-finish musical every week.
CS: While a lot of the guests that appear on the podcast are improv performers by nature, you've had a few guests that don't necessarily play in the same comedy circles. How do they react to the format of the show?
Jessica McKenna: So far the guests outside of improv have been so sweet and down. I think I'm interested in having all kinds of guests; it keeps the variety of the show and keeps us fresh. It's obviously fun and sometimes easier to play with friends or people that really share our improv background but it's also exciting to try and push beyond our comfort zone.
CS: What kind of conversations are had leading up to the podcast? How do you prep a guest?
JM: We try to just put them at ease. We want them to feel like they can dive in and go for it and that we got them. That's the biggest thing we try to assure them: we got you. We tell them not to worry about plot or time, that's our job. We know this show is a big ask so we try to put as little on them as possible. In the beginning we used to say more about how and when to sing but one guest was like, "This is already too much to keep track of," so we backed off. That was great feedback.
Zach Reino: Yeah, we have opinions about harmonies, and rhyming, and all sorts of stuff that we initially thought would be useful tips, but for most guests it gets in the way of them being relaxed and having fun, and we want them to be both those things.
CS: Have there been guests that you've approached for the show that have turned it down because of the singing portion of the show? How do you navigate the fact that guests come to the art of singing the theater at different levels?
JM: Yes, we have had several people decline being guests because they don't feel like they can and want to sing. I wish I could change their minds, but I also totally get it. I think the fact that guests sing at different levels is great. That's my preference. Again, it goes back to variety. I think it's awesome when someone can really sing, but I also think it's great to hear guests overcome their fear and try. I like that we have guests like Nicole Parker AND Jon Gabrus. I don't think OFF BOOK would be OFF BOOK with just one kind of guest.
ZR: Totally agree. I have favorite episodes on both sides of the singer spectrum.
CS: The fandom for OFF BOOK seems to burn much more intensely than it does for other comedy podcasts. Why do you think that is? Being part of Earwolf must be part of that, but does it feel like the show extends outside of that world?
JM: Is that true?! That's cool. I think our fans are amazing, creative, and supportive. They make incredible fan art, have imaginative theories, and really get the spirit of the show. Being on Earwolf gave us a huge leg up. There is already such a loyal following there. I don't know if we extend beyond that; I feel like lots of shows have intense fandoms. What I do think our diehards have in common is that they tend to be hooked into the positivity of the show; they're cool with the fact that the show is sometimes earnest and is pretty optimistic.
ZR: Our fans seem to have developed a culture of being aggressively kind both to us and each other, which is, frankly, refreshing. We're still relatively new but the little community that is starting to take shape makes me really happy.
CS: Who are the dream guests?
JM: So many! Jonathan Groff, Kristen Bell, and obviously Lin-Manuel Miranda but also . . . The Rock. Right? Let's get the Rock.
ZR: Yeah, Dwayne has an open invitation. Also I think it would be fun to put more people in Scott Passarella's (King of Pianists, pianist of Kings) corner. Drummers, guitar players, violins. I want all of it.
A huge thank you to Jess and Zach for participating in this interview!