Podcast of the Week: HOW DID THIS GET MADE?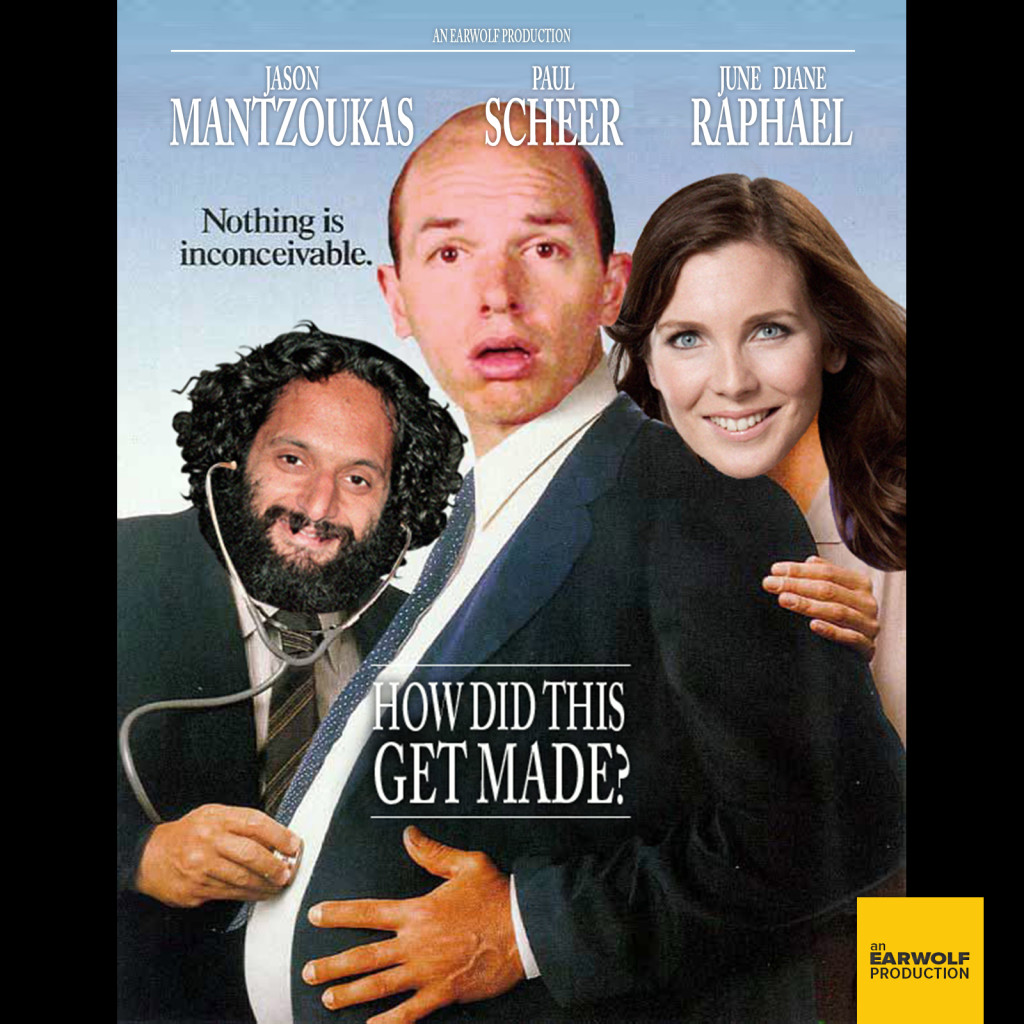 As a cynical, pop culture-obsessed, generally destitute "adult" in his early-20s, it practically goes without saying that I spend whatever free time I have drunk off my ass watching bad movies and insulting them with my friends. Anyone who knows me can vouch for the fact that I'm almost exclusively interested in the detritus of film history, and I actively attempt to avoid anything with greater than a 50% on review aggregating sites. Latter-day Adam Sandler is my field of specialty, but offensive early-aughts comedies are another piece of the barren, poisoned pie I enjoy diving into. All this is to say that I have no idea why it took me this long to come across HOW DID THIS GET MADE?, but it was truly a match made in Heaven, and a few scant episodes have inspired waves of backlogging mass downloads that bring me back to when I first fell in love with RISK!
If you couldn't piece it together above, HOW DID THIS GET MADE? is simple and straightforward: Paul Scheer, June Diane Raphael, and Jason Mantzoukas take the piss out of an abject cinematic horror every other week, often joined by a member of a rotating cast of their famous friends. While inebriation isn't (an obvious) part of the show structure, HOW DID THIS GET MADE?'s strongest calling card is how easily and breezily communal it feels. Each episode is reminiscent of being dropped in the living room of the hosts. With virtually every participant on the bi-weekly show being involved in comedy, often with a heavy background in improvisation, the constant barrage of jokes and riffing feels comfortable and natural, never forced and regularly laugh-out-loud hilarious. Especially during the closing segment where five-star Amazon reviews are read aloud.
It's no secret that the enjoyment of the episodes increases if you're familiar with the films being discussed (as such, my favorite episodes are the ones delving into LEPRECHAUN: IN THE HOOD with Kumail Nanjiani and VAMPIRE'S KISS with Hayes Davenport), but it's remarkable how accessible the episodes are regardless of your familiarity with the property being discussed. Take the most recent episode, for example, exploring the almost entirely unheard of BRATZ film from 2007. Having literally not been aware it existed, a little over an hour later and I was ready to take a page out of Paul Scheer's book and drop $7.99 on it. HOW DID THIS GET MADE? is able to achieve this effect by insisting on not insisting on a guideline for tackling its subjects. Hosts and guests chime in whenever they please with whatever they please, leaving your head gleefully spinning while also managing to explore far below the surface level of the film in question by the time things wrap up. Especially since the hosts all generally treat the films with some sort of respect, rarely ever crossing the line into being mean for the sake of it, the listener is left with an incredulous desire to get online and go dumpster-diving in order to join the fun.
But lest we start overthinking things, at the end of the day, it's important to leave you with the simple fact that HOW DID THIS GET MADE? is one of the most entertaining podcasts imaginable. Since it's been going strong since 2010 this isn't news to many of you, but don't be even later to the party than I was. This is well worth your time and an obvious next add to your commuting podcast playlist.