Podcast of the Week: CONVERSATIONS WITH PEOPLE WHO HATE ME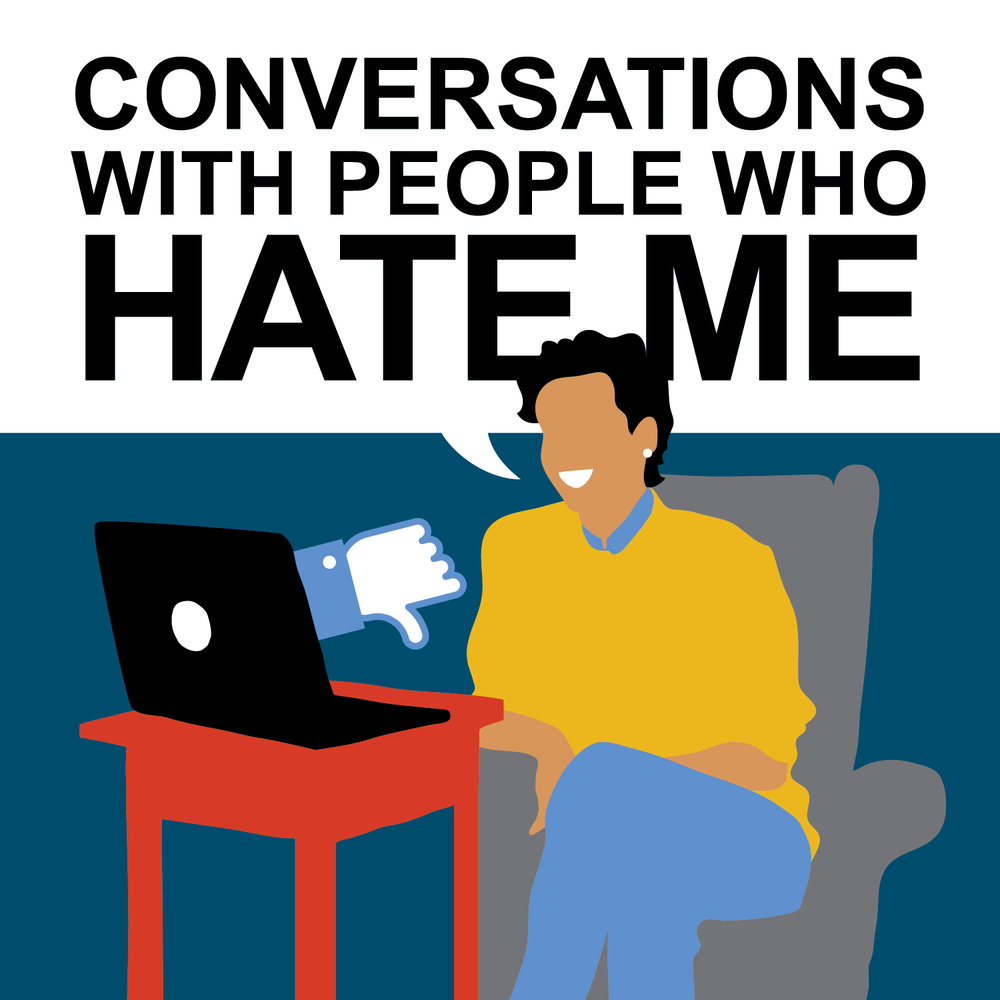 I really hope that this interesting project evolves into something even greater than it already seems to be. Let me back up; Dylan Marron is a YouTuber and regular contributor for the channel Seriously.TV who falls firmly into what we could call the Social Justice Warrior camp. Some of his most popular videos include his "unboxing" series, where he unboxes "the hottest intangible ideologies on the market," such as rape culture and liberal elitism. However, what sets him apart from many similar YouTubers, aside from his ability to get real youtube comments, is his staunch commitment to two important things; never becoming angry to the point of incoherence and never assuming he can fully speak for a community he is not a part of. In short, he's great at finding and interviewing guests and giving them a platform to speak for themselves. I may have my personal disagreements with what Marron chooses to focus his political energies on from time to time, but it's hard not to be charmed by his presence and consistency as a personality.
Obviously being an outspoken advocate of everything Social Justice on the internet has earned Dylan quite a lot of hate over his time in the internet spotlight, so as you can imagine, he's accrued his fair share of hateful messages from various people across the web. His new podcast is an attempt to speak with some of the people who have sent him particularly vindictive messages over the years in an attempt to unpack the hatred that they expressed and why they felt the need to express it. This has been done in the world of podcasting already, most notably on episode #545 of This American Life (which I can't recommend enough). What happens in the pilot episode is pretty much identical to what occurred in the This American Life episode; the troll, in this case named Chris, breaks down pretty much immediately over the phone and becomes much more respectful, agreeable, and differential than he was in his original message in which he called Dylan "a piece of shit."
It's a very good conversation that Dylan and Chris have, primarily because Dylan never wags the finger of racism, xenophobia, or sexism when Chris expresses views which could be characterized that way, while simultaneously gently challenging those views. Dylan walks a great fine line between giving Chris a platform and allowing Chris to feel comfortable in the conversation. Inherently, there's dramatic tension between the two as they speak, the listener always expecting Chris to fly off the handle and becoming as unhinged as he was in his initial message to Dylan. When this doesn't happen, we're left with the sense that bridges can be built, hearts can be won, and we're not so really different, after all.
That being said, while it's nice to know that a social justice warrior and an internet troll can be polite to each other for a 25 minute conversation, Dylan and Chris's conversation mostly consists of them swatting at each other with their predetermined talking points on issues such as gay rights, trans rights, and Black Lives Matter. Chris often concedes that Dylan has a point on various issues, and Dylan does a nice job keeping the conversation in a realm where both parties can speak from direct, personal experience, but we don't get a deep dive into the mind and soul of Chris, to understand why he felt so compelled to write to Dylan that day in the first place. I look forward to tracking the show's growth and seeing the conversations get longer and more personal. Why was Chris so angry? What in his life was frustrating him to the point where he had to "have a couple cocktails" and write hateful things to a man on the internet that he'd never met? What is it like to be married to a woman who he says he can't talk about politics with? We can't get to the heart of hate by only discussing our glib differences in political opinions-to truly unbox it we need to expose the parts of ourselves we're not always ready to accept, in order to allow others to expose themselves in kind.
On January 21st, while many people were participating in the Women's March, protesting the inauguration of Trump, I was instead taking psychedelic mushrooms with my girlfriend in Malibu. While part of me regrets not participating in the march, I'm ultimately glad that I spent the day as I did. While in the midst of the trip, the opening refrain from the Talking Head's "Once in a Lifetime" began to rattle around my head: "And you may find yourself behind the large wheel of an automobile, and you may find yourself in a beautiful house, with a beautiful wife, And you may ask yourself, Well, how did I get here?" Naturally, this shifted how I view "Trump supporters" as a group. We all find ourselves playing the parts that life hands us; very rarely are our choices truly conscious or entirely our own. None of us truly chose the lives we eventually find ourselves enacting, and oftentimes we find ourselves doing and saying things that we cannot fully justify or understand when confronted with them. CONVERSATIONS WITH PEOPLE WHO HATE me has a lot of potential and I would love for it to be a success, especially one that attempts to connect with its guests as people, rather than as the stereotypes they initially present themselves as through their computer screens.