Music Roundup 2/26/18
We're here to tell you what's hot and what's not in this week's music roundup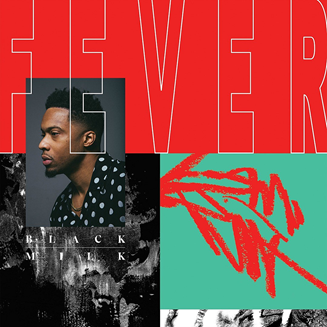 Black Milk – FEVER
Genre: Conscious Hip Hop, Jazz Rap
Favorite Tracks: "Could It Be," "2 Would Try (featuring Dwele)," "Drown"
The consensus surrounding Detroit-based Curtis Cross is that he's a talented producer with Madlib's ear for psychedelic and jazzy tones, if a bit lacking in his abstractness, but a rather unimpressive, if competent, emcee. His music lays in this awkward no man's zone where it's too soulful to be good club music, too tame to be dirty battle rap, and too undercooked to be intelligent conscious hip hop. ALBUM OF THE YEAR, his most compelling work, was only born after a year of tragedy in his life, and the same catalyzing stress did not strike twice. I appreciate his use of live guitars and more chaotic percussion over rap snares and their ilk, but annoying samples on "Laugh Now Cry Later," "Foe Friend," and "Will Remain," and unnecessary electronic flourishes and interludes like "eVE" ruin the blend of old and new school. The more shocking failure of FEVER is the songcraft; the opener "unVEIL" features verses you'll miss if you blink, and "True Lies" is a fragmented mess that stops and starts more times than I thought possible in four minutes. There's some politically-charged material like the cop abuses depicted in "Drown" and its ominous outro, but FEVER is too baffling, inconsistent, and annoying to get invested in beyond that. It left me with a headache and many questions, most notably: Why you would listen to this over any of his previous projects? [Blake Michelle]
Verdict: Do Not Recommend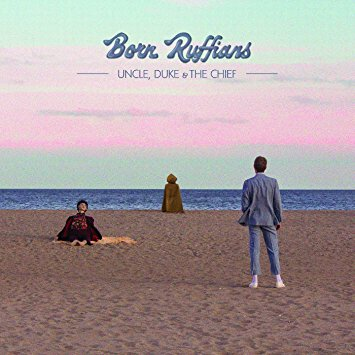 Born Ruffians – UNCLE, DUKE & THE CHIEF
Genre: Indie Rock
Favorite Songs: "Side Tracked," "Fade to Black," "Love too Soon"
The album artwork for Born Ruffians' latest release, UNCLE, DUKE & CHIEF, looks exactly what it sounds like: sunset beach vibes ebbing and flowing in true indie rock fashion while also reflecting on deep and meaningful topics.
The record marks the long anticipated return of drummer Steve Hamelin, which would explain why they've distanced themselves from previous albums and returned to the energy of their debut, RED, YELLOW & BLUE. Stylistically, and from out of nowhere, they pulled out a distinct and brilliantly refreshing West Coast sound. There's a convergence of styles on "Miss You," "Tricky," and "Ring That Bell," which evoke doo wop and surfer rock (think "Twist & Shout" meets The Beach Boys and The Marvettes), unexpected in the most pleasant way. Based on the AMA they hosted last week, I'd say UNCLE, DUKE & CHIEF is an honest representation of who the original ruffians are: it sounds like a good time, sounds like the band had a good time putting it together, and makes you want to join in on the fun. The positivity aside, there are some dark corners reflecting on David Bowie's passing, heartbreak, and the void between wanting to do something and actually doing it. In a way that only indie rock can achieve, Born Ruffians created a beautiful mixture of shadows and light, brooding and sunshine, a maturity that never quite carried through in their earlier work. These nine songs go by fast, lasting only 30 minutes and leaving you wanting more, and while it's the shortest album they've released, the quality speaks for itself. [Liliane Neubecker]
Verdict: Recommend
Dana Buoy – ICE GLITTER GOLD
Genre: Dream Pop
Favorite Tracks: "Twisted Sky," "Ice Glitter Gold," "Whatever," "Bloom"
Relaxation is key for getting into ICE GLITTER GOLD, and Dana Buoy's latest creates an atmosphere perfect to put on blast at your next poolside party. According to Dana Buoy, ICE GLITTER GOLD thinks it belongs on a dance floor, but belongs in a backyard. The title track begs for radio play, smartly blending guitar undertones with groovy psychedelic dance beats. Clearly the fan favorite ("Won't you dance with me, cuz I wanna see just what we're falling for"), it introduces a second responsive vocal track that echoes the lead lyrics. At times, another character voice comes through. After being left by a girl, our narrator is not going to walk out crying like other people, he's going to be like "Whatever." Meanwhile, the futuristic garage band masterpiece "Bloom" knows its importance on the album, inciting needed energy out of this half-hour dream state. Despite those strong centerpieces, "Colours Out," "Let Go Awhile," and "Too Early" are accidentally lazy and unnecessary, acceptable when diving into the album's experience, but nothing to write home about. Closing with a romance ballad, "Only One" focuses the disconnected spirit the rest of the album shows. Where the rest of ICE GLITTER GOLD feels confused about romance, "Only One" puts a beating heart in a collection that does not have a place in modern society. The album happily interrupts our world of misunderstandings for a world of pleasure, with Dana Buoy taking on the role of ring leader of escape, always pleasant, if not necessarily enticing. Worthy of one play through, ICE GLITTER GOLD does not beg to be played again, a work that does not really matter, but takes a moment to think about simple relationship strife. ICE GLITTER GOLD is music to fill in those moments in your life when everything is going well, commendable background music through and through. [Nikki Reifler]
Verdict: Recommend
Fischerspooner – SIR
Genre: Electroclash, Electropop
Favorite Tracks: "TopBrazil," "Discreet," "I Need Love," "Butterscotch Goddam (featuring Johnny Magee)"
Performance art is back in fashion on Fischerspooner's SIR. Delivered as more mainstream than Fischerspooner could have predicted during their techno debut in 1998, SIR is what going to the club should sound like: swanky and cutting edge, a unique and otherworldly trance through cycles of electronic pop and vocal experimentation. More important than being experimental is being progressive, proud pronoun choices in topics of queer relationships reaffirming a perspective which is no longer underrepresented. The sexual scene of underground queer culture bleeds out on "Everything Is Just Alright" and "Have Fun Tonight," where gummy base lines merge with trippy melodies, heralding men as its focus. It is important to flaunt queer eccentricities and battle heteronormative standards, and Fischerspooner is not afraid in the slightest ("Getting hard in the back of a bookstore / searching for clues / in a Bruce Webber volume") as they prove in "Oh Rio" (featuring Holly Miranda)." Beyond nightlife, queer hookups and sex life are sprawled out for discussion on "TopBrazil," "Discreet," and "Get It On," establishing sexual prowess as an important element when taking pride in who you are. While most of SIR explores queer sexual encounters, "I Need Love" voices desperation for fulfillment. But love is perhaps too mature for the queer people of 2018, a hidden and complicated topic, and the song's warbled and distorted vocal effects drive this uncertainty home. "Butterscotch Goddam (featuring Johnny Magee)," meanwhile, is a playful plea for a kiss, and takes time to be creatively hypnotic. SIR demonstrates a lack of shame in being a queer artist and Fischerspooner unearth the fusion of staleness in digital platforms to express queer sexuality. [Nikki Reifler]
Verdict: Recommend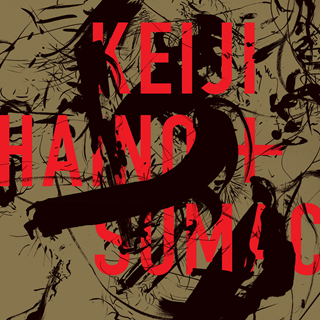 Keiji Haino + SUMAC – AMERICAN DOLLAR BILL – KEEP FACING SIDEWAYS, YOU'RE TOO HIDEOUS TO LOOK AT FACE ON
Genre: Noise Rock, Free Improvisation
Favorite Tracks: "I'm Over 137% A Love Junkie And Still It's Not Enough Pt. 2"
I hate to say it, but I haven't been this disappointed by a release that I was looking forward to so much in a long time. In the minds of many, Aaron Turner, patron saint of noisy art metal, can do no wrong—a notion I myself have been guilty of holding. The same can also be said of legendary multi-instrumentalist/iconoclast Keiji Haino, whose body of work is so extensive it borders on impenetrable. However, the truth is that prolificacy in anything gradually backslides into a certain amount of overlapping and homogeneity. And then it is also true that quantity and quality aren't one and the same. AMERICAN DOLLAR BILL came about from a series of completely improvised recording sessions between Keiji Haino and SUMAC which, at over an hour in length, is sure to be especially alluring to anyone who has ever entertained the words "thinking man's metal." However, things are often quite different on paper and in practice. It feels almost wrong to be dissatisfied with something that is meant to defy expectations and convention—like I'm missing the point or looking a gift horse in the mouth—but, still, on the whole, the album is not particularly engaging and interesting. The songs—which are ponderously, almost insufferably long, just like their titles—really don't go anywhere. There are gems to be mined, sure, but damn does it require a whole lot of shoveling. Of note, Nick Yacyshyn (perhaps the most criminally underrated drummer in metal today) absolutely shines here, but really only as a diamond in the rough, as it were, the lack of structure hurting him more than it helps. This is not to suggest Nick needs something to go off of, just that his trademark insanely technical fills come across as little more than added flair without the imposed limitations of any kind of traditional framework. Ultimately, AMERICAN DOLLAR BILL suffers from the same shortcoming so many other supergroups and collaborations have fallen victim to: it doesn't sound like anything more than the sum of its parts. Haino gives the Haino treatment to Turner (and co.) doing Turner, and, while I do admire SUMAC's ability to intuitively adapt to Haino on the fly, I'm not all that wowed by it. I know I may only be speaking for myself here, but I'm much more interested in power and dynamism as they relate to confines and boundaries. [Joseph Simpson]
Verdict: Do Not Recommend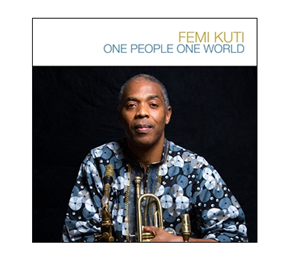 Femi Kuti – ONE PEOPLE ONE WORLD
Genre: Afropop
Favorite Tracks: "Africa Will Be Great Again," "Best To Live on the Good Side," "Evil People," "Equal Opportunity," "The Way Our Lives Go"
Many moons ago when I was a wee Crossfader intern, I took on the endeavour of writing a feature on the music of West Africa. Although the piece never came to life due to an unfortunate combination of freshman year laziness and struggling to find more than five noteworthy West African albums with only the aid of Google and Reddit, I did fall in love with what I heard of the culture's vibrant music scene. The funk of King Sunny Ade, the Doors-y Lijadu Sisters and, of course, the epic jazz of Fela Kuti, were all captivating in their exoticism as well as their surprising familiarity for a Western listener. Femi Kuti is the eldest son of Fela, and his music embodies the same ideals that his father helped to bring to Africa's musical forefront from the late 1950s until his death in 1997. His latest album, ONE PEOPLE ONE WORlD, is a fresh slice of socially active jazz with African percussion connecting it to its roots and providing an engaging and intriguing listen for the American music connoisseur. Opening track "Africa Will Be Great Again" features Kuti reminiscing about simpler times in Nigeria over a horn-driven instrumental that's reminiscent of Cuban music while still being distinctly West African. "Evil People" is simultaneously funky and hard rocking, featuring the badass hook, "Evil people they are everywhere." The album's finest moment, however, comes on its closing track, "The Way Our Lives Go," a song that addresses the blindness of Western privilege. I imagine Fela is smiling somewhere in the afterlife as he hears his son sing, "Some people don't show any interest in the globe / pretending all their lives / they don't see with their eyes / they don't hear the people cry / they don't care if they're tied." Though ONE PEOPLE ONE WORLD may not be a conventional listen for the average American, it's a great modern introduction to the vast realms of African music and a record whose ideals will likely resonate with any audience frustrated with the way the world is run in 2018, African or not. [Ted Davis]
Verdict: Recommend
POLIÇA / s t a r g a z e – MUSIC FOR THE LONG EMERGENCY
Genre: Chamber Pop, Art Pop
Favorite Tracks: "Fake Like," "Marrow," "How Is This Happening," "Music for the Long Emergency"
Though their name feels like something that's always been at the back of your mind, MUSIC FOR THE LONG EMERGENCY is the first time POLIÇA has felt this vital. Teamed up with orchestral Berlin group s t a r g a z e, the most immediate frame of reference for the group's fourth LP is 2017's bizarrely underrated Sufjan Stevens project, PLANETARIUM. Both albums are able to expand the capability and scope of pop songwriting with elements of modern classical in such a way that allows the tracks to explore the limits of their possibilities instead of feeling pretentious and inaccessible. Considering even Migos has gotten the ol' strings 'n winds treatment for a quick novelty buck, I'm going to double down on insisting that it's impressive that POLIÇA manages to not be overpowered by their own collaborative ambitions. While the two ending tracks, which end up taking up over half the runtime, are obvious examples of the immersive atmosphere that this vein of chamber pop can create, the two outliers of MUSIC FOR THE LONG EMERGENCY, "Marrow" and "Cursed," are actually where I think the creativity shines the most. The paranoid trip hop sensibilities of the former and the startling pseudo-rap and noise rock of the latter are the strongest argument for how compatible these two seemingly disparate artistic forces are. Toss in the lazy summer afternoon stroll of "Fake Like" and the unabashed beauty of the hook on "Agree" and you've got yourself a winner. [Thomas Seraydarian]
Verdict: Recommend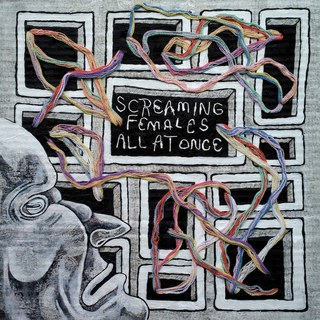 Screaming Females – ALL AT ONCE
Genre: Indie Rock, Garage Rock
Favorite Songs: "Glass House," "Black Moon," "Bird in Space," "My Body"
Screaming Females are back with their seventh album, ALL AT ONCE, and they are as raucous and powerful as ever. Spending their sweet time taking their experience to the next level paid off for the New Jersey trio. Marissa Patermoster's voice, front stage and center this time round, carries most of the gusto captured on the 15-track double LP, where she balances the punkier style of the music with deep, melodious vocals that mesmerize listeners with their purposeful execution. At times soulful, she balances her strong sound with a quivering that echoes the heartfelt performance you'd expect to come out when she's enthralled in a live performance. As a whole, Screaming Females have moved in a new direction, steering towards a Black Sabbath-meets-Pat Benatar interpretation of punk that has always been missing and was just waiting for them to create it. "Glass House" kicks off the album with a thunderous rock anthem and the chanting quality carries through to the "Black Moon" chorus, "We all dream alone." Alternatively, "I'll Make You Sorry" verges on pop, with Pastermoster channelling The Cranberries during the chorus. That said, the only collaboration on ALL AT ONCE occurs on "Soft Domination," in which drummer Jarrett Dougherty is tapped out by Brendan Canty (Fugazi) for a staccato follower of "Deeply," the only low tempo song. Content wise there's not much new, but the lyrics have found the artful balance of vague and meaningful. The only criticism I have is the tame guitar solos: the riffs are great as always, but the solos are a bit too methodical when it's their time to shine, most likely due to their focus on capturing a raw, live sound in the studio. ALL AT ONCE is a dope album and if I haven't convinced you to listen then I did Screaming Females a great disservice. [Liliane Neubecker]
Verdict: Recommend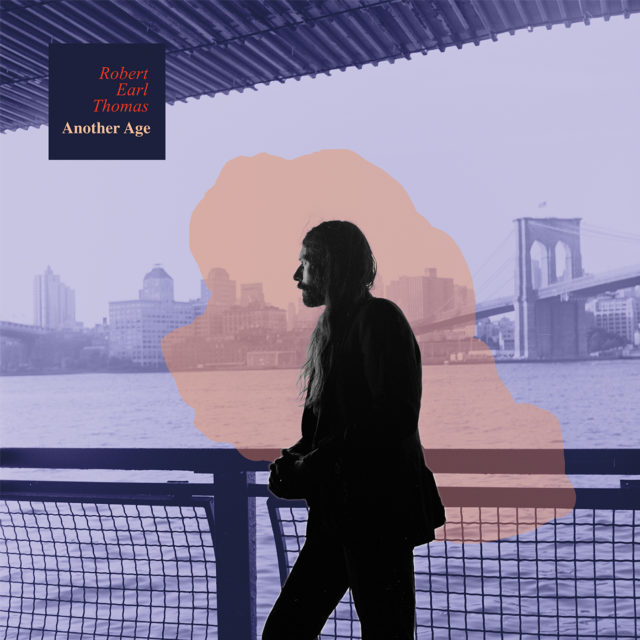 Robert Earl Thomas – ANOTHER AGE
Genre: Folk Rock
Favorite Tracks: "Another Age," "Cryin'"
When I look back on the indie rock bands of the 2010s that I'm surprised have, for whatever reason, endured, the only one that's shocks me more than STRFKR is Widowspeak, a band with a good self-titled debut record and a bunch of wildly mediocre or bad follow ups. That their legacy continues is baffling to me, not only because they've essentially remade the same songs over and over again, but because these songs were barely great the first time. While peers like Gun Outfit and Lower Dens have found nuance in the dusty dream pop handed down from artists like Mazzy Star and Cranes, Widowspeak sucked the soul out of it. All this to say: I was very dubious of founding member Robert Earl Thomas's solo debut ANOTHER AGE, and I was right to be.
ANOTHER AGE is nowhere near as egregiously tedious as the last several Widowspeak records, but then again, that might only be because it's something marginally different. Sidestepping the dream pop angle ever so slightly—don't worry, there's plenty of shimmery guitar tones and reverb—Thomas looks to emulate the heartland rock that The War On Drugs have been slashing and burning at for the last decade, and the returns are, quite frankly, uninspired. A few of these songs really capture that Springsteen-ish quality quite well, specifically the title track with its rallying middle American synth sound, and "Cryin'," the seven-and-a-half-minute slow burn that throws noodling guitar solos and cavernous harmonica parts with such earnestness that it feels ripped right out of Adam Granduciel's playbook and you almost can't be mad about it. "Wednesday Morning" relishes in simplicity, channeling a sound that has been popular across the folk revival movement and works just fine here. But, and I include the aforementioned songs in this statement, so much of ANOTHER AGE has been replicated elsewhere in the modern folk rock cannon that you could almost swear you've already hear it. "Wimonan Forever" is some bland ALL THINGS MUST PASS worship, "The Weather" could be a number of Silverlake-based Lord Huron-reminiscent rip-offs, and to make matters worse, it's not even as though the songs are fun or carry the energy of someone excited to make them. Instead, the album is crushingly unenthusiastic and a drag to get through more than once, with its greatest sin being how forgettable it is in the face of a career built on forgettableness. ANOTHER AGE comes and goes without making much of an impact, a soft and tired release from beginning to end. [CJ Simonson]
Verdict: Do Not Recommend
Tyga – KYOTO
Genre: Contemporary R&B, Pop Rap
Favorite Tracks: N/A
There is very little that can still shock or surprise me in this world, but when I saw the cover for Tyga's KYOTO, I did a bona fide spit take. There's really no quip spicy enough to fully convey the abject terror that this cover engenders, so I'll just encourage you to fully take in the upsettingly anatomically correct detail, intimations of bestiality, and entirely unwarranted Orientalism before proceeding further. OK, welcome back. A dedicated purveyor of dumpster fires and cultural detritus, I can't deny that after a brief period of recovery, I was very excited to hear if KYOTO was as much of an atrocity as its cover would suggest. But perhaps most upsetting of all is the fact that it's actually just a functional, vanilla, unrepentantly boring contemporary R&B album, a collection of stereotypical and phoned-in missives to various one night stands and lustful crushes. Familiar subject matter, to be sure, but at least with Ty Dolla $ign you're getting lush, decadent production; this sounds like . . . nothing! There is truly no character established any which way you slice it. I'm sure Power 106 and hookah bars will give some of these cuts a short, sad, and stunted life, but we barely need Drake in the musical landscape, let alone cheap, half-baked imitations of him. Alright, alright, if I step very far back, I suppose I can offer some begrudging commendation for completing a career trajectory; this is certainly not the Tyga we were inundated with in 2010 and 2011, and you can't blame him for getting a little more sensitive and misty-eyed as he and his career age. But I'd rather hear "Make It Nasty" and "Rack City" every day for the rest of my life than have to listen to this snoozefest again. Also, I'm not entirely sure Tyga knows what or where Kyoto is, considering that the only foreign language we hear on the album is Chinese. [Thomas Seraydarian]
Verdict: Do Not Recommend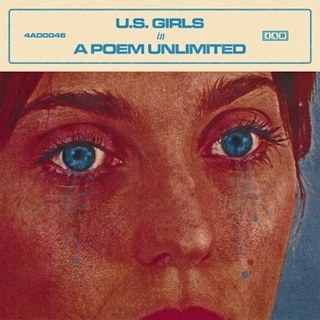 U.S. Girls – IN A POEM UNLIMITED
Genre: Noise Pop
Favorite Songs: "M.A.H," "Rosebud," "Incidental Boogie," "L-Over," "Poem"
U.S. Girls is unrecognizable from Meghan Remy's 2008 breakthrough solo album, INTRODUCING, which was heavy on the noise and featured major vocal distortions and barren instruments. Her music has been moving closer towards pop with disco and '60s rock influence for a while, but she remains strongly rooted in noise pop, and IN A POEM UNLIMITED, the wordiest of her six previous studio albums, is proof that she's shying away from the avant-garde quality of the genre by trying to connect more with listeners. She keeps her artistic edge with the 26-second "Why Do I Lose My Voice When I Have Something To Say" (just her saying the title of the track in a raspy, hoarse voice three times) and "Traviata" (a 13-second dialogue about whether or not she is a spy), but they also serve as little stepping stones, neither particularly fitting the rest of the album but not sticking out either, like wall flowers in the midst of the tracklisting. This shift in her style is a result of signing on with label 4AD two years ago when she came out with HALF FREE. Despite working with 20 different collaborators to make IN A POEM UNLIMITED, her fiery feminist voice is more present than ever, singing in tune with the #MeToo movement. Though her hooks and choruses aren't quite as catchy as mainstream hits often are, the vocals on "M.A.H (Mad As Hell)" are a harmonious hybrid of Blondie and Lene Nystrøm (of Aqua) adding a strong feminist layer to the project. Will IN A POEM UNLIMITED knock your socks off? Probably not. It's a solid album from an artist who has changed a lot over the last decade and is worth a listen, but at the same time there's no real spark. I bet it translates into a killer live performance, but I just don't see myself getting the longing to listen to the recording in the way that one craves great albums. [Liliane Neubecker]
Verdict: Recommend