Music Roundup 2/12/18
We're here to tell you what's hot and what's not in this week's music roundup
Abhi the Nomad – MARBLED
Genre: Pop Rap
Favorite tracks:"Mama Bling," "Somebody to Love," "Mindset," "Letter for God"
By the sound of it, Abhi the Nomad's already made it. He's charismatic and assured, his range is varied but consistent, and he can pull off a hardened J. Cole-indebted flow and then go into a warm Kid Cudi-type hum. He's got mad love for his mother and "all his friends are dogs," and he and his friends are losing themselves in millennial debauchery. So why do I feel like there's still something missing? Abhi The Nomad has all the ingredients for a star-turn, but his debut album MARBLED sees him skipping over the most interesting part of his personality: his Indian background. It's not that he's detached in his music; there's certainly a character to be gleaned, but even with his talent, some lyrics fail to reveal much beyond a young rapper trying to get it, like on "Sex n' Drugs," or just being content with the struggle on the life-is-good-being-broke "Mama Bling." The latter also sees him calling out those before him like "Ye'" and his "bragging" or how "Chance Bennett been it since hey mama." Ironically, what made those rappers were the depths they went, the specificity they brought through musings on their heritage, career, and upbringing. This was what extended and stuck with audience. Abhi throws in some mentions of his family, especially his grandfather, but it's fleeting and unelaborated on. I would love to see him tackle a personal anecdote at some point.
With all that said, I still enjoy swaying to his fun hooks and feel-good rhymes. As adept as he is at pop rap, it's his eccentric tints that excite me most. "Letter for God" is bouncy and polished; the whistling is nothing new, but near the coda comes a weird break of violins and lithe intoning. The transition into and out of it is seamless and it leads the way into the more indie rock-focused second half. "Somebody to Love" has got a similarly sunny arrangement, with more whistling and a falsetto'd "somebody to love me" throughout. It's verges on schmaltz, but again, there's pleasant flashes of influence stemming more from contemporary indie than Top 40, like the smooth bass and wispy crooning about a minute-and-30 seconds in, reminiscent of Toro Y Moi circa 2012. Whether or not he'll continue to fleece these weirder parts of his style, only time will tell. On closer, "Pressure," he contemplates, "still can't figure out if I'm dead inside or dead weight," and it says a lot about the future he could make for himself. I think he's got a whole lot of weight, substance and a story to tell; he just has to let it all out. [Nick Funess]
Verdict: Recommend
Dashboard Confessional – CROOKED SHADOWS
Genre: Emo-Pop, Pop Rock
Favorite Tracks: "Heart Beat Here," "Crooked Shadows"
So look, to a certain extent, if you're approaching a release from Dashboard Confessional in 2018, you might as well not mention the hokey emotionalism, hook-predicated songwriting and lyricism, and a comparative lack of tonal maturity as critiques. These elements of Chris Carrabba's brainchild have always been a subjective taste, but have also cemented the band's earlier work as middle school essentials for time immemorial; don't you dare pretend you haven't teared up to "Stolen" at least once in your life. As far as CROOKED SHADOWS goes . . . I don't know, it's fine. If anything, it's far more Top 40-oriented than I expected from a veteran of emo-pop—Carrabba has tempered out the more contentious edges of his voice, and as tracks such as "Belong" show, he's easy and obvious fodder for lending a vocal track to a cut from someone the likes of The Chainsmokers. Best viewed as the bastard stepchild of Fall Out Boy's garish electro revivalism on MANIA and latter-day Death Cab for Cutie (the title track), I'd be remiss to not mention that CROOKED SHADOWS can surprise you when you're not looking. But for the most part, it feels like a forced and not entirely welcome return to the tracks you listened to on your iPod Shuffle when you couldn't score a date to the middle school dance. Rotely functional, perhaps, but a little strange coming from a 43-year-old (yikes). [Thomas Seraydarian]
Verdict: Do Not Recommend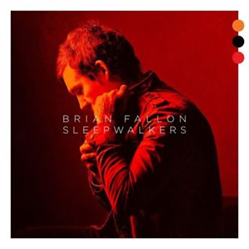 Brian Fallon – SLEEPWALKERS
Genre: Heartland Rock, Singer/Songwriter
Favorite Tracks: "Etta James," "See You On the Other Side," "Her Majesty's Service," "Watson"
It's not great that "derivative" was the first word to come to mind when I thought of Brian Fallon. From the name of one of his side-projects, This Charming Man (taken directly from the Smiths) or the unabashed inspiration—at times, near plagiarism—from Springsteen, there's something about Fallon's persona that can instantly rub you the wrong way. I'll be completely honest, I wanted to dislike this album. And yet, SLEEPWALKERS is a surprising departure from Fallon's formula. Here he is reaching out in all different directions, giving the album a fresh jolt of creativity. We still have the serious, unsmiling subject matter of Fallon's previous band, The Gaslight Anthem, combined with a range of sounds that offer something for everyone. There's the grooving, head-nodding "Watson" and moody, electric "Etta James." At times, the accompaniments can sound hackneyed and out of place, such as the saxophone intro on "Sleepwalkers," but at least it's a step outside the realm of heartland rock. Bright, energetic "Her Majesty's Service" gives a nod to Fallon's other group, The Horrible Crowes' album ELSIE.  His repetition of the line "I'm waiting on a big love, baby" practically urges you to sing along. Acoustic album-closer "See You On The Other Side" is refreshingly genuine and affecting. It feels characteristically Fallon, but there's a level of self-restraint that keeps it from becoming campy. Time has served Fallon well, and SLEEPWALKERS proves there is more to hear from him yet. [Claire Epting]
Verdict: Recommend
Franz Ferdinand – ALWAYS ASCENDING
Genre: Indie Pop
Favorite Tracks: "Finally," "The Academy Awards," "Huck and Jim," "Feel The Love Go"
There is an art to making good pop music, and Franz Ferdinand wisely chose to stop denying their true talents and haven't looked back since. Much like The Cure, their cool indie aesthetic belied their ability to effortlessly craft irresistible pop melodies and guitar hooks so good that their creators swear they must have stolen it from something else. They hadn't experimented with their sound to the extent that fellow early 2000s groove-driven post-punkers like The Killers and Bloc Party had outside of that pivot to new wave on TONIGHT: FRANZ FERDINAND; that is until ALWAYS ASCENDING. The disco influence is thrust out of the subtext and into the text farther than ever before, and the electronic additions to Franz Ferdinand's sound fit around the band's existing strengths rather than discarding them like Bloc Party's INTIMACY or HYMNS did. The results are akin to an aged, mature Neon Trees, with plenty of wry, playful sarcasm and a keen eye toward geometric pop compositions. As the title suggests, there is constant momentum to the guitars, vocals, and beats, even on slower cuts like "The Academy Award," as well as a classy, big band vibe; I could imagine these songs killing it on the Vegas circuit in a decade or so. There are a few moments where the expansions work against the record, like the closing track "Slow Don't Kill Me So," which wastes a mesmerizing buildup on zero payoff, but these are the minority. Eat your heart out, PACIFIC DAYDREAM; this is what carefree indie pop should sound like. [Blake Michelle]
Verdict: Recommend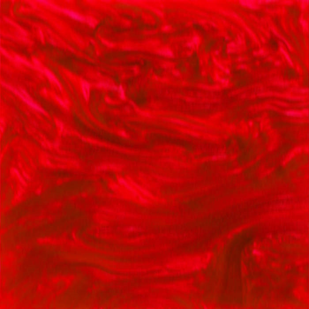 Holy Motors – SLOW SUNDOWN
Genre: Dream Pop, Shoegaze
Favorite Songs: "Honeymooning," "Valley," "Silently for Me," "Ghost of Heart," "Sleeprydr"
If anyone asks you who your favorite Estonian band is, you can now unequivocally answer Holy Motors. Their debut album, SLOW SUNDOWN, is aptly named for their subdued and ethereal pop sound with undertones of Western twang. The five musicians that make up the band include three guitarists, Lauri Raus, Hendrik Tammjärv, and Gert Gutmann, who perfectly mesh together their different influences: think Chris Isaak's "Wicked Games" meets Cigarettes After Sex's noir dream pop, but with a more allusive result. The various shoegaze effects, mixed with Ellian Tulve's leaden vocals, are spellbinding. It's hard to describe what Holy Motors embodies as genre lines are hauntingly blurred, describing themselves best on their Facebook profile as "obscurum per obscuris," meaning the explanation obscures the already obscure object. Sure, it might seem like a pretentious cop out, but it's actually very fitting for the Baltic band and proof that the music industry isn't just full of radio-star wannabes. SLOW SUNDOWN is a gem most definitely not in the rough that reflects the private and humble nature that the band developed as they emerged from the underground music scene in Tallinn. As you listen through the 32 minutes of reverb and hazy distortion, you become hooked by the hypnotic, horse-like cadence infused in all eight tracks. Drummer Kaspar Kiinvald sets the pace from trots to gallops and back again, apexing in "Signs" before slowing back down to a walk in "Sleeprydr." The lyrics are melodic and simple, not necessarily a bad thing, but I want more storytelling and more context from Holy Motors, something they'll hopefully be ready for by the time they work on a second album. [Liliane Neubecker]
Verdict: Recommend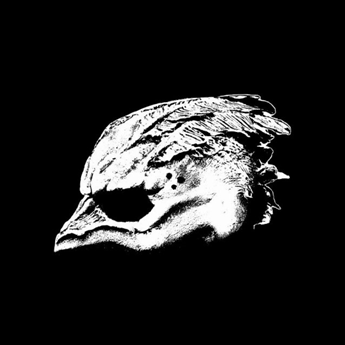 Legend of the Seagullmen – S/T
Genre: Progressive Metal
Favorite Tracks: "The Fogger," "Shipwreck," "Orca"
More supergroups should be like Legend of the Seagullman, a project born out of the same zany passion for sweeping sea-tales and supernatural oddness from which LEVIATHAN and BLOOD MOUNTAIN emerged. You know going into it that's it going to be campy and ridiculous; the question is if it will have the technical chops and imagination to push the camp beyond slightly amusing. Danny Carey and Brent Hinds bring their A-game to the drums and '70s prog guitar-work, and there's some psychedelic synths on "Shipwreck" and "Rise of the Giant" that emulate the trippy vastness of the ocean well. However, the rest of the instrumentation suffers from flat production that sucks the life and texture out of nearly the entire mix. None of this is helped by the one-note stoner metal vocals which are often buried in the production and lack the nimbleness that the record desperately needs. The closing track, "Ballad of the Deep Sea Diver," is a perfect microcosm of the record's frustrating nature:tThe first half is a slow dirge with strained vocals and a monotonous refrain, but then it breaks into an awesome guitar solo, backed up by wild drumming, that smoothly transitions into a gorgeous coda with violins and horns that are finally given room to breathe. I will always give points to a metal record that tries to be fun, but LEGEND OF THE SEAGULLMAN needed a producer or vocalist that could add some color or looseness. As it stands, its concept can't keep this record afloat. [Blake Michelle]
Verdict: Do Not Recommend
Efrim Manuel Menuck – PISSING STARS
Genre: Drone, Post-Rock
Favorite Tracks: "The Lion-Daggers of Calais," "A Lamb in the Land of Payday Loans," "LxOxVx / Shelter in Place"
Godspeed You! Black Emperor's Efrim Manuel Menuck newest solo album, PISSING STARS, is a noticeably less full experience than anything he's done with either GY!BE or his other project, Thee Silver Mt. Zion Memorial Orchestra, and it's made all the better for it. Relying on minimalism and electroacoustic backgrounds that evolve ever so gradually, PISSING STARS often times captures the musical effect of a dying, flickering light in the night time. Songs like "The Lion-Daggers of Calais" and the closing title track reflect Menuck's acute awareness of how to soundtrack the passage of time, and like in his other bands, he uses noisy, feedback-laden sonic ideas to enforce it, the repetition of which hammers home dark and often unsympathetic feelings of the future. Opener "Black Flags Ov Thee Holy Sonne" is a nine-minute meditation, tirelessly trudging forward as Menuck sums the album's personal theme, one he's been exploring more universally for two decades now: "The good times aren't the good times anymore." While GY!BE and Thee Silver Mt. Zion Memorial Orchestra are bigger projects that exude effort and worldly struggle, Menuck's work as a solo artist musically feels like a more direct extension of himself, even if the album is "inspired by the brief romance of American television presenter Mary Hart and Mohammed Khashoggi, the son of a Saudi arms dealer." As he sings, "I learned when I was very small how to breathe through pain / and I never did breathe normal again" on "LxOxVx / Shelter in Place," it ties together Menuck's second album as a revealing exploration of self and the passage of time, a look into his soul that is traditionally shrouded in much more mystery. [CJ Simonson]
Verdict: Recommend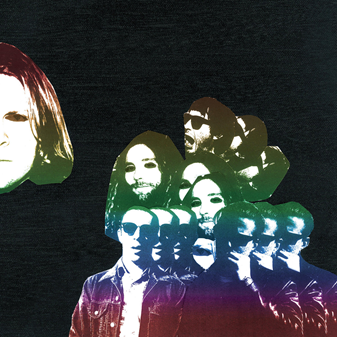 Ty Segall – FREEDOM'S GOBLINS
Genre: Glam Rock, Garage Rock
Favorite Songs: "My Lady's On Fire," "Cry Cry Cry," "The Main Pretender," "5 Ft. Tall," "Every 1's a Winner (Hot Chocolate Cover)"
Remember when you first explored music? I was a teen full of angst. I loved singing along to pop songs, but I also felt the need to grunge out and scream along to Funeral For A Friend. Ty Segall, in his 10th solo album (does he ever take a break?), has captured that fluid angst and spread it all over FREEDOM'S GOBLINS 19 tracks like butter on hot toast. Don't be misled by the title —  this is not a screaming, satanic metal "goblin." In fact, the hour-long album is the musical embodiment of the first bulldog riding a skateboard, with kick-ass guitar shreds cheering him on. It's slick at times, but also experimental. The melodies grab your attention while all kinds of unexpected sounds, solos, and styles are mixed together. "When Mommy Kills You" sounds like the little henchmen from the THE NIGHTMARE BEFORE CHRISTMAS are chanting in the background, which is immediately followed by the acoustic ballad "My Lady's On Fire," sounding like a less melancholic Jason Schwartzman (Phantom Planet/Coconut Records) paired with a recurring sax to round out a '70s vibe. The experimenting with high-pitched guitar riffs, numerous types of vocal effects, and distortion are all balanced with cheerful acoustic tracks, masterfully balancing out FREEDOM'S GOBLINS. I'll be honest, I'm not sure I fully understand what all of the songs are about (ie. the funky "Despoiler a Cadaver"), but it doesn't prevent you from enjoying the music. If you've never heard of Segall, the best way for me to introduce him is as the 5th Beatle who was a '90s kid, layering all kinds of different influences—Disco, Garage Rock, Nirvana—into a delightful, coherent mixed bag of audible gymnastics. [Liliane Neubecker]
Verdict : Recommend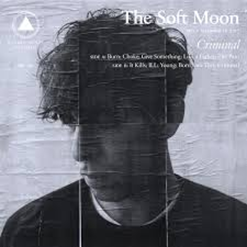 The Soft Moon – CRIMINAL
Genre: Industrial, Post-Punk
Favorite tracks: "Burn," "Choke," "Give Something"
For The Soft Moon's fourth album, Louis Vasquez has decided to entirely abandon almost all trace of new wave or post-punk insignia, fully diving into the more electronic and darker recesses only hinted at hitherto. He's never exactly been a cheery guy, but his past arrangements were shaded with the same strobed neon that consumed Joy Division and The Cure's early work. On CRIMINAL, Vasquez has shut the lights off entirely, donning his most ashen look yet.
In Nine Inch Nails fashion (whose influence seems to be at the forefront here), the album kicks off rushed, hungry, and mean with opener "Burn." Circuitous guitar, unremitting drumming, and Vasquez's hissing vocals play like industrial automation, but their only focus is corroding and breaking down. CRIMINAL wants nothing to do with assembly. "Choke" follows in similarly suffocating fashion as distorted synths threaten to swallow everything in sight, Vasquez totally into it: "Take your time, crush me right."  It does rub elbows a little too hard with Trent Reznor sometimes, with the beat of "Born Into This" sounding like it was ripped straight from a DOWNWARD SPIRAL instrumental kit, but Vasquez manages to imbue his songs with similar visual propulsion to unique success.
But it's infrequent. The trampling, caustic sonics reach their most alienating at instrumental track "ILL." Again, there's a strong atmosphere to it, but for me it felt like I've been trapped in some nightclub in a Paul Verhoeven movie for too long and I've reached my breaking point. Earlier there's "Give Something," a comparably tranquil song to the rest of the album. While it's still jiving in the same dark space, Vasquez's vocals are richer, the instrumentation less frenzied. There's a desire to escape and it plays really well with its environing tracks, as it's revealed that escape is nowhere in sight and the loss is more profound. CRIMINAL would have benefitted from a continued tension rather than languishing in steely havoc. It's a pity that Vasquez entirely forfeited that past sliver of color, as now there's a detrimental lifelessness. [Nick Funess]
Verdict: Do Not Recommend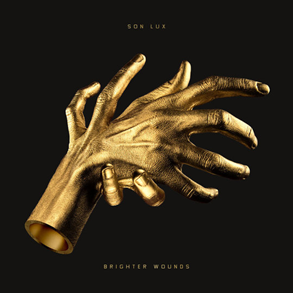 Son Lux – BRIGHTER WOUNDS
Genre: Art Pop
Favorite Tracks: "Dream State," "Labor," "All Directions"
Son Lux's BRIGHTER WOUNDS is equal parts dark and uplifting. Coming out of a surely strenuous and confusing time in his life, new father Ryan Lott spearheads the project, joined by Rafiq Bhatia and Ian Chang, in which the trio produce a compelling album both sonically and lyrically. Being a classically trained musician who doubles as a film composer, Lott's approach can seem almost avant garde; Son Lux become very experimental in the sounds they chose, picking altered and uncommon sounds, like fluttering saxophones or metallic noises, but more traditional in the rhythm and harmony they use them in. For example, the track "Labor" is reminiscent of Alabama Shakes in the use of space and high guitar. What keeps this album from being too far out there for most listeners is Lott's pure voice, which would fit in with any indie band. Overall BRIGHTER WOUNDS is turbulent and unsteady, reflecting how we all feel in these uncertain times, new father or not. [Stephanie Caress]
Verdict: Recommend