IV by BADBADNOTGOOD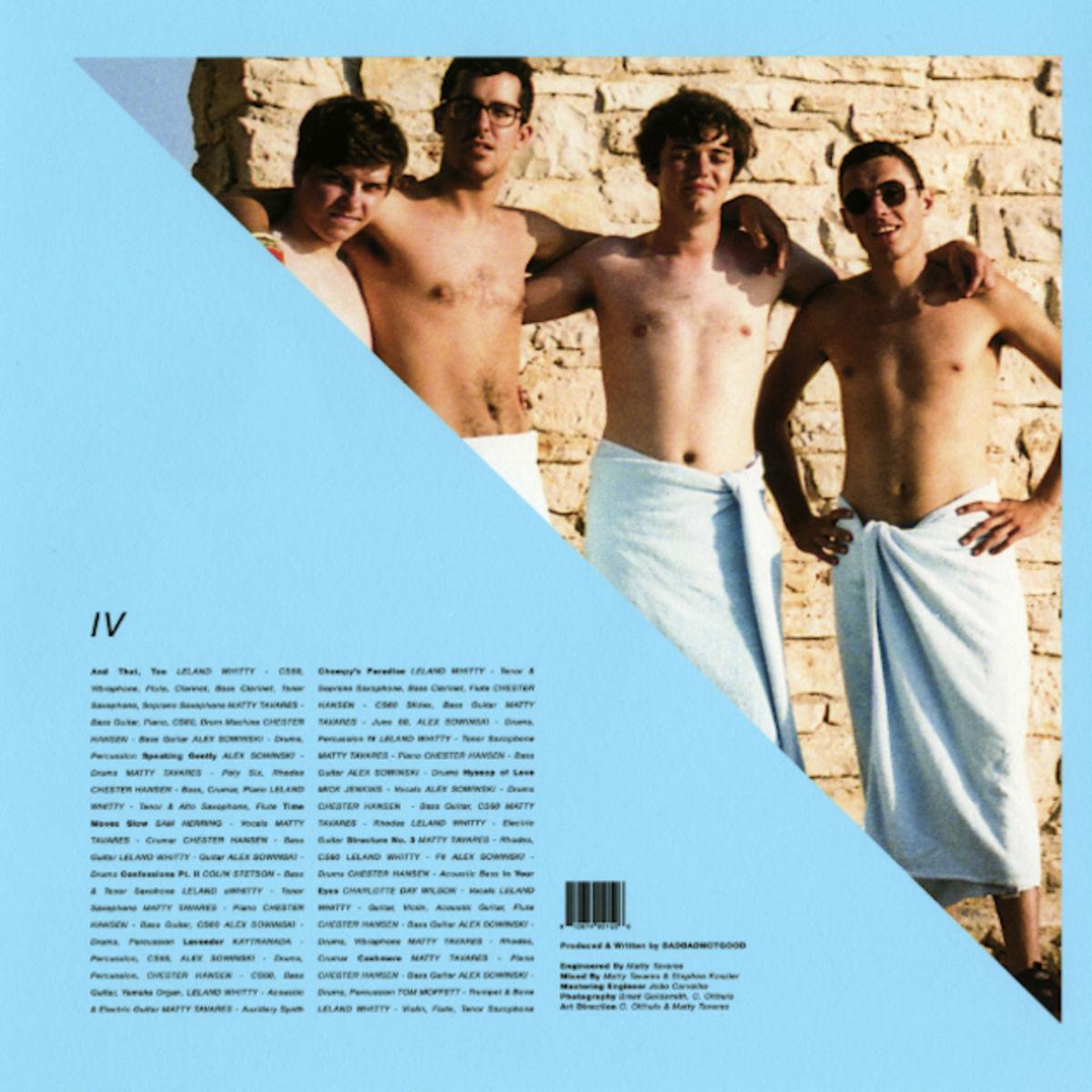 Genre: Nu Jazz
Favorite Tracks: "And That, Too," "Speaking Gently," "Time Moves Slow (featuring Sam Herring)," "Chompy's Paradise," "IV," "Structure No. 4," "In Your Eyes (featuring Charlotte Day Wilson)"
Canadian quartet BADBADNOTGOOD has certainly come a long way since their days covering contemporary music in their now-signature neo-jazz style — Gucci Mane, Feist, Future Islands, MF DOOM, and the Legend of Zelda, to name a few. Even five years and five LP's later, "Untitled 63 – Nightmare – Yonkers" off their debut self-titled comp sends chills. Despite early criticisms for not being "hip hop" enough or not being "jazz" enough to be well regarded in either circle, their preference and ultimately their honing of a meticulous balance between contemporary genres and classic musicianship had launched them into a realm of musical legend rarely reached by people who, by their sophomore effort, were all under 21. At the time in 2012, they were the backing band for Frank Ocean's Coachella performance; in 2015 following the release of critically-acclaimed III, they collaborated with Ghostface Killah on SOUR SOUL, a biting, cold, damn-near western of a record, and just recently they backed Jerry Paper on his latest LP, TOON TIME RAW, with instrumentals that'd make Jonathan Richman smile.
Now just three weeks after TOON TIME RAW's release, IV is here, featuring guest appearances from Colin Stetson, Kaytranada, Sam Herring, Mick Jenkins, and Charlotte Day Wilson, and not a single cover. A step up from their past efforts, each guest track pushes BBNG to tailor their signature style to the that which each new person brings to the table. In doing so, each track that doesn't feature someone has to fill out the new form that's been made, resulting in some of their most inventive fusions, with just a couple duds.
The opening track "And That, Too" hardly sounds like BBNG; synth loops layer over a drum machine while Leland Whitty's sax carries the piece to its climax. "Speaking Gently" runs along a similar theme texturally, though if the opening track were a waiting room, this one would be our launch into orbit. Once "Time Moves Slow" hits, the ship's left the atmosphere and we've slowed now — cruising along, watching the sun and planets fall behind us as Sam Herring croons "Running away is easy / It's the living that's hard / And loving you was easy / It was you leaving that scarred."
Before you know it, Colin Stetson is galloping his way through, creating a chaos that could only be offset by a minimal funk groove that holds on just long enough before Stetson's anxious wails wash over everybody else. And as standout as his performance may be, Stetson gets mixed far too high for the rest of the band, leaving much to be desired from the session, and giving the feeling that BBNG shouldn't even be in the room. This leads us to IV's lowest point: Kaytranada's feature on "Lavender." Considering Kay's debut, 99.9%, I expected this to no doubt be a highlight, but unfortunately, in step with the similarly drab BBNG feature on 99.9% with "WEIGHT OFF," Kay returns the favor — a lackluster collab that seems to only hold itself up by some uninspired synth lines that don't really know what to do with themselves.
Luckily, "Chompy's Paradise" pulls us out of that pit, takes us to the beach, and hands us some lemonade. Languid sax and percussion float over PLANTASIA textures, providing a lax reprieve before the seven minute sweat-dream "IV," a much appreciated distillation of their previous records into one track that allows them to indulge before trying something new again.
Approaching the record's climax, Mick Jenkin's raps over Fantastic Planet nostalgia on "Hyssop Of Love"; the same retro-futuristic vibe hangs on through "Structure No. 4" and the graceful "In Your Eyes (Feat. Charlotte Day Wilson)." This last third of the record feels like it could have been the soundtrack to an obscure Cowboy Bebop rip-off drawn in the style of Parliament's GLORYHALLASTOOPID comic. "Cashmere," IV's closer, manages to drive it all home — melancholic in the empty awe of being stranded in space, and for some reason all you can think about is playing the Legend of Zelda as a kid.
Leading off, IV's A-side made it clear this was going to be different, and with a strong B-side, BBNG proved they weren't getting caught up in aesthetics. Being one of the most prominent jazz combos to hit the mainstream in recent memory, their style had become distinct — so much so that, for a while, it was homogenous. IV overcomes that homogeneity, and BBNG showed they're still in it to make some damn good records and aren't just sticking around for the hype.
Verdict: Recommend