ISOLATION by Kali Uchis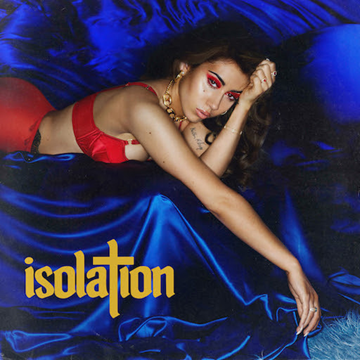 Genre: Neo-Soul, Contemporary R&B
Favorite Tracks: "In My Dreams," "Tyrant (featuring Jorja Smith)," "Nuestro Planeta (featuring Reykon)"
Kali Uchis's debut album, ISOLATION, often feels like journey through a beautiful and lush world of tropical sounds and seductive lyrics. From elements of funk, jazz, and reggaeton, she mixes different sounds from different cultures that keep changing and evolving throughout the project. All of this is tied in together by a hazy tint that helps create an expansive journey for the duration of the 46-minute album. The entire record flows incredibly well, a cross between drinking on a hot day outside in New York with the fire hydrant spraying everywhere and enjoying paradise with the smell of wet cement in the air off the Colombian coast.
ISOLATION is an imaginative version of what R&B can sound like in 2018. Through using parts of other genres, as well as her flow and beat choices, Kali Uchis blends everything into something unique. The production on the project might be the most important aspect of the album, with each beat having its own life and glamour, giving ISOLATION its energetic and lively vibes. It's exemplified most on the standout track, "In My Dreams," which from the opening seconds is filled with endless amounts of joy and euphoria, and is elevated by Kali's strong lyricism as she sings about an imaginative dreamworld she's been creating for the majority of her life. She speaks about the present, the future, and the past in a delightful and happy manner, invoking a part of your memory that sends you back to a happier time as it vibrates throughout your body.
Throughout ISOLATION, you can feel Kali Uchis gaining more and more confidence, both as a songwriter and performer. Her voice really bodes well on the lush beats, with vocals that are uncompromising and powerful. She sings about tough subjects like being an immigrant youth on "Miami," and about family and internal turmoil on the final track, "Killer," with a mixture of vulnerability and confidence: "They said he wants me in his video, like ground one / But why would I be Kim when I could be Kanye," she sings on one of the album's most memorable lines, so frank and assertive that the listener can surmise that she has constantly been compared to Kim her entire career leading up to this moment.
But Kali clearly has bigger objectives than that. The most impressive part of her confidence as a performer is that she's able to take her skills and apply them to a completely different language. She is just as interesting and sexy on "Nuestro Planeta" as she is throughout the rest of the project. The production is a perfectly subtle reggaeton beat that is elevated by her subtle and seductive voice. She goes from English to Spanish and back to English effortlessly on "Tyrant," which may be the best showcase for her talents on the record. She knows how to work the beat, utilizing pauses in the song to help add strength to her clever word play.
Through and through ISOLATION is an exceptional debut album by someone who has shown flashes of potential and superstardom through the years. She joins a list of many new talented R&B artists that have crafted their own vision and style through strong personality and voice. She wasn't content settling into one genre or becoming a generic popstar, and you can feel in her music just how much work she's put into her craft; she's been thinking about this moment for a very long time, long before her debut mixtape in 2012 and long before her EP, POR VIDA, back in 2015. Her artistry has come a long way since then, continually expanding her horizons and pushing herself to become an even greater artist. This moment will be just one of many or her, but Kali Uchis will keep working and pushing herself to create more and more interesting sounds and music. Until then, this is an exceptional starting point for her.
Verdict: Recommend